The holy month of Ramazan is witness to the piety of millions of Muslims across the globe unified in their daily ritual of fasting and prayers. Even with the influx of modern technology which allows hand-held devices to hold copies of the Quran the singularity of faith is still as potent as it was in the past.
After going without food and water through the hot days, the faithful gather in a festive atmosphere at dusk to enjoy the communal iftar (fast-breaking meal).
The sight of a collective praying in unison and breaking bread as one people is an exhilarating one.
Rediff.com takes a look at the enthralling spectacle that is the month of Ramazan.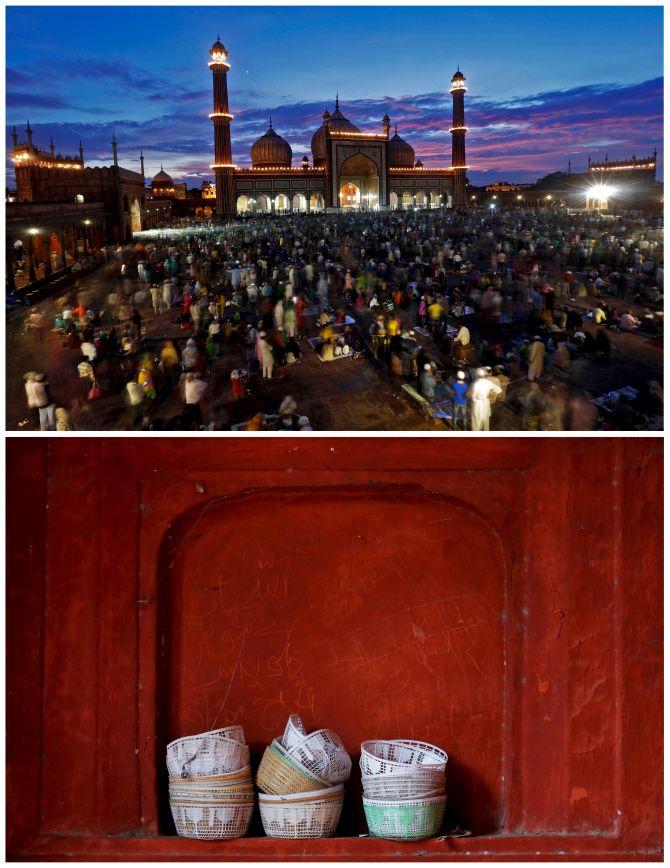 A combination picture shows Muslims eating iftar (breaking fast) meal during Ramadan (top) and skull caps kept on a sill at the Jama Masjid (Grand Mosque) in the old quarters of Delhi, India. Photograph: Adnan Abidi/ Reuters
---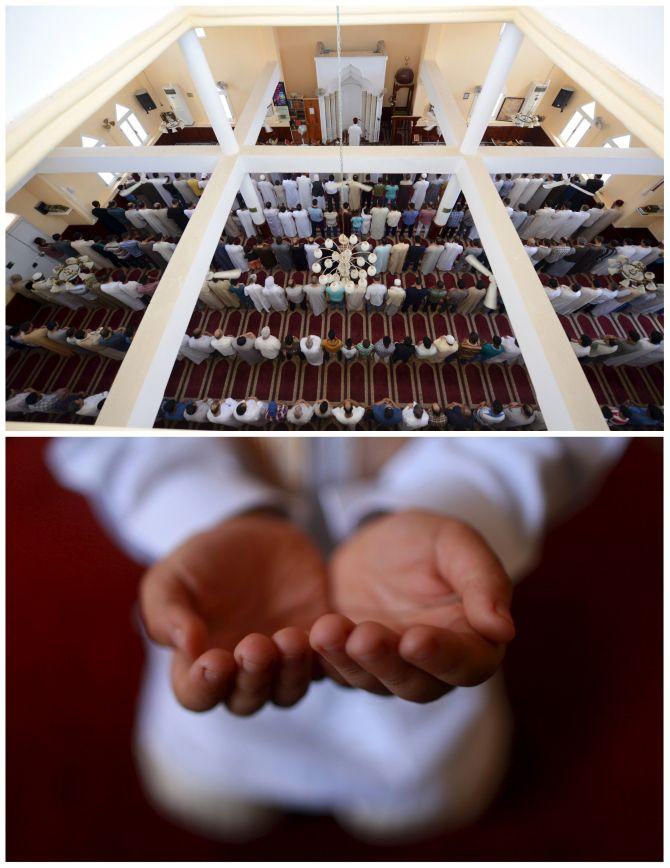 Worshippers attending Friday prayers (top) and a boy praying during Ramadan at Mohammed ibn Muslama mosque in Benghazi, Libya. Photograph: Esam Omran Al-Fetori/ Reuters
---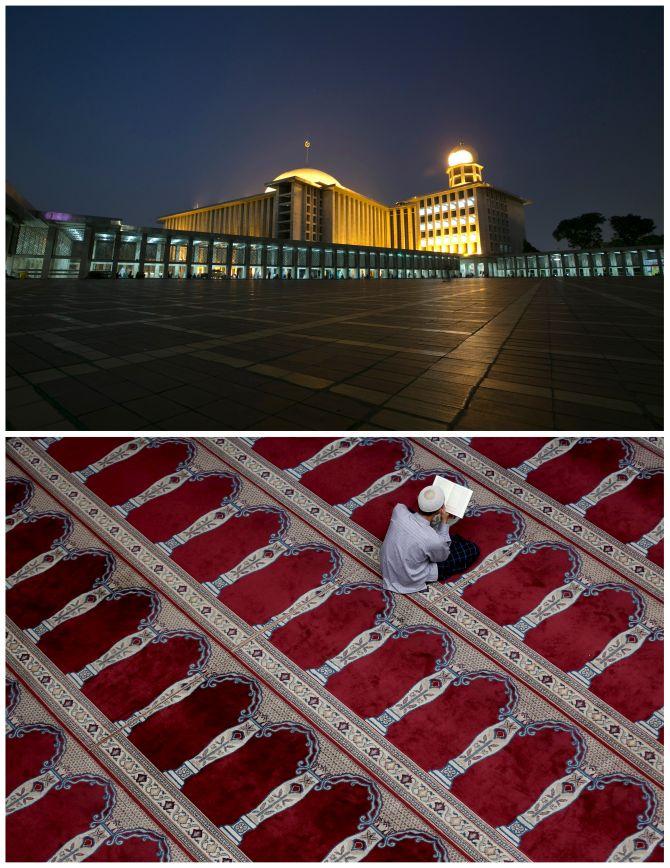 A view of the Istiqlal Mosque, the largest mosque in Southeast Asia (top) and a Muslim man reading the Koran inside Cut Mutiah Mosque during Ramadan in Jakarta, Indonesia. Photograph: Darren Whiteside and Nyimas Laula/ Reuters
---
Afghan men attend the Friday prayers at Pul-i-Khishti mosque (top) and an Afghan man praying at Abdul Rahman Mosque during Ramadan in Kabul, Afghanistan. Photograph: Mohammad Ismail/ Reuters
---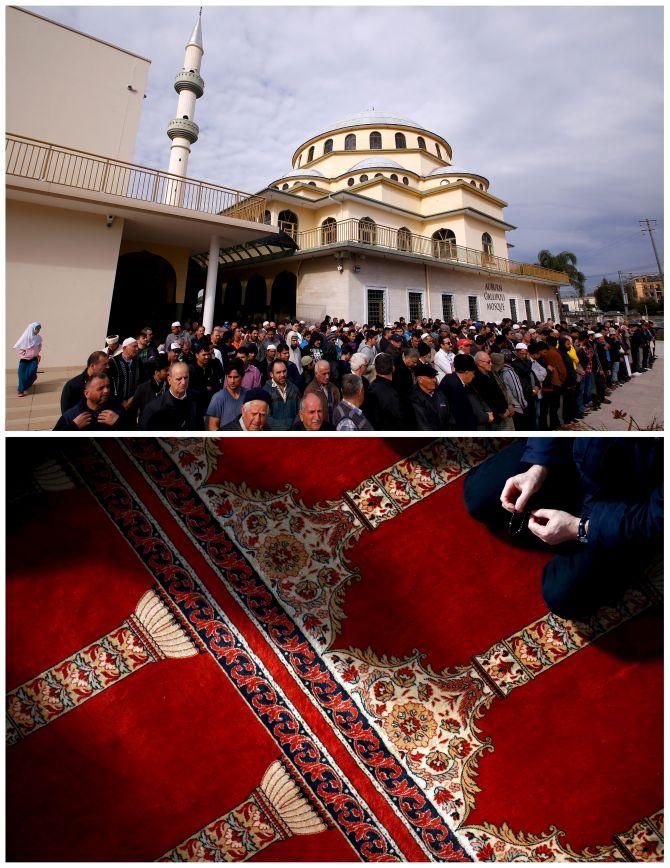 Muslim worshippers pray outside the Gallipoli Mosque (top) and a Muslim worshipper holding beads during Ramadan at the mosque in the western Sydney suburb of Auburn, Australia. Photograph: David Gray/ Reuters
---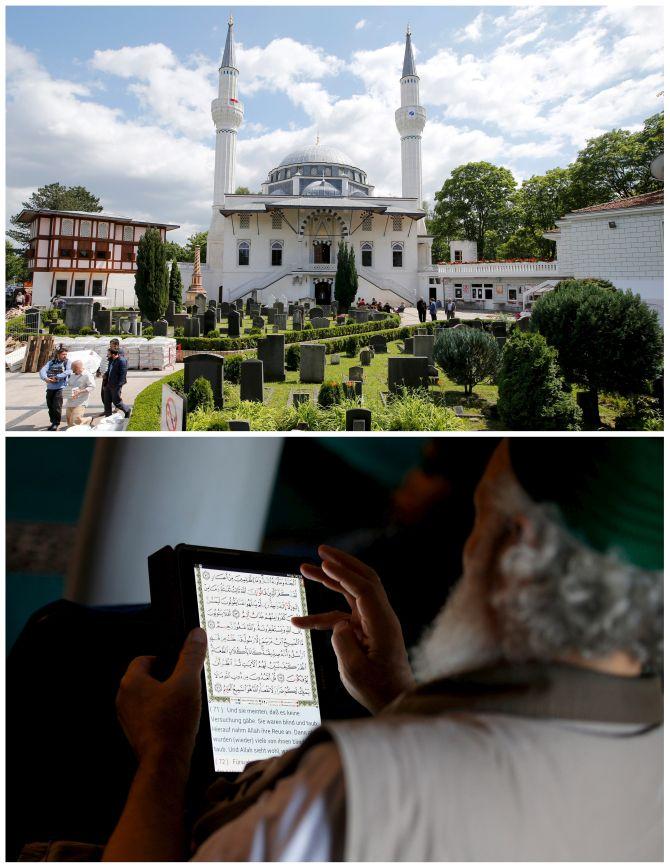 A view of the Sehitlik-Moschee mosque after Friday prayers (top) and a Muslim worshipper reading the Koran in Arabic and German on his tablet during Ramadan at the mosque in Berlin, Germany. Photograph: Fabrizio Bensch/ Reuters
---
The faithful eat their iftar meal as they break their fast in front of Al-Hussein Mosque (top) and a man attending an evening prayer at Al-Azhar Mosque during Ramadan, in the old Islamic area of Cairo, Egypt. Photograph: Amr Abdallah Dalsh/ Reuters
---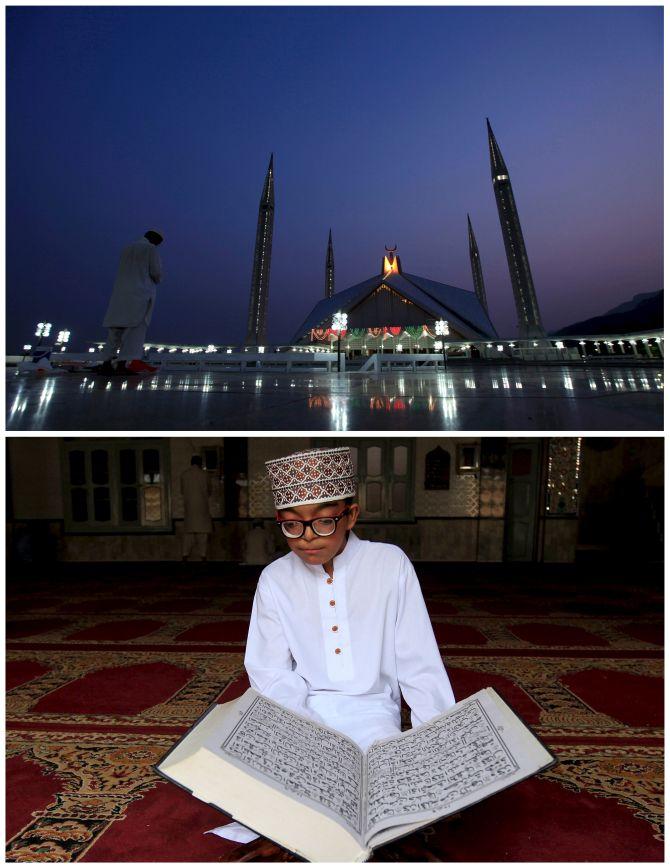 A man offering evening prayers at the Shah Faisal Mosque (top) and a boy reading the Koran during Ramadan at Anwar-ul-Uloom Mosque in Islamabad, Pakistan. Photograph: Faisal Mahmoo/ Reuters
---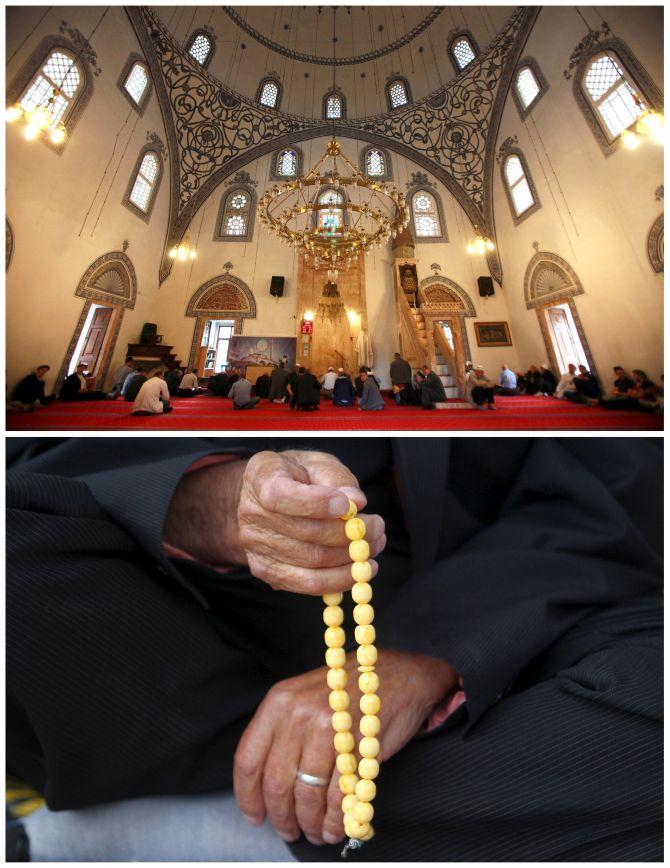 Believers getting ready for Friday prayers (top) and a Muslim believer holding tesbih (prayer beads) during Ramadan in Pristina, Kosovo. Photograph: Hazir Reka/ Reuters
---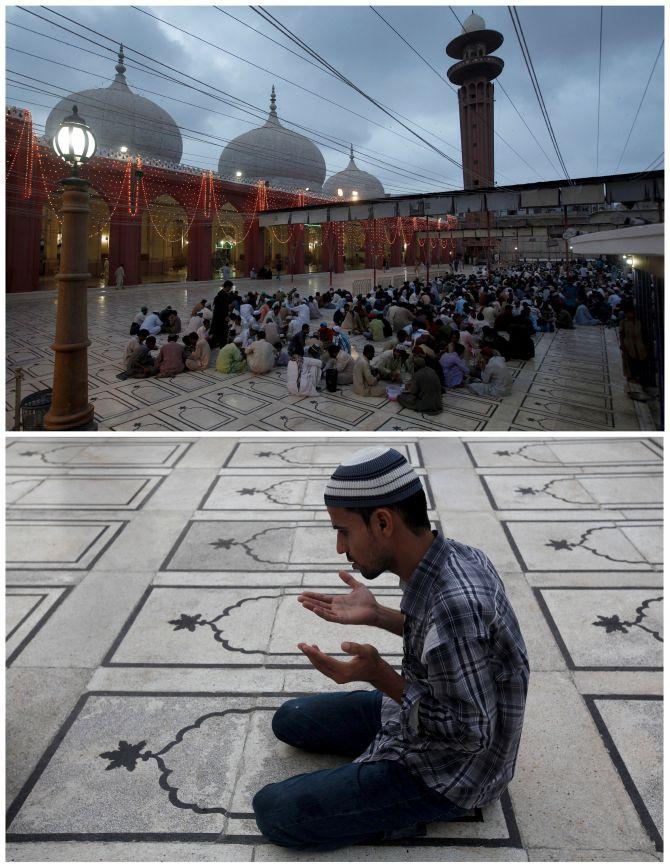 A combination picture shows people breaking their fast (top) and a man performing evening prayers at the Memon Mosque during Ramadan in Karachi, Pakistan. Photograph: Akhtar Soomro/ Reuters
---
Shi'ite worshippers holding copies of the Koran on their heads (top) and a Shi'ite man holding the Koran during Ramadan at the Imam Ali Shrine, Najaf, Iraq. Photograph: Alaa Al-Marjani/ Reuters
---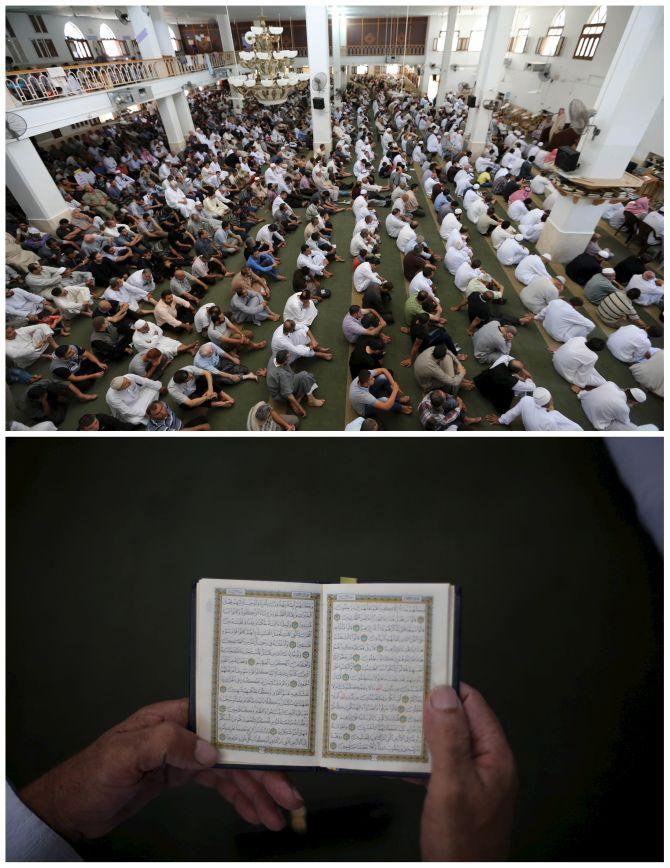 Palestinians attend the Friday prayers (top) and a Palestinian man reading verses from the Koran during Ramadan at a mosque in Khan Younis, in the southern Gaza Strip. Photograph: Ibraheem Abu Mustafa/ Reuters
---
Muslim men attend Friday prayers during Ramadan (top) and the shoes of Muslim men in the courtyard of a housing estate next to the small BBC community centre and mosque in east London, Britain. Photograph: Paul Hackett/ Reuters
---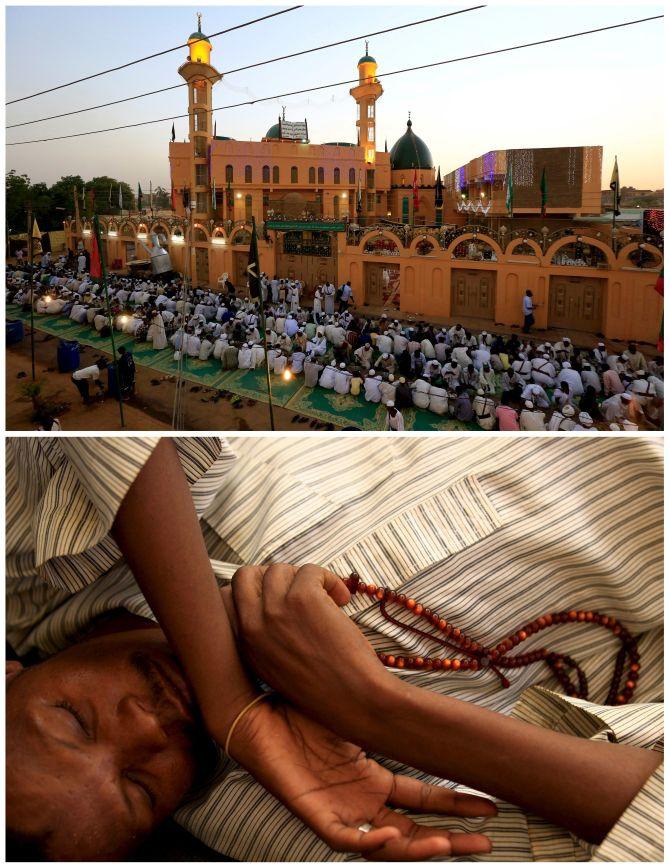 People break their fast during Ramadan at Al-Sheikh Ghareeballah Mosque (top) and a man resting inside the Big Mosque in Omdurman, Sudan. Photograph: Mohamed Nureldin Abdallah/ Reuters
---
Muslims attend evening prayers at Jamia Mosque (top) and a man attending Friday prayers during Ramadan in Nairobi, Kenya. Photograph: Noor Khamis/ Reuters
---