Image: An indigenous man from the Bororo people fires an arrow during the bow-and-arrow competition at the first World Games for Indigenous Peoples in Palmas, Brazil. Photograph: Ueslei Marcelino/Reuters
---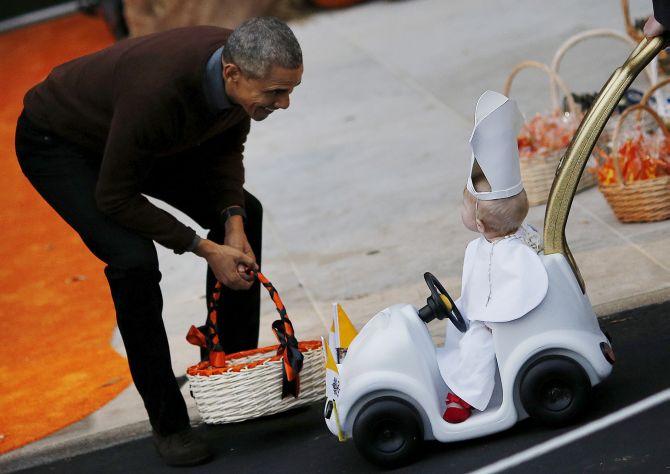 Image: US President Barack Obama receives a child dressed as Pope Francis on the South Lawn of the White House during a Halloween trick-or-treating celebration in Washington. Photograph: Carlos Barria/Reuters
---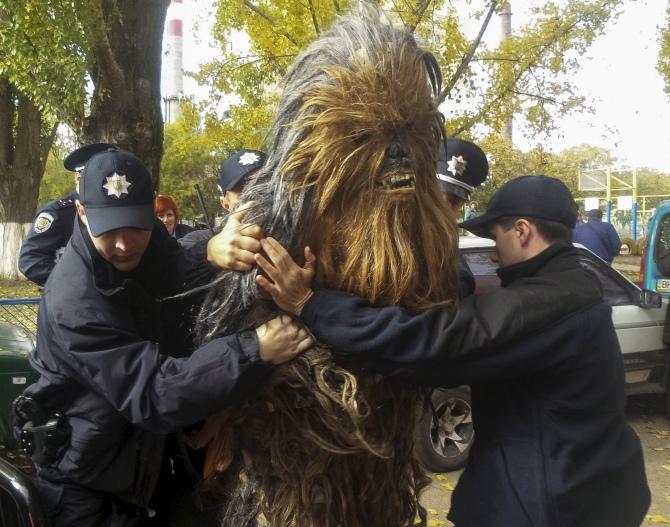 Image: Policemen detain a person dressed as Star Wars character Chewbacca during a regional election near a polling station in Odessa, Ukraine. Photograph: Ihor Babak/Reuters
---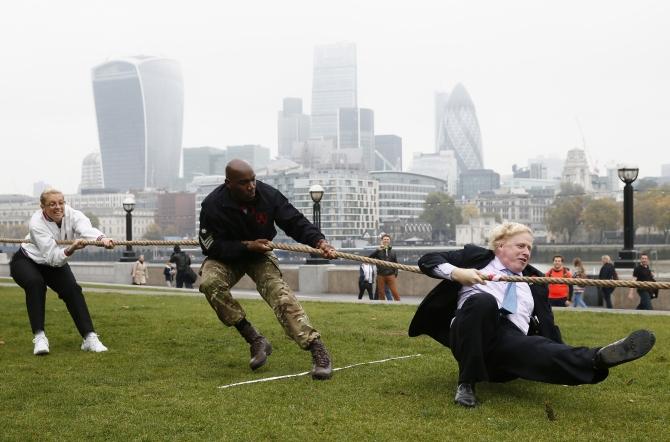 Image: London Mayor Boris Johnson takes part in a tug of war with members of the armed services to launch the London Poppy Day, outside City Hall, in London.
London Poppy Day is a street collection event to raise money for serving and retired members of the armed services and their families. Photograph: Stefan Wermuth/Reuters
---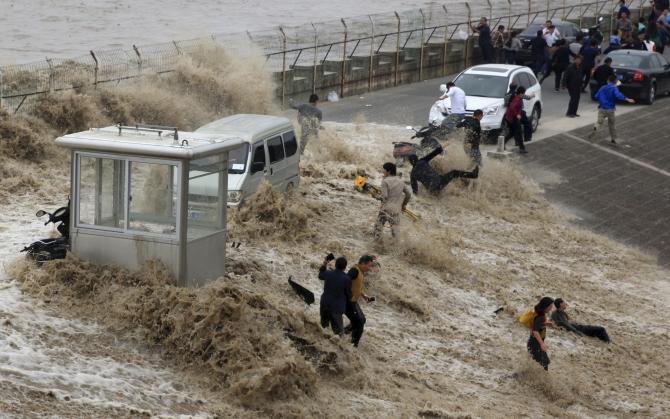 Image: Visitors are hit by a wave caused by a tidal bore which surged past a barrier on the banks of Qiantang River, in Hangzhou, Zhejiang province, China. Photograph: China Daily/Reuters
---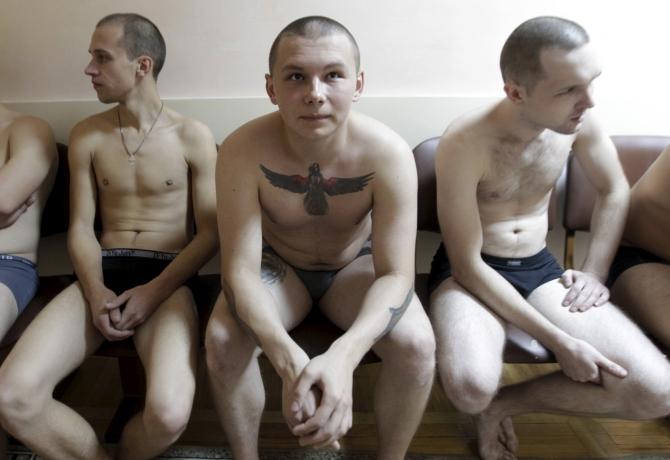 Image: Russian conscripts wait for medical tests at a recruiting station in the southern city of Stavropol, Russia. Photograph: Eduard Korniyenko/Reuters
---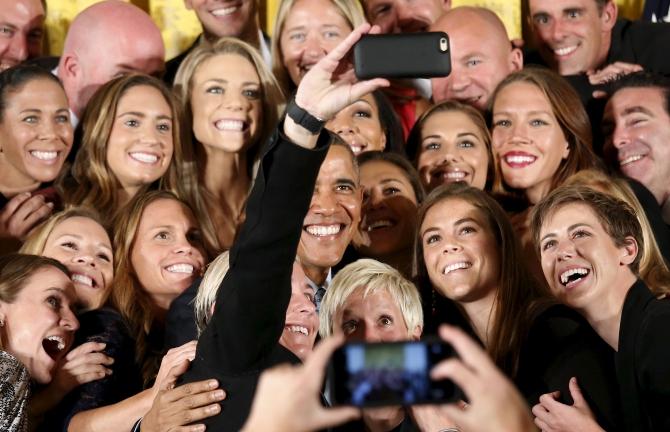 Image: United States President Barack Obama poses for a selfie taken by veteran star player Abby Wambach as he welcomes the Women's National Soccer Team to the White House in Washington to honor their victory in the 2015 FIFA Women's World Cup. Photograph: Kevin Lamarque/Reuters
---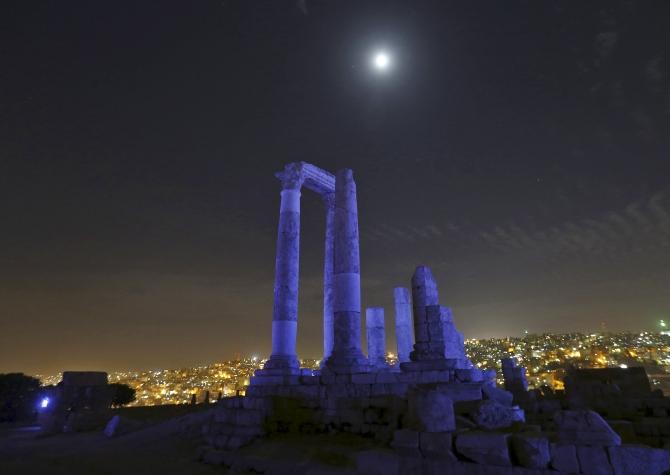 Image: The moon is seen over the Roman pillars of the Temple of Hercules as it is lit up in blue to mark the 70th anniversary of the United Nations at the Citadel in Amman, Jordan. Photograph: Muhammad Hamed/Reuters
---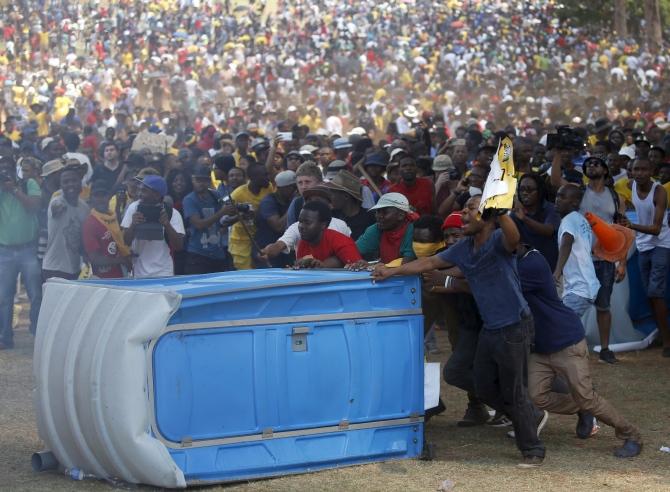 Image: Protesters push a portable loo before burning it during a protest over planned increases in tuition fees outside the Union building in Pretoria, South Africa.
South African police fired stun grenades at students who lit fires outside President Jacob Zuma's offices following a week of protests, the first signs of the post-apartheid 'Born Free' generation flexing its muscle.Photograph: Siphiwe Sibeko/Reuters
---
Image: A home-made airship, made by 29-year-old local man Shi Songbo, lifts off during a test flight next to crop fields in Ningling county of Shangqiu, Henan province, China.
The 10-meter-long, 23-metre-high, two-seated air ship took Shi 300,000 yuan ($47,187 USD) and four months time to finish. Shi and his friends conducted eight successful trial flights on Sunday, local media reported. Photograph: China Daily/Reuters
---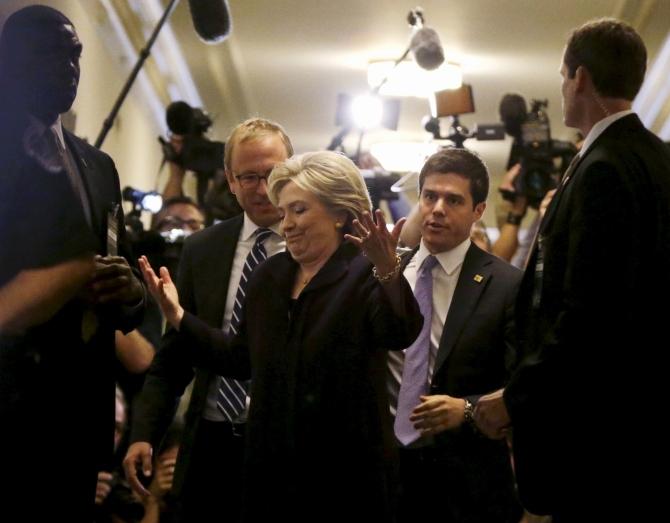 Image: Democratic presidential candidate Hillary Clinton reacts to reporters' questions as she exits the hearing room for a lunch break from testimony before the House Select Committee on Benghazi on Capitol Hill in Washington. Photograph: Gary Cameron/Reuters