On Sunday, former US secretary of state Hillary Clinton announced she was running for president in the 2016 elections.
After being a fixture in American politics for the last three decades, Hillary Rodham Clinton is taking another shot at becoming the first US female president.
As she launches her bid to power, Rediff.com digs deep to bring you interesting facts about the Democrat and former First Lady of the United States.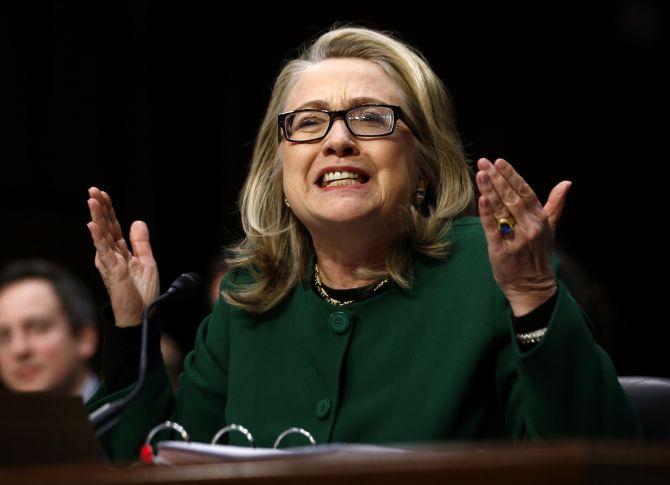 Former US secretary of state Hillary Clinton responds forcefully to intense questioning on the September attacks on US diplomatic sites in Benghazi, Libya. Photograph: Jason Reed/Reuters
1) After announcing her bid for president, Clinton has wasted no time and has taken a road trip to meet small groups of voters in Iowa. While out on the road, Clinton will be riding in a van she has nicknamed Scooby. Why? Because, according to her aide, the van reminds her of Scooby Doo Mystery Machine from the classic television cartoon.
2) For all those rooting for Hillary and the Democrats, one will be shocked to hear that she started out in politics as a Republican. Yes, that's right. She was a committed young Republican, inspired partly by her dad.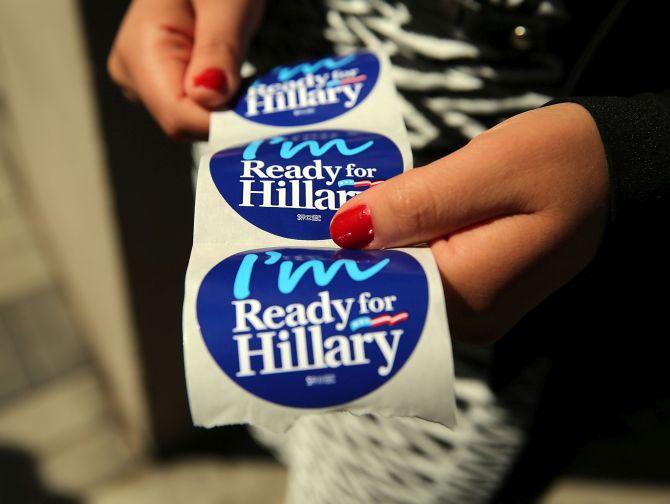 Stickers are handed out to supporters of Hillary Rodham Clinton's presidential campaign at a rally in Manhattan. Photograph: Spencer Platt/Getty Images
3) Hillary really likes her hot sauce. She applies it on all that she eats. According to the Wall Street Journal, she even eats it with her salad.
4) She failed her Washington, DC bar exam. She'd been a top-notch law student. However, she was stumped by an exam that changed that year, from a focus on local law and essay questions to multi-state law and multiple choice.
Clinton checks her PDA upon her departure in a military C-17 plane from Malta bound for Tripoli, Libya. Photograph: Kevin Lamarque/Reuters
5) The former First Lady of the White House can really hold her alcohol. Once, while she and Republican's John McCain were touring Estonia in 2004, the two senators sat down at a restaurant and took shots of vodka. Clinton won the game with four.
6) Hillary won a Grammy in 1997 for Best Spoken Word Album for the audio version of her book "It Takes a Village."
7) As a child, Hillary Clinton wrote to NASA inquiring how to become an astronaut. NASA replied that girls could not be astronauts.
8) Despite many considering her too serious, former commerce secretary and White House Chief of Staff Bill Daley says she's "tremendous amount of fun.... She's got a great belly laugh."
Hillary Clinton and her husband former US president Bill Clinton hold up some steaks at the 37th Harkin Steak Fry in Iowa. Photograph: Jim Young/Reuters
9) Clinton's past is freighted with blemishes and gaffes that could compromise if not sink her campaign. Her tenure as US secretary of state under Barack Obama from 2009 to 2013 was marred by the September 11, 2012, attack on the American diplomatic compound in Benghazi, Libya. Conservative pundits seized on the attack as evidence that the Obama administration in general and Clinton's State Department in particular were incompetent and unable to protect the country's interests abroad.
Another one is the most recent e-mail scandal. In March, it was learnt that during her four-year stint as secretary of state, Hillary Clinton conducted all business — political, public, and private — solely through her personal e-mail account, on a server in her house.
When asked why she didn't use two e-mails, one for official business and one for personal use, Hillary said: "I thought it would be easier to just carry one device for my work and for my personal e-mails instead of two."
Then an e-mail surfaced that was sent from her iPad, undermining that excuse.
10) She's quite blunt and straightforward. She raises eyebrows and stirred controversy in 1992 when she said, "I suppose I could have stayed home and baked cookies and had teas."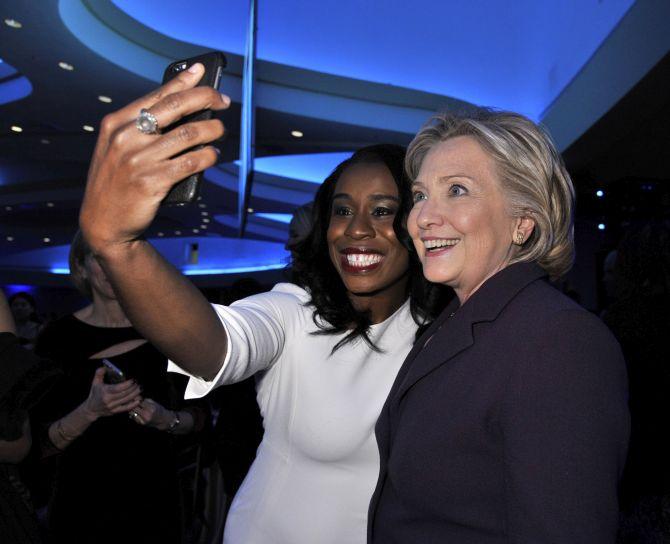 Actress Uzo Aduba clicks a selfie with former US Secretary of State Hilllary Clinton at a gala in Washington. Photograph: Kris Connor/Getty Images
11) She's not afraid to get her hands dirty. She gutted fish at a processing plant in Alaska one summer during her law school years. It was her job to scoop out entrails, but the plant soon fired her for asking too many questions about how long the flippered creatures had been dead
12) She tried to become a US Marine at age 27 while living in Arkansas. "You're too old, you can't see and you're a woman," she recalled the recruiter saying.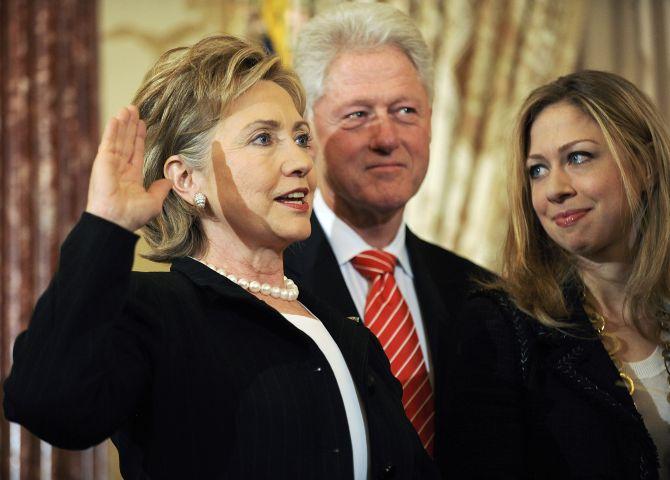 US Secretary of State Hillary Clinton is joined by her husband former US President Bill Clinton and daughter Chelsea Clinton as she is ceremonially sworn in at the State Department in Washington. Photograph: Jonathan Ernst/Reuters
13) She repeatedly rejected Bill Clinton's marriage proposal. Describing it in her first book, she says that after dating, he later proposed on a trip to England. She replied, "No, not now," and eventually shot him down enough times that he said he'd never ask again. But two years later, he drove her up to a house she'd liked in Arkansas, announced he'd bought it, and said she'd have to marry him because he couldn't live there alone. She said yes.
14) The now grandmother, Hillary has her own chocolate chip cookies, which she published.