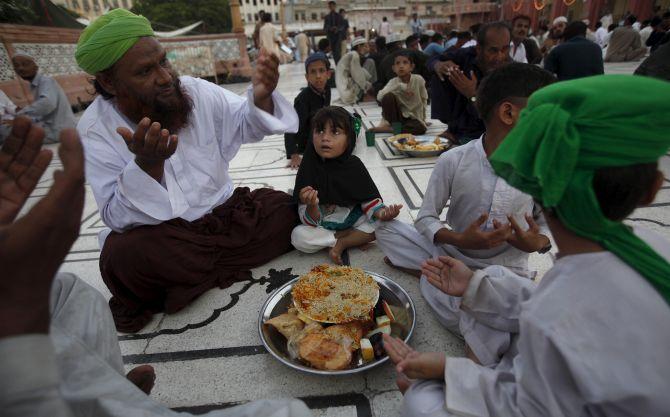 The annual fast of Ramzan -- considered one of the five pillars of Islam -- is being observed by Muslims worldwide to commemorate the first revelation of the Quran to Prophet Muhammad according to Islamic belief.
The goal of the fast is to teach humility, patience and sacrifice, and to ask forgiveness, practice self-restraint, and pray for guidance in the future.
Rediff.com brings you glimpses of how Muslims across the globe are observing the month of fasting and the holiest period for the Islamic faith.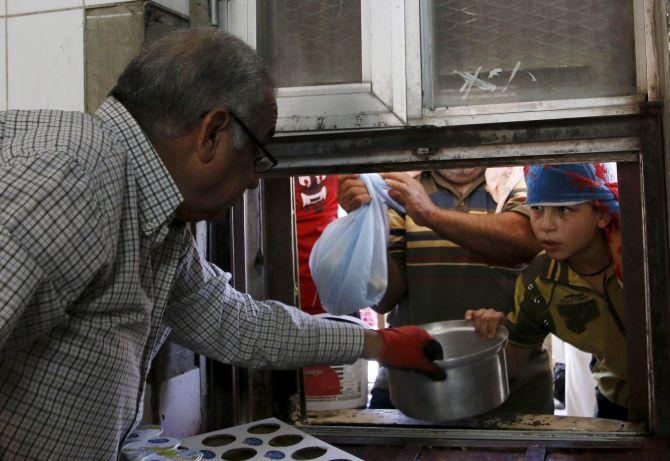 A boy (R) receives free food distributed for the needy during the fasting month of Ramadan at the Sunni mosque of Abdul Qadir al-Gailani in Baghdad. photograph: Khalid al-Mousily/Reuters

---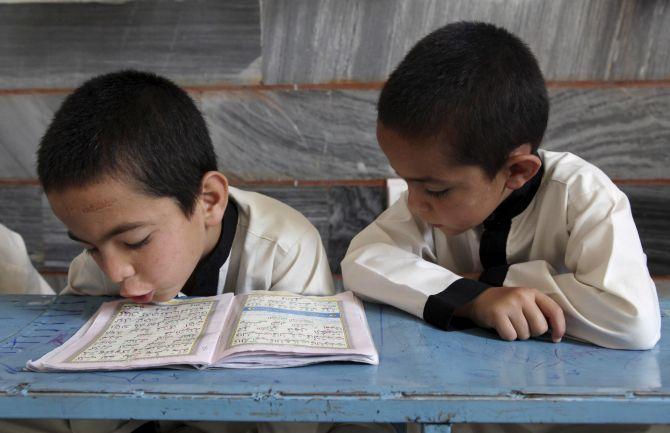 Afghan boys read the Koran in a madrasa, or religious school, during the Muslim holy month of Ramadan in Mazar Sharif, northern Afghanistan. Photograph: Anil Usyan/Reuters
---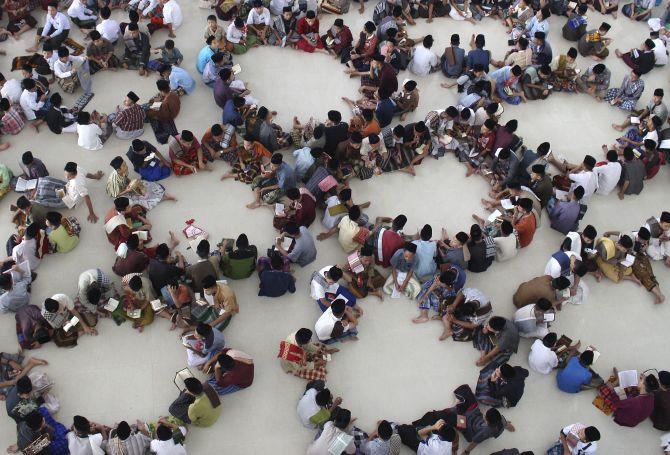 Students from the Islamic boarding school Ar-Raudhatul Hasanah attend a regular Koran reading event, during the holy month of Ramadan, in Medan, North Sumatra, Indonesia. Photograph: Septianda Perdana/Reuters
---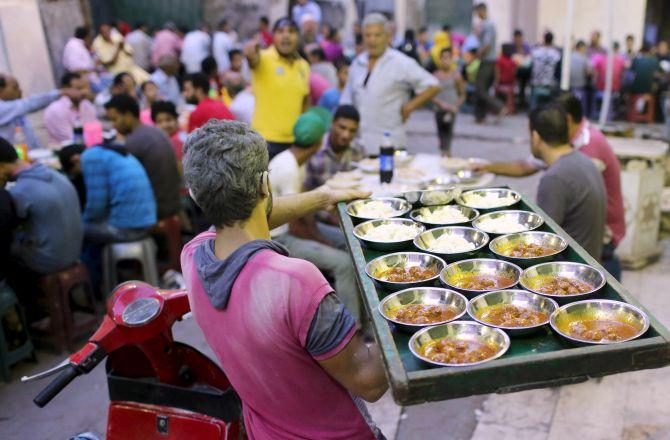 A volunteer carries food to tables as people wait to eat their Iftar meal to break their fast at charity tables that offer free food during the holy fasting month of Ramadan in Cairo, Egypt. Photograph: Asmaa Waguih/Reuters
---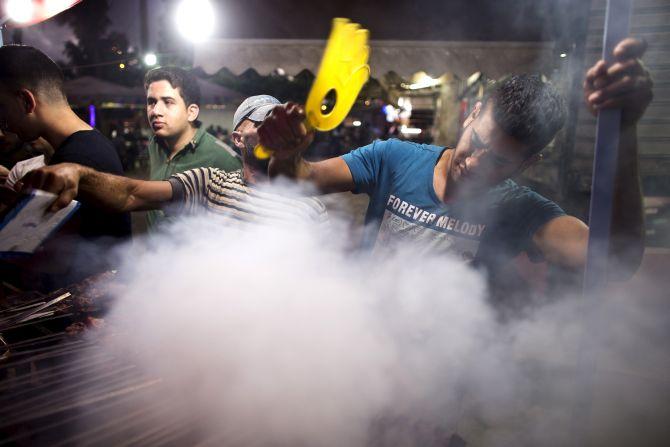 Palestinian vendors sell food at the end of Muslims' daily fast during the holy month of Ramadan outside Jerusalem's Old City. Photograph: Ronen Zvulun/Reuters
---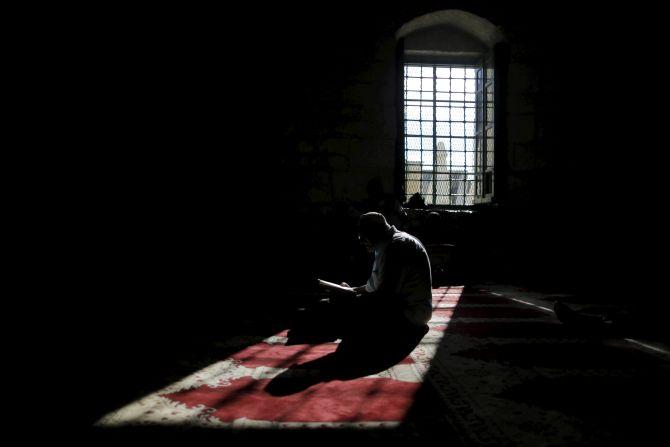 A Palestinian man reads the Koran in al-Aqsa Mosque, on the compound known to Muslims as al-Haram al-Sharif and to Jews as Temple Mount, in Jerusalem's Old City during the holy month of Ramadan. Photograph: Ammar Awad/Reuters
---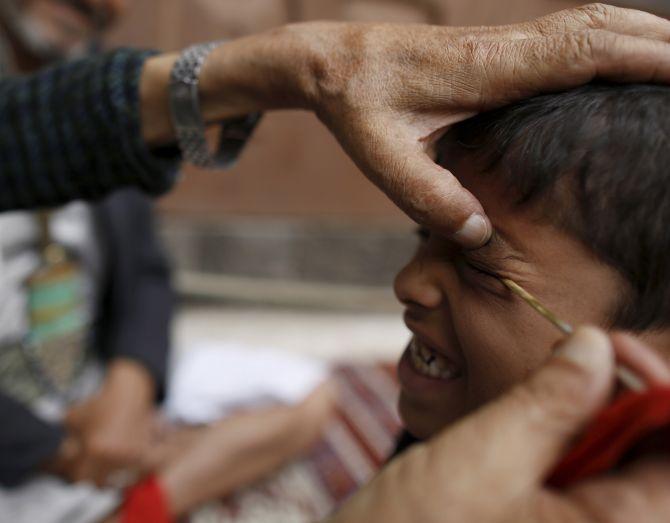 A boy reacts as he has kohl applied to his eyelids at the Grand Mosque, during the holy month of Ramadan in Sanaa. Photograph: Khaled Abdullah/Reuters
---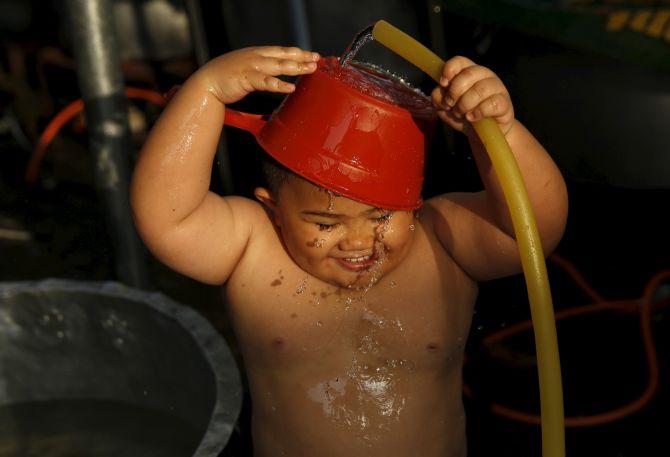 Three-year-old Iqal washes himself as he waits for the sun to go down during Ramadan in Kuala Lumpur, Malaysia. Photograph: Olivia Harris/Reuters
---
A traditional band calls for Muslims to wake up before prayers during the holy month of Ramadan in the old city of the West Bank city of Hebron. Photograph: Mussa Qawasma/Reuters
---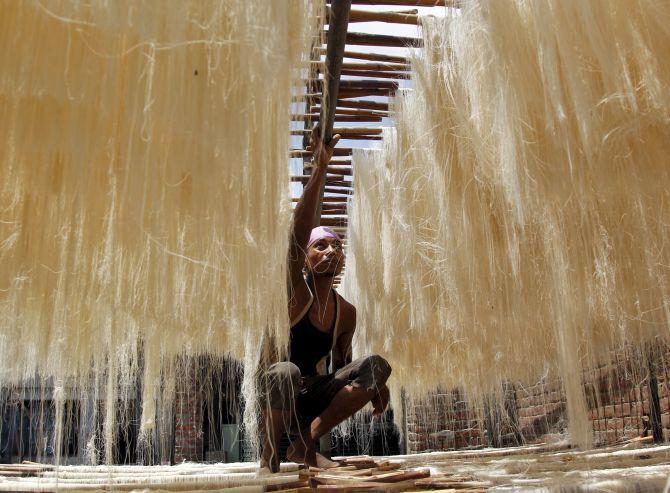 A man arranges strands of vermicelli, which are kept for drying at a factory in Allahabad. Photograph: Jitendra Prakash/Reuters
---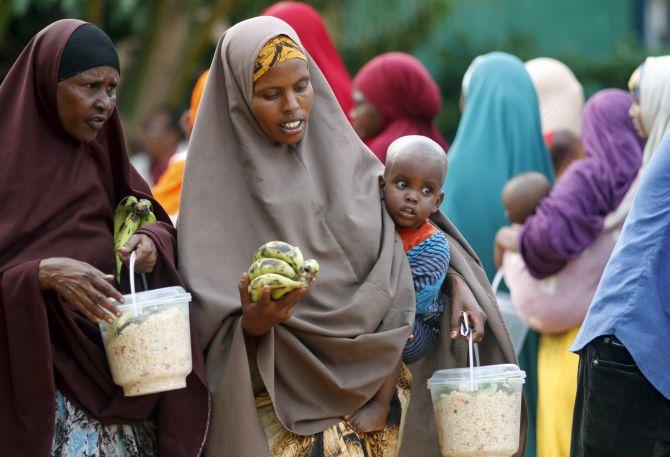 Somali families receive iftar (breaking of fast) meal from a Qatari charity organization during the holy Muslim month of Ramadan in capital Mogadishu. Photograph: Feisal Omar/Reuters
---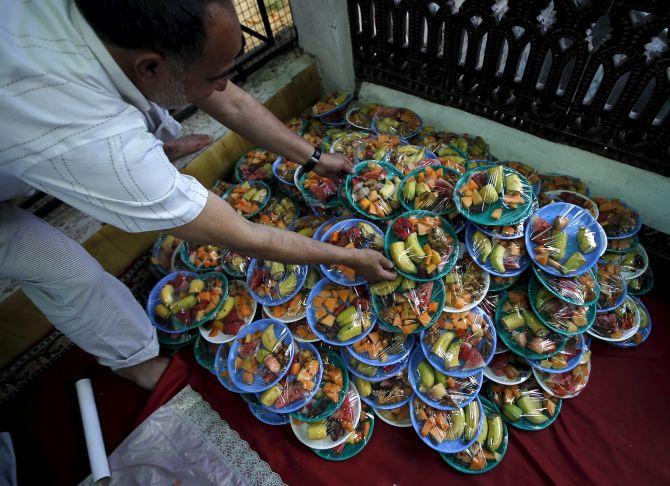 A Kashmiri Muslim man prepares to distribute the Iftar (breaking of fast) meal during the holy month of Ramadan outside a mosque in Srinagar. Photograph: Danish Ismail/Reuters
---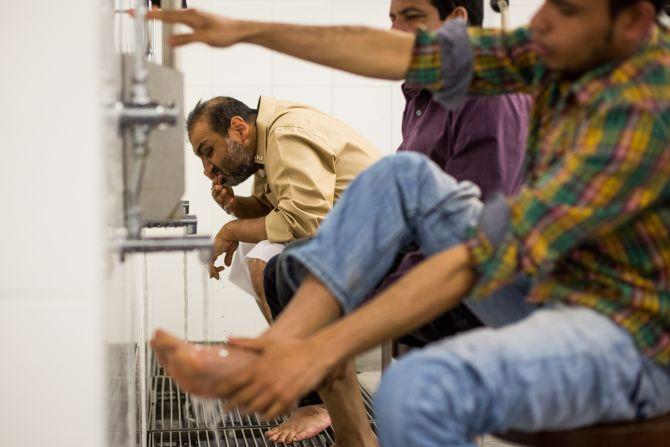 Men carry out Wudu, a washing procedure in preparation for prayer, at the East London Mosque before the first Friday prayers of the Islamic holy month of Ramadan. Photograph: Rob Stothard/Getty Images
---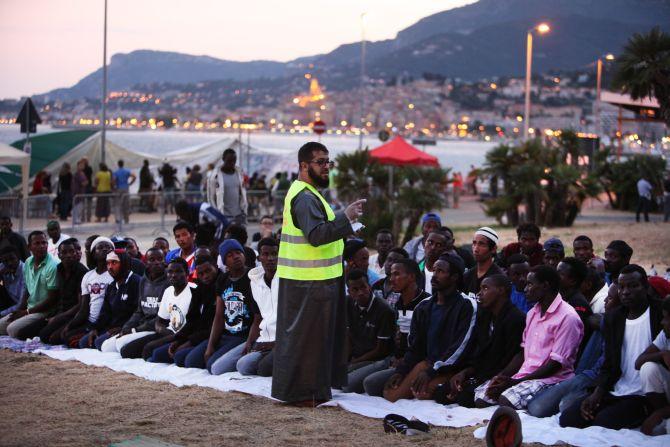 Migrants pray for the start of Ramzan as they gather at the French border hoping to enter the country in Ventimiglia, Italy. Photograph: Patrick Aventurier/Getty Images
---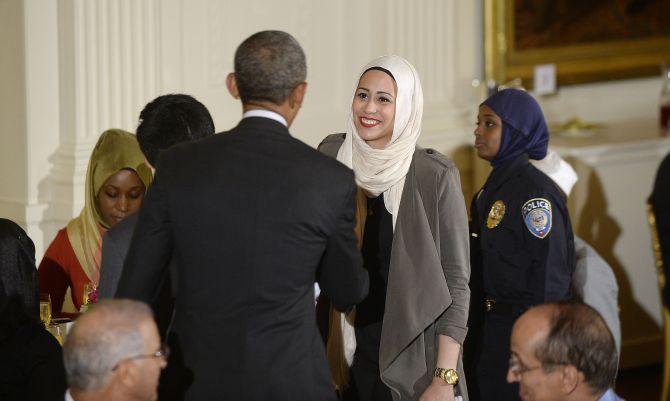 US President Barack Obama greets Samantha Elauf at the annual Iftar dinner celebrating the Muslim holy month of Ramadan in the East Room of the White House. Photograph: Olivier Douliery-Pool/Getty Images
---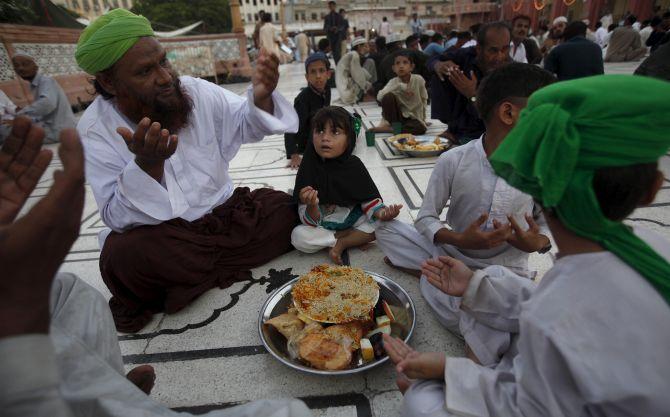 A girl (C) along with her family prays before breaking fast on the first day of the holy month of Ramadan at Memon Mosque in Karachi, Pakistan. Photograph: Akhtar Soomro/Reuters