Taking forward the Bharatiya Janata Party's aggressive Dalit outreach, Prime Minister Narendra Modi on Friday flew into Nagpur to pay homage to Bhimrao Ambedkar at 'Deekshabhoomi' where the architect of the Indian Constitution had embraced Bhuddhism 61 years ago.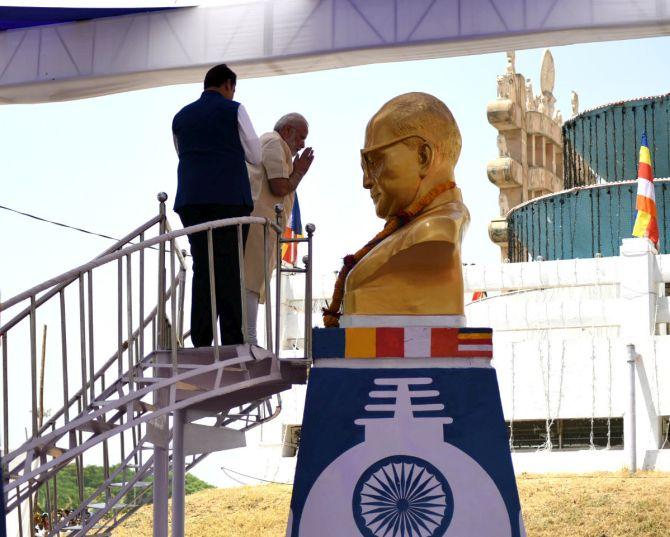 Modi, who has often profoundly praised Ambedkar for his struggle, and claimed the previous Congress governments failed to give the Dalit icon his due for his contributions to nation building, paid floral tributes to him at Deekshabhoomi to mark his 126th birth anniversary.
It was at Deekshabhoomi in 1956 that Ambedkar had led his followers in converting to Buddhism against the oppressive and discriminatory caste system in the Hindu society.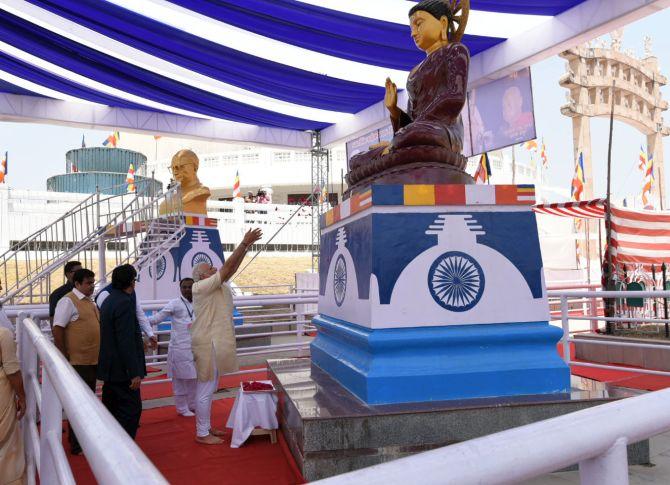 Modi stood at the place, which has become a shrine for Dalits and neo-Buddhists, with folded hands for a few minutes in prayer.
The prime minister's visit to Nagpur is being seen as an extension of his and BJP's efforts to reach out to Dalits, a move which helped the party shore up its performance by leaps and bounds in the key cow belt state of Uttar Pradesh where it formed its government after a hiatus of 15 years.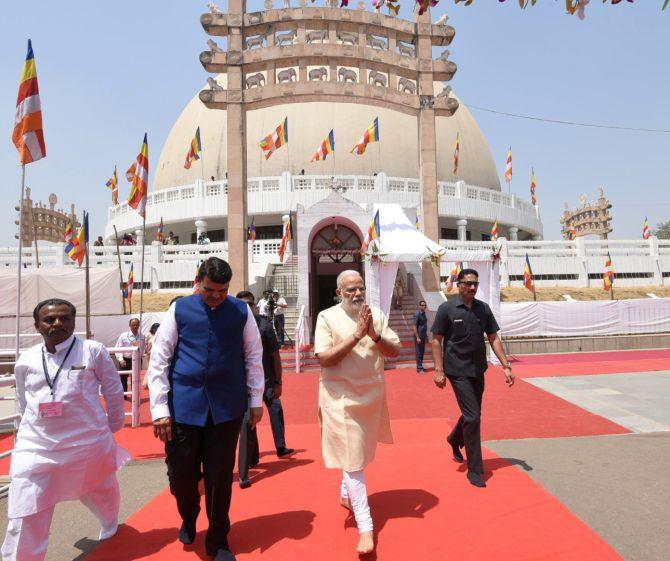 Ahead of his visit, Modi tweeted on Thursday that he was "extremely honoured" to be visiting Nagpur on the "very special occasion" of Ambedkar Jayanti.
In Nagpur, the seat of the Rashtriya Swayamsevak Sangh, BJP's ideological mentor, Modi inaugurated a raft of development projects, including an IIIT, IIM and AIIMS.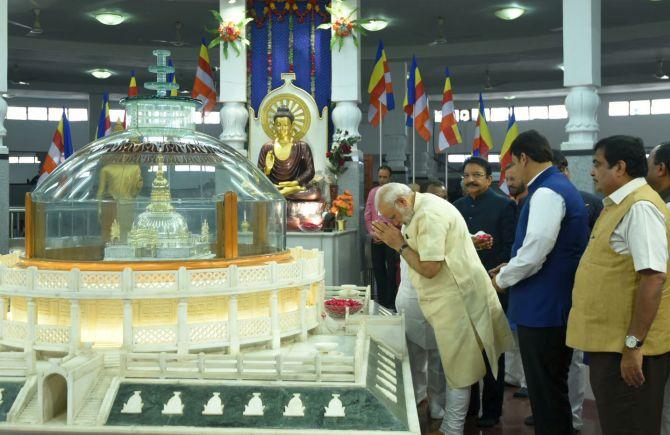 From Deekshabhoomi itself, the prime minister also launched two new schemes under application BHIM, the first four letters of the towering Dalit leader's name, for referral bonus to individual users and cash back for merchants to incentivise them.
Modi had launched the Bharat Interface for Money app in December 2016 for facilitating electronic payments.
The BJP's vigorous scheduled castes outreach was also manifest in the party naming the venue of its national executive meeting in Bhubaneshwar after Dalit poet Bhima Bhoi. Modi is scheduled to arrive in Bhubaneshwar for the two-day meet on Saturday.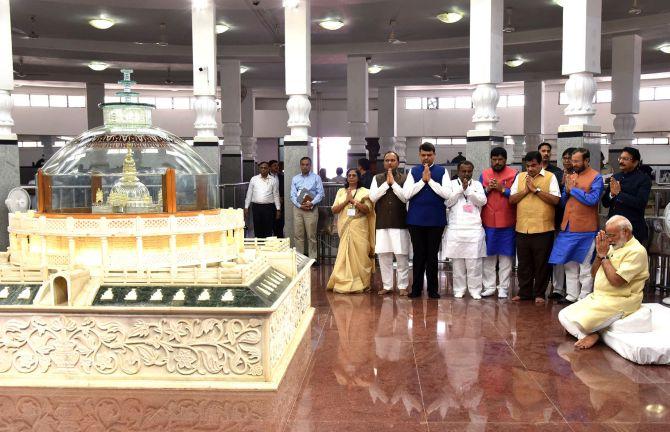 "The national executive meeting venue has been named after revolutionary poet Bhima Bhoi. The saint poet had unique ideology which is being followed by crores of people in Odisha, Chhattisgarh and Jharkhand," Petroleum and Natural Gas Minister Dharmendra Pradhan, who is supervising the preparations, told journalists.
The BJP is making determined efforts to expand its influence in Odisha after the party put up a remarkable performance in the panchayat elections in the state, finishing next to only the ruling Biju Janata Dal, which is in power for the last 17 years.
Photographs: Press Information Bureau