Congress vice president Rahul Gandhi on Sunday said in a lighter vein that his pet dog Pidi tweeted for him.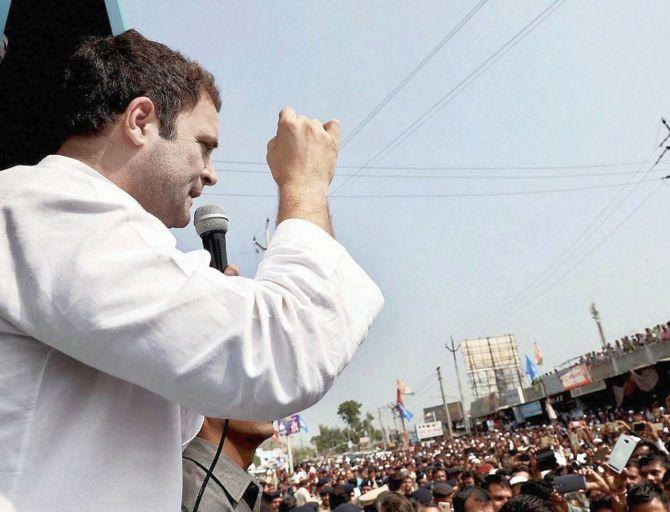 IMAGE: Congress vice president Rahul Gandhi addresses the supporters during a road show in Banaskantha. Photograph: PTI Photo
The Amethi MP said this while interacting with the Congress party's IT Cell members Ambardi in Banaskantha district.
However, on a serious note, Gandhi revealed that he reflected on issues and gave suggestions to his communication team of two or three members, which fine-tuned the content before posting it on the microblogging website.
"Pidi tweets for me," the Congress leader said when asked about the secret of his new-found popularity on Twitter and how he chose the subjects of his tweets.
Last month, Gandhi had tweeted, "People (have) been asking who tweets for this guy...I'm coming clean... it's me... Pidi... I'm way smarter than him. Look what I can do with a tweet…oops… treat! (sic)."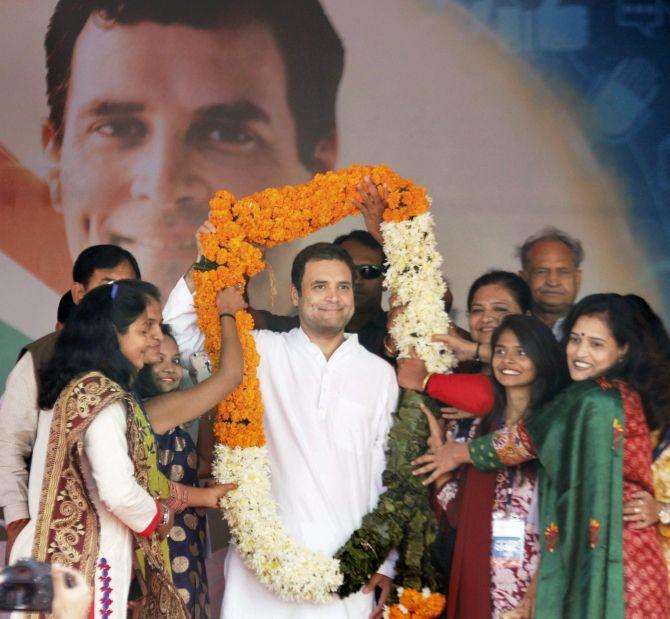 IMAGE: Supporters garlanded Congress vice president Rahul Gandhi during an interaction program with the IT cell at Ambaji in Gujarat. Photograph: PTI Photo
During Sunday's interaction, Gandhi said he had a small team, which managed his Twitter handle.
"Actually, whatever is to be said, if it is well thought out, can be said in a few words. I reflect and give suggestions to my communication team and we tweet after fine-tuning them," he said.
"Generally, I do not tweet routine things such as best wishes, like the birthday of (L K) Advaniji. My thinking goes into political tweets," he added.
During his address, Gandhi said, "The Bharatiya Janata Party has a paid social media (team), while the Congress has a free social media, which speaks the truth."
"It is true that development has gone mad in Gujarat," he said, while referring to the Congress' social media campaign in the poll-bound state -- 'Vikas gando thayo che' (development has gone mad).
The BJP had accused Gandhi of using bots to inflate his fan following on the microblogging website, but the Congress defended his Twitter resurgence, saying it was natural.
Bot is a program which can be used to autonomously perform certain actions such as tweeting, re-tweeting, liking, following, unfollowing etc.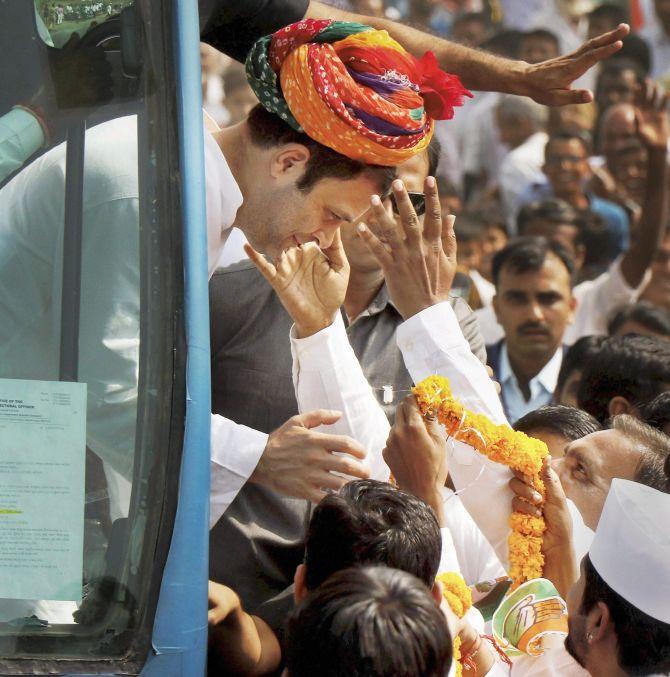 IMAGE: Congress vice president Rahul Gandhi being presented a turban by the supporters during a road show in Banaskatha. Photograph: PTI Photo
Asked how he tackled the campaign targeted against him, Gandhi only said, "You know who Shiva was," in what could have been a reference to the Hindu god consuming poison to save the universe.
He also said the Congress would target Narendra Modi, but would not disrespect the prime minister's position.
"Whatever we do, we will not show disrespect to Prime Minister Modi's position. The position represents the people of India. Whatever Modi says about us, he is the prime minister of India. We will not go beyond a certain point," the Congress leader said.
The GST and note ban, he said, were "clearly Modiji's mistakes".
"But he continues to say that the decision to ban currency notes was right. Everybody makes mistakes. We believe in accepting the mistakes and moving on. However much you try, you cannot spread anger because you belong to the Congress and not the BJP. But you can spread the truth," he told the party's IT Cell workers.
India's freedom fighters -- Mahatma Gandhi, Jawaharlal Nehru, B R Ambedkar -- had no Army, he said.
"But (they had) khadi, charkha and the truth. So, who won finally? The Congress party." Truth, he said, could not be fine-tuned.
"Today, Narendra Modi has the Gujarat government, central government, Army, air force, media...We are not talking about the people in the media. They want to propagate the truth, but are controlled from behind. Narendra Modi and Amit Shah are fine-tuning. But truth cannot be fine-tuned," Gandhi said.
He said mediapersons saw the truth as it was and reported it to the owners of their respective organisations and claimed that the latter "fine-tuned" it.
"But you, the social media team, are free to spread the truth. Whatever you see, can be put on the social media," Gandhi said.