The Underwater Photographer of the Year competition has announced the winners of this year's contest, with France's Gabriel Barathieu being named Underwater Photographer of the Year for an image of a hunting octopus.
UPY was kind enough to share some of this year's honorees with us below.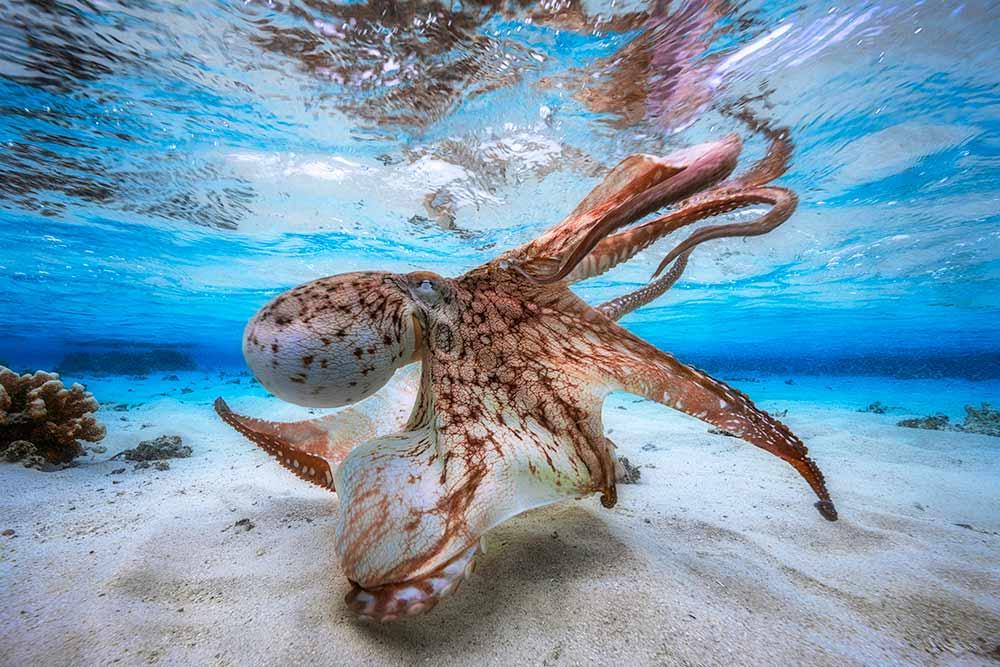 Dancing Octopus
Underwater Photographer of the Year, 2017
In the lagoon of Mayotte, during spring low tides, there is very little water on the flats. Only 30 cm in fact. That's when I took this picture. I had to get as close as possible to the dome to create this effect. The 14 mm is an ultra wide angle lens with very good close focus which gives this effect of great size. The octopus appears larger, and the height of water also. Also, I didn't need flash because I had lots of natural light.
Photograph: Gabriel Barathieu/UPY2017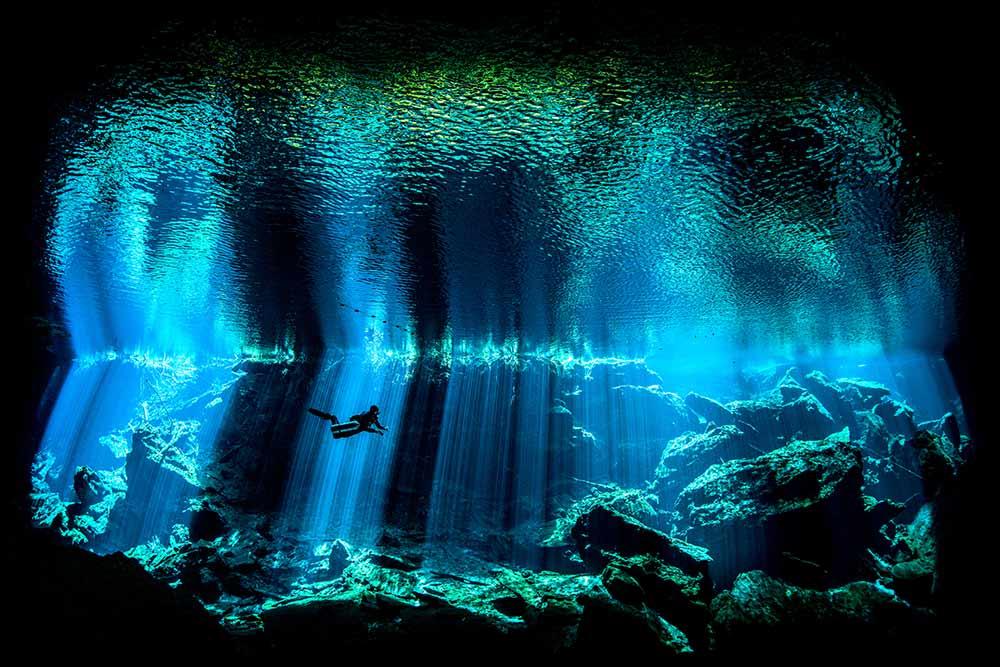 Out of the Blue
British Underwater Photographer of the Year, 2017
Kukulkan Cenote on Mexico's Yucatan Peninsula forms part of the Chac Mool system and is noted for the spectacular light effects as the sun penetrates the darkness. I left my strobes behind for the natural light shot I wanted and positioned myself in the shadows of the cavern. Moving my eye around the viewfinder, I could see that the rock outline of the cavern around me made for a pleasing symmetry and I adjusted my position to balance the frame. The light show flickered on and off as the sun was periodically covered by cloud and as it reappeared, I beckoned to my buddy and dive guide, Andrea Costanza of ProDive, to edge into the illumination of some of the stronger beams, completing the composition.
Photograph: Nick Blake/UPY 2017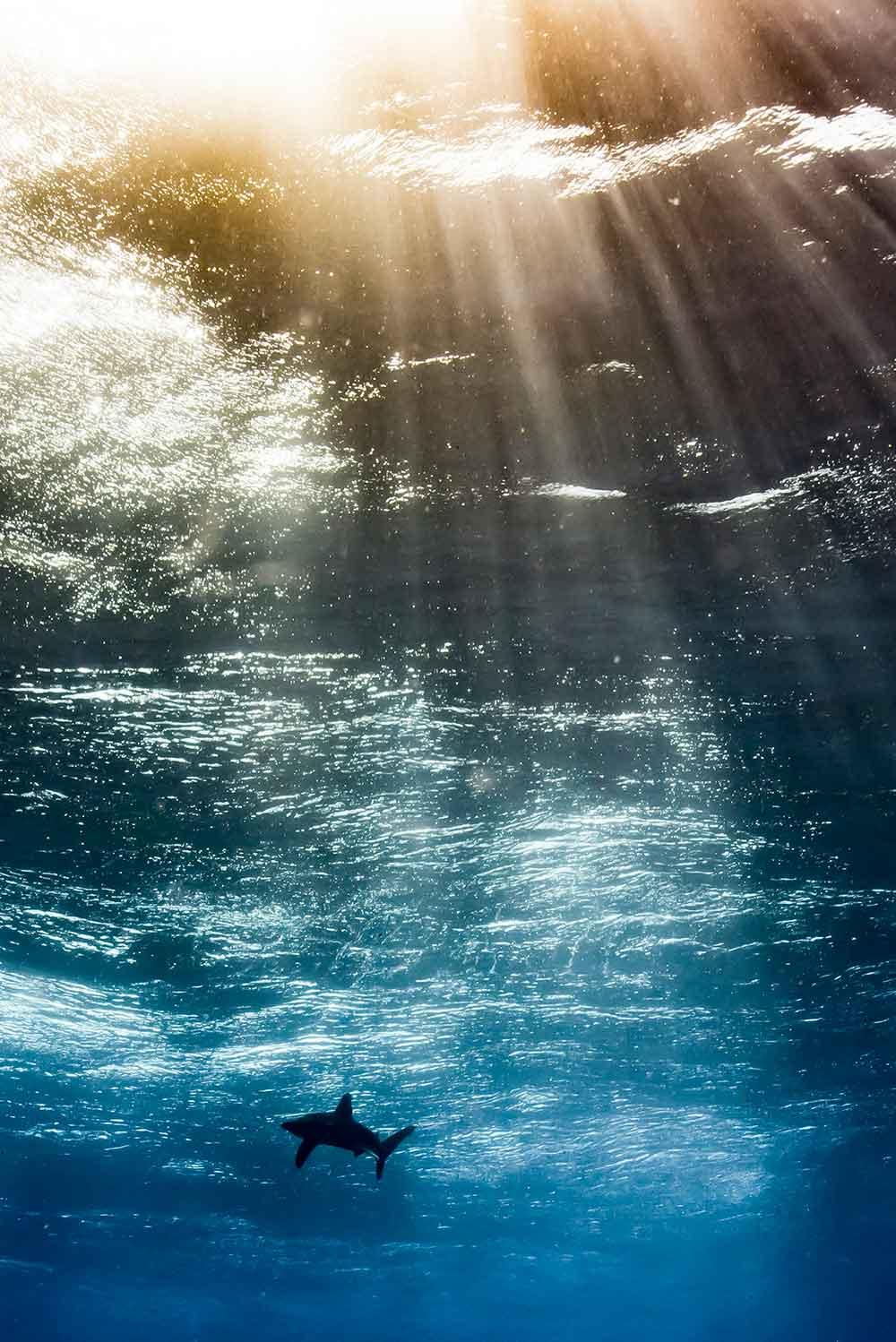 Oceanic in the Sky
Up and coming Underwater Photographer of the Year 2017
This was my first Red Sea experience, and my first liveaboard-based photo workshop, so everything was interesting... but arduous. We were on the last dive of the day and I ventured a tad deeper to get closer portraits of the Oceanic White Tips, when I noticed this shark patrolling in the distance. I took a few shots to expose for the sun beams and the surface, and was pleased by the dreamlike effect.
Photograph: Horacio Martinez/UPY 2017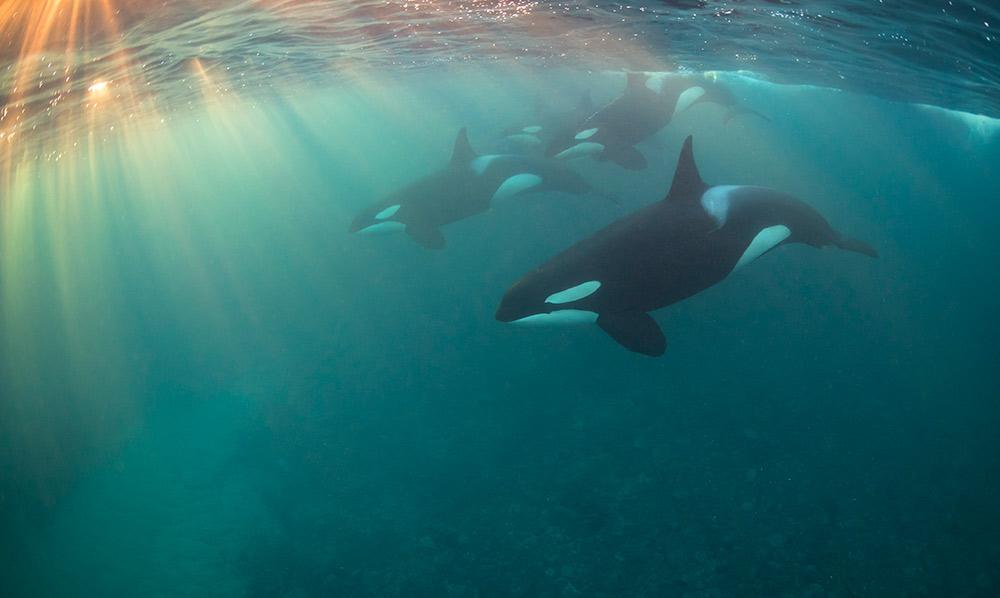 Orca Pod
Most Promising British Underwater Photographer 2017
Orcas are easily the most beautiful, intelligent and confident animals I've ever had the honour of spending time with. This photo was taken during an amazing week free-diving with wild Orca in Norway. The days are quite short in winter and the water was around 5 degree but we wore a thick wetsuit and of course with Orca around, the cold was quickly forgotten.
Photograph: Nicholai Georgiou/UPY 2017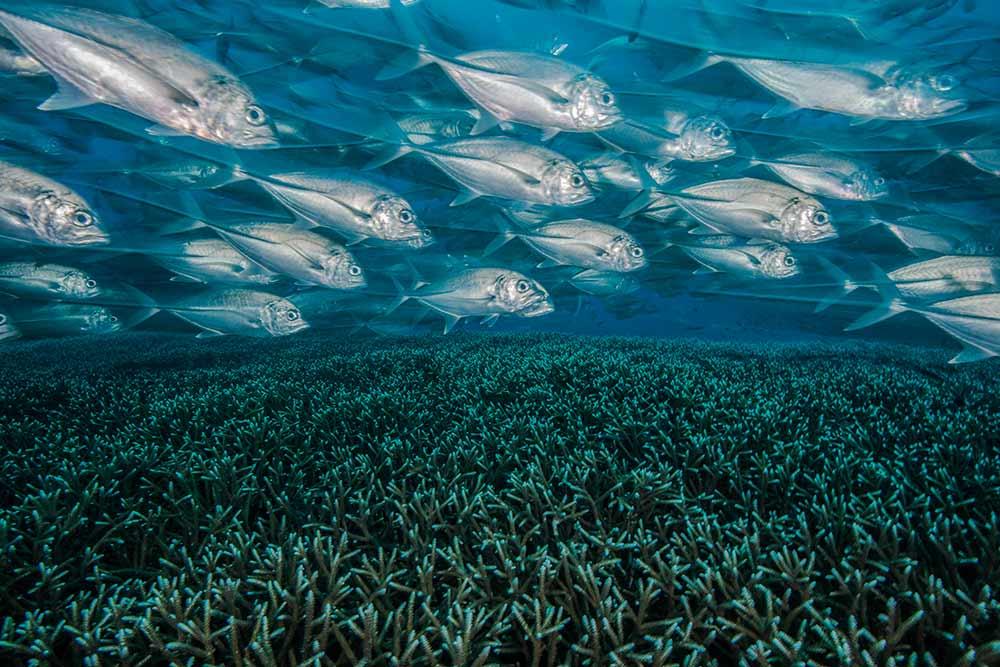 Interaction
Wide Angle, Third
I was lucky to join an expedition aboard MV ONDINA covering Raja Ampat North, Central & South. We went to dive to the sea mount 'Karang Paradise' where the biodiversity is something unique; endless coral fields, large congregations of fish and big pelagic travellers passing by.
At the end of one of the dives, I found this enormous coral field full of different groups of fish. I wanted to show in my pictures the motion (I've taking motion pictures with very slow shutter speed for long time), so I set up my camera on top of a rock (I didn't have my tripod), then after few minutes completely still, this big congregation of big eye jacks came and complete surround me. A magic moment!
Photograph: Edwar Herreno/UPY 2017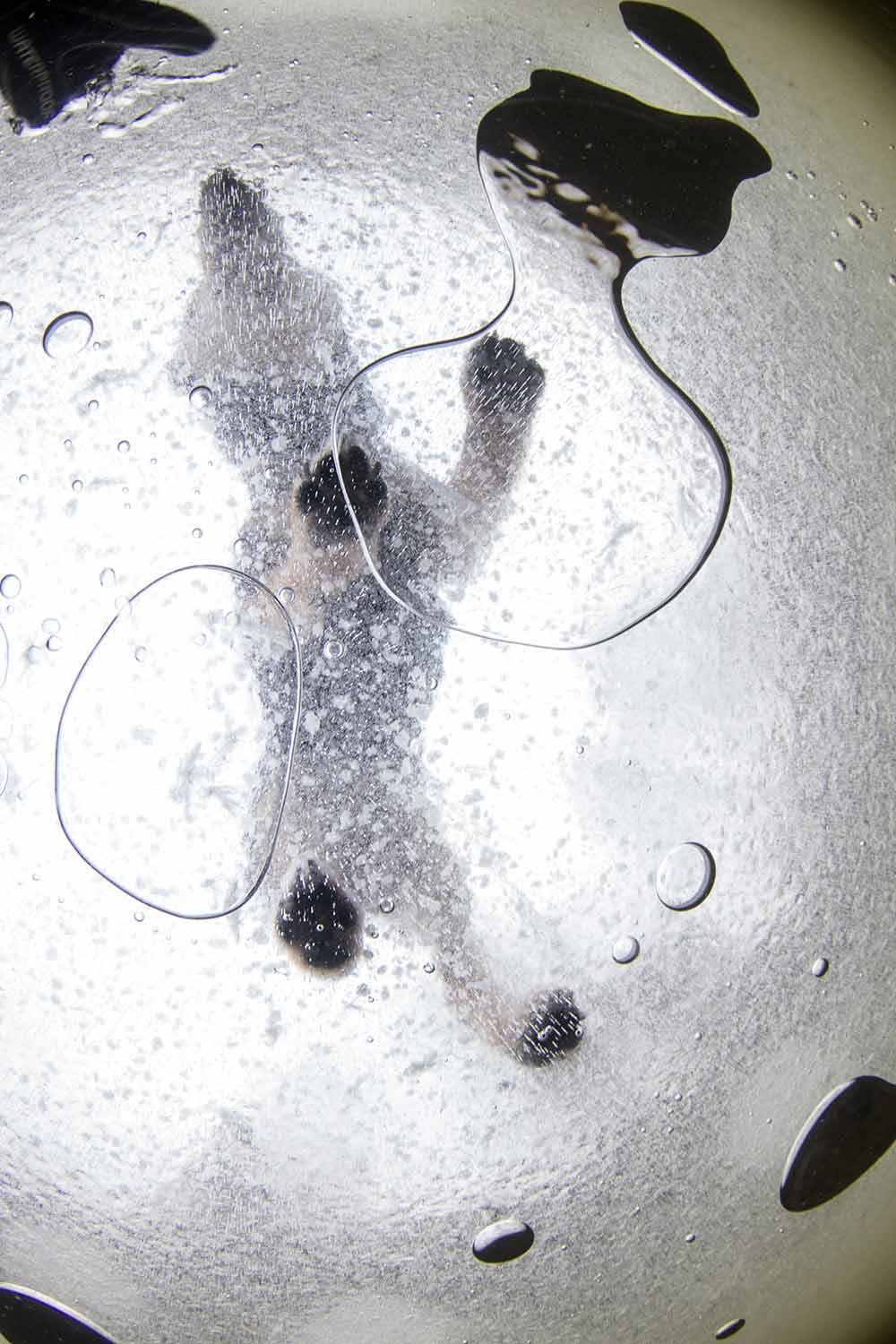 Walking
Wide Angle, Highly Commended
It was the first cold days last November and the lake had just frozen. I had a plan to do some ice diving and take nice pictures of the lake getting stronger ice cover. I didn't have much success with this plan so I started to look upwards through the ice in order to locate my fellows on the ice. Instead of them I realised that our two dogs were walking just above me with my wife. The other dogs stood still for a moment to sniff the ice - that is when I took this pic.
Photograph: Eero Hallfors/UPY 2017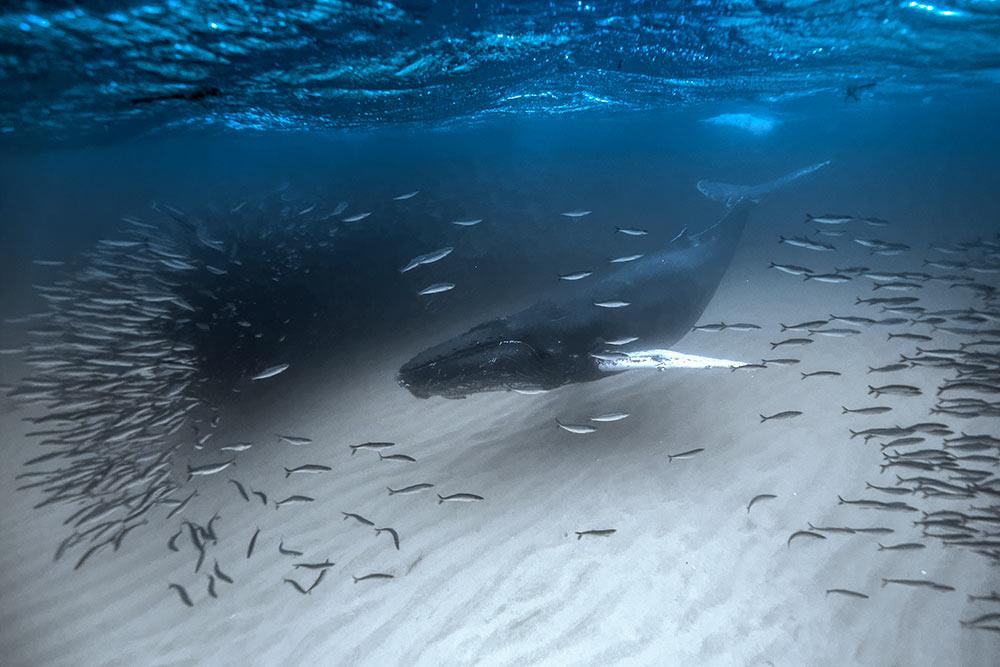 Frozen Hunting
Wide Angle, Highly Commended
The weather was cloudy and the temperature of water was 2°C. Orcas push fish towards the coast as this makes them easier to catch. Our boat captain stopped near a school of herring. When I was in water, I saw that it was not deep, so it presented an opportunity to photograph with the light being reflected off the sand. I waited for 20 minutes in front of shoal of herring hoping to see an orca. Suddenly a humpback whale appeared. What a surprise! It was an amazing cold encounter!
<p
>Photograph: Fabrice Guerin/UPY 2017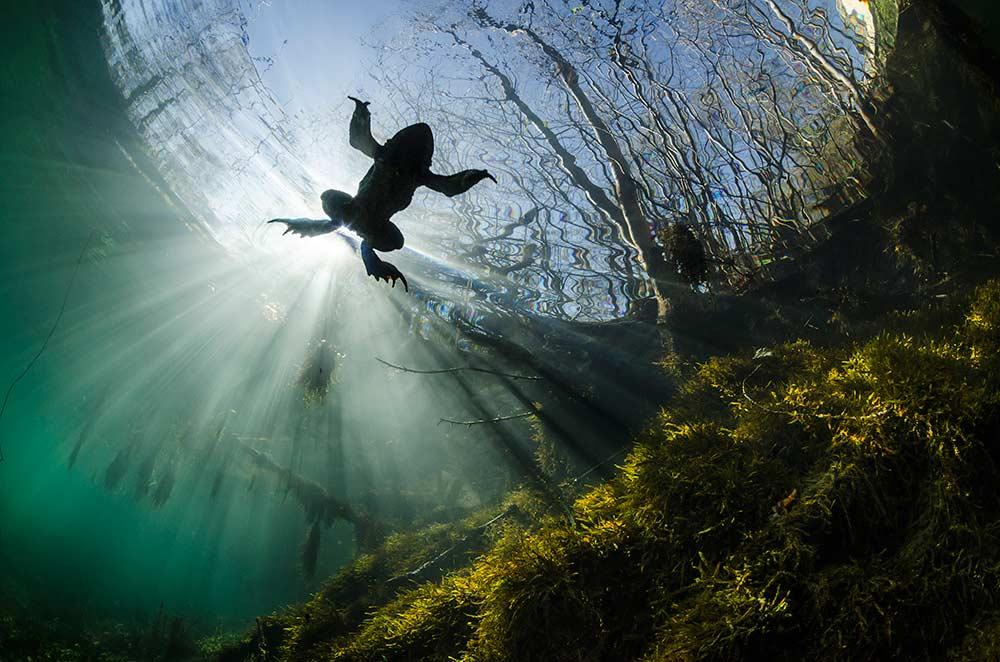 Prince of the waters
Wide Angle, Highly Commended
The common toads start going back to the river in February in order to reproduce. The frozen waters of this small river are by then clear enough, and ideal for underwater photography. This image was taken in natural lights and apnea.
Photograph: Yannick Gouguenheim /UPY 2017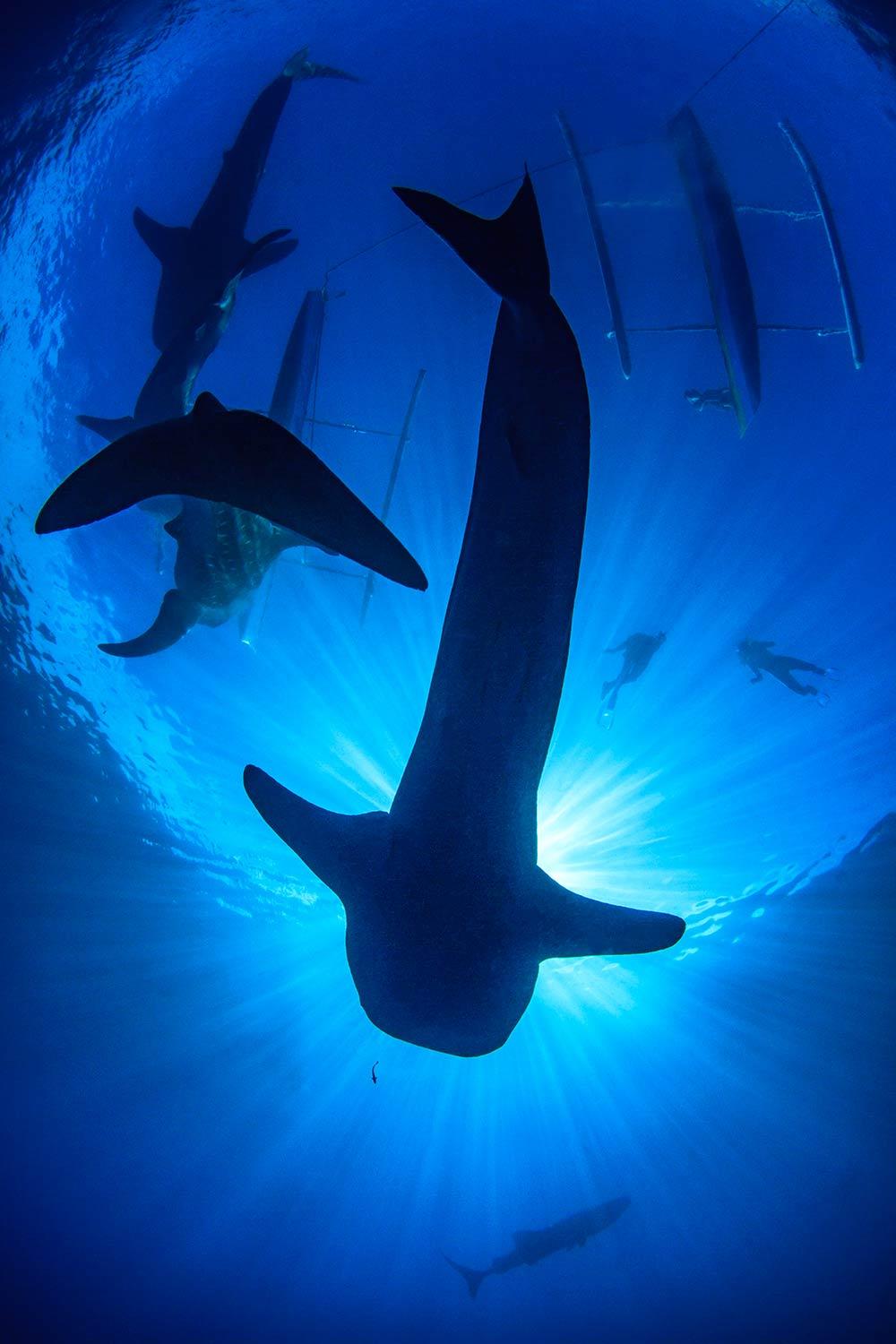 Finally Whalesharks
Wide Angle, Commended
Although I have been diving for more than 30 years with over 3000 dives, I had never saw a Whaleshark before.
On our latest trip through Indonesia a friend told me that recently there are some around the Gorontalo area so we changed our plans and went there to end my whaleshark dilemma. We drove out to the dive site and everything was perfect. Very good visibility, no waves and a bright sunny day. Now only the big guy had to be there to make it really happen. When we entered the water there was not one Whaleshark ... but 6 of them! You can imagine my happiness.
Photograph: Patrick Neumann/UPY 2017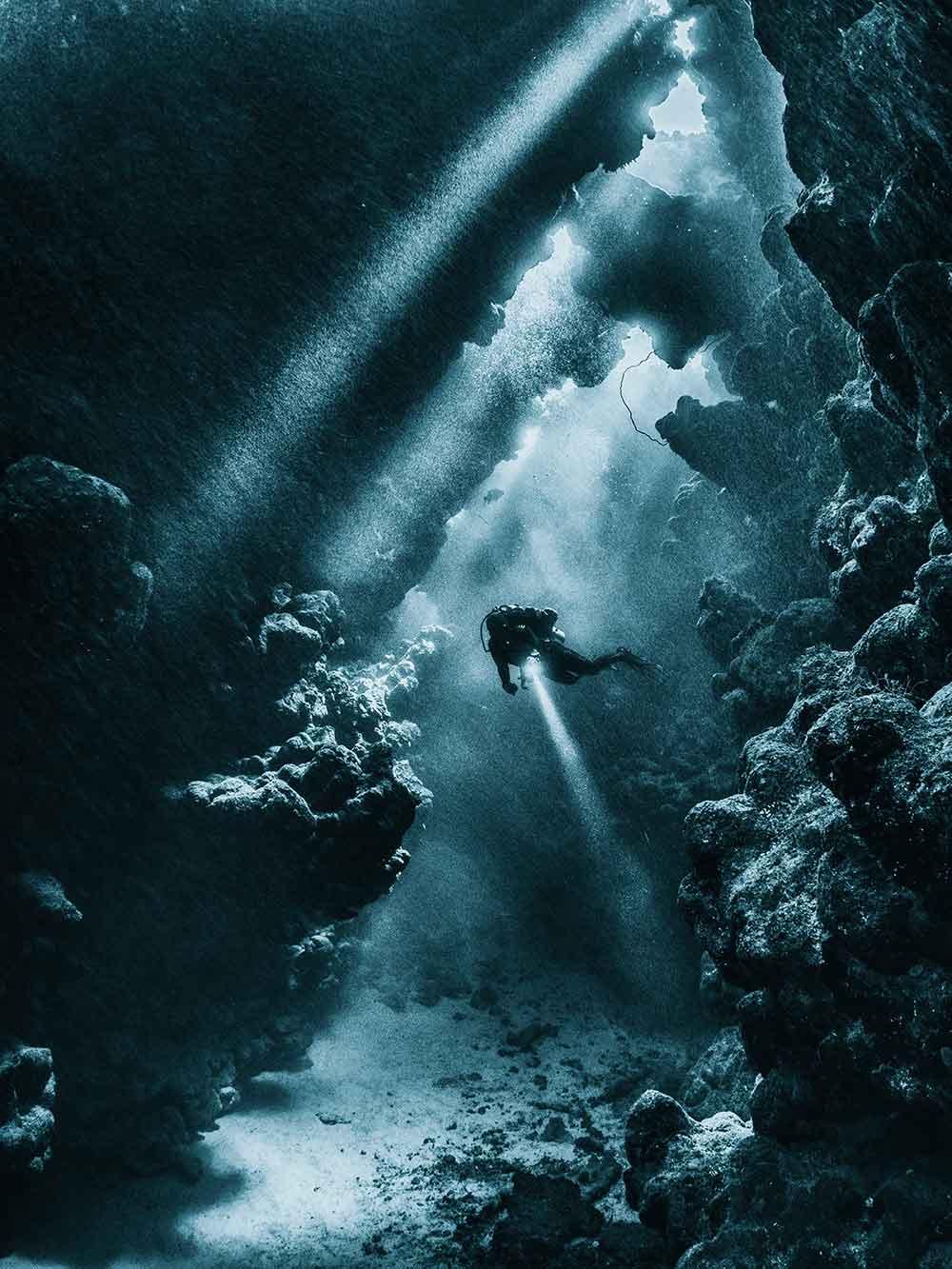 Sun shine after the storm
Wide Angle, Commended
It was a fairly choppy week and the surface conditions where less than ideal for the classic "cathedral" sun beams. Swimming around Sha'ab Claudia cave system in Fury Shoal I noticed our dive guide, Annette, pointing her torch to the ground. Everything felt into place and this was my take on a classic shot.
Photograph: Mario Vitalini/UPY 2017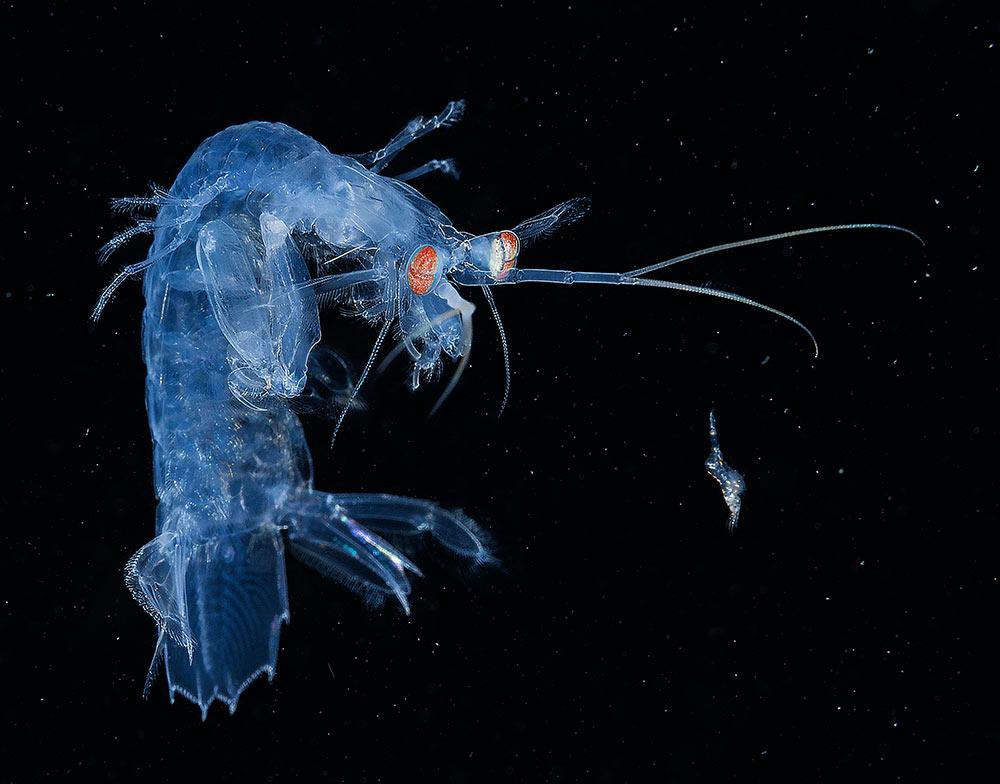 Prey?
Macro, Winner
This photo was shot during a blackwater dive in Anilao. Even though the larvae mantis shrimp (left) is very small, it still is a predator which uses its raptorial appendages to hunt. Has it spotted the prey and is ready to pounce?
Photograph: So Yat Wai/UPY 2017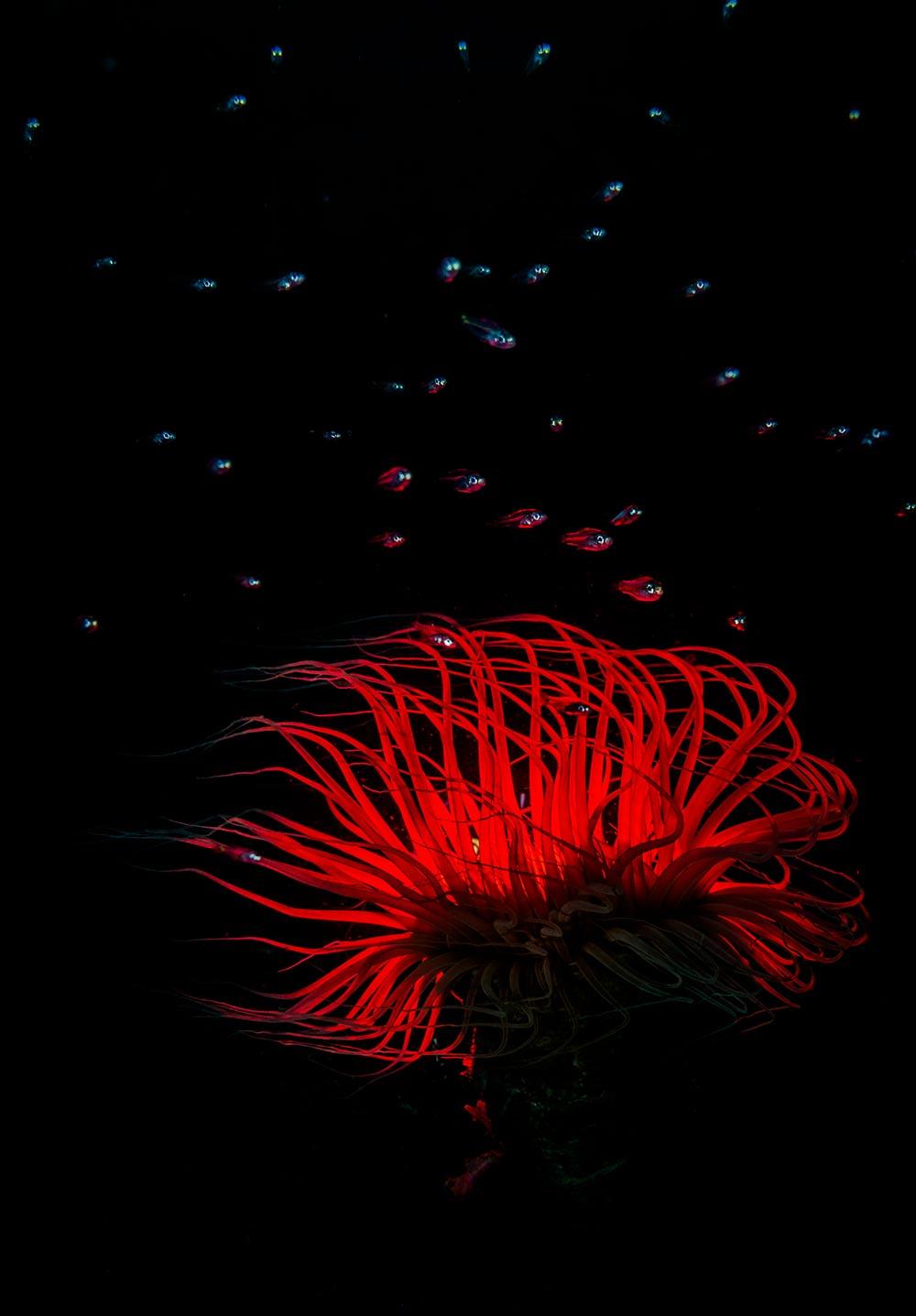 Fire Shelter
Macro, Third Place
The underwater realm is stunning. But most of the time we tend to see only the rare and unique critters while the most common subjects are set aside. This tube Anemone (which you can find almost everywhere) is a shelter to a bunch of juveniles until they can manage on their own. They have an entire universe in there with plenty of adventures taking place.
Photograph: Dragos Dumitrescu/UPY 2017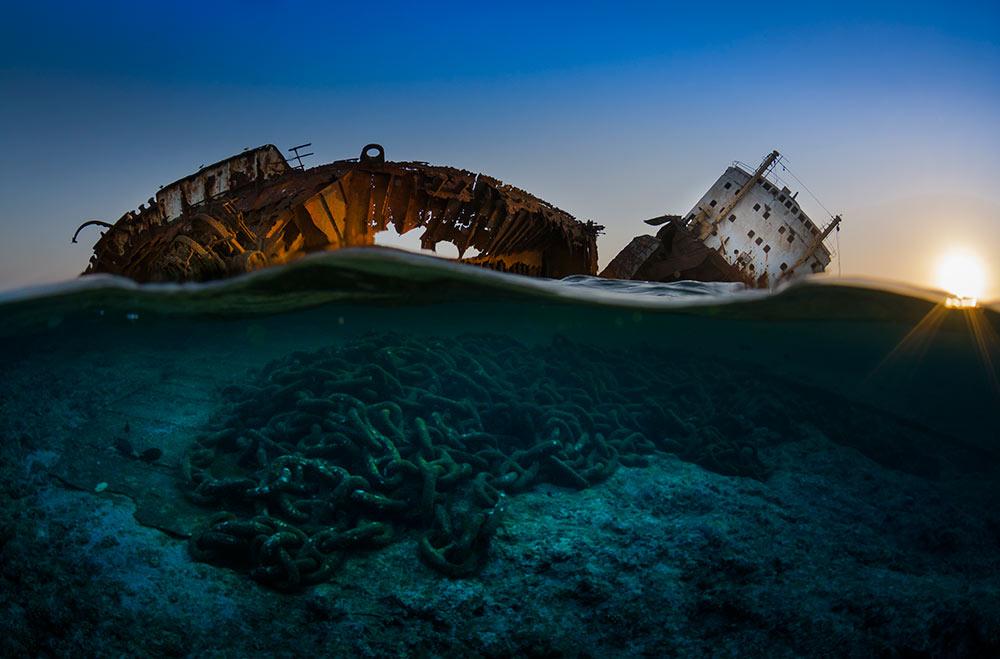 The wreck of the Louilla at sunset
Wrecks, Winners
This is the wreck of the Louilla resting on top of Gordon reef in the Straits of Tiran on the edge of the Sinai. Beneath her lies a pile of her anchor chains, giving the form of a whale. This wreck sits on top of Gordon reef, battered by the waves and is slowly deteriorating.
Photograph: Csaba Tokolyi/UPY 2017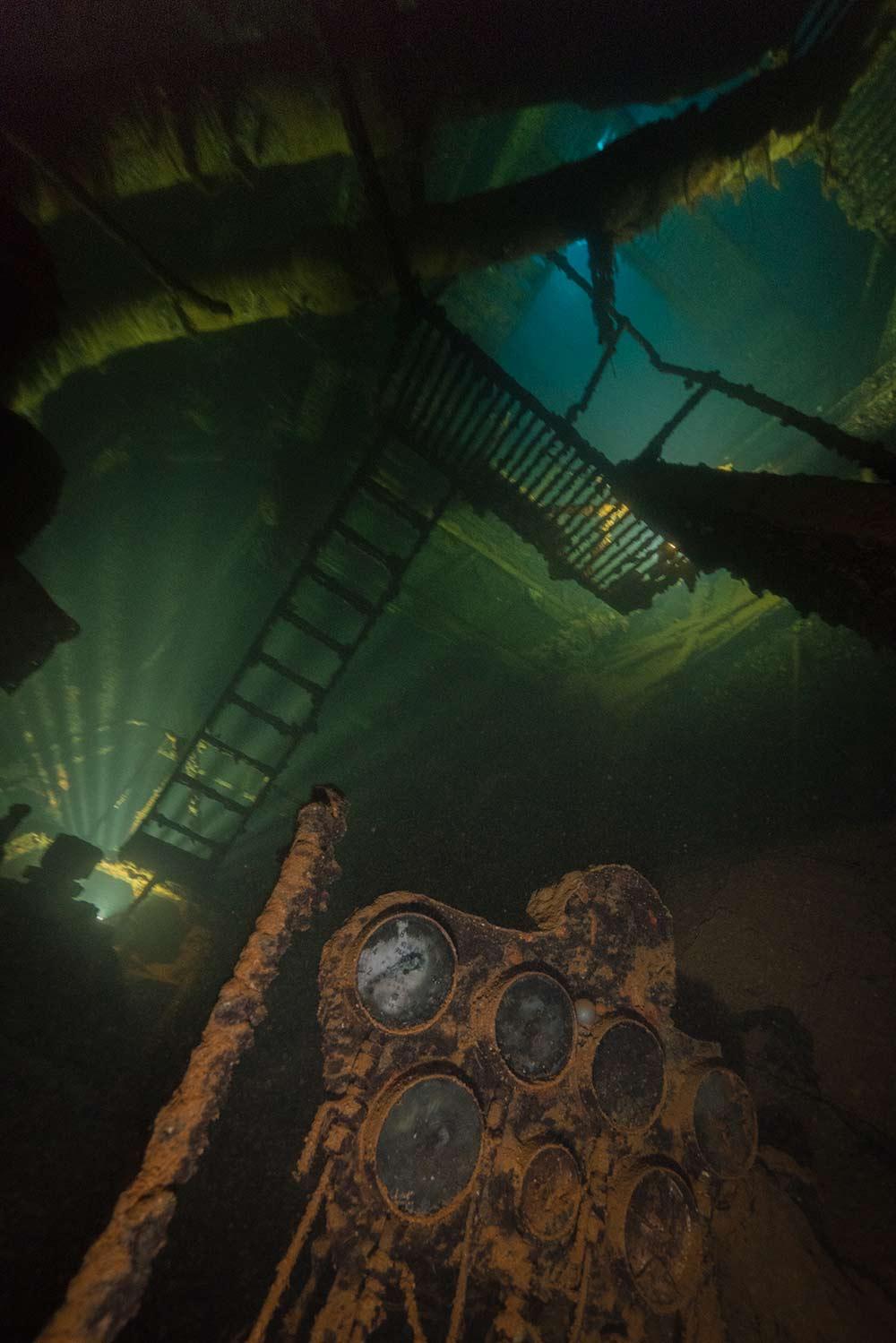 Rising Sun - Nippo Maru
Wrecks, Third
Engine rooms in Truk Lagoon are popular places; I'd made a plan with the group that they would head there at the beginning of the dive and I'd venture in at the end. Entering through the blast hole at 45m it took about 30 minutes to position the lights, get set up and wait for the silt to settle; being on a rebreather really helps with the rust percolation. The light bursting through the gantry like the 'rising sun' seemed fitting.
Photograph: Kieran Hatton/UPY 2017t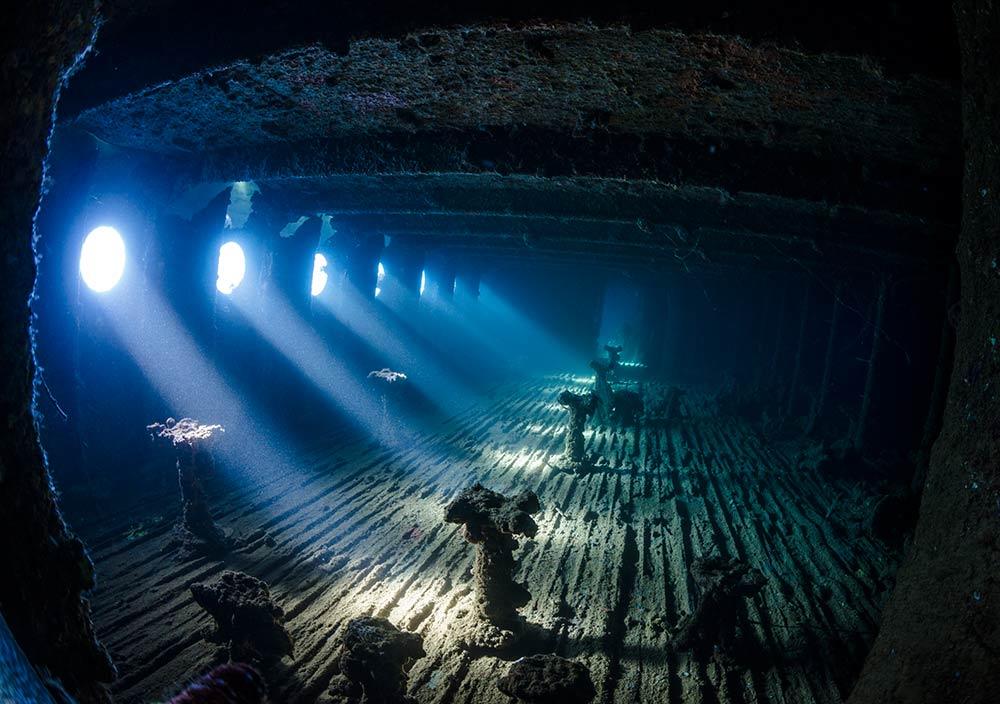 The Haunted Room
Wrecks, Highly Commended
On my way back from the dive, I noticed this room flooded with light. The rays of light streaming down through portholes were lined up so nicely creating a mysterious look of what this room might have looked like when the Umbria was still intact and plying the seas. The wreck lies on its side with the portholes looking up toward the surface, so the saloon is turned sideways, which is very confusing to a human eye.
Photograph: Nadya Kulagina/UPY 2017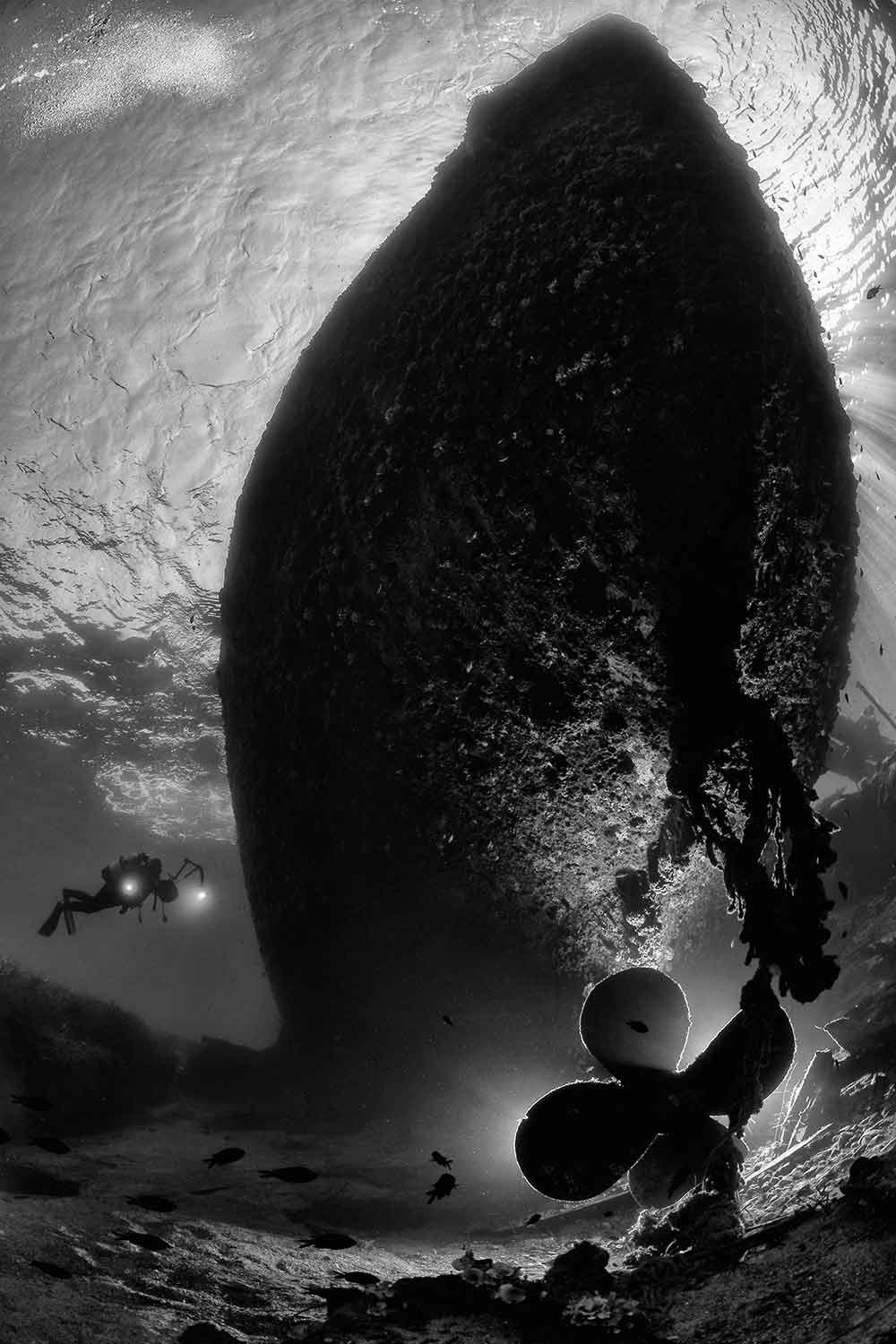 Propeller of the 'Michelle'
<p
Wrecks, Highly Commended
The wreck of the Michelle lies in navigation trim at a depth of 10 metre pointing SW and the bow is almost always dark, since it is never lit by sunlight.
Photograph: Gianni Pecchiar/UPY 2017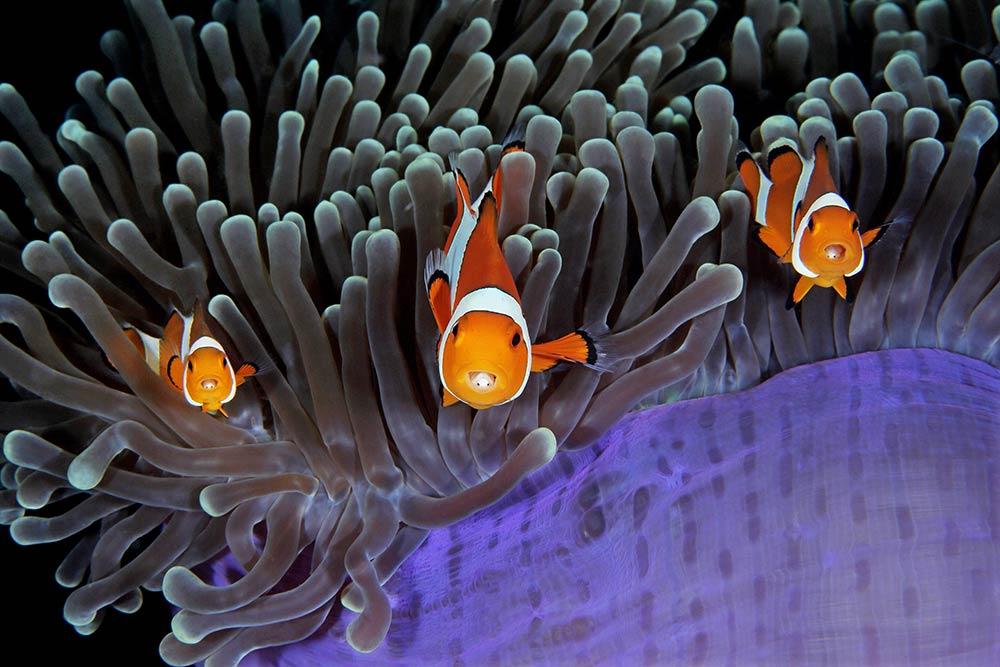 Your home and my home
Behaviour, Winner
Clown anemonefish and anemones enjoy a symbiotic relationship. The parasitic isopods like to hang out in the mouths of anemonefish. Perhaps because of the isopods, Clown anemonefish often open their mouths. These three particular fish were very curious. As I approached, they danced about the camera lens.
Photograph: Qing Lin/UPY 2017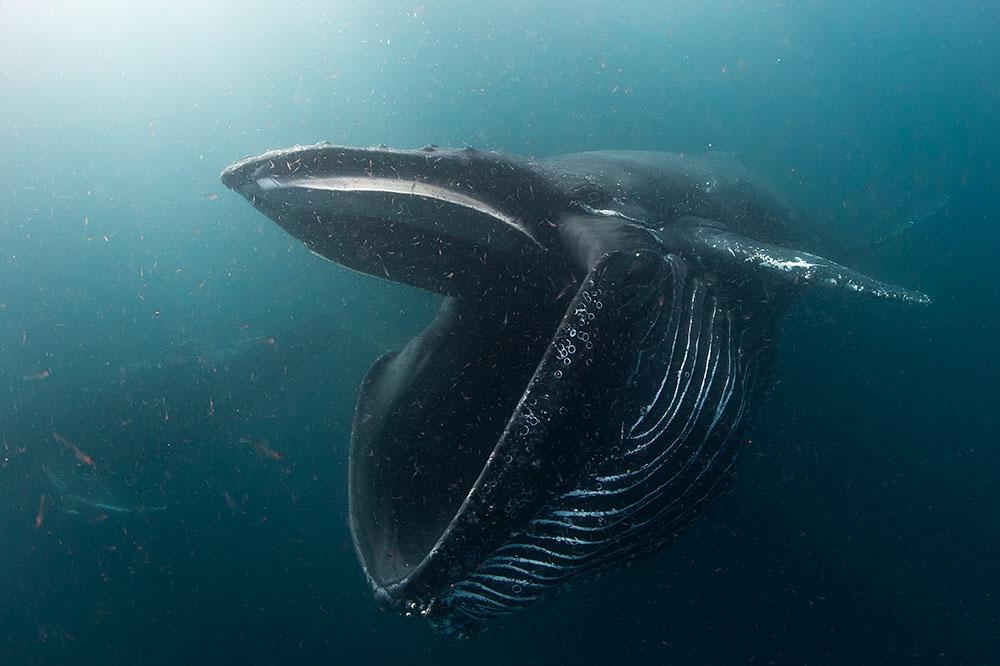 Humpback whale feeding on krill
Behaviour, Runner-up
Every summer hundreds of humpback whales gather off the Cape Town coast in a massive feeding aggregation. Working as part of a film crew I was privileged to have a chance to photograph this phenomenon.
Without warning, the whales appeared just metres away with their pleats distended as they surfaced with huge mouthfuls of krill.
Photograph: Jean Tresfon/UPY 2017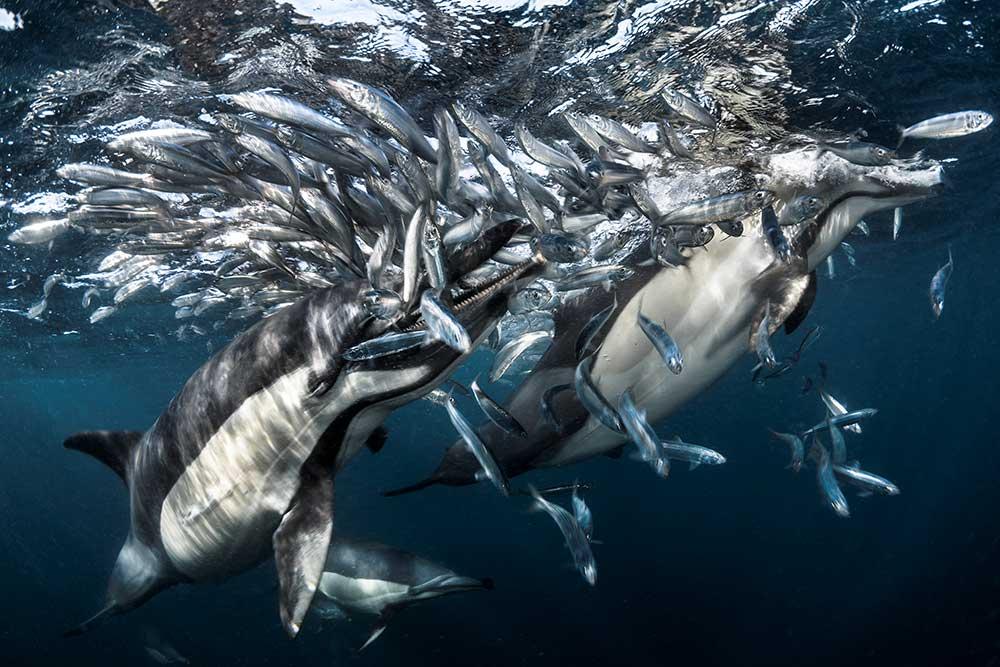 Dolphins hunting
Behaviour, Highly Commended
Since last year, sardines have become victims of overfishing and climate change. They are the main food source of marine life, many species such as penguins, sea lions, sharks, dolphins and more... are dependent on them for their survival. During their migration along the wild coast, all the predators work together to hunt sardines but the action is more and more unpredictable.
<p
Photograph: Greg Lecoeur/UPY 2017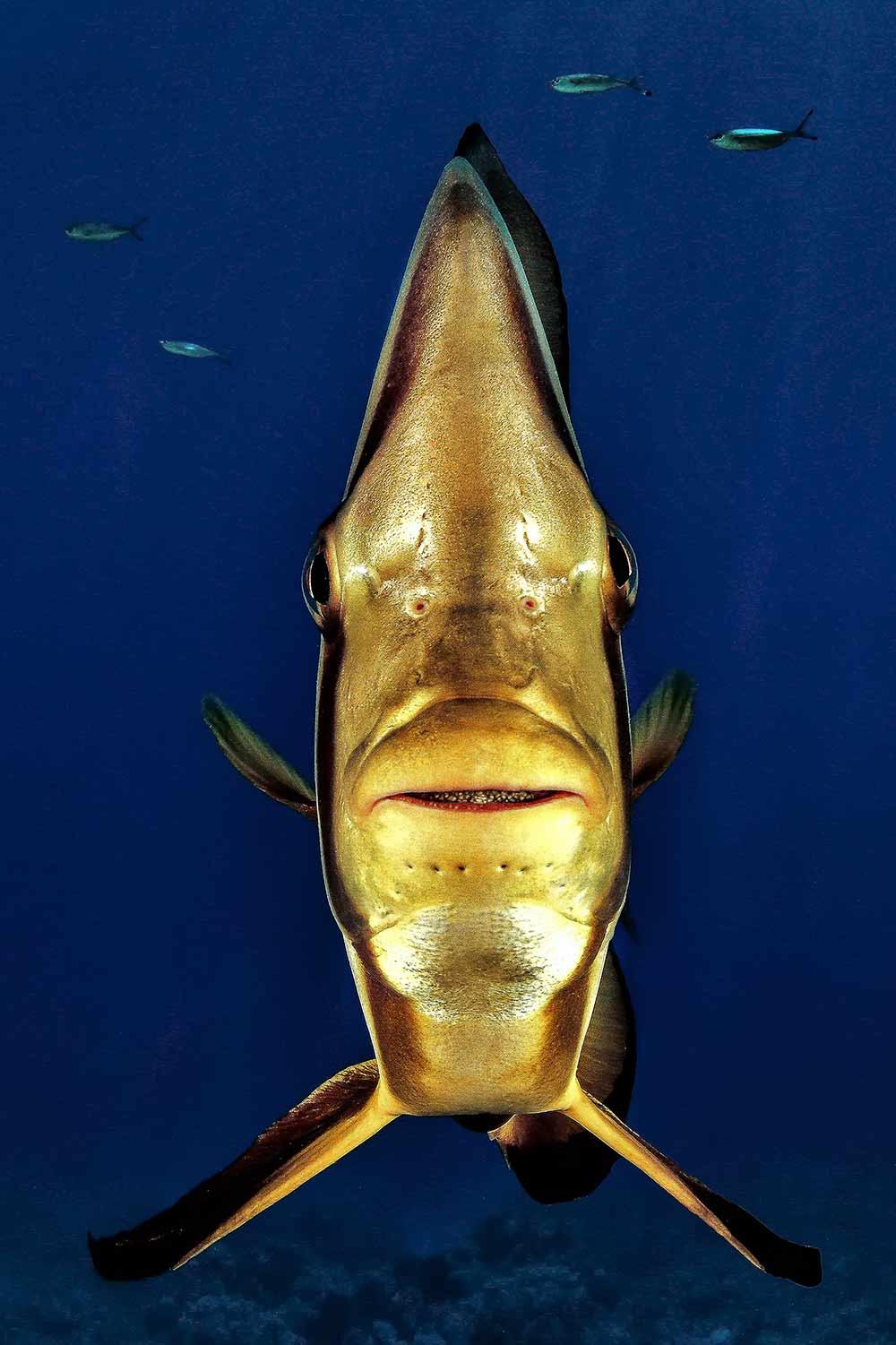 Face to face
Portrait, Winner
We were photographing a big school of bat fish in front of the fully blue background in Shark Rafeen, Rash Mohamed National Park in Egypt, but it is extremely hard to capture a school of fish in a nice position, especially with divers swimming by all the time, so I gave up trying. Not so far from the others I noticed a crevice in a rock, which fish used as a cleaning station, and slowly, very slowly, I swam into the gap, switching places with the cleaning fish.This made it possible to photograph this bat fish front on.
Photograph: Lorincz Ferenc/UPY 2017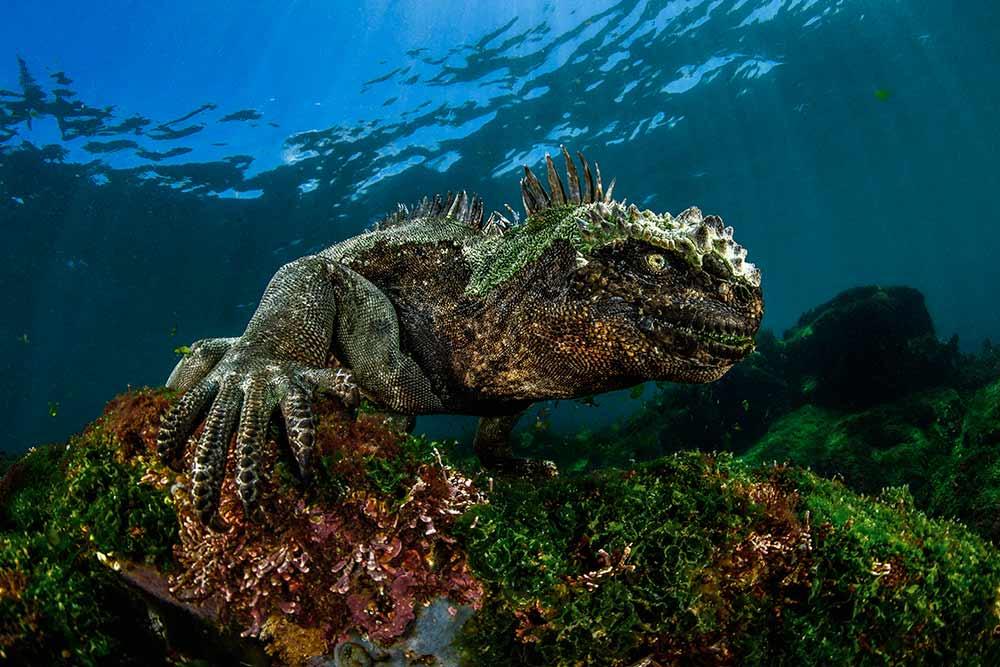 Imp of darkness
Portrait, Highly Commended
On his visit to the Galapagos islands, Charles Darwin was revolted by the animals' appearance, writing: "The black Lava rocks on the beach are frequented by large, disgusting clumsy Lizards. They are as black as the porous rocks over which they crawl & seek their prey from the Sea. I call them 'imps of darkness'. The marine iguana are all but monsters. Endemic to the Galapagos, it's a rare privilege to share a moment underwater with this animal now considered as an endangered species.
<p
Photograph: Damien Mauric/UPY 2017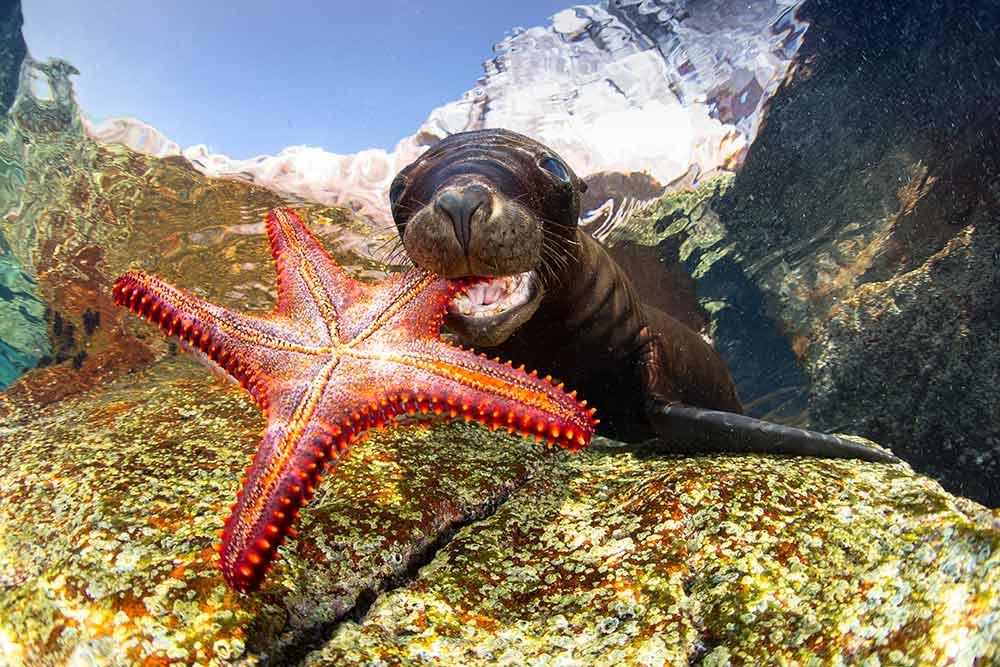 Sealion playing with starfish
Portrait, Commended
In Los Islotes there is one of the most important Sealion kindergartens in Mexico. I went there looking for pictures of sea lions eating on the big sardine banks. I was not lucky, because there were no sardines, but I found many interesting things, such as the one I show in this photo, a juvenile sea lion playing with starfish
<p
Photograph: Francis Pérez/UPY 2017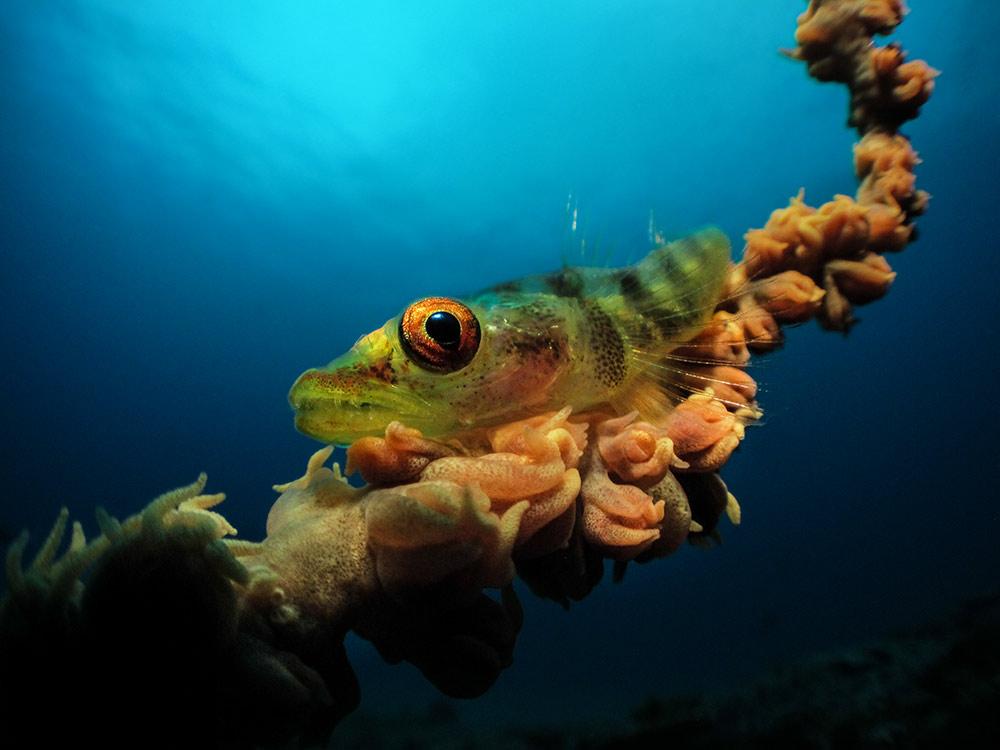 I've got my eye on you!
Compact, Winner
I have shot many whip gobies but this particular shot was taken with the Inon compact bug-eye lens which added a lot of character to the goby's eye. The trick was to get close enough without the goby moving away. I was fortunate enough to find a very forgiving goby who allowed me into his private space. I knew I had to get down low and shoot up to include the surface of the water. I shot this scene many times before getting the image I was after.
<p
Photograph: Jenny Stromvoll/UPY 2017-02-15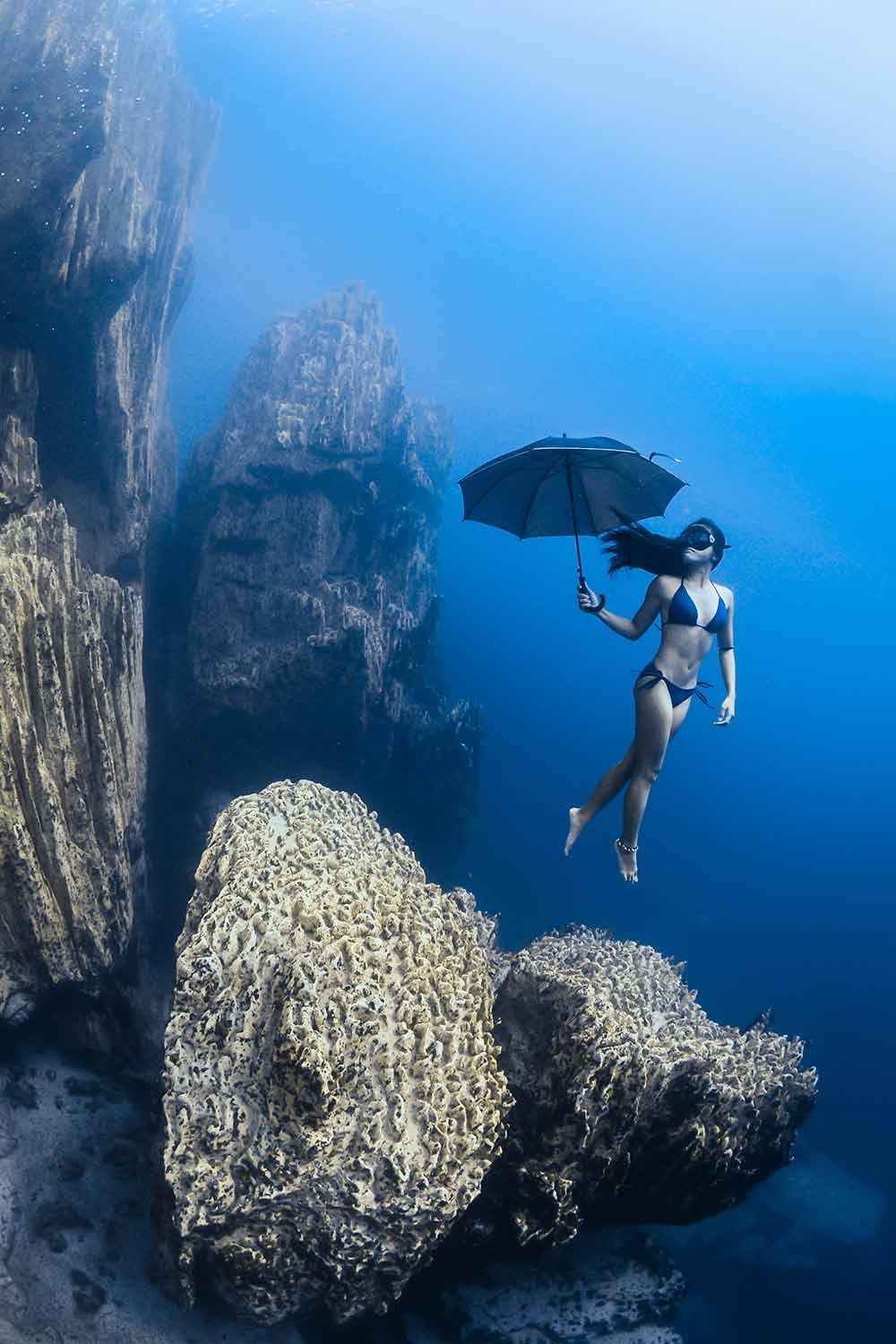 Under My Umbrella
Up and coming, Third
The idea for this photo came from the need to show people that free diving is not only about going down and up on a line but rather exploring, dreaming and applying it for having fun and to explore. This photo was taken at Freediving Coron in the Philippines.
<p
Photograph: Catalin Craciun/UPY 2017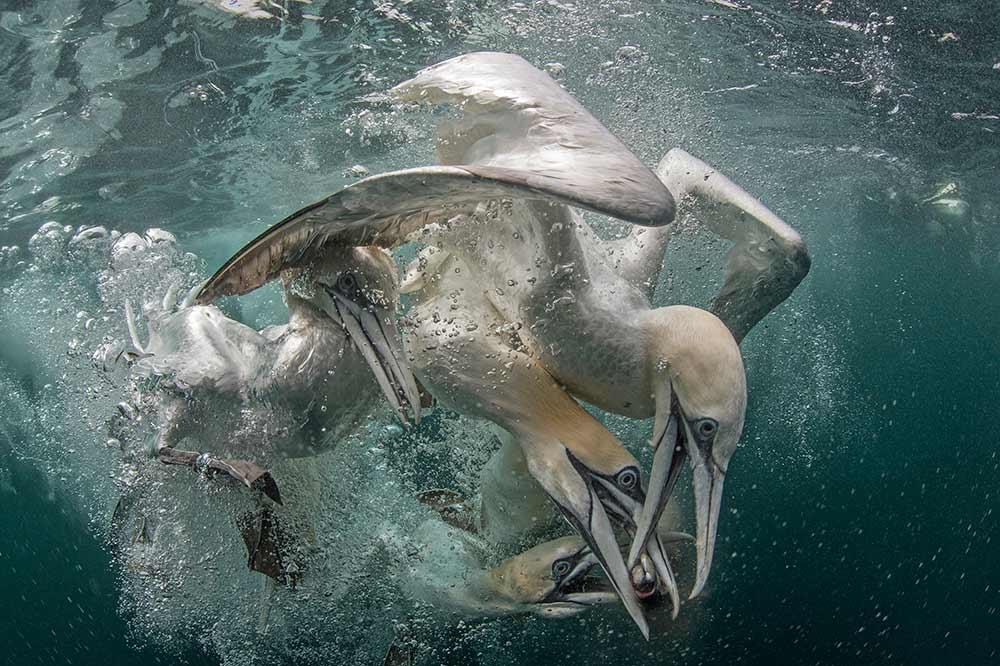 Competition
British Waters Wide Angle, Runner-up
Hundreds of gannets were circling the boat looking for the fish that were being thrown over the side. Suddenly a single bird dives and the others seeing it as an indicator and 20, 30, 40 birds are diving at once.
Photograph: Richard Shucksmith/UPY 2017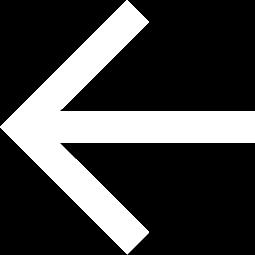 '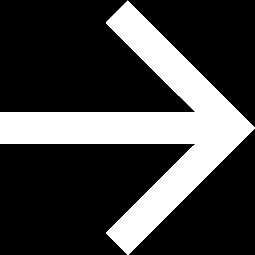 X