Slain journalist Gauri Lankesh was on Wednesday held up as a symbol of free speech and dissent, as journalists and activists across the country warned against treating her killing as an isolated incident.
DELHI
IMAGE: Swaraj Abhiyan founder Yogendra Yadav with others during a candle light vigil at India Gate in New Delhi on Wednesday against killing of journalist Gauri Lankesh. Photograph: Kamal Kishore/PTI Photo
The murder of the editor of Kannada publication 'Gauri Lankesh Patrike' should be seen in the context of a climate of "hate and intolerance" in the country, speaker after speaker said at a condolence meeting attended by hundreds at the Press Club of India in Delhi.
Voices in the nearly two-hour-long meeting also expressed concern over the reaction in social media from a section that greeted Lankesh's chilling murder with glee and tasteless jibes at the political views she held.
"The voices that were celebrating Lankesh's killing are products of the political climate that has been created. We have created a society where it smiles around your corpse," said television journalist Ravish Kumar.
"We are seeing the space for free-thinking shrinking. They want to silence the people who want to hold truth to power. We cannot remain silent, because that is what they want. Don't keep quiet. That would be their success," he said.
Members of the media fraternity, including the Editor's Guild, as well as rights organisations and student activists, condemned the incident, describing it as a brutal assault on the freedom of the press.
The press club meet also saw the presence of Communist Party of India-Marxist general secretary Sitaram Yechury, CPI national secretary D Raja, Dipankar Bhattacharya of the CPI (ML), Aam Aadmi Party's Ashutosh and Sanjay Singh, Congress's Shobha Oza and former JNUSU president Kanhaiya Kumar, among others.
Veteran journalist H K Dua said it had to be kept in mind that Lankesh was killed as she dissented against the "prevailing philosophy" and fought for the right to free speech and the right to report.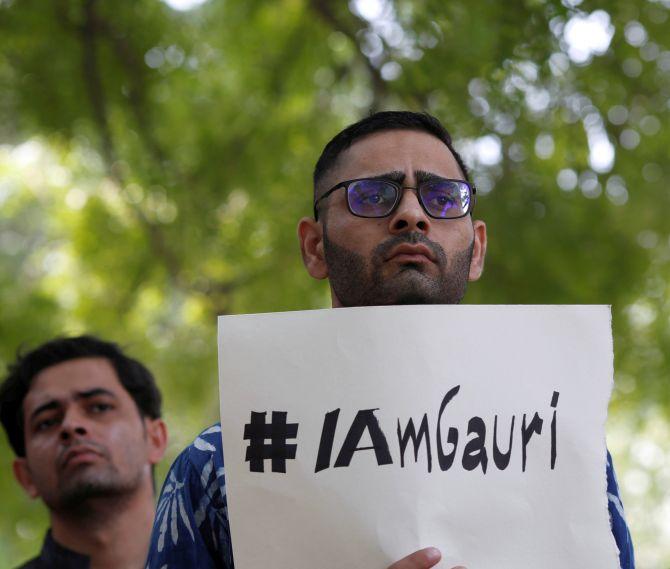 IMAGE: A protester holds a placard during a protest rally against the killing of Gauri Lankesh in New Delhi. Photograph: Adnan Abidi/Reuters
The issue of celebratory tweets after Lankesh's killing by social media hate mongers, who were followed on Twitter by Prime Minister Narendra Modi, was also repeatedly flagged by the speakers.
They also criticised the Congress government led by Siddaramaiah in Karnataka for having "failed" to bring the assailants of rationalist scholar M M Kalburgi to book till date and also referred to the lack of progress in cracking the murder cases of CPI leader Govind Pansare and rationalist Narendra Dabholkar in Maharashtra.
Pansare's daughter Megha, who was among the speakers, said the probe into her father's death picked up a little only when the Bombay high court intervened and directed the Central Bureau of Investigation to redouble its efforts to trace the culprits.
Kanhaiya, who said Lankesh was a mother-figure to him, referred to the slander campaign against her on the social media, where she has been described by many as a Maoist ideologue.
"Today those who proudly proclaim their allegiance to a brand of hyper-nationalism should remember that in future they can also be in the line of fire," he said, while political activist Yogendra Yadav held that Lankesh was silenced as she stood for a "culturally rooted secularism".
Lawyer Vrinda Grover, who was present at the protest meet, expressed her horror over the killing, and said, "We are living in very dangerous times".
"This was not a one-off, random case. Lankesh was killed because she stood and fought for ideas of justice and values enshrined in our Constitution -- liberty, equality," she said.
Many spoke about the urgent need to fight intolerance.
"This is not good. We cannot go on gathering at condolences," Ravish Kumar rued.
Student leader Kanhaiya stressed that the times were difficult for journalists and activists. "But bullets cannot kill ideas," he said.
MUMBAI: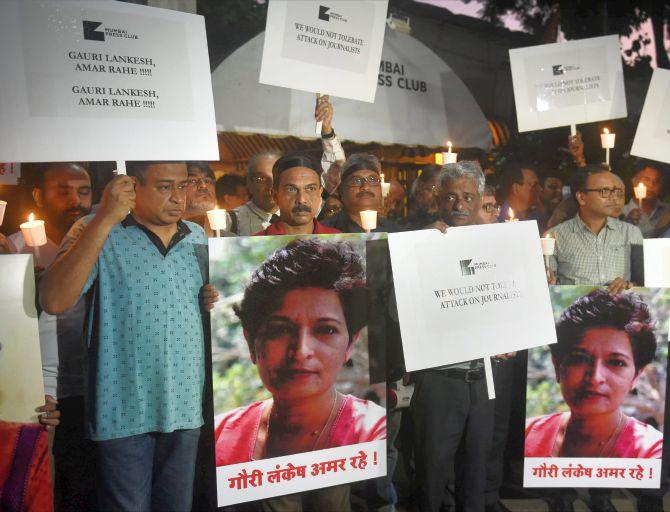 IMAGE: Journalists participate in a protest in Mumbai on Wednesday to protest condemn the killing of journalist Gauri Lankesh. Photograph: Shashank Parade/PTI Photo
A candlelight vigil was organised in the financial capital on Wednesday evening as various media organisations and representatives, including the Mumbai Press Club and Bombay Union of Journalists, condemned the killing of journalist Gauri Lankesh.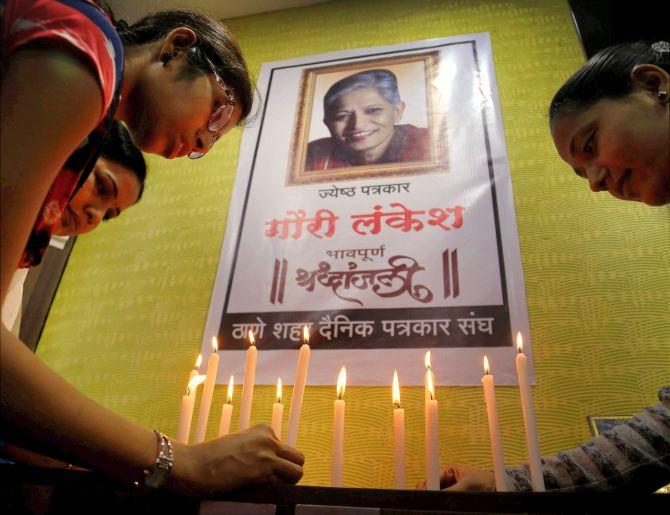 IMAGE: Journalists pay tributes to journalist Gauri Lankesh, in Mumbai. Photograph: PTI Photo
The vigil was held at the Azad Maidan in south Mumbai and several members of the Mumbai media fraternity took part in it.
IMAGE: Shabana Azmi and other social activists protest against the killing of Gauri Lankesh in Mumbai's Bandra area. Photograph: Sahil Salvi/Rediff.com
Some social activists also organised a protest meeting at the Carter Road Amphitheatre in suburban Bandra in the evening to condemn the killing of the journalist.
"To protest and condemn the killing of journalist Gauri Lankesh, members of the Mumbai Press Club, TV Journalists' Association, Photographers' Association and Network of Women in Media joined the protest," Press Club secretary Dharmendra Jore said.
BENGALURU:
IMAGE: A protester in Bengaluru holds a placard as she shouts slogans against the murder of journalist Gauri Lankesh, who was shot dead by motorcycle-borne assailants outside her residence. Photograph: Shailendra Bhojak/PTI Photo
Journalists took out a march from the Press Club in Bengaluru to the Vidhana Soudha, the state secretariat, and submitted a memorandum to Chief Minister Siddaramaiah seeking immediate action to bring the culprits to book.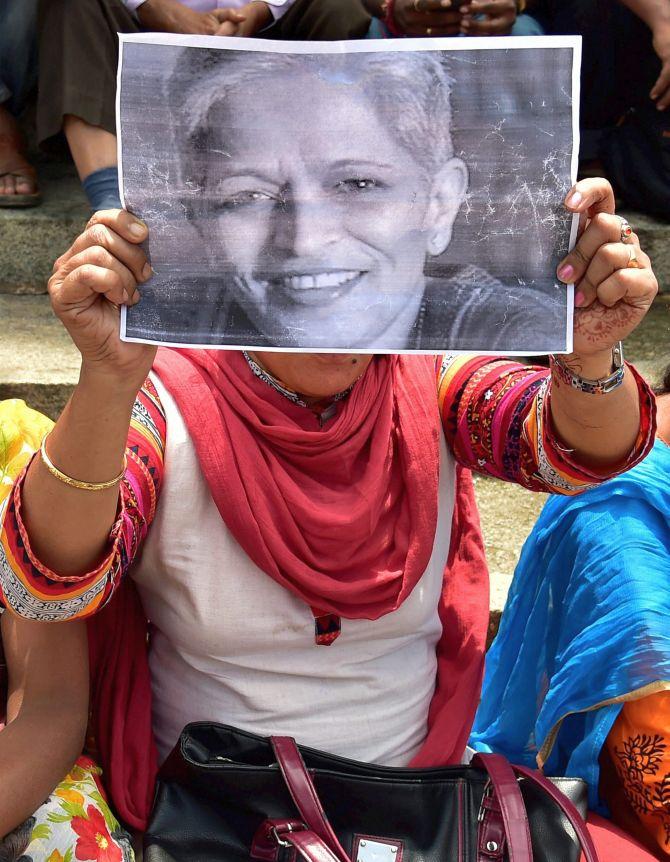 IMAGE: Journalists condemned the murder, calling it an attempt to silence the people who want to hold truth to power. Photograph: Shailendra Bhojak/PTI Photo
"We strongly believe that such silencing methods are an attempt of divisive forces in a democratic system to stifle the media," the memorandum said.
Press Club of Bengaluru president Sadashiva Shenoy, who was closely associated with Gauri, said, "Divisive forces cannot muzzle the liberal voices by resorting to killing."
"We demand that a judicial committee should be constituted headed by a sitting high court judge to probe the brutal killing," Shenoy said.
HYDERABAD:
In Hyderabad too, protests and a vigil was marked to honour Lankesh. Under the aegis of Press Club Hyderabad, a group of journalists raised slogans condemning Lankesh's killing.
Holding placards that read 'I AM ALSO GAURI', 'You cannot curtail freedom of expression through murder', the journalists later also participated in a march from the Press Club to Khairtabad Circle.
THIRUVANANTHAPURAM: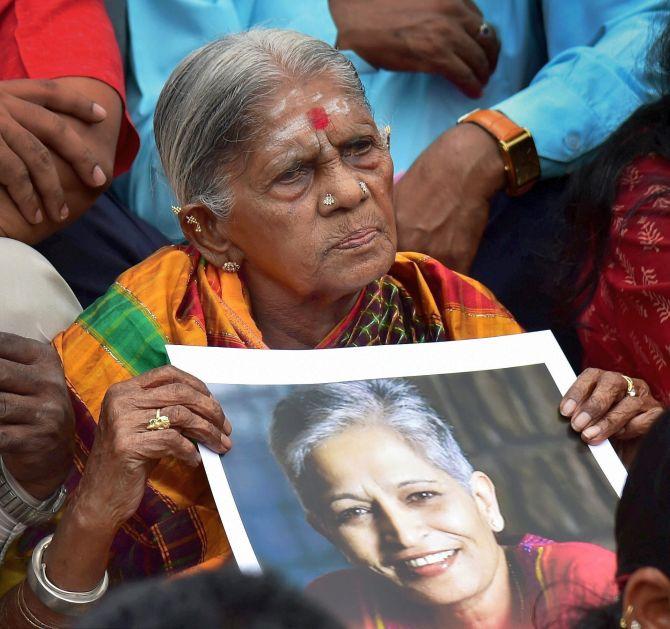 IMAGE: Journalists have demanded a CBI inquiry into Lankesh's death. Photograph: Shailendra Bhojak/PTI Photo
Journalists, writers, artists and politicians in Kerala condemned the killing of senior Kannada journalist Gauri Lankesh.
Protest marches were taken out in different parts of the state by media personnel, who sported black badges and held placards condemning the shooting of Lankesh by unidentified assailants at her residence on Tuesday night.
The marches were organised by the Kerala Union of Working Journalists of Thiruvananthapuram, Kochi, Kozhikode and Kannur and various press clubs.
At the Thiruvananthapuram Press Club, journalists paid floral tributes to a portrait of the veteran editor and lit candles.
BHOPAL:
In Madhya Pradesh, the journalists condemned her killing. Senior journalist and Friends of Free Media group convenor Deepak Tiwari, on behalf of the city-based mediapersons, demanded a Central Bureau of Investigation inquiry.
"It was an attempt to curb the voice of free media. We strongly condemn it and demand a CBI probe into it," he said. The group also observed a two-minute silence as a mark of respect for the deceased.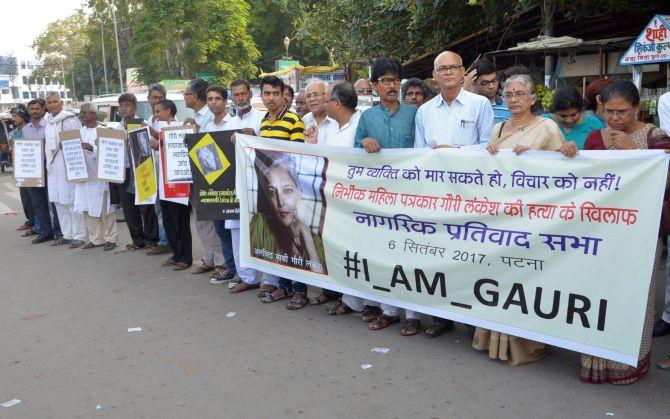 IMAGE: Members of different organisations during a silent protest against the killing of Gauri Lankesh in Patna. Photograph: PTI Photo
© Copyright 2023 PTI. All rights reserved. Republication or redistribution of PTI content, including by framing or similar means, is expressly prohibited without the prior written consent.