A united opposition on Wednesday protested against demonetisation outside Parliament as Mamata Banerjee hit the streets of Delhi once again demanding the prime minister's ouster as "country was not safe in his hands", but the government ruled out revoking the exercise, declaring rolling back something is "not in Modi's blood".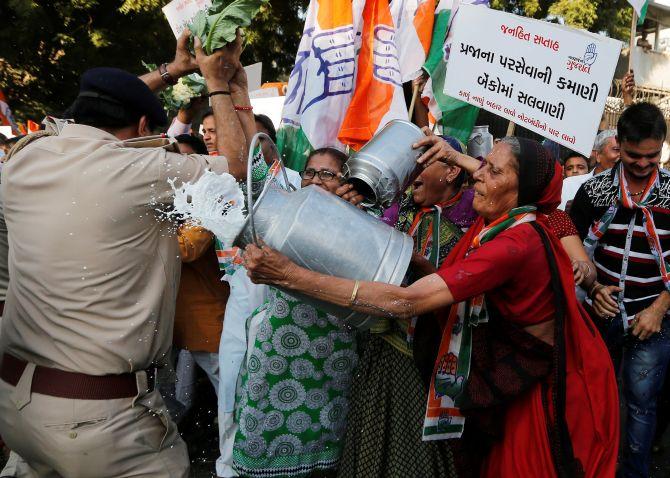 IMAGE: Congress party supporters pour milk on a police officer during a protest against the government's decision to withdraw 500 and 1000 rupee banknotes from circulation. Photograph:

Amit Dave/Reuters
Congress vice president Rahul Gandhi, who had taken up cudgels against Modi on the issue, termed demonetisation of high-value currency notes as the world's "biggest impromptu financial experiment" about which even the finance minister and the chief economic adviser were clueless before the announcement was made.
He reaffirmed the demand for a Joint Parliamentary Committee probe into alleged leak of demonetisation decision prior to its announcement by Modi, and participation of the prime minister in a debate on the exercise.
Opposition MPs including those of Congress, Samajwadi Party, Bahujan Samaj Party, Trinamool Congress, Dravida Munnetra Kazagham, Communist Party of India, Communist Party of India-Marxist and some others staged a demonstration near Mahatma Gandhi's statue outside Parliament.
West Bengal Chief Minister Mamata Banerjee, whose party had taken the lead in uniting the opposition against the government on the issue, was in Delhi again after a gap of a few days and led a protest by four other parties at Jantar Mantar where she gave a call for Modi's ouster.
"This government will have to go...I am sorry to say, the country is not secure under you Modiji. You do things at your whims and fancies," she said, addressing the gathering.
Flanked by leaders of SP, Janata Dal-United, Nationalist Congress Party and Aam Aadmi Party, Banerjee alleged the BJP dispensation had lost its "credentials and credibility" because of the currency crisis.
Accusing the BJP-led dispensation of "looting" the common man, she wondered why those having Swiss bank accounts were "not touched at all", and warned that people will teach a "good lesson" to the ruling party in the upcoming assembly polls for implementing a "black law".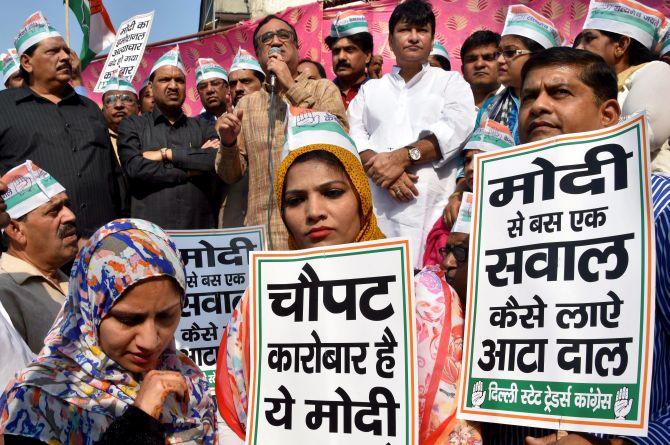 IMAGE: Congress leader Ajay Maken leads a protest against the PM and his demonetisation scheme. Photograph: PTI Photo
As nearly 200 opposition MPs staged protest outside Parliament, Rahul said, "What the PM has done is the biggest impromptu financial experiment in the world. He did not ask anyone. Finance minister did not know. The chief economic adviser did not know. This decision is not that of finance minister. This is the prime minister's decision.
"Prime Minister can give lectures at pop concert where 'naach gaana' is going on. Two hundred MPs are saying they want to tell the nation why he took this decision. PM does not want to come to Parliament. Why is PM afraid of going inside? He is obviously anxious about something," Gandhi said.
Unfazed by the protests and continued stalling of Parliament, government rejected outright the possibility of withdrawing the exercise midway.
"Wapas lena Modi ji ke khoon mein nahi hai (Roll back is not in Modiji's blood," Union Minister M Venkaiah Naidu asserted, making clear that the decision to withdraw the old Rs 500 and Rs 1000 notes "will not be taken back in any situation".
Naidu, however, said the government was "ready to make improvements" in easing the difficulties faced by the common people and asked the opposition parties to make suggestions that could be implemented.
Samajwadi Party supremo Mulayam Singh Yadav accused Modi of being "too arrogant" and said that "does not augur well" for democracy.
"Pradhan Mantriji ghamand me na choor hon... aaj hum unko savadhan karna chahte hain ke woh apni nitiyon mein sanshodhan karen...loktantra mein manmani nahi chalti...(The PM is steeped in arrogance. Today I caution him to change his policies. There is no place for an individual's whims and fancies in a democracy)," he said.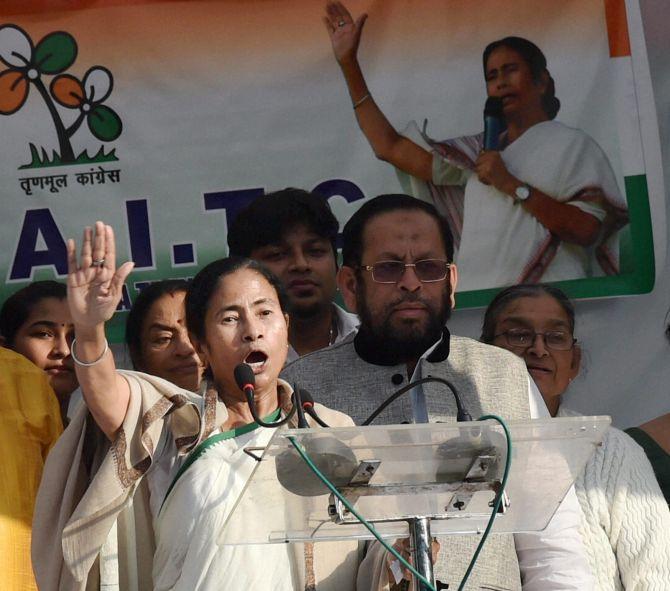 IMAGE: West Bengal Chief Minister Mamata Banerjee addressing a protest rally against demonetisation of Rs 500 and Rs 1000 notes, in New Delhi. Photograph: Atul Yadav/PTI Photo
"I have often said farmers and traders are like real brothers... farmers grow crop and traders sell it... but I don't know what is going on in the PM's mind... he threatens and says that honest people are sleeping a sound sleep... are we dishonest that we are opposing it?" Yadav told a campaign rally in poll-bound UP's Ghazipur, saying the country was facing "most challenging times".
Rahul demanded that the PM attend Parliament session to hear out the opposition on the issue.
"Our demand is that PM represents the country and he should come to Parliament and sit through the entire debate and hear us out and the other opposition leaders.
"We feel there is a scam behind this decision. We feel he informed his own people beforehand (prior to his public announcement of the decision) and the opposition is firm that it wants a JPC," he said.
Asked about Finance Minister M Arun Jaitley's comment that the Congress should make up its mind about whether or not BJP leadership knew of the decision in advance, Gandhi said, "Ahead of this decision, bank deposits surged drastically. BJP's organisation in Bengal and other states knew of it. FM did not know but the BJP organisation knew. BJP's industrialist friends knew."
Sharpening her attack on Modi, Mamata told the protesters at Jantar Mantar: "I can challenge that no one will vote for BJP. If I were you (PM), I would have apologised to the public. Why you are so egoistic? You have branded everyone in the country a black marketeer and have yourself turned into a saint ," she said.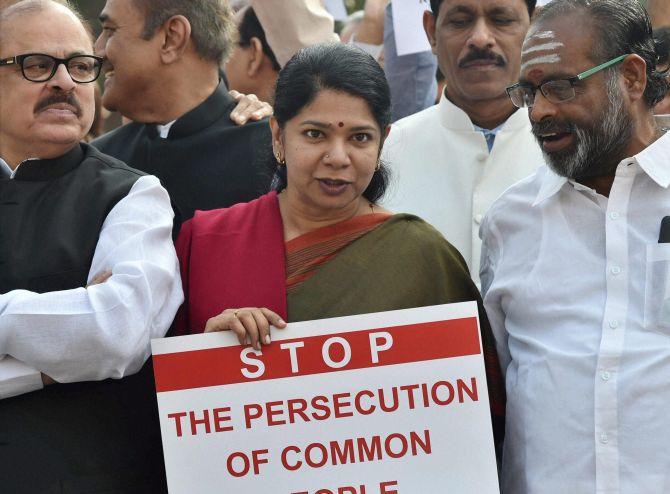 IMAGE: DMK Kanimozhi and other opposition members during a protest against the government's demonetisation move at Parliament house in New Delhi on Wednesday. Photograph: Atul Yadav/PTI Photo
Hitting out at Modi, she wondered whether the government led by him has become more arrogant than even Hitler, asking why it did not hold consultations before enacting the measure.
In his address, JD-U leader Sharad Yadav questioned the legality of the demonetisation exercise and challenged the PM to explain to the Parliament how the decision will benefit the country.
"Under which law have you enforced this measure? You are stopping a person from withdrawing his hard-earned money which is his fundamental right. Demonetisation has destroyed the business of small traders. Come to Parliament and explain the logic as to how it will curb black money," Yadav said.
The presence of Yadav at the protest assumes significance as Bihar Chief Minister and JD-U chief Nitish Kumar continues to support the measure. The protest was also addressed by SP's Dharmendra Yadav, AAP's Raghav Chadha and NCP's Majid Memon.
Referring to the prime minister's assertion that more steps to curb black money will follow, Mamata also expressed apprehension that government may aim to get hold of the gold, land and other properties of common man.
"This is not a fight for political gains. People in my state are suffering. People across the country are suffering Where should they go? This fight is for the rights of the poor and the downtrodden," she said.
Shiv Sena, which had joined a march led by Mamata Banerjee to Rashtrapati Bhawan to petition the President against demonetisation, did not attend the protest.
The Sena, a ruling National Democratic Alliance partner at the Centre and in Maharashtra, said though it supported the government over demonetisation, it was concerned about the inconvenience being caused to the people.
"Although we joined Mamata Banerjee in the protest march and met the President, our memorandum was different from what she was demanding. We never asked for roll back of the drive, but we are concerned about the way it is being implemented and the inconvenience caused to people.
"We explained our stand to the PM," party's Rajya Sabha MP Sanjay Raut said.
Union Minister Ravi Shankar Prasad said the government was eager to hear the "scholarly" arguments of Rahul Gandhi on demonetisation.
"The government is very keen to hear Rahul Gandhi's scholarly arguments. Rajya Sabha witnessed a debate on November 17 and Congress leaders like Ghulam Nabi Azad and Anand Sharma besides BSP's Mayawati spoke. What happened now that they are running away from a debate. They realise that the country is not appreciating their arguments," he said.
Prasad said the victory of BJP candidates in the latest by-elections to Lok Sabha and some state assemblies reflected people's endorsement of the demonetisation exercise.
Taking a dig at opposition parties for forming a human chain outside Parliament during their protest, he said they should produce a "chain of speakers" instead.
© Copyright 2021 PTI. All rights reserved. Republication or redistribution of PTI content, including by framing or similar means, is expressly prohibited without the prior written consent.