US President Barack Obama paid tribute to the victims of the Charleston shooting, saying the nation has been blind to the "mayhem" caused by gun violence.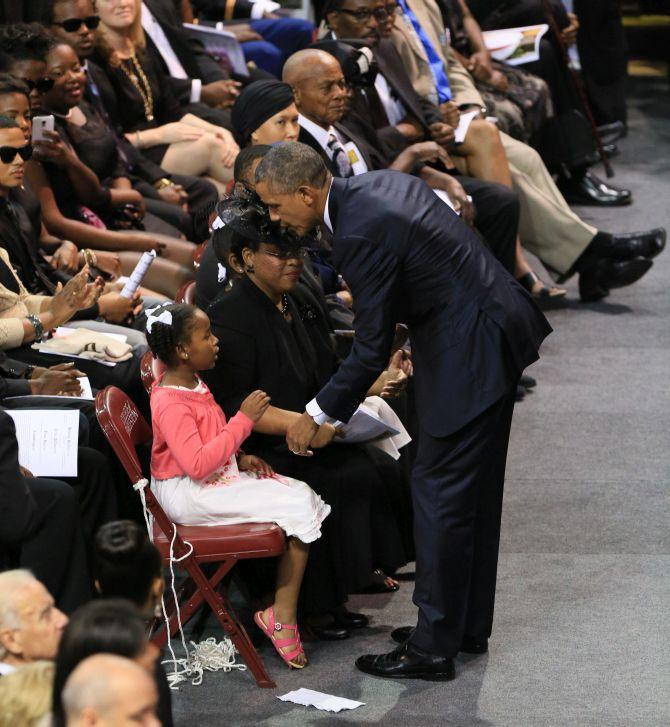 US President Barack Obama hugs little Malana, the daughter of Clementa Pinckney, who was killed during the mass shooting at the Emanuel African Methodist Episcopal Church along with eight others. Photograph: Paul Zoeller-Pool/Getty Images
US President Obama, in words and song, urged the nation to heal its racial rifts in a riveting Friday farewell to the black pastor murdered by a hate-fueled racist killer.
Some mourners wept and others danced in the aisles after the nation's first black President said the pointless slayings of the Reverend Clementa Pinckney and eight congregants offered America a chance for redemption.
"Out of this terrible tragedy, God has visited grace upon us, for he has allowed us to see where we were blind," the president said in his address.
"He has given us the chance, where we were lost, to find our best selves. We may not have earned it, but we got it all the same. It's up to us now to make the most of it."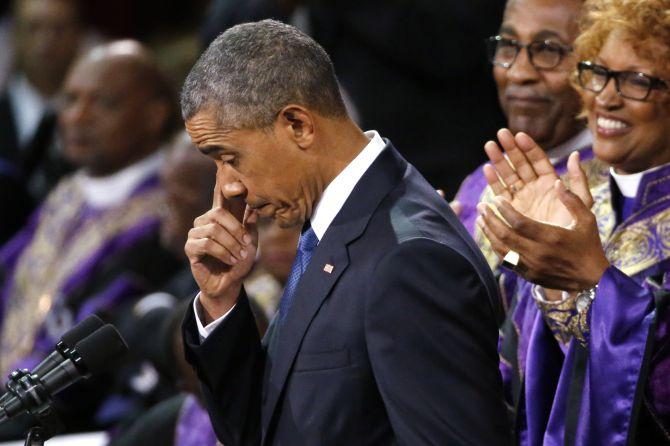 Obama wipes a tear while speaking of the beloved lawmaker, pastor and married father of two. Photograph: Joe Raedle/Getty Images
The president delivered the emotional eulogy at the jam-packed funeral for Pinckney, the pastor at the Emanuel AME Church and the first victim shot on June 17.
Obama ended his lengthy address by leading the 5,500 mourners in the hymn "Amazing Grace."
He then took his seat just a few feet from Pinckney's rose-coloured mahogany casket and across the aisle from the pastor's widow and two daughters.
Family, friends, politicians and total strangers filled College of Charleston's TD Arena, chosen to hold a crowd too big for Pickney's venerable Charleston church.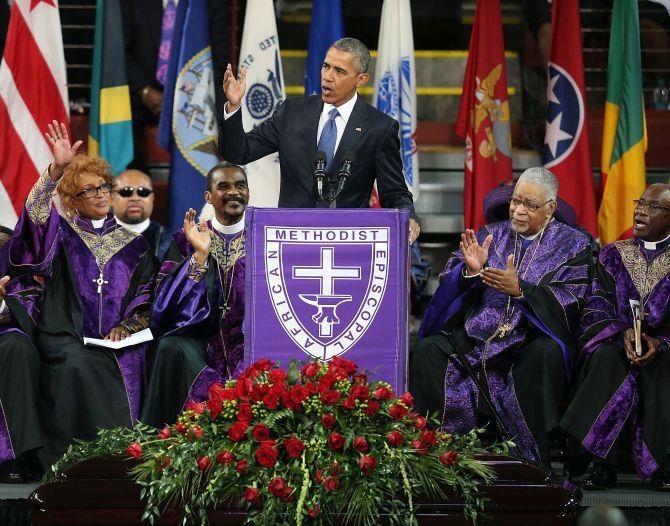 US President Obama delivered a passionate eulogy for Rev Clementa Pinckney that touched upon race relations and the fate of the Confederate flag. Photograph: Jonathan Ernst/Reuters
The packed arena fell eerily silent as a black-clad widow Jennifer Pinckney walked to her seat with daughters Eliana, 11, and Malana, 6.
The funeral program contained heart-wrenching messages from Pinckney's wife and their two daughters, along with family photos.
"Dear Daddy: I know you were shot at the Church and you went to Heaven," wrote Malana. "You will be watching over me and you will be in my heart." The message was signed, "Your baby girl and grasshopper."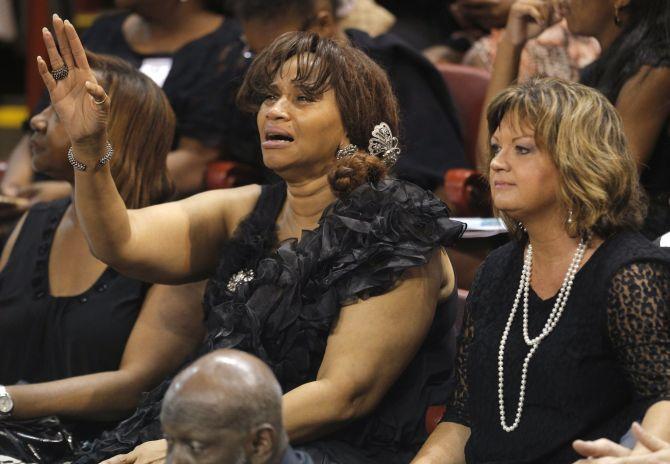 Mourners attend funeral services for the Reverend Clementa Pinckney in Charleston South Carolina. Photograph: Bryan Snyder/Reuters
Obama used the somber occasion to call on Americans to confront the 'uncomfortable truths' of the racial prejudices that still infect American society and argued that it would be a betrayal of everything the pastor stood for 'if we allowed ourselves to slip into a comfortable silence again once the eulogies have been delivered, once the TV cameras move on.'
He pleaded with Americans not 'to go back to business as usual.'