Barack Obama on Wednesday pardoned his last turkey as United States president.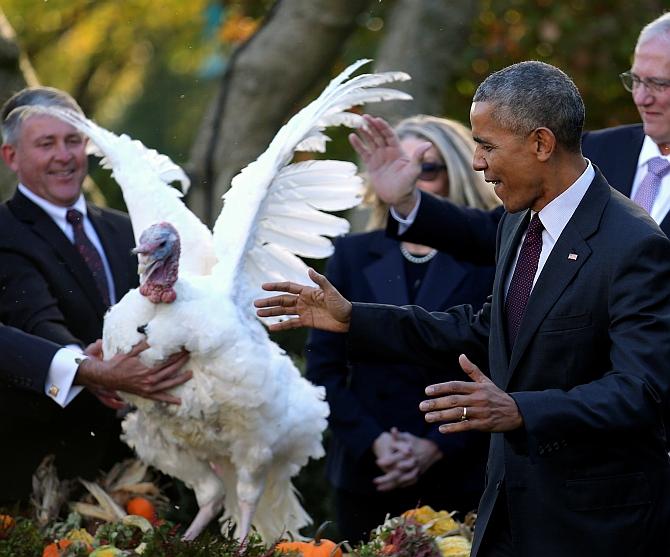 Obama, who leaves office in January, has followed the annual tradition of "pardoning" a turkey every year ahead of the Thanksgiving Day holiday, which many Americans celebrate with a turkey dinner.
However, unlike previous years, Malia and Sasha did not join their father for the ceremony at Rose Garden.
"Of course, Thanksgiving is a family holiday as much as a national one. So for the past seven years, I've established another tradition: embarrassing my daughters with a corny-copia of Dad jokes about turkeys," Obama said, adding, "This year they had a scheduling conflict."
The president was joined in the Rose Garden by his nephews instead.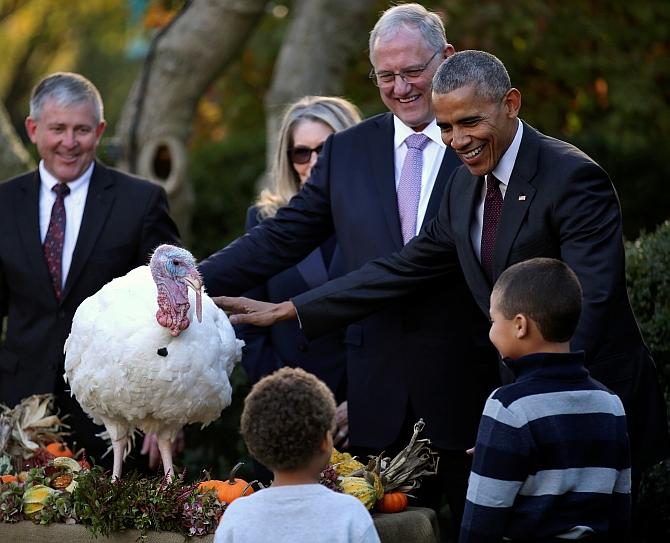 Puns flew high as President Obama cracked what he referred to as his "corny-copia of dad jokes about turkeys."
"I want to take a moment to recognise the brave turkeys who weren't so lucky, who didn't get to ride the gravy train to freedom, who met their fate with courage and sacrifice and proved they weren't chicken," Obama said -- prompting amused groans from the gathering.
"It's not that bad now, come on," he quipped.
"We should also make sure everyone has something to eat on Thanksgiving. Of course, except the turkeys, because they're already stuffed."
Obama said the tradition wouldn't end for him personally after he leaves the presidency, or, as he put it, he wouldn't be quitting "cold turkey."
"When somebody at your table tells you that you've been hogging all of the side dishes, you can't have any more, I hope that you respond with a creed that sums up the spirit of a hungry people: 'Yes, we cran'," the President cracked at one point.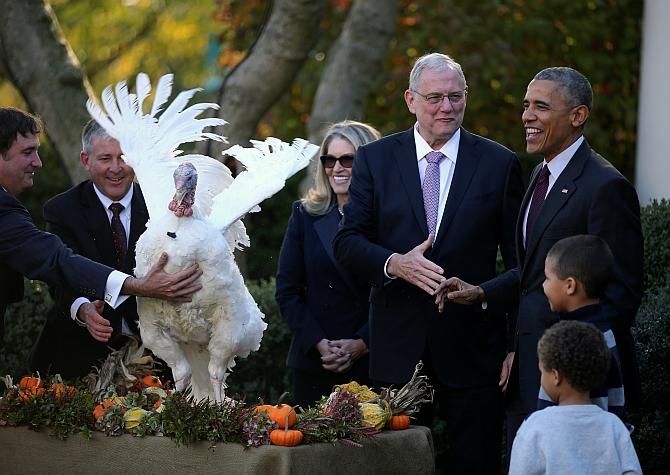 The president also took the opportunity -- his last pardoning before he leaves office in January -- to check off a list of accomplishments he was thankful for: six straight years of job creation, the stock market tripling, uninsured rates at all-time lows thanks to his signature health care initiative and marriage equality, among others.
"Thanksgiving is also a reminder of the source of our national strength, that out of many we are one and we're bound not by race or religion but adherence to a common creed," Obama said.
"On this Thanksgiving, I want to express my sincere gratitude to the American people for the trust that you have placed in me over these last eight years and the incredible kindness that you have shown my family," Obama said. "On behalf of Michelle, and my mother-in-law and our girls, we want to thank you so very, very much."
After finishing his remarks, filled with puns, the president blessed a 18 kg fowl from Iowa, granting it a long life and a pardon from appearing on an American dinner table. A backup turkey also had its life spared. Their names: "Tot" and "Tater."
After the pardoning, the turkeys will be on display for visitors at their permanent home at Virginia Tech's newly built 'Gobblers Rest' exhibit where they will be cared for by students and veterinarians in the university's Animal and Poultry Sciences Department.
Both birds were raised in Northwest Iowa under the supervision of National Turkey Federation Chairman John Reicks.
IMAGES: US President Barack Obama attends the pardoning of National Thanksgiving turkey accompanied by his nephews Aaron Robinson and Austin Robinson during the 69th annual presentation of the turkey in the Rose Garden of the White House in Washington. Photographs: Carlos Barria/Reuters