United States President Barack Obama will be arriving in India for his three-day visit on January 25. He will travel to India in his presidential plane, Air Force One. The presidential plane will be will be accorded the same protocol in Indian air space that is set aside for the president of India and the prime minister.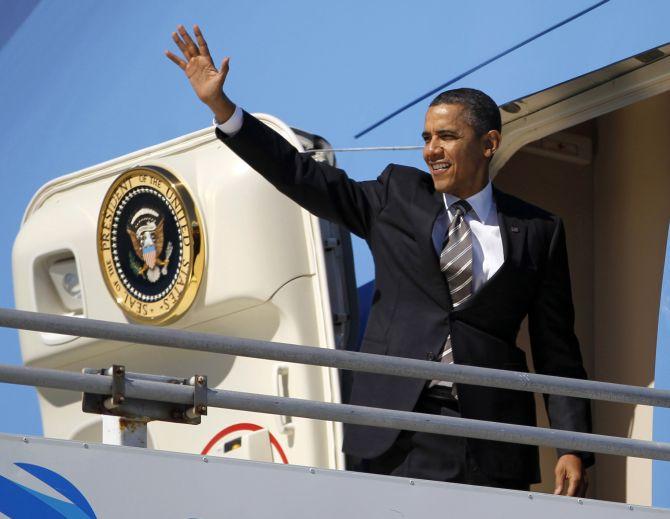 US President Barack Obama aboard the Air Force One. Obama will be flying to India on January 25 aboard the presidential aircraft. Photograph: Reuters
Ahead of Obama's visit, here's what you need to know about the plane.
1) Air Force One, as it is popularly called, is a Boeing 747-200 or Jumbo Jet. It has 4,000 square feet of space spread over three storeys and is equipped with a conference room, presidential suite, a medical suite and private cabins for senior aides of the president. At any given point of time, the food galley can feed up to 100 people simultaneously.
2) Believe it or not but the aircraft is fully equipped office areas with telecommunication system, including 87 telephones and 19 televisions.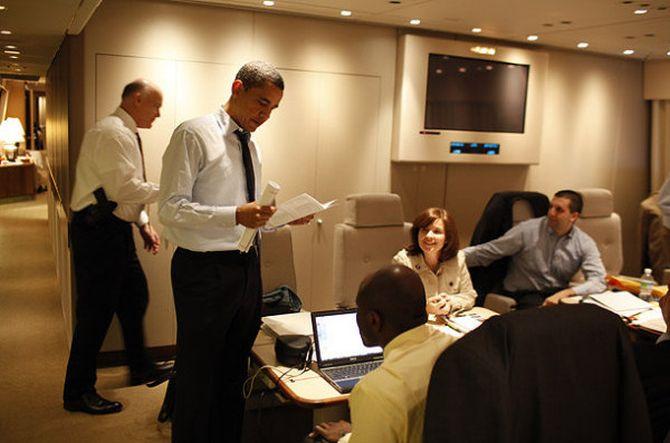 The Air Force One is Obama's office in the sky with teleconferencing facilities as well as space for his advisers . Photograph: Getty Images
3) Air Force One can reach a top speed of 650 miles per hour, fly at 45,000 feet, and reach a maximum distance of 7,800 miles.
4) Did you know that the plane is not actually called Air Force One? It's simply the radio call name for any US Air Force plane carrying the president of the United States. As soon as the president steps aboard an Air Force plane, that plane is referred to as Air Force One by the crew and all air traffic controllers, in order to avoid confusion with any other planes in the area.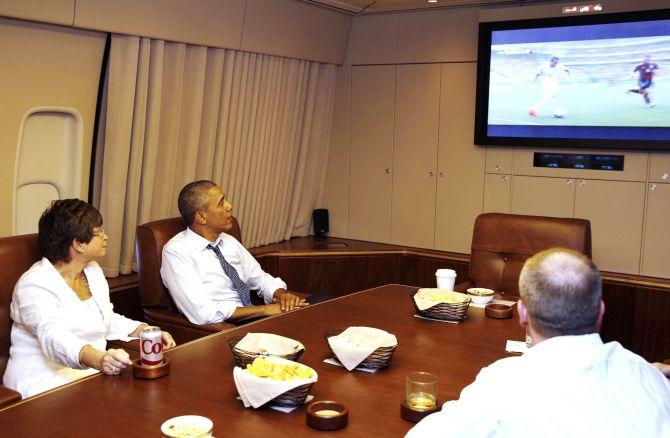 Air Force One has 19 LCD screens allowing the US president to watch anything, at anytime . Photograph: Reuters
5) The plane carries about 203,000 litre of fuel and weighs about 377,000 kilo. With a full tank, the plane can fly half way around the world. The plane has mid-air refueling capability.
6) US Air Force One also has a medical office, which includes a fold-out operating table emergency medical supplies, and a well stocked pharmacy.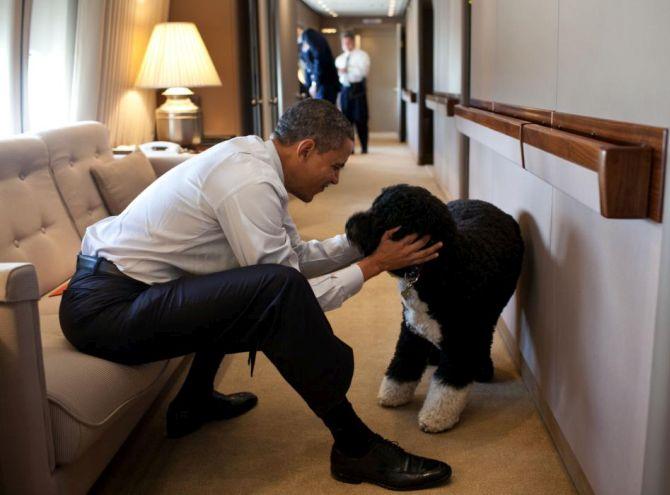 The aircraft also has special accommodations for the president's pet. Photograph: Pete Souza/White House
7) The plane features electronics with electromagnetic pulses, to save itself from any nuclear attack. It is also well-equipped with advanced avionics and can block the radar of enemies. The flares of the plane are capable of destroying missiles.
8) Air Force One also has armoured glass on all windows to withstand bullets and rockets. The whole aircraft is designed to withstand air and ground attack.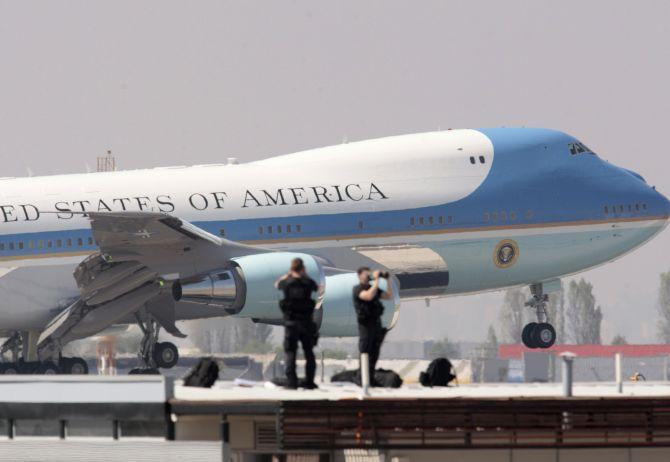 9) There are two identical Boeing 747-200Bs to act as decoys and a third chartered jumbo jet for office staff and security personnel.
10) Air Force One is stationed at Andrews Air Force Base in Maryland. Every time the President travels, a helicopter, Marine One, brings him from the White House to Andrews.