In his third stint in the top office, O Panneerselvam was on Monday sworn in as the chief minister of Tamil Nadu hours after his predecessor and party supremo J Jayalalithaa passed away after a prolonged illness.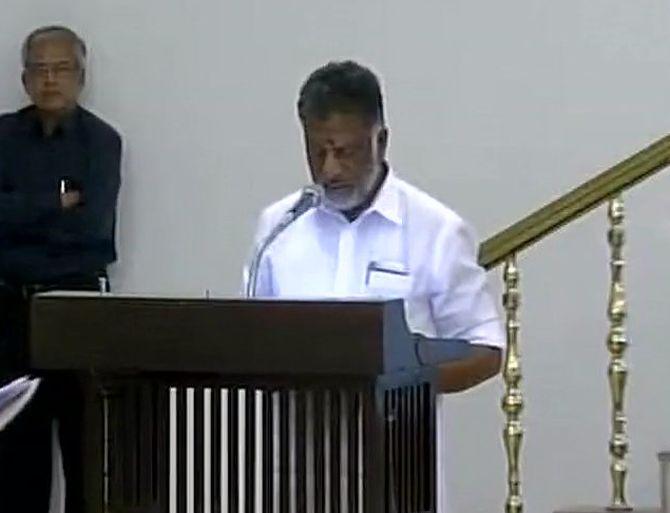 A grim-faced Panneerselvam, who was also seen sporting a beard, was sworn in around 1.15 am by Governor Ch Vidyasagar Rao at the Raj Bhavan amidst a scene of gloom.
After he took oath of office, a total of 31 ministers, all of them members of the previous Jayalalithaa cabinet, took oath in a simultaneous swearing-in.
Panneerselvam was administered the oath of office and secrecy by Rao, who air-dashed in Chennai from Mumbai on Sunday after Jayalalithaa suffered a cardiac arrest.
Panneerselvam, 65, often hailed as Jayalalithaa's 'Man Friday', took oath in the name of God.
This is the third time he is helming the state, acting as a stop-gap arrangement on earlier both occasions when Jayalalithaa was convicted in two separate corruption cases in 2003 and 2014.
Earlier, All India Anna Dravida Munnetra Kazhagam MLAs elected him as their Legislature Party Leader, paving the way for his elevation as chief minister.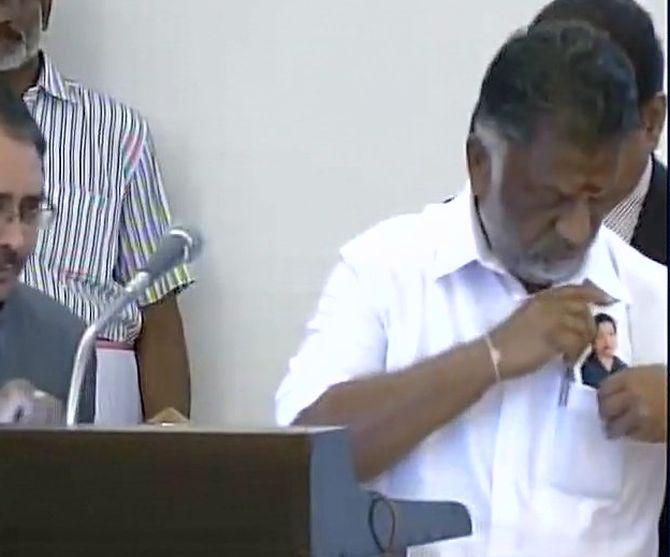 Later, the Raj Bhavan in a release said that Panneerselvam, MLA from Bodinayakanur, met the Governor and submitted a letter informing him of his election as leader of the AIADMK Legislature Party.
Panneerselvam took oath as CM with a photo of Jayalalithaa in his pocket.
The Governor "appointed him as the Chief Minister of Tamil Nadu and invited him to form the government," it added.
Panneerselvam subsequently submitted a letter containing names of his cabinet colleagues and the portfolios allotted to them, it said, adding, the governor approved the recommendations made by the CM-designate.
As the chief minister, Panneerselvam will hold all portfolios held by Jayalalithaa including home, besides finance.
Panneerselvam retained all members of the Jayalalithaa cabinet.
Photographs: ANI/Twitter