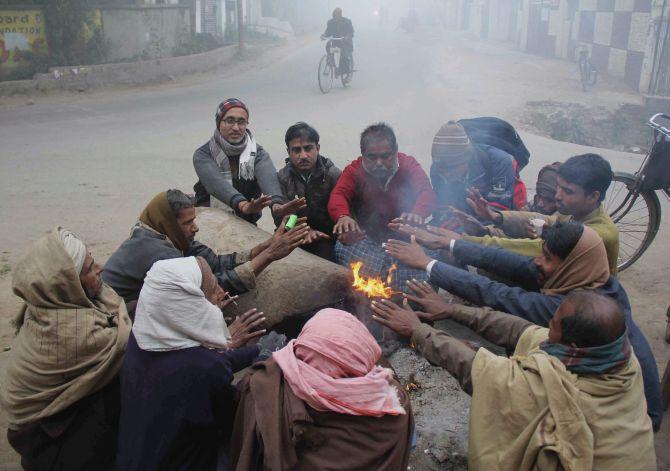 Delhi, which recorded five years' lowest on Sunday at 2.6 degree C, got some respite with the minimum temperature settling at 4.8 degree Celsius, while dense fog enveloped the city, delaying 98 trains and several flights.
As many as 23 flights, mostly international, were delayed due to fog at the Delhi airport and three international flights were diverted, while more than 98 trains were running late in the region.
In West, as cold wave gripped Vidarbha region of Maharashtra, temperatures in Nagpur dropped to a chilling five degree Celsius, the lowest recorded in 45 years. "The city had witnessed a minimum of 5.5 degree Celsius in 1968 on December 29. Nagpur and adjoining areas have been experiencing extreme cold conditions since last two days when mercury dipped to 6.1 and 5 degrees," assistant meteorologist A S Khan said.
In North, Jammu and Kashmir too continued to reel under intense cold with the mercury in the state's summer capital Srinagar settling at minus 4.1 degrees Celsius, even as Kargil was the coldest place in the state recording a low of minus 15.6 degree Celsius.
The night temperatures in the Valley and Ladakh region continued to remain several degrees below the freezing point.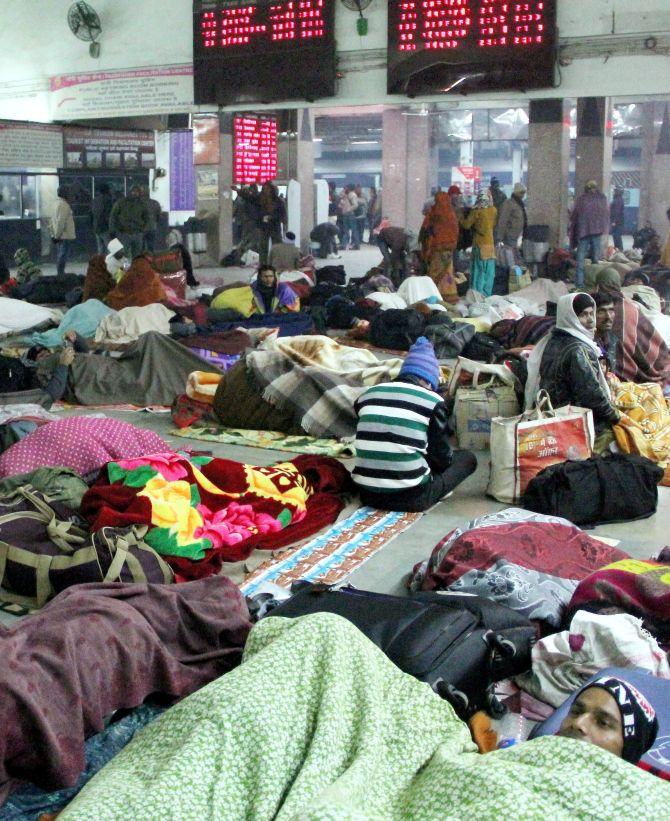 Meanwhile, there was no respite from bone-chilling cold conditions and dense fog in most parts of Punjab and Haryana with Amritsar freezing at zero degrees. Amritsar registered the coldest night of the season so far as minimum temperature plummeted three degrees below normal level, MeT officials in Chandigarh said.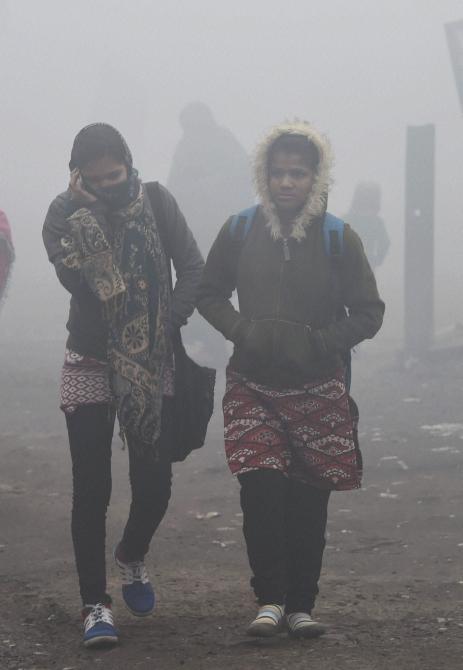 Freezing chill also swept Narnaul in Haryana, which recorded a low of 1.5 degree Celsius, down four notches. In Rajasthan too, Cold and fog conditions continued unabated in desert state of Rajasthan with as many as 16 trains running behind schedule.
Churu in the plains remained the coldest place recording a minimum temperature of 0.6 degree Celsius followed by Sriganganagar and Dabok at 3.1 and 3.2 degree Celsius.
The sole hill station in the state, MountAbu shivered at 0.5 degree Celsius. In most parts of Uttar Pradesh, intense cold wave, coupled with dense fog, disrupted normal life. Churk in eastern region of the state was the coldest place with a low of 0.6 degree Celsius.
According to MeT office in Lucknow, night temperature rose appreciably in Gorakhpur division, rose in Faizabad and Agra divisions and changed little in the remaining divisions of the state.
Photographs: PTI photo