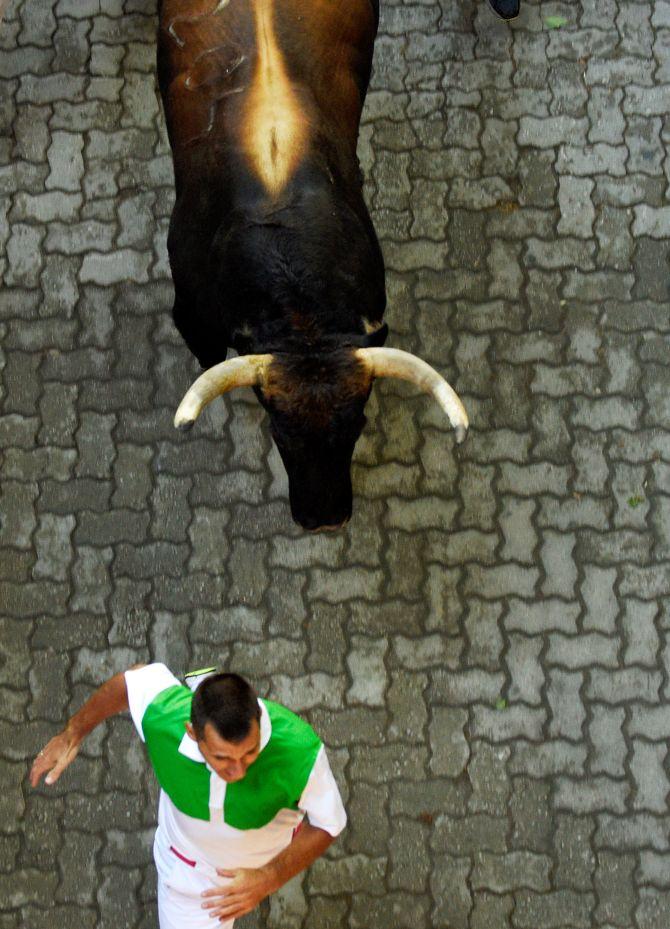 Watch out for the bulls!
Whew! The nine-day fiesta that is the Pamplona bull-run got underway this week to the cries of 'Viva San Fermin!'
A mass of merrymakers, draped in white outfits trimmed with red neckerchiefs and cummerbunds, readied themselves to run ahead to the raging bulls.
In case you were wondering what this festival is all about, it's in honour of the patron saint of Spain's northern Navarra region -- San Fermin -- and dates back to medieval times and combines religious processions, all-night partying and hair-raising daily bull runs.
Each year, over nine days, people dash with bulls along a narrow course from a holding pen to the city's bullring. Fifteen people have been killed in the bull runs since modern day records started in 1911.
This year, some 50 semi-naked animal rights activists daubed themselves with fake blood and stood outside of Pamplona's bullring on Tuesday holding signs that read: "Pamplona: Bloodbath for bulls" in several languages. Not that it dampened the runners' excitement.
Rediff.com takes you into the thick of this terrifying run…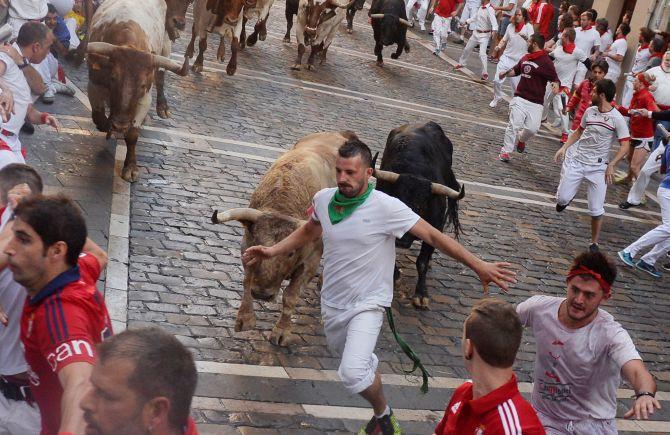 RUN, FORREST! RUN: This runner sure hopes he can outrun that nasty looking bull that's right on his tails. Photograph: Vincent West/Reuters
---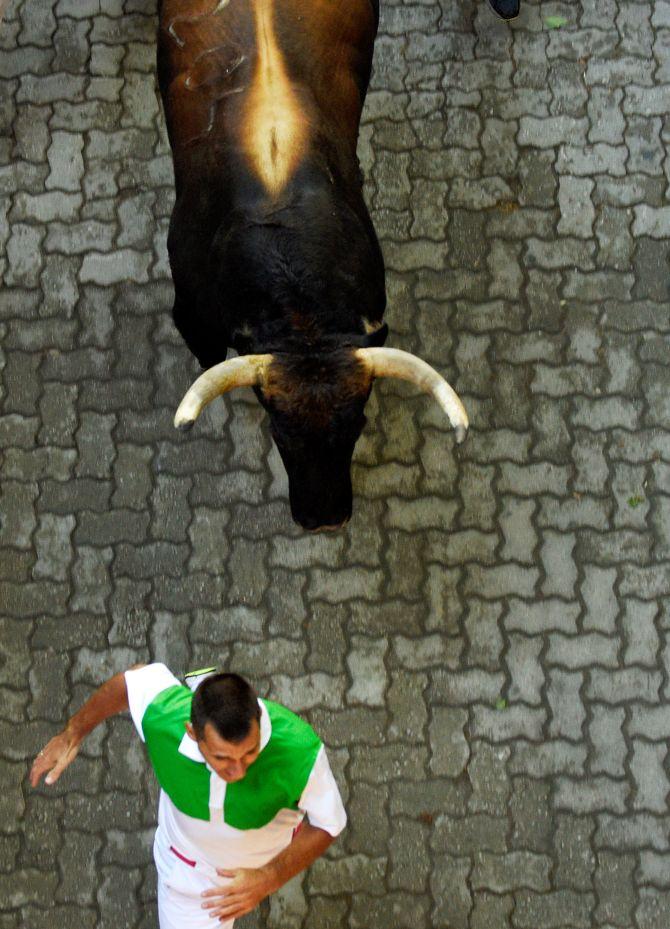 Considering how close that bull is to this gentleman we can be sure that he regrets his decision to take part in the race. Photograph: Eloy Alonso/Reuters
---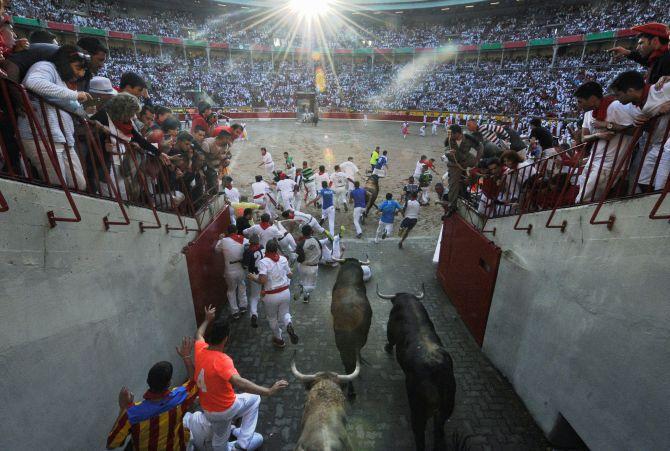 WHO LET THE BULLS OUT: Revel all they may but when these bulls are coming up behind these runners they'll be remembering their mamas. Photograph: Eloy Alonso/Reuters
---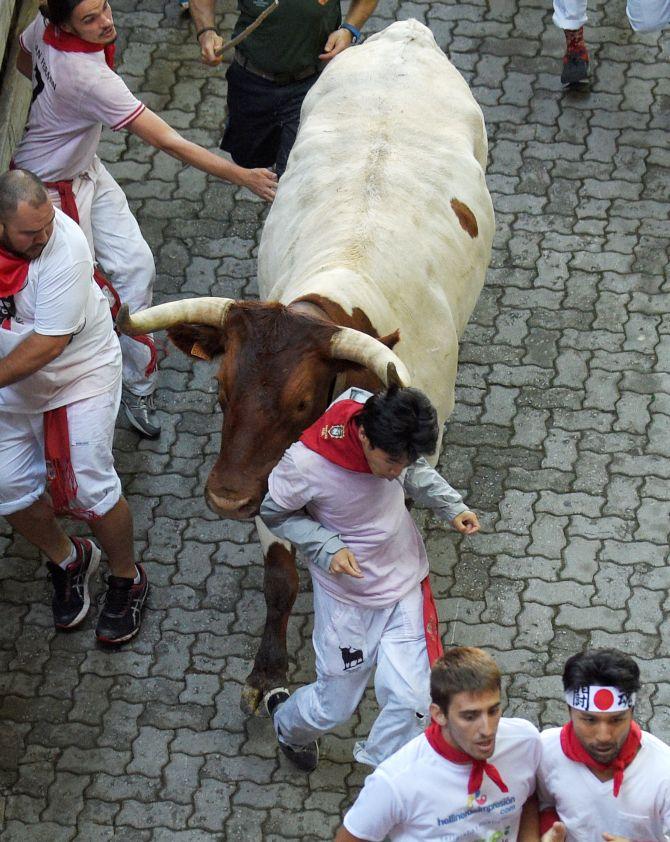 BULLY FOR YOU: This isn't the time to get a bull shoulder massage sir. You're supposed to run away from the animal not use it for inventive rub downs. Photograph: Eloy Alonso/Reuters
---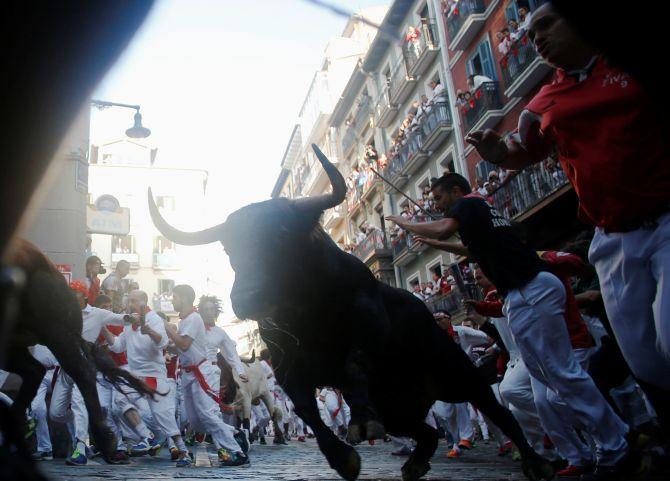 WHAT IN GOD'S NAME AM I DOING HERE: This bull has the same expression as Charlton Heston in Planet of the Apes. Figure that one out for a No-Prize. Photograph: Vincent West/Reuters
---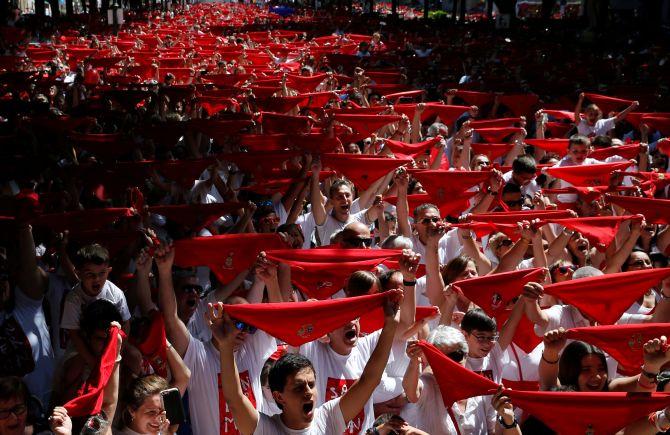 Revelers warm up for their runs. Photograph: Susana Vera/Reuters
---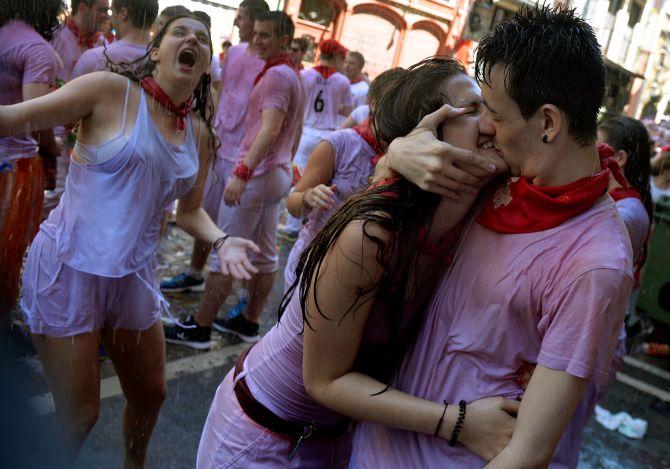 It's raining before the run and a couple kisses in the middle of the streets. Now let's give them some privacy boys. Photograph: Vincent West/Reuters
---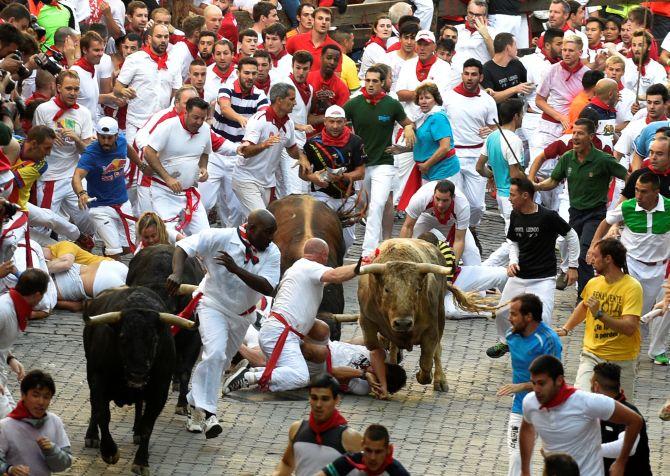 FIRE ON THE MOUNTAIN: If you know the second half of that nursery rhyme you've got it made in this race. Photograph: Vincent West/Reuters
---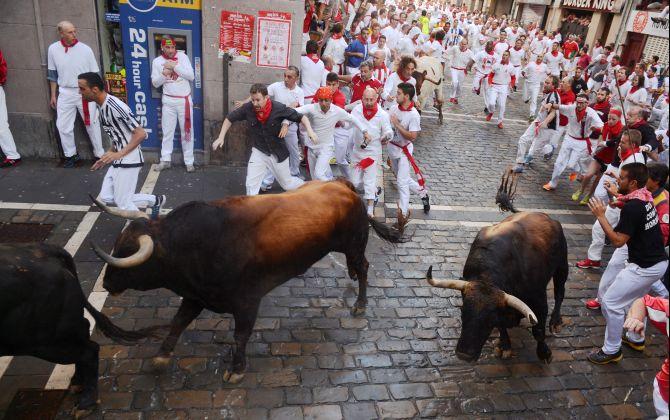 NO BOB! WE'RE SUPPOSED TO FOLLOW THEM: That's right Mr Bull. You must follow the people and not the other way round. Photograph: Vincent West/Reuters
---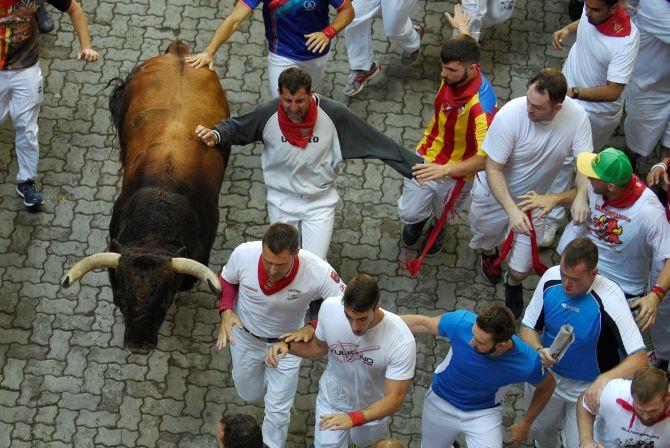 WE'RE BUDDIES NOW: Clearly the phrase bull run evokes running away from bulls and not a tag team relay. Someone please inform the gent who is patting Mr Bull. Photograph: Eloy Alonso/Reuters
---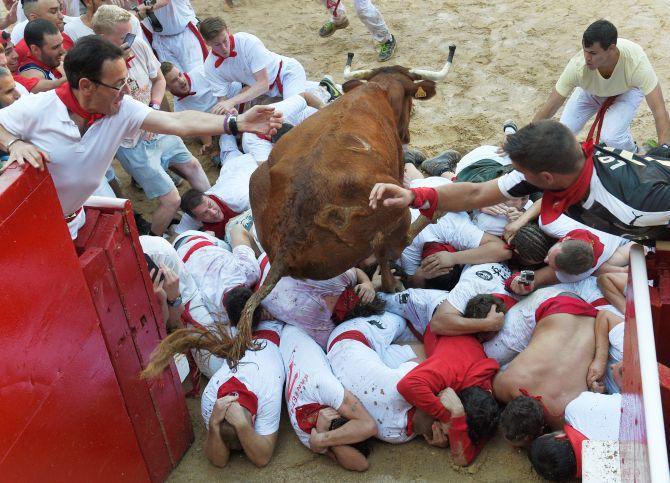 KNEEL BEFORE ZOD: This bull seems like a mutant super genius who wishes to enslave mankind. Looks like he already got some slaves. Photograph: Vincent West/Reuters
---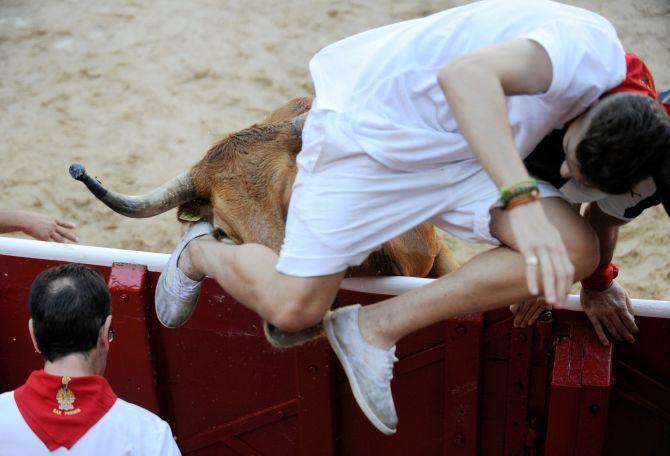 A PICK ME UP IN THE MORNING: Most people get coffee to fully wake up in the morning but not this intrepid soul. He likes to be lifted up by the rear whilst perched on bull horns. Photograph: Eloy Alonso/Reuters
---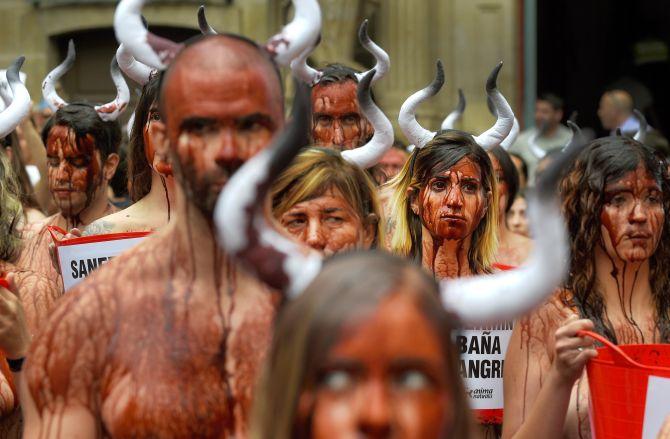 BLOOD BROTHERS: These animal rights protesters clearly saw Carrie's infamous blood bucket scene before coming out to protest the bull run. Either that or Stephen King's out of a job. Photograph: Vincent West/Reuters
---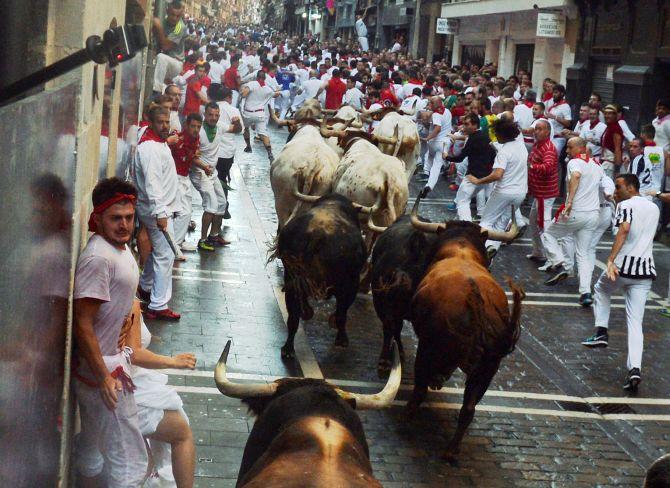 THAT'S ALL FOLKS: Looks like this runner on the left just sort of gave up. That or he's really courteous and just wants to let the bulls pass along. Photograph: Vincent West/Reuters