Israeli Prime Minister Benjamin Netanyahu on Thursday visited Mumbai's Chabad House, which lay soaked in blood during the 26/11 terror attack, and called it a unique blend of love and hatred towards the people of Israel.
He also paid tributes to the victims of the attack and also met business leaders in the morning.
A look at the fourth and final day of the Israeli PM's India visit.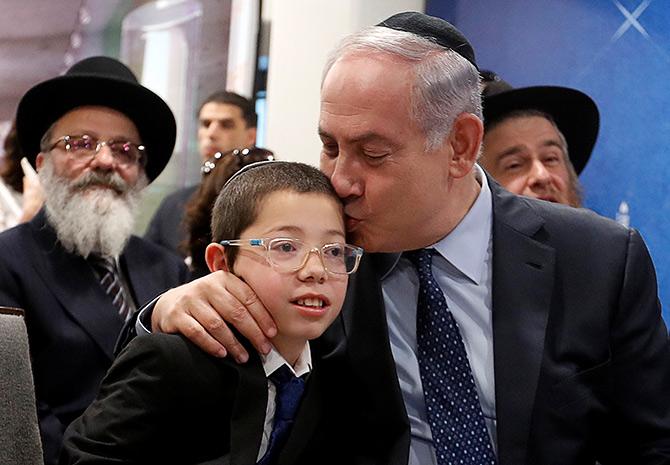 At Chabad House, Netanyahu met 11-year-old Moshe Holtzberg whose father Rabbi Gavriel Holtzberg and mother Rivka were killed along with six others there during the terror strike over nine years ago.
Moshe, then a toddler of two years, was miraculously saved by his Indian nanny. Photograph: Danish Siddiqui/Reuters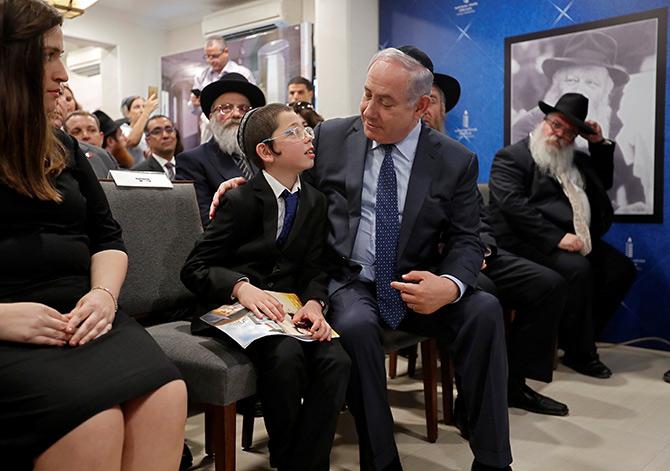 "This place is a unique merge between love for Israeli people and the hatred towards the people of Israel. The nation of Israel is known for salvation," Netanyahu told the gathering in Hebrew.
The Israeli prime minister thanked Moshe for hosting him and showing him his room in the Chabad House.
"Your parents showed love to the people and welcomed all to this house. They provided for every Jew a home. This is loving Israel but terrorists showed hatred towards Israel," he said. Photograph: Danish Siddiqui/Reuters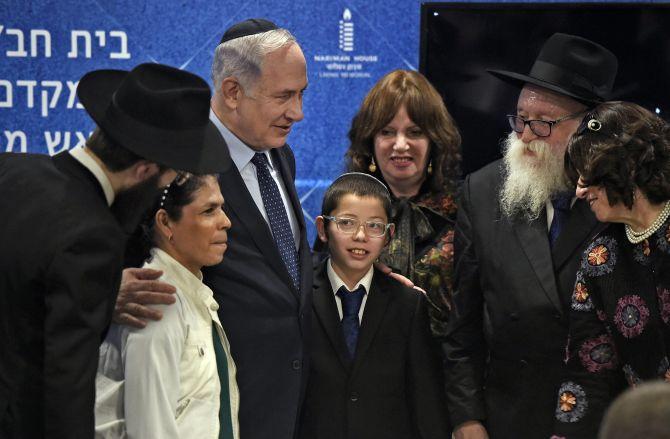 Moshe's parents ran a cultural outreach centre of the Chabad-Lubavitch movement at the five-storey building in south Mumbai's Colaba. Moshe, who now lives in Israel with his grandparents, came to Mumbai on Tuesday, returning to the place where he was orphaned nine years ago.
Netanyahu said the terrorists could not harm Moshe because of the love shown by his nanny Sandra Samuel (in white jacket), who now lives in Israel.
Also in the photograph are Moshe's grandparents. Photograph: Shirish Shete/PTI Photo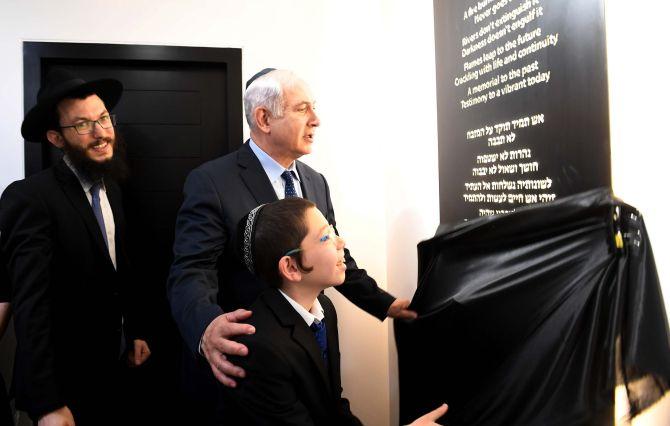 Netanyahu and Moshe also unveiled a Living Memorial in commemoration of the victims of the 26/11 attacks at the Chabad House. Photograph: Courtesy Chabad House Mumbai
Moshe, who received a memento from Netanyahu, in his short address invited the Israeli prime minister for his 'Bar Mitzvah' (a coming-of-age ritual which Jewish boys undergo when they turn 13).
Terming his escape from the terrorists a miracle, Moshe thanked God for saving his life.
He also thanked Netanyahu for keeping his promise of bringing him to India with him. Photograph: Danish Siddiqui/Reuters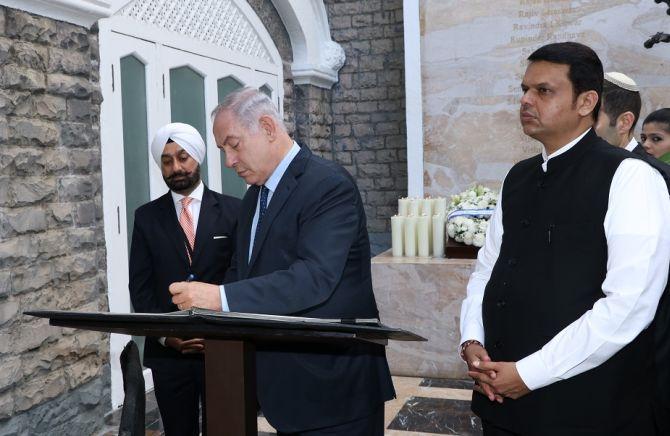 The Israeli PM also laid a wreath at the memorial of 26/11 attack victims at Taj Hotel in Mumbai. He was accompanied by Maharashtra Chief Minister Devendra Fadnavis. Photograph: Sahil Salvi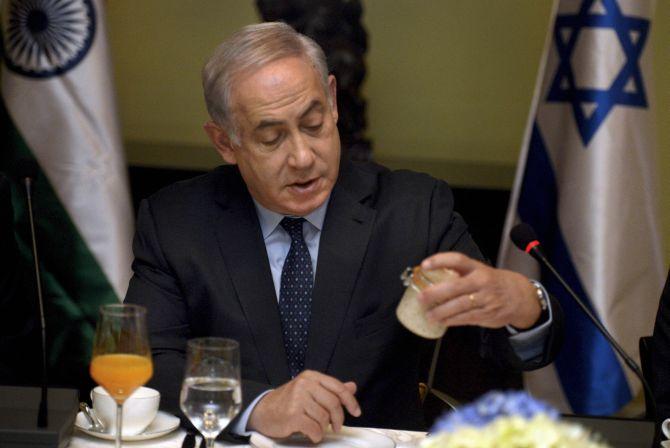 Earlier, Netanyahu met top leadership of India Inc for a power breakfast.
He interacted with business leaders at the iconic Taj hotel overlooking the Arabia Sea. Photograph: Shashank Parade/PTI Photo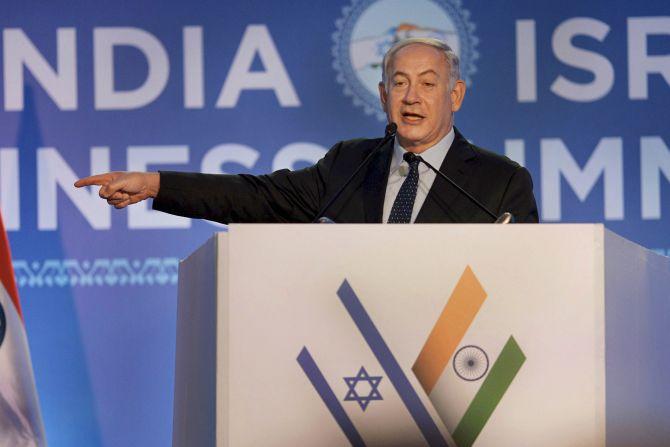 Netanyahu also addressed a gathering during the India-Israel business summit. Photograph: Shashank Parade/PTI Photo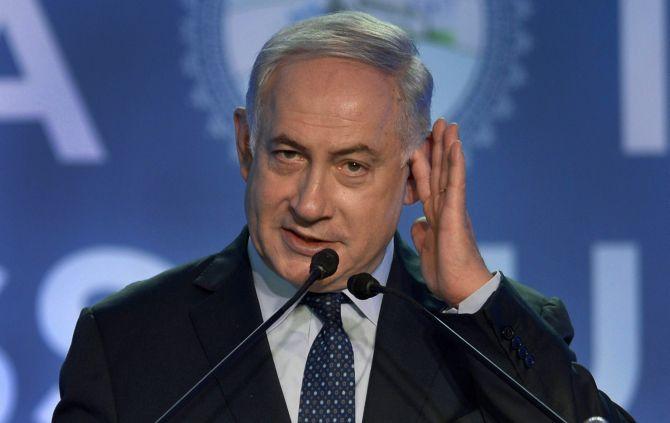 Business leaders who were present at the breakfast included Ajay Piramal, Rahul Bajaj, Adi Godrej, Harsh Goenka, Anand Mahindra, Dilip Shanghvi, Ashok Hinduja, Atul Punj and Chanda Kochhar. Photograph: Shashank Parade/PTI Photo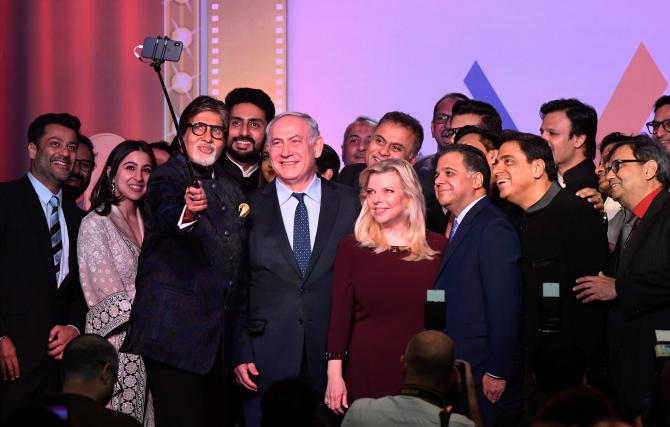 Netanyahu capped his hectic schedule by attending the 'Shalom Bollywood' event, in which he invited leading actors, directors, and producers in the Indian cinema industry to come to Israel to shoot movies and collaborate with the Israeli film and television industry.
Recreating the viral 'Oscar selfie', which featured several Hollywood stars in one picture, Netanyahu posed with Bollywood superstars as a sign of the 'great friendship' between India
and Israel.
"I want everyone in Indian and Israel to know about the phenomenal friendship between our countries. So I've an idea. One of the most viral pictures took place at the Oscars where several celebrities took a selfie together," he said.
"The world loves Bollywood, Israel loves Bollywood, I love Bollywood," Netanyahu said at the event. Photograph: Shirish Shete/ PTI Photo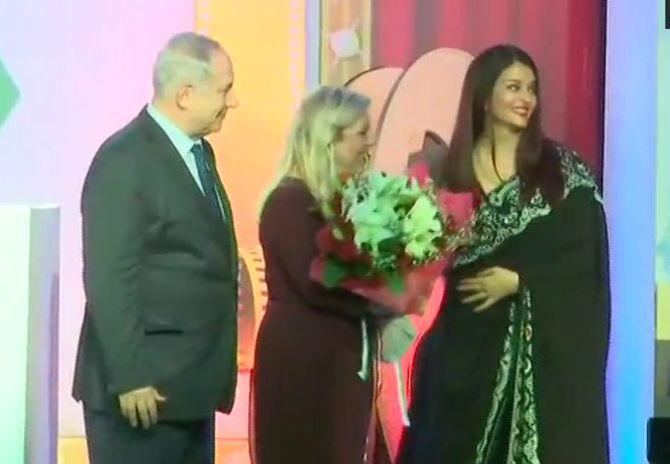 Earlier, Aishwarya Rai Bachchan, along with producer Ronnie Screwvala, welcomed the prime minister and his wife.
Emphasising that 'Israel wants Bollywood', the Prime Minister explained various reasons to make Bollywood films in his country.
"If you come and you need more, we will put in more. In Israel you will see great ideas and great technology," he said.
Netanyahu also praised megastar Amitabh Bachchan and said the actor has more followers than him on Twitter. Photograph: ANI
WATCH: Rabbi Israel Kozlovsky, who represents Chabad Mumbai, speaks to media about the visit of Netanyahu and Moshe