Crisis loomed over quake-hit Nepal on Monday following shortage of food, water, electricity and medicines as fear drove tens of thousands of people out into the open and the death toll soared to 4,000 amidst fears that it could touch 5,000.
Emergency rescue workers carry a victim on a stretcher after Dharara tower collapsed in Kathmandu. Photograph: Omar Havana/Getty Images
Scrambling to put together massive rescue and relief efforts, the country hit by the worst quake in 80 years on Monday desperately sought international help to tide over the situation.
Rains and a powerful aftershock on Sunday night sent a fresh wave of panic on Monday after the Saturday's 7.9-magnitude quake had flattened thousands of homes and buildings, leaving about 7,000 injured and scores missing.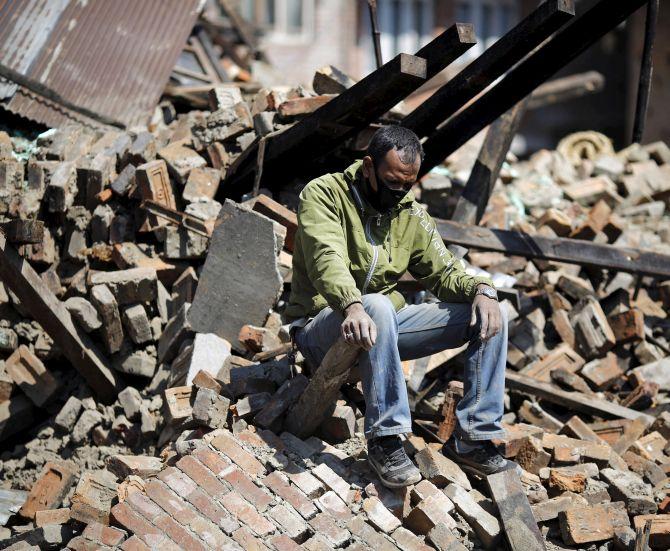 A man sits on the rubble of his damaged house following Saturday's earthquake in Bhaktapur, Nepal. Photograph: Adnan Abidi/Reuters
A well-known Telugu movie choreographer, 21-year-old Vijay, was killed in a road accident in rain and aftershock of the temblor in the early hours of Monday when his film unit was on its way to Kathmandu. Seven women from Assam were also feared killed in the quake on Saturday.
More than 48 hours after the 7.9 magnitude temblor shook the Himalayan nation, multi-nation rescue teams, including from India, carried out relief work.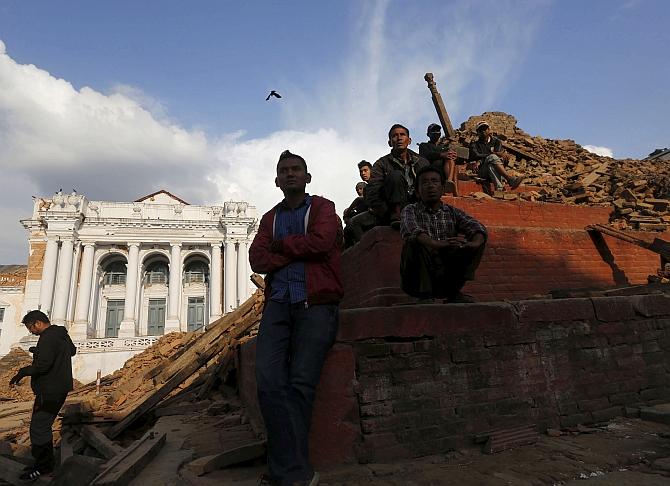 People sit on the rubble of a temple in Kathmandu. Photograph: Adnan Abidi/Reuters
Armed with modern equipment, dumpers and earth removers and aided by sniffer dogs, disaster relief workers were trying to locate possible survivors against fading hopes.
The quake that flattened homes and buildings and the subsequent powerful aftershocks forced people out to live in the open under plastic tents, barely shielding them from cold and rains that have pounded the city.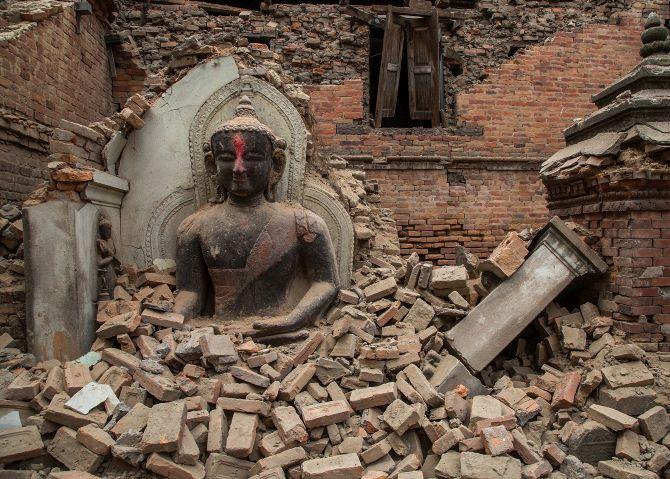 A Buddha statue is surrounded by debris from a collapsed temple in the UNESCO world heritage site of Bhaktapur, Nepal. Photograph: Omar Havana/Getty Images
Fuel and medicines were also in short supply. The picture was the same in suburbs of Kathmandu and in other rural areas.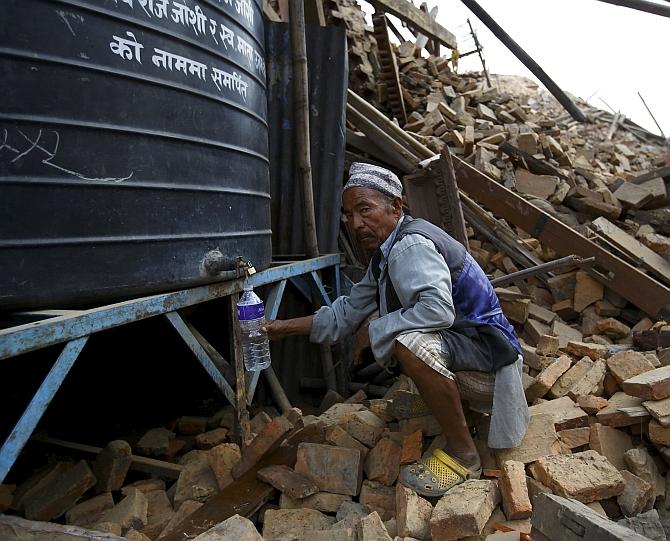 A man fills water from a water tank near a collapsed temple in Kathmandu. Photographs: Navesh Chitrakar/Reuters
Nepal's top bureaucrat Leela Mani Paudel said the immediate and big challenge was relief. "We urge foreign countries to give us special relief materials and medical teams. We are really desperate for more foreign expertise to pull through this crisis," he said.
"We are appealing for tents, dry goods, blankets, mattresses, and 80 different medicines that we desperately need now," he told a press conference.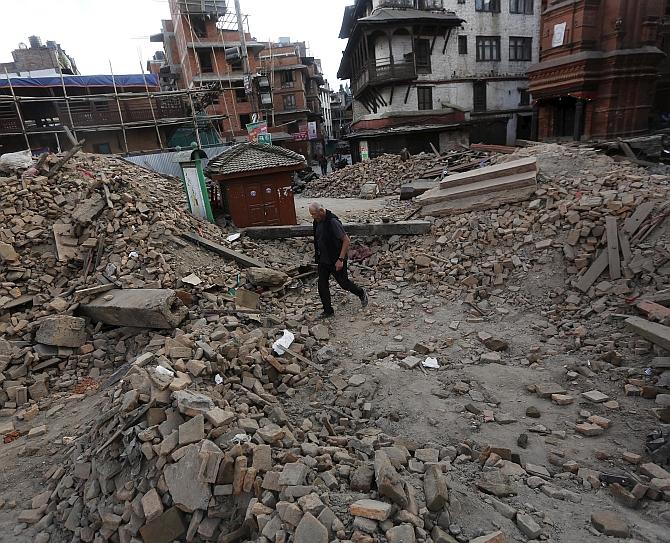 A tourist makes his way through the debris of a temple. Photograph: Adnan Abidi/Reuters
Hundreds of people are still trapped under tonnes of rubble in capital Kathmandu and some of the worst-affected remote mountainous areas amid concerns that toll could cross 5,000 mark, authorities said.
The death toll in Nepal from the earthquake has risen to around 4,000, officials said.
1,053 people are reported killed in the KathmanduValley alone and 875 in Sindhupalchowk.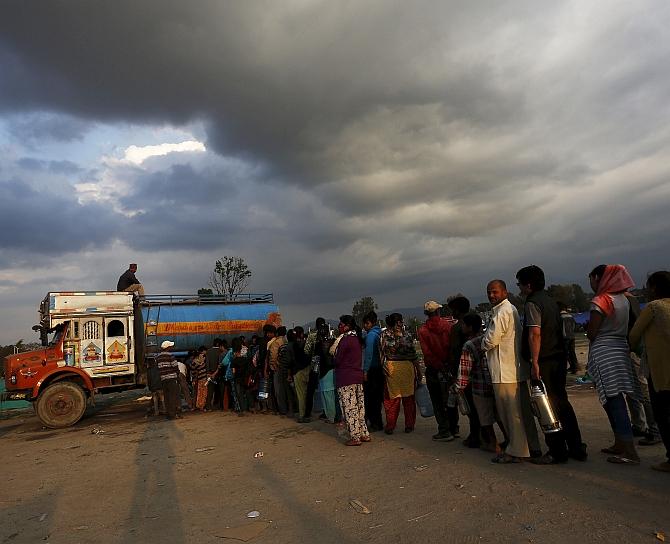 People stand in a queue to get drinking water from a tanker at an open ground. Photograph: Adnan Abidi/Reuters
Meanwhile, Prime Minister Narendra Modi on Monday donated one month's salary to the Prime Minister's National Relief Fund for assistance to those affected by the recent earthquake within the country, PMO said.
Members of Lok Sabha also decided to donate one month's salary for earthquake assistance.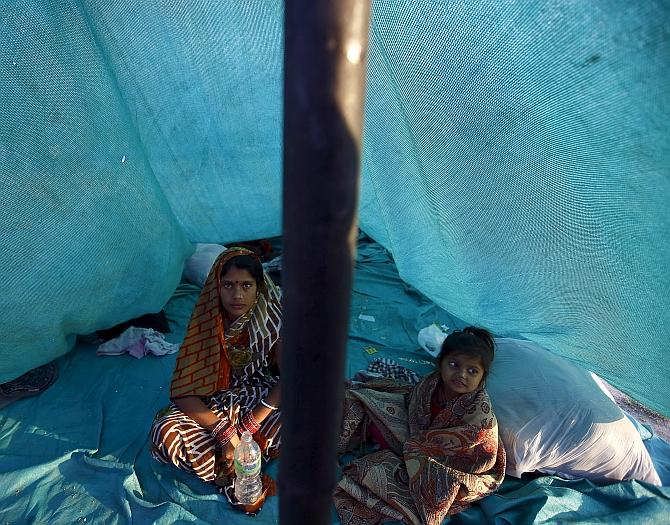 A mother and her child sit inside a makeshift shelter in an open ground to keep safe in Kathmandu. Photograph: Navesh Chitrakar/Reuters
The government has already announced Rs 2 lakh from the Prime Minister's National Relief Fund as compensation to kin of those killed. Those seriously injured in the earthquake will get Rs 50,000 from PMNRF.
A compensation of Rs 4 lakh from National Disaster Relief Fund for the kin of those killed has also been announced by the government, raising the total amount to be paid to Rs 6 lakh.