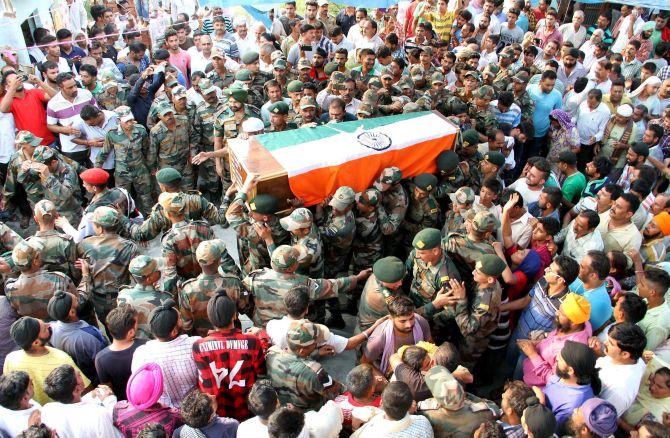 An emotional farewell was given to the valiant army jawans who lost their lives in the Uri attack, as their last rites were performed in their respective native villages with full military and state honours.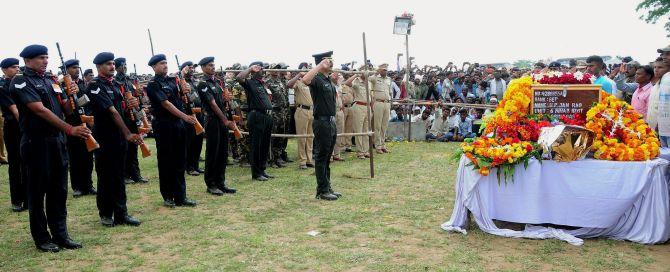 IMAGE: Army and police personnel giving gun salute to Sepoy Panjab allias Vikas Uike in Nandgaon in Amravati district of Maharashtra. All Photographs: PTI Photo

From Maharashtra: Sandip Somnath Thok, 24, from Nashik district; Chandrakant Shankar Galande from Satara; Vikas Janardhan Kulmethe, 27, from Yavatmal district and Panjab alias Vikas Janrao Uike, 26, from Amravati lost their lives in the terror attack on Sunday.
Amid slogans in his praise by thousands of emotional villagers and family members, the mortal remains of Thok were consigned to flames at his native Khadangli village in Nashik district.
The body of Thok, who is survived by parents, elder brother Yogesh and two married sisters, was brought to OjharAirport in Nashik district in an IAF plane from Srinagar and then taken to his native village on Monday night.
A procession was also taken out in the village as state Rural Development Minister Dadaji Bhuse, District Collector Radhakrishnan B, Sub-Divisional Officer Mahesh Patil, Tehsildar Manoj Khairnar and others paid rich tributes to the martyr.
The jawan was bid farewell amid chants of 'Bharat Mata Ki Jai' and 'Sandeep Thok amar rahein' by grief-stricken villagers as his mortal remains were cremated late on Monday night with full military honours.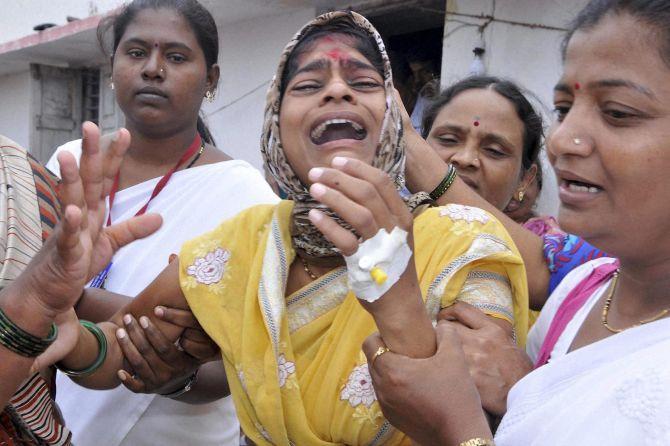 IMAGE: Nisha Galande, wife of Lance Naik Chandrakant Shankar Galande cries after his body arrived at Jashi Village for cremation in Satara, Maharashtra.

Galande's body was brought to his native Jashi village in Satara on Tuesday morning where his last rites were performed with full military honours.
Thousands of villagers and teary-eyed family members gathered at the site to pay their last respects. A large procession was carried out by villagers.
Satara Guardian Minister Vijay Shivtare, Maharashtra Food, Civil Supplies and Consumer Protection Minister Girish Bapat, and several others paid tributes to the jawan.
Galande had joined the Army in 2004 as soon as he completed his education. He is survived by his wife, two sons, parents and two brothers.
His parents, while talking to reporters on Monday, had demanded stern action against Pakistan.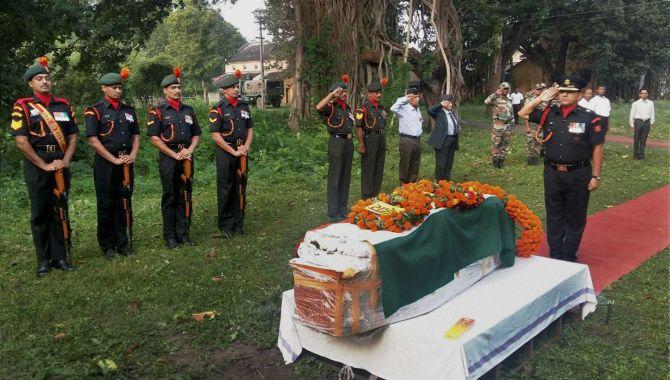 IMAGE: Major Balbir paying tribute to Sep Vikas Janardan Kulmethe of Yawatmal at Kamptee Cantonment in Nagpur.

Bodies of Kulmethe and Uike were flown to Nagpur airport. While Kulmethe's body was brought to Nagpur on Monday night, Uike's mortal remains were brought there on Tuesday morning.
After the Army officials paid homage to the two martyrs on Tuesday morning, their bodies were taken to their native places.
Kulmethe's body reached his native Purad village in Wani at about 2.15 pm and was received by Union Minister Hansraj Ahir. The body was then kept at his house for the public to pay their last respects.
An emotional farewell was given to Kulmethe, where thousands turned up. The entire tehsil observed bandh for the day.
Vikas, who joined the army in 2008 and was transferred to the camp at Uri six months ago, got married two years back. He is survived by his wife Sneha, 23, a four-month-old daughter, a younger brother and parents.
Mortal remains of Uike from Nandgaon Khandeshwar town in Amravati district, were consigned to flames on Tuesday afternoon. His family members and villagers could not hold back tears as his elder brother lit the funeral pyre amid the gun salute and full state honours.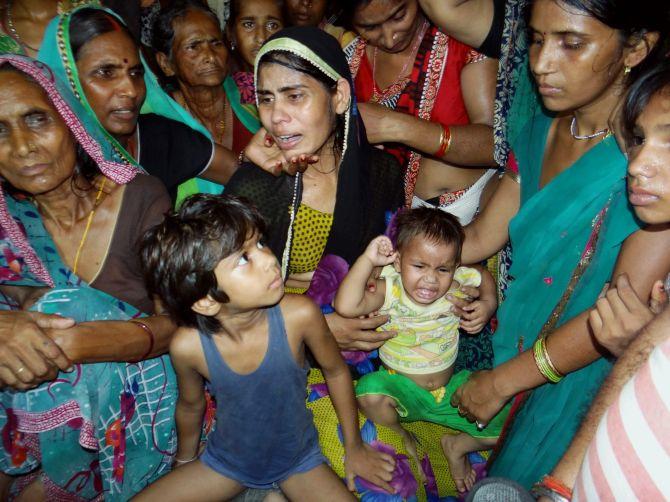 IMAGE: Wailing wife and children of jawan Rajesh Kumar during his funeral in Ballia, Uttar Pradesh.
Before the body was brought to the town, residents burnt the effigy of Pakistan Prime Minister Nawaz Sharif in protest. When the van carrying Uike's body reached the home town, his family members broke down, even as slogans of 'Bharat Mata Ki Jai' and 'Shahid Vikas amar rahe' rent the air.
The market remained closed on Tuesday while thousands lined the road to bid adieu to Uike.
He had joined the Bihar Battalion of the army at Chandrapur in 2009, served at Assam and West Bengal, before being posted at Jammu and Kashmir three months ago. He left behind parents, a brother and a married sister.
His father Janrao had earlier said that they were planning to marry him off soon. "We had planned to solemnize the engagement on Diwali but all our plans have been shattered," he had said.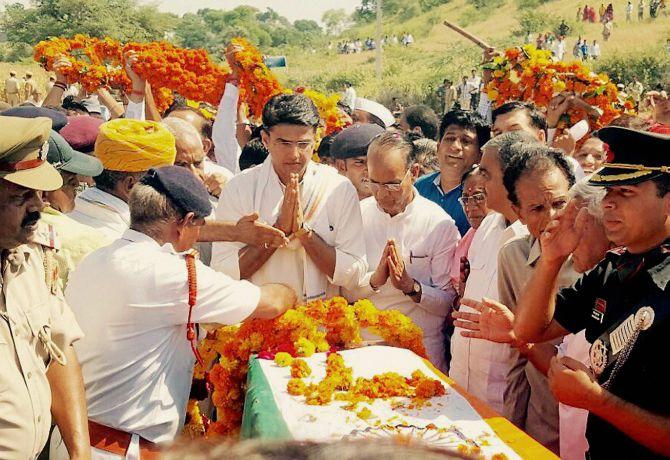 IMAGE: Congress leader Sachin Pilot paying tribute to Hav Nimb Singh Rawat during his cremation in Rajwa village of Rajsamand.
In Rajasthan, the mortal remains of Havaldar N S Rawat were consigned to flames with full military honour in his native village in Rajsamand district.
There was hardly a dry eye when Rawat's five-year-old son, Chandan Singh, lit the funeral pyre with the soldier's daughters standing nearby.
A large number of people from the jawan's village and adjacent areas gathered at the funeral site in Rajwa to pay homage to him. Udaipur IG Anand Srivastava and Collector Archana Singh also paid tributes to the soldier.
The gun salute was given to him by police and 6 Rajputana Rifles during the wreathe laying ceremony at the cremation ground.
The mortal remains of Havaldar Rawat were on Monday received by the local army unit, his family members and representatives of the civil administration in Udaipur.
Rawat is survived by wife Rodi Devi, four daughters -- Payal, Deepa, Lata, Asha – and son Chandan.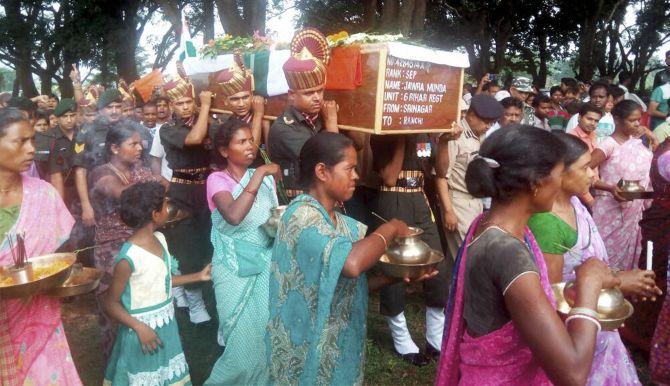 IMAGE: People and Army Jawans carry the body of Sepoy Jawra Munda at Khunti, Jharkhand.
In Jharkhand, state funeral was accorded to martyrs Nayaman Kujur of Gumla and Javra Munda of Khunti. A candlelight march was taken out in the memory of the slain jawans.
Captain Vijendra Singh represented the Sikh Regiment as the last bugle sounded the post at Uru village in Gumla district where Kujur's funeral was held.
Jharkhand Revenue and Land Reforms Minister Amar Bauri, MLA Shiv Shankar Oraon, Central Reserve Police Force Commandant V P Singh, Deputy Commandant Vishal Kumar, Deputy Commissioner Sarvan Sahay and several other officials and civilians were present.
Munda was also accorded state funeral in the neighbouring Khunti district in the presence of Jharkhand Rural Development Minister Nilkant Singh Munda, Additional Director General of Police Rezi Dungdung, MLA Poulis Surin, Deputy Commissioner Chandrasekhar, Superintendent of Police Anis Gupta and several others as the last bugle sounded the post.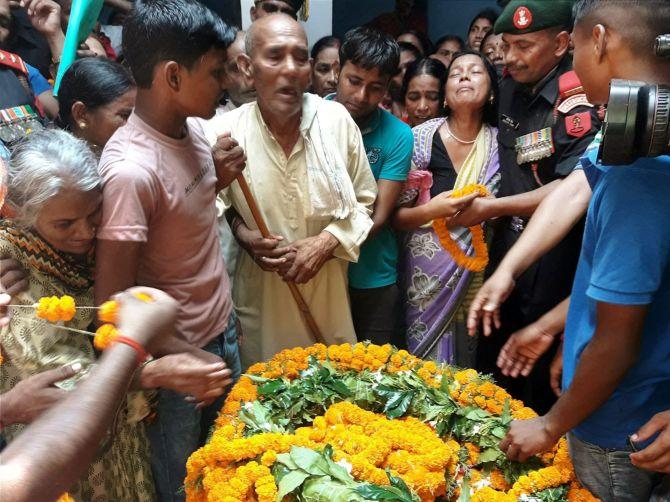 IMAGE: Family members of Havildar Ashok Kumar Singh mourn during his funeral in Bhojpur district of Bihar.
In Bihar, saluting bravery of the three martyred soldiers -- S K Vidyarthi from Gaya, Rakesh Singh from Kaimur and Ashok Kumar Singh from Ara in Bhojpur district -- Chief Minister Nitish Kumar had announced to accord full state honour to the three martyred soldiers of the Bihar regiment.
Three ministers attended the funeral ceremony of the as many martyred at different places.
The Nitish Kumar cabinet also announced to enhance ex gratia amount to Rs 11 lakh each to the kin of the three martyrs.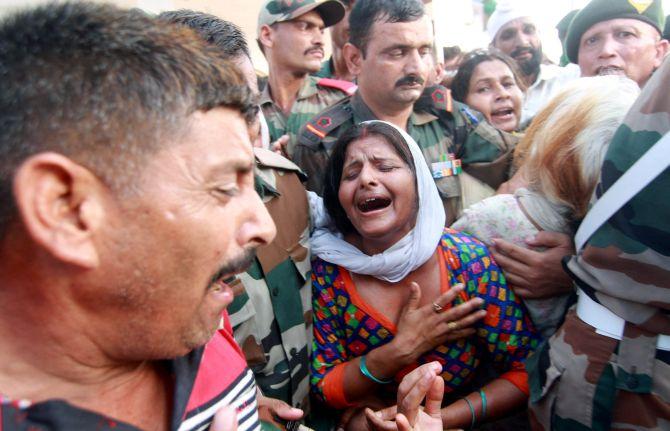 IMAGE: Family members mourn during the funeral of Havildar Ravi Paul at his native village Sarwa in Samba, Jammu and Kashmir.
The people of Jammu and Samba districts bid a tearful adieu to the two braveheart jawans Subedar Karnail Singh and Havaldar Ravi Paul of 10 Dogra, who were cremated with full military honours in their native hamlets of Shibu Chak (Tehsil Bishnah) of Jammu district and Ramgarh village of Samba district.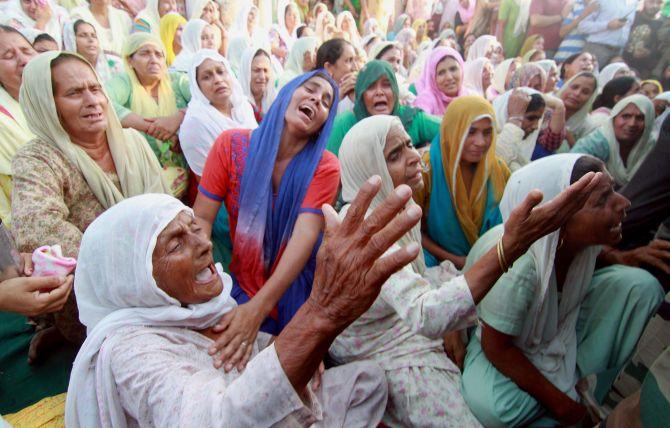 IMAGE: Women wail during the funeral of Subedar Karnail Singh at Shibu Chak village in Arnia in Jammu.
The wreath-laying of the two jawans was done by Kavinder Gupta, speaker J&K legislative assembly, ministers Bali Bhagat, Zulfkar Ali, Chander Parkash Ganga, Jugal Kishore MP, and MLAs Sat Sharma, Rajesh Gupta.
After final bugle and gun salutes by Army, the duo was cremated amid presence of the family, top officials and huge number of people.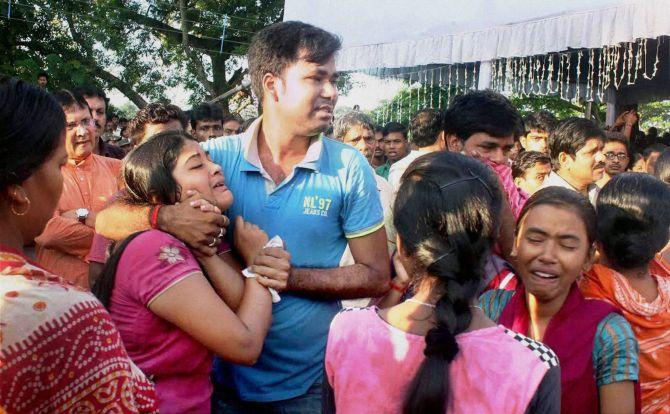 IMAGE: Family members of Sepoy Gangadhar Dolui break down as his body arrives in Howrah.
In West Bengal, Chief Minister Mamata Banerjee said that the government said it would offer jobs and financial assistance of Rs 2 lakh each to the families of the two jawans Gangadhar Dolui and Biswajit Ghorai.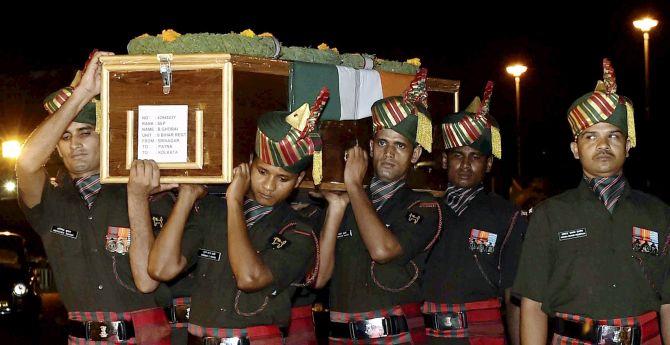 IMAGE: Army jawans carry the body of Sep B Ghorai at NSCBI Airport in Kolkata. Photograph: Ashok Bhaumik/PTI Photo

"Generally the Centre does it... We've done it for CRPFs in the past. On humanitarian ground, we will offer jobs of home guards to someone in the family and Rs two lakh each to the families of the two jawans as special cases," Banerjee told reporters at state secretariat Nabanna.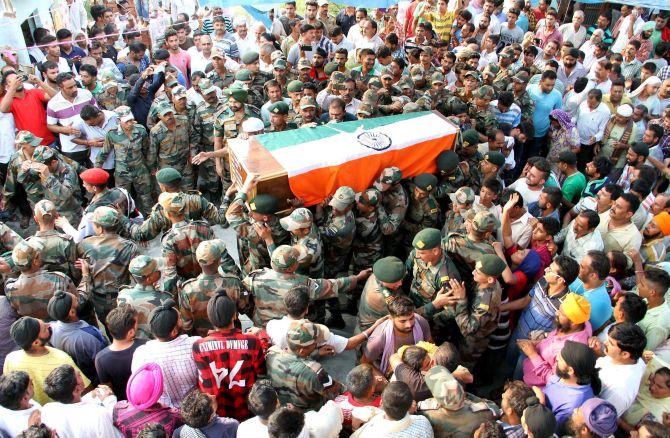 IMAGE: Army jawans carry the coffin of jawan Rajesh Kumar in Ballia.
Two of her cabinet ministers -- Arup Roy and Rajiv Banerjee -- were present at Dolui's residence in Howrah district's Jagatballavpur, she said.