Prime Minister Narendra Modi and US President Donald Trump have met six times, and each time it has been a photographer's delight.
Have a look!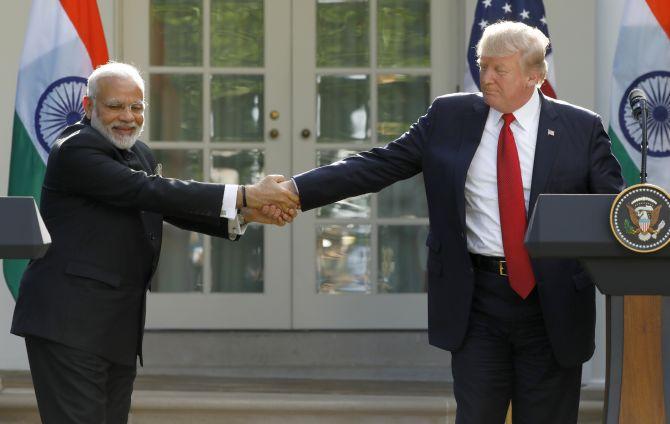 Prime Minister Narendra Modi and United States President Donald Trump have met six times so far, the latest being in Biarritz, France, earlier this week.
Unlike the interactions with Trump's predecessor, the cerebral Barack Obama, the Modi-Trump bonhomie seems more like the backslapping variety, replete with fist bumps etc.
These photographs from their encounters tell the story.
June 2017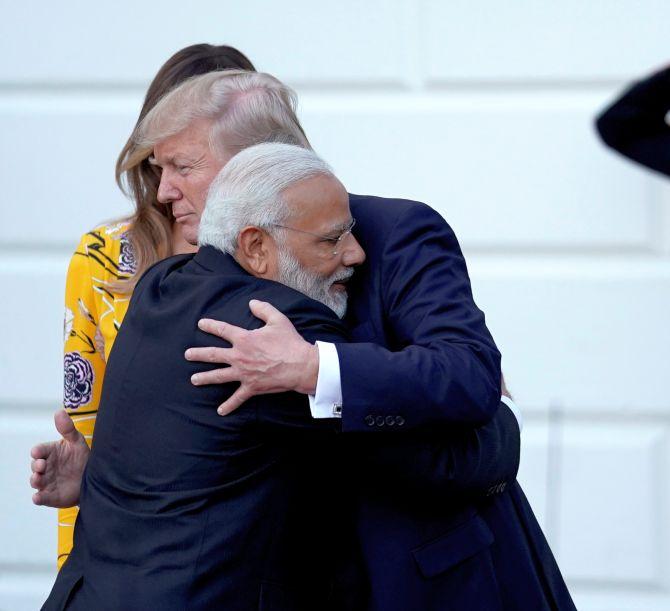 It was the first encounter between the new ultra nationalist leaders of the world's oldest democracy and the world's largest, and naturally all eyes were on how the two will react to each other when the Indian prime minister visited America.
Would the mercurial US president, known to tweet first and ask questions later, disdain the man on who his predecessor wrote a glowing account in Time magazine in April 2015?
Given the personal chemistry Prime Minister Modi establishes with world leaders, such worry was misplaced. As the photograph shows, Modi in typical fashion wasted little time in winning over the 45th president of the United States of America.
July 2017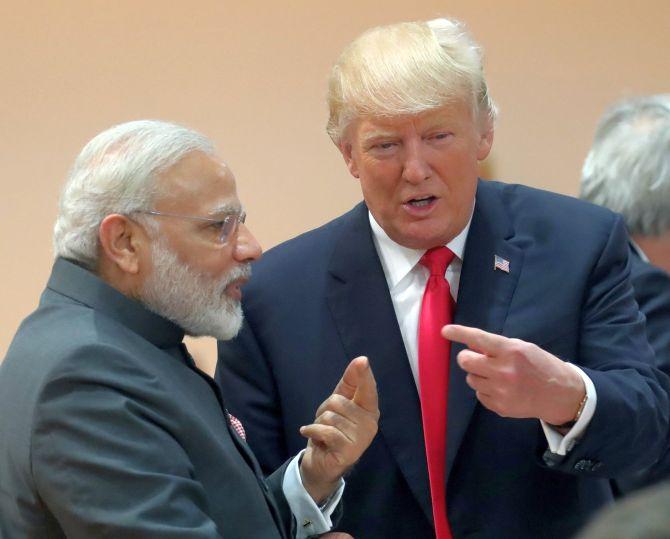 The second time the two leaders met was at the G20 leaders summit in Hamburg, Germany. Fingers on one's hands are clearly not enough to count the areas of cooperation between the two nations, the two leaders seem to have concluded.
November 2017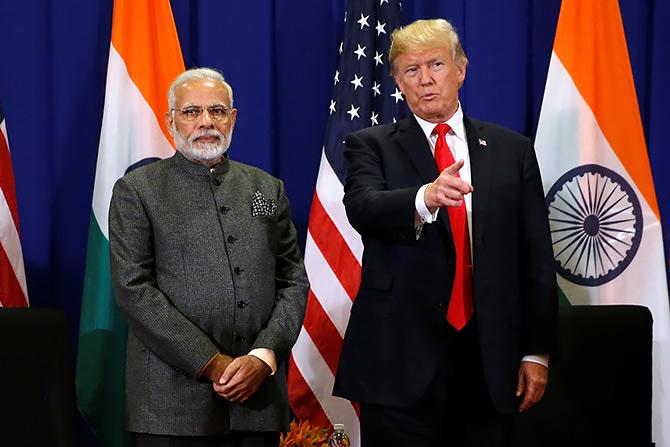 The ASEAN summit in Manila, Philippines, was the backdrop against which the two leaders met for the third time, and by now the style of functioning of both leaders was well documented by the media -- for which, incidentally, both have little patience.
'There, that's the journo I warned you about,' Trump may well be pointing out to his counterpart.
November 2018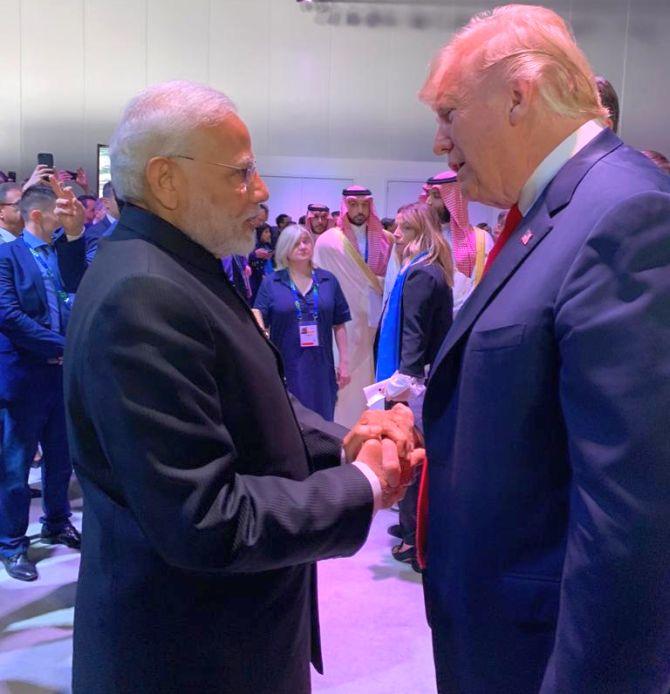 A year later, at the G20 summit in Buenos Aires, Argentina, when the two leaders next came face to face, it was a firm show of hands. Clearly, the two converse in English in private, even though the prime minister eschews the language in his public address.
June 2019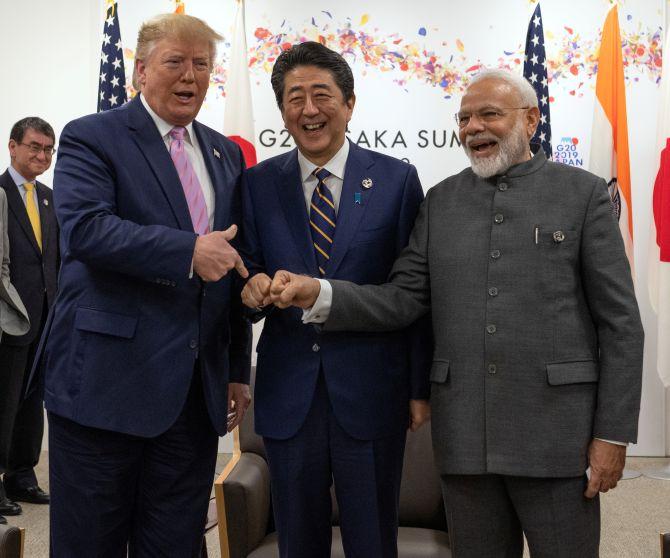 By the time the Asean summit rolled up in Osaka, Japan, eight months later, the boys club had been firmly established, what with fist bumps and, presumably, private jokes. The two leaders have clearly roped in a third partner, Japan's Shinzo Abe.
August 2019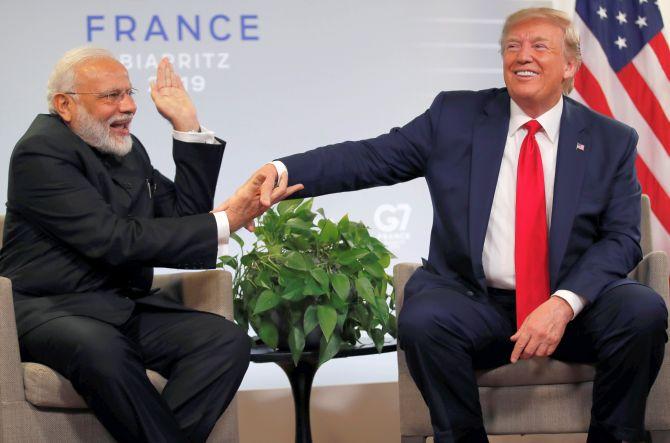 Their body language at the G7 summit in Biarritz, France, shows that the two leaders have reached a level of comfort that is unlikely to be shaken by a pesky leader from the neighbourhood visiting Washington, DC. 'You said it, bro,' the US president seems to suggest.
What next, a signed article on the prime minister in the year-end edition of Time magazine?