Here is a glimpse of what Israeli Prime Minister Benjamin Netanyahu and wife Sara did on day 4 of their India visit.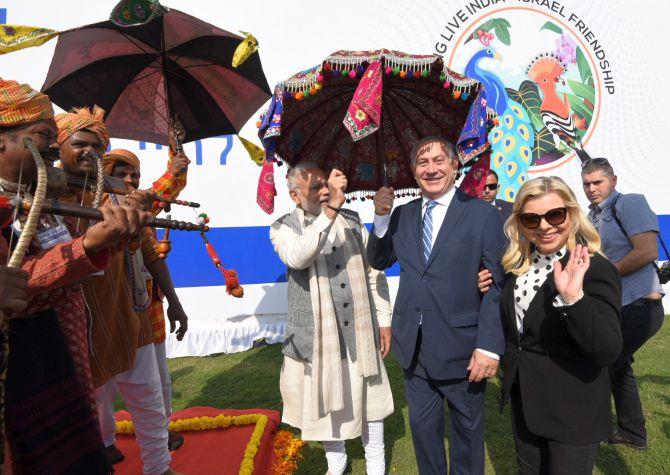 Prime Minister Narendra Modi and his Israeli counterpart Benjamin Netanyahu held a roadshow in Ahmedabad under a heavy security blanket as thousands of people lined up along the route to greet them. After arriving in Modi's home state, the two leaders, along with the Israeli prime minister's wife Sara Netanyahu, set out in a car from the Sardar Vallabhbhai Patel Airport. Photograph: MEAIndia/Flickr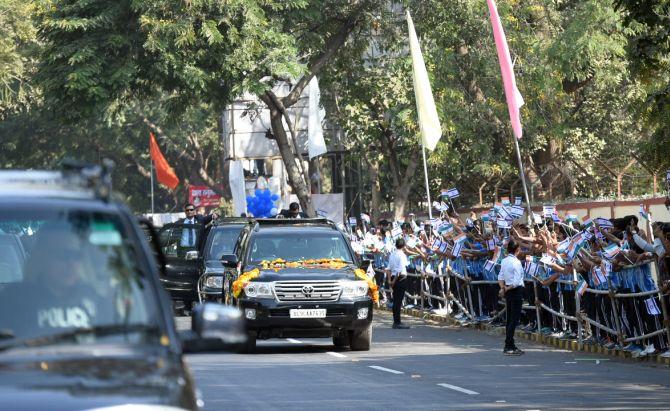 Around 50 stages were erected on the roadside along the stretch to showcase performances by troupes of different states to welcome the guests. People carrying Indian and Israeli flags stood in large numbers on both sides of the tastefully decorated road. Photograph: MEAIndia/Flickr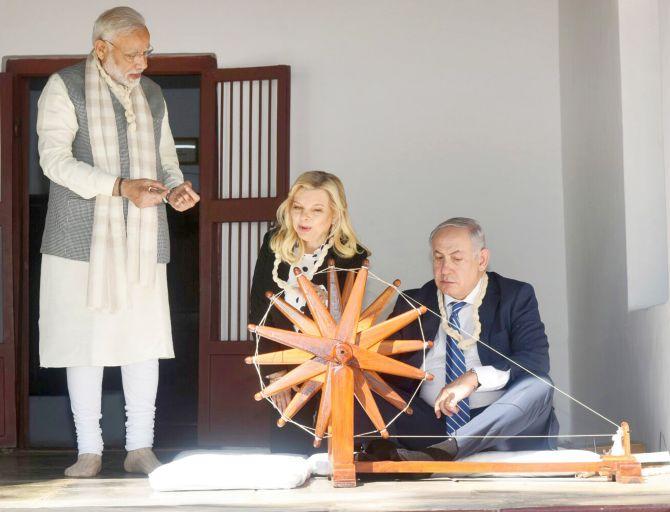 The roadshow concluded at Mahatma Gandhi's Sabarmati Ashram, after traversing 8 km. Netanyahu and his wife tried their hands at Gandhi's cherished spinning wheel. Photograph: MEAIndia/Flickr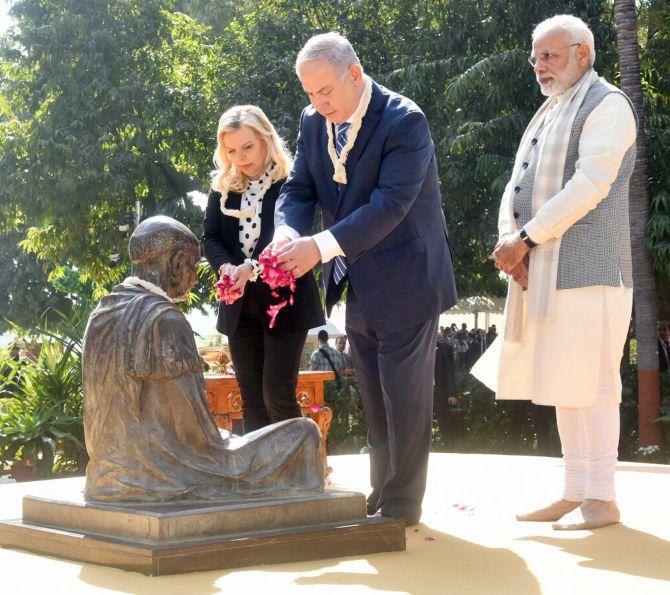 At 'Hriday Kunj', Gandhi's home in the ashram, Modi showed them Gandhi's room and the articles he used. Photograph: MEAIndia/Flickr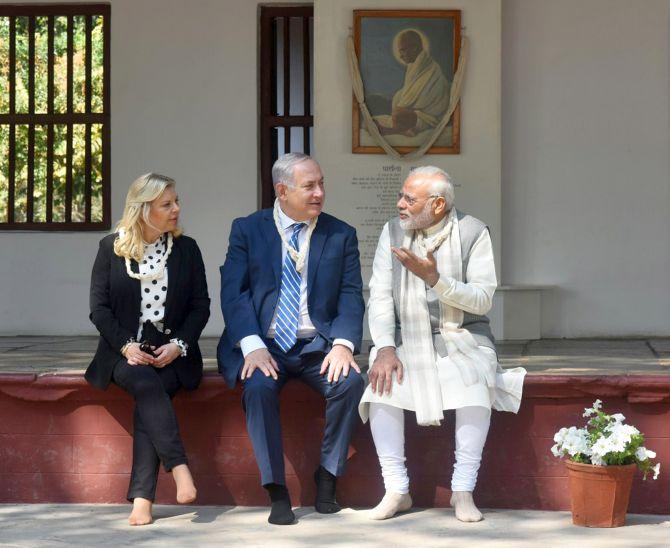 The Israeli PM and his wife spent around 20 minutes in the ashram premises, where they visited 'Hriday Kunj', the home of Mahatma Gandhi. Photograph: MEAIndia/Flickr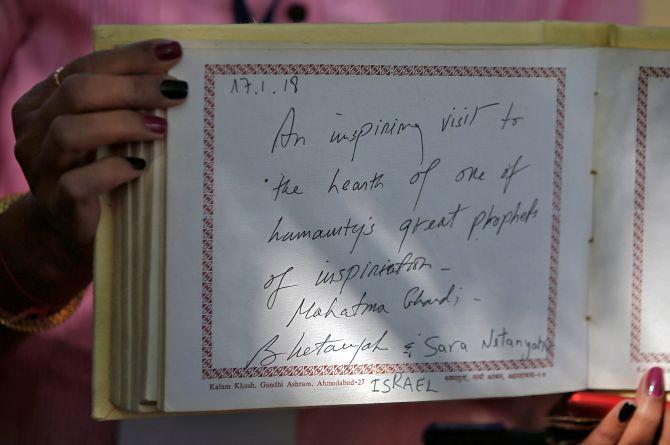 Benjamin Netanyahu's message in the visitor's book at Sabarmati Ashram. In a four-line message jointly signed by Netanyahu and his wife Sara in the visitor's log book at the ashram, the Israeli dignitaries said their "visit was inspiring". "An inspiring visit to the hearth of one of humanity's great prophets of inspiration- Mahatma Gandhi-," Netanyahu wrote in the book. Photograph: Amit Dave/Reuters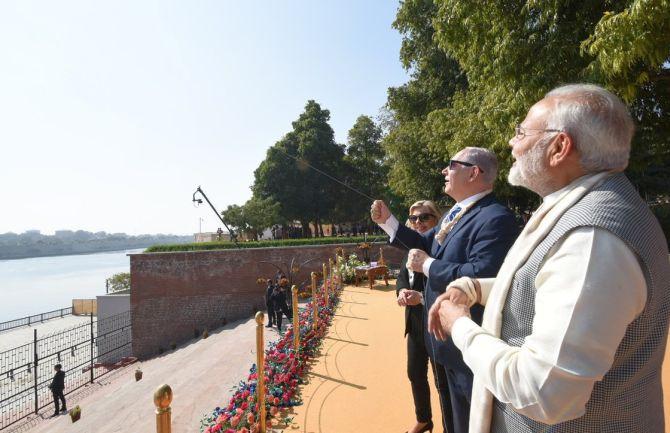 Modi also showed kites to the Israeli prime minister, whose visit comes just a few days after 'Uttarayana', the popular festival of kites in Gujarat. Photograph: MEAIndia/Flickr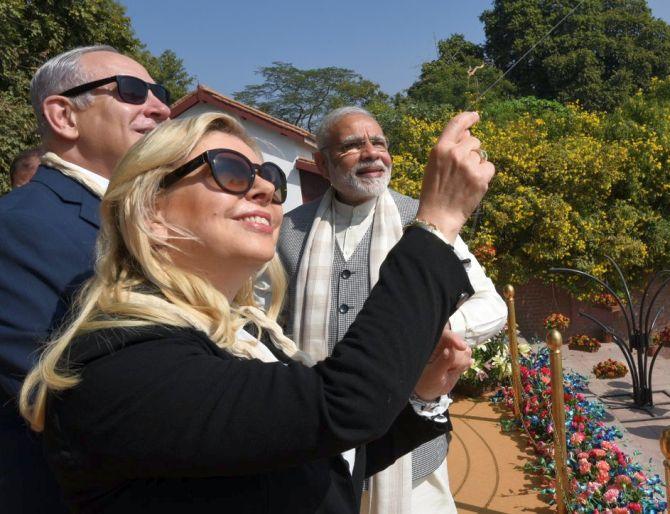 Netanyahu and his wife then took a try at flying kites in the ashram. The Israeli PM is the third international leader whom Modi is hosting in his home state of Gujarat. Photograph: MEAIndia/Flickr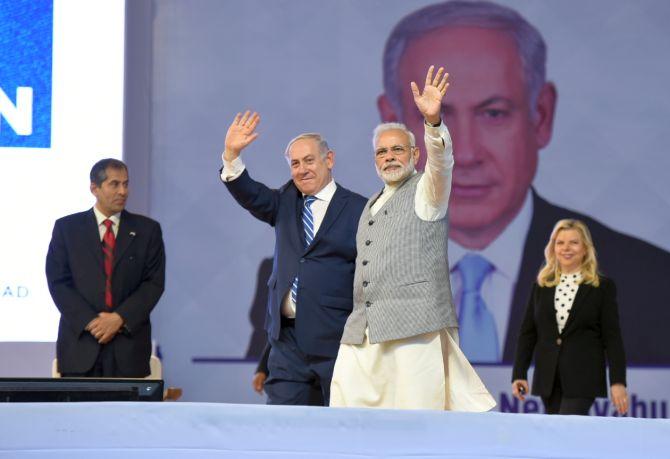 Israeli Prime Minister Benjamin Netanyahu praised his Indian counterpart Narendra Modi, saying the latter is changing India through innovation and trying to make it a global power. Both the leaders were addressing young entrepreneurs and businessmen after dedicating International Centre for Entrepreneurship and Technology (iCreate), a public-private partnership venture set up to nurture entrepreneurs by providing them funds, space, mentors and other facilities. Photograph: MEAIndia/Flickr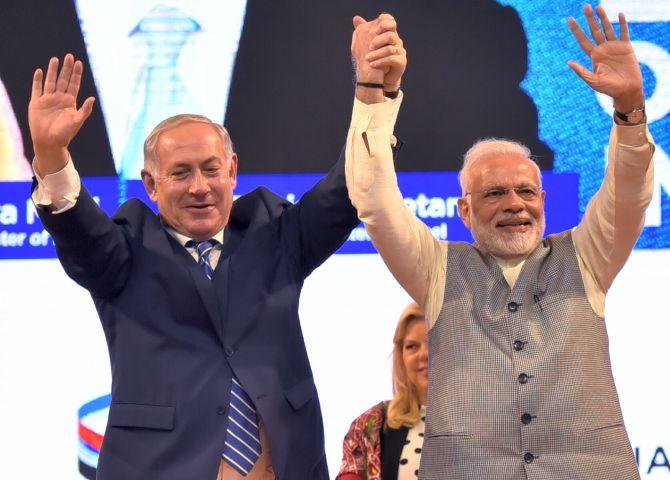 Emphasising that Israel seeks to form partnership with India in "every field", Netanyahu said he wants young Israelis to come to India, "not just with the backpack, but with a laptop". Photograph: MEAIndia/Flickr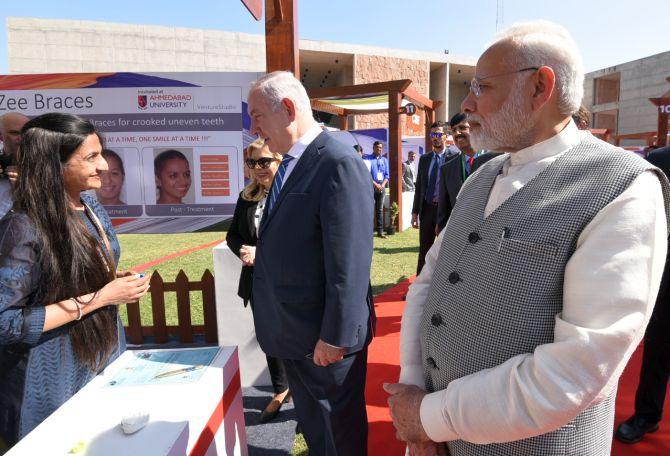 Impressed by some of the innovations put on display at iCreate, Netanyahu said, "The world knows about iPods, they know about iPads, but there is one more 'i' the the world needs to know about - iCreate." Photograph: MEAIndia/Flickr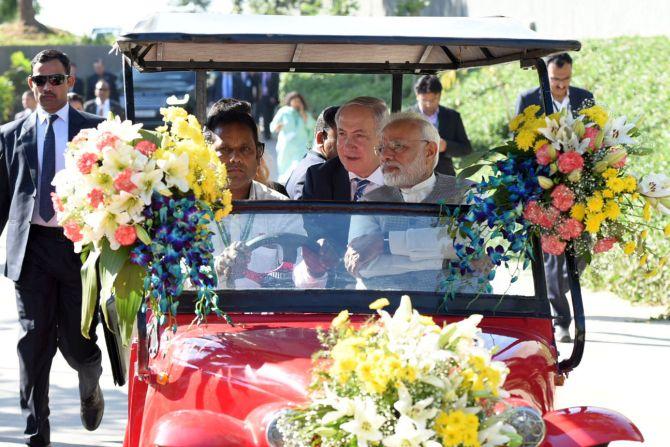 The two prime ministers also gave away awards to 38 entrepreneurial projects from the two countries -- 18 from India and 20 from Israel. Photograph: Press Information Bureau
© Copyright 2019 PTI. All rights reserved. Republication or redistribution of PTI content, including by framing or similar means, is expressly prohibited without the prior written consent.