Prime Minister Narendra Modi on Monday launched a 12-kilometre stretch of Delhi Metro's Magenta Line with a ride between the Botanical Garden and the Okhla Bird Sanctuary stations in New Delhi.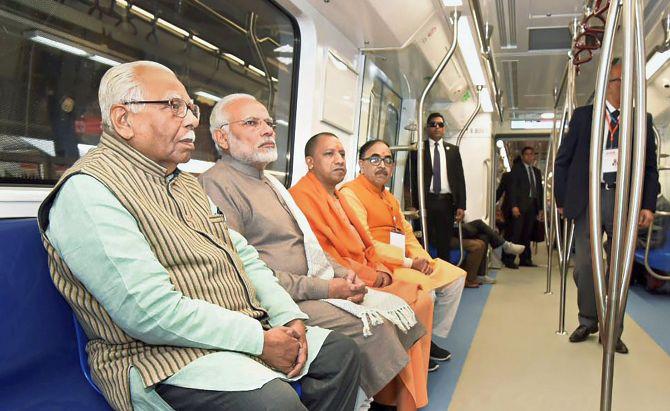 Modi was accompanied by Uttar Pradesh Governor Ram Naik, Uttar Pradesh Chief Minister Yogi Adityanath, Union Minister for Housing and Urban Affairs Hardeep Singh Puri and Delhi Metro Rail Corporation chief Mangu Singh during the ride.
The prime minister boarded the metro at Botanical Garden, which is the terminal station of the Magenta Line, at 1.05 pm, and alighted at the Okhla Birds Sanctuary following a four-minute ride. Both stations fall in Noida, a suburban town in Uttar Pradesh bordering New Delhi.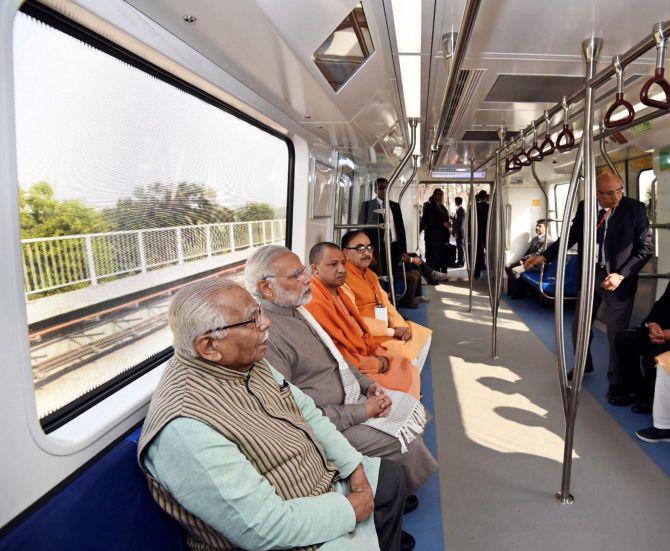 The other end of the line, for now, will be south Delhi's Kalkaji Mandir. However, by April, the entire corridor, stretching till Janakpuri West, is scheduled to be functional.
From the metro station, Modi proceeded to sector 125 rally ground at Amity University where he will address a public rally.
Modi lauds Yogi for rubbishing Noida superstition
Uttar Pradesh Chief Minister Yogi Adityanath came in for praise from Prime Minister Narendra Modi for shrugging off a superstition that any chief minister who visits Noida does not assume the high office again.
Those who entertain such superstitions have no right to be the chief minister, Modi said.
Adityanath visited Noida twice in three days rubbishing a widely believed myth in UP's political and bureaucratic circles that a chief minister visiting Noida would face problems retaining his or her post.
In the city to inaugurate the Metro's Magenta line, Modi pointed to the saffron robed Adityanath and said that looking at his dress, the CM appeared to be superstitious, but had actually shown that he had the courage to break superstitions.
A priest-turned-politician, Adityanath, could be seen smiling as Modi lavished praise.
The prime minister said that Noida was not the only place to which superstitions had attached themselves.
Recalling his days as the chief minister of Gujarat, Modi said there were 6 to 7 places in the state where no chief minister went out of the fear that whoever does so would lose his seat.
"I ignored this and visited all such places," Modi said and pointing that he remained Gujarat CM for nearly 20 years.
In the modern scientific world there is no place for superstition, the prime minister asserted.
Significantly, Adityanath's chief ministerial visits to Noida came eight years after the last by the then CM Mayawati. In the ensuing election Mayawati's Bahujan Samaj Party lost and her successor Akhilesh Yadav did not vist Noida.
Several chief ministers in the past have not visited Noida, something attributed to the "jinx" about the city.
Photographs: Press Information Bureau