The prime minister and the Chinese president walked along the banks of East Lake and also took a boat ride together as they decided to step up their personal rapport.
K J M Varma/PTI reports
Prime Minister Narendra Modi and Chinese President Xi Jinping have decided to issue "strategic guidance" to their militaries to strengthen communications to build trust and understanding, India's top diplomat said on Saturday, a move aimed at avoiding a Doklam-like situation in the future.
Modi said his talks with Xi focussed on diverse areas of India-China cooperation. "We discussed ways to give impetus to our economic ties as well as people-to-people relations. Other areas we spoke about include agriculture, technology, energy and tourism," he said.
WATCH: Stroll and a boat ride for Modi in Wuhan
At the end of the two-day informal summit between Modi and Xi in the central Chinese city, Foreign Secretary Vijay Gokhale said they underscored the importance of maintaining peace and tranquility in all areas of the India-China border region in the larger interest of the overall development of bilateral relations.
"They issued strategic guidance to their respective militaries to strengthen communication in order to build trust and mutual understanding and enhance predictability and effectiveness in the management of border affairs," he said.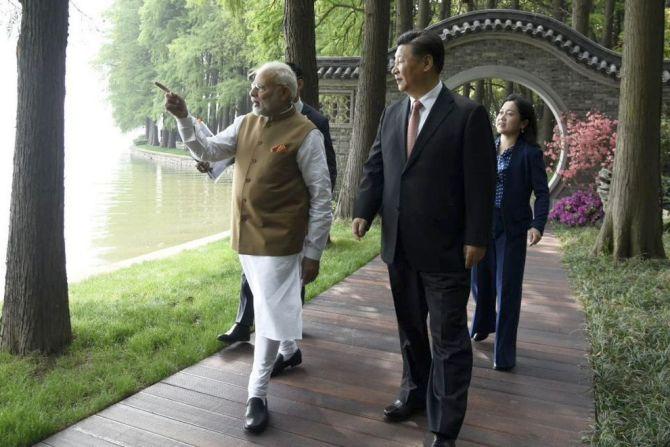 He said the two leaders directed their militaries to earnestly implement various confidence building measures agreed upon between the two sides, including the principle of mutual and equal security, and strengthen existing institutional arrangements and information sharing mechanisms to prevent incidents in border regions.
They endorsed the work of the special representatives to find a fair, reasonable and mutually acceptable settlement on the boundary issue.
The two sides have held 20 rounds of talks to resolve the boundary dispute and worked out different mechanisms to keep peace along the 3,488-km long Line of Actual Control.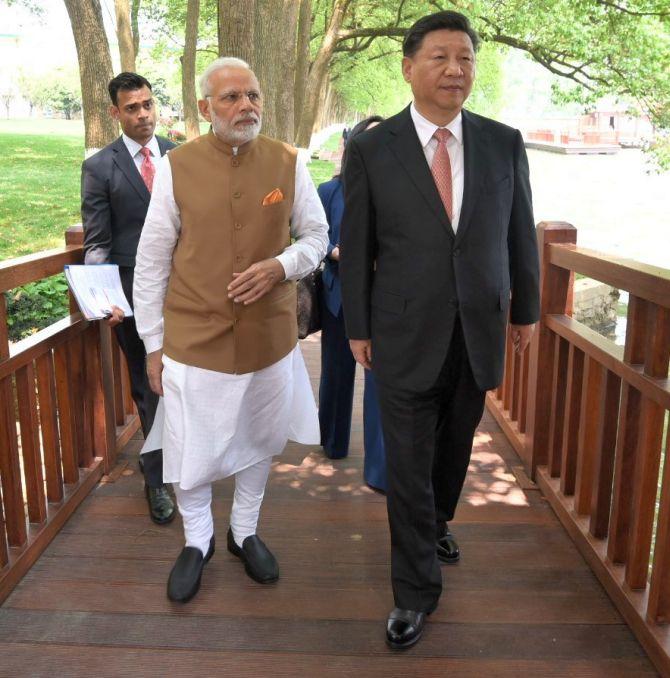 His remarks assumes significance as the 'heart-to-heart' informal summit between Modi and Xi is being seen as an effort by India and China to rebuild trust and improve ties that were hit by the 73-day-long Doklam standoff last year.
"The two leaders were of the view that the two countries have the maturity and wisdom to handle all our differences through peaceful discussions within the context of the overall relationships and bearing in mind, we would respect each other's sensitivities, concerns and aspirations," Gokhale said.
Modi and Xi underlined that as two major countries India and China have wider and overlapping regional and global interests. They agreed on the need to strengthen strategic communication through greater consultation on all matters of common interest and believe that such communication will have a positive influence on enhancing mutual understanding, he said.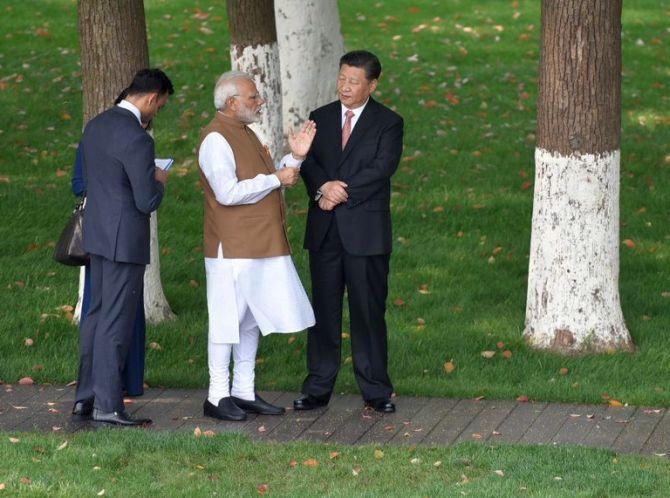 The two leaders recognised the common threat posed by terrorism and committed to cooperate further on counter-terrorism, he said.
Asked whether the issue of Jaish-e-Mohammad chief Masood Azhar was raised, he said the two leaders "did not go into specifics". China has repeatedly blocked India's bid to designate Azhar as a global terrorist by the United Nations.
The two leaders agreed that India and China are major powers, with strategic and decisional autonomy and they will pursue peaceful, stable and balanced relations and such a relationship will be a positive factor for stability amidst the current global uncertainties, he said, amidst increasing protectionist moves by countries like the US.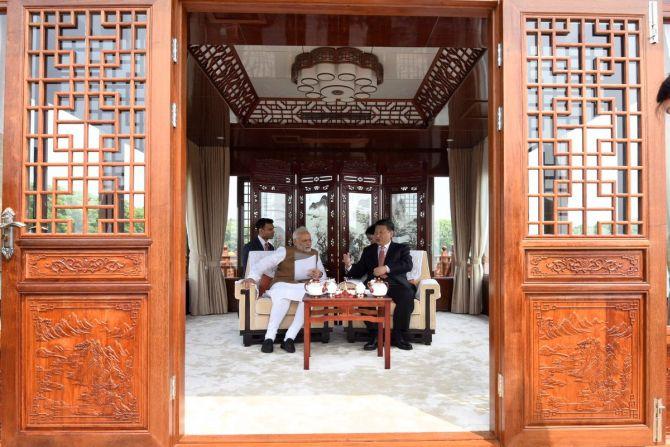 They underlined that trade should be balanced, it should be sustainable, and that the two sides should take advantage of the complementarities between the two economies.
Modi mentioned the importance of balancing the trade, and the scope of the possibilities of agricultural and pharmaceutical exports to China.
During the meetings, Xi pointed out that China-India relations need to be stable and development based on mutual trust.
"China and India should be good neighbours and good friends. They should regard each other as an active factor in the change of world power," Xi said.
"We must adopt a positive, open and inclusive attitude and correctly analyse and view each other's intentions," he said, adding that China and India must work together to plan for all-round cooperation.
WATCH: Statement from Foreign Secretary Vijay Gokhale
"It is necessary to carry out closer strategic communications, conduct timely consultations on major issues of concern to each other, firmly grasp the general direction of the development of bilateral relations...," Xi said.
"We must deal with differences in a more mature manner; we must strengthen coordination and cooperation in international and regional affairs and drive regional economic integration and interconnection," he said.
The two leaders also discussed climate change, sustainable development and food security and shared their experience in terms of the preservation of the Yangtze - China's longest river - and the Ganga - India's longest river.
They discussed how to promote sports between the two countries and how to strengthen tourism on the Buddhist circuit. They reiterated the importance of building an open, multi-polar, pluralist and participatory global economic order.
They also underscored the importance of reform of multilateral financial and political institutions to make them representative and responsive to the needs of developing nations.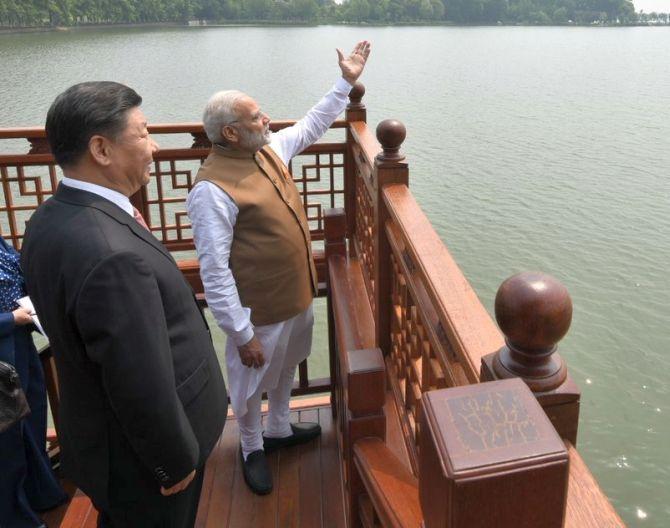 The two leaders highly assessed the opportunity for direct, free and candid exchange of views offered by the Informal Summit and agreed on the utility of holding more such dialogues in the future, he said.
Earlier, Modi and Xi walked together along the picturesque East Lake and took a boat ride.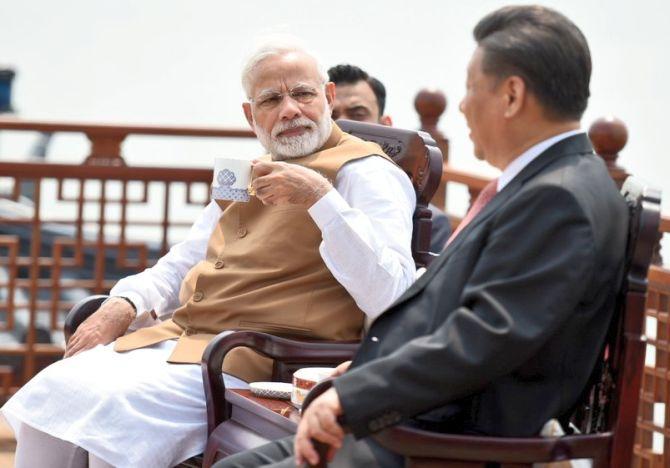 Photographs: @PIB_India, @MEAIndia/Twitter
© Copyright 2021 PTI. All rights reserved. Republication or redistribution of PTI content, including by framing or similar means, is expressly prohibited without the prior written consent.