India and Portugal on Saturday signed new agreements in the field of taxation, science, space, youth affairs and sports to further expand their bilateral relations.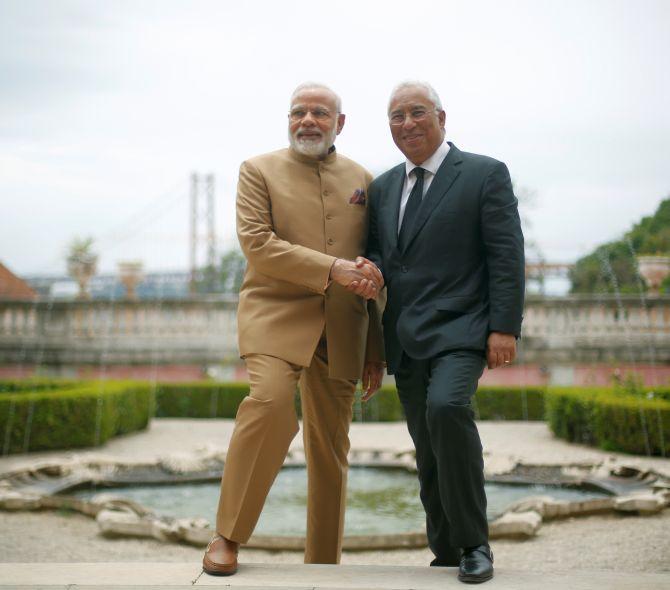 IMAGE: Modi shakes hands with his Portuguese counterpart Antonio Costa at the Necessidades Palace in Lisbon. Photograph: Rafael Marchante/Reuters
Speaking at a joint conference after holding a bilateral discussion with Portuguese Prime Minister Antonio Costa, Indian Prime Minister Narendra Modi said the two sides have also agreed to set up a joint science and technology fund of €4 million (Rs 28 crore).
He also announced setting up of a Chair for Indian Studies in University of Lisbon and developing a Hindi-Portuguese dictionary for mutual benefit.
"We are determined to deepen our cooperation against terrorism and violent extremism," he added.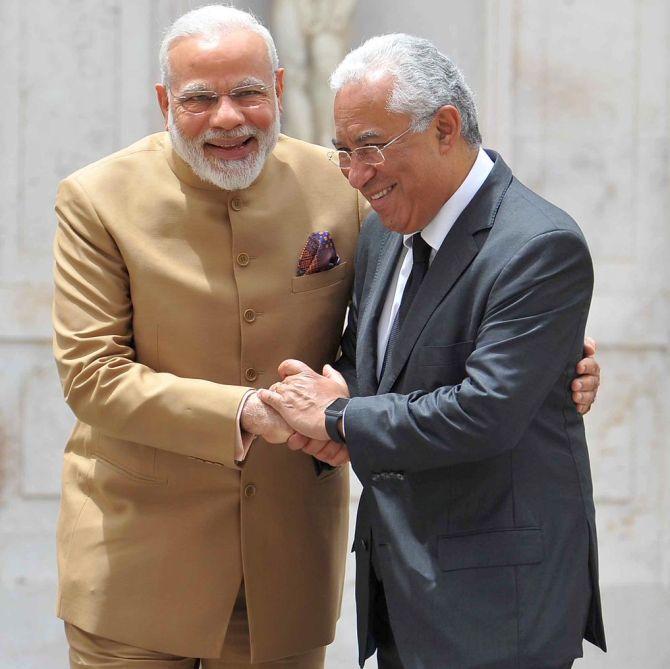 IMAGE: Prime Minister Narendra Modi is all smiles as he meets his Portuguese counterpart Antonio Costa. Photograph: Press Information Bureau
"Start-up sphere is an interesting space for cooperation. It is a great means to generate value and wealth for society," Modi said.
The India-Portugal International StartUp Hub is a platform for all stakeholders of the start-up ecosystem in India, including start-ups, investors, mentors, incubators, accelerators, aspiring entrepreneurs, service providers and government bodies, the hub's official website said.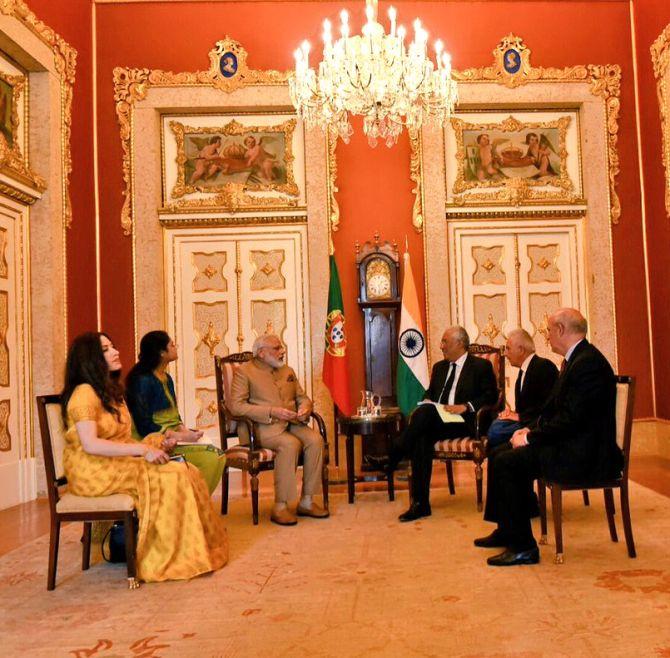 IMAGE: Modi and Costa in talks during the PM's Portugal leg of his three-nation tour.
Photograph: @MEAIndia/Twitter
He also expressed condolences for the families and victims of forest fire, in Portugal's Pedrogao Grande that claimed at least 60 lives.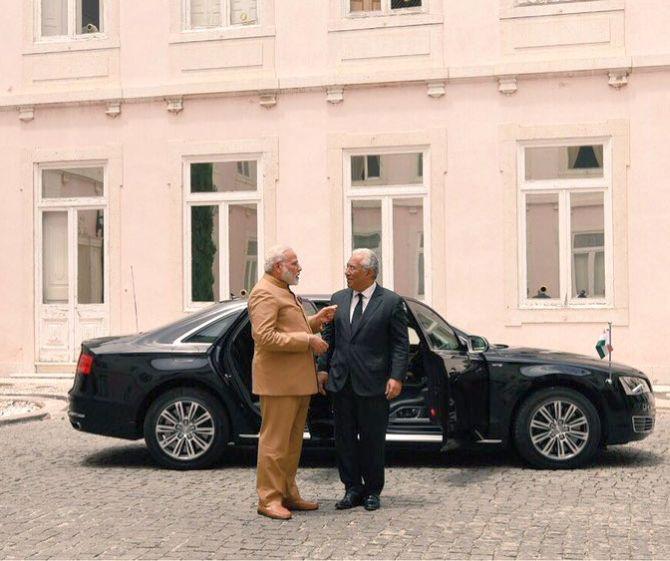 IMAGE: Portugal PM Costa welcomes Modi at the

Palacio das Necessidades, Lisbon.


Photograph: @MEAIndia/Twitter
On his part, the Portuguese Prime Minister welcomed his Indian counterpart in Gujarati.
He said that 17 cooperation projects have been identified to work on and that the bilateral talks.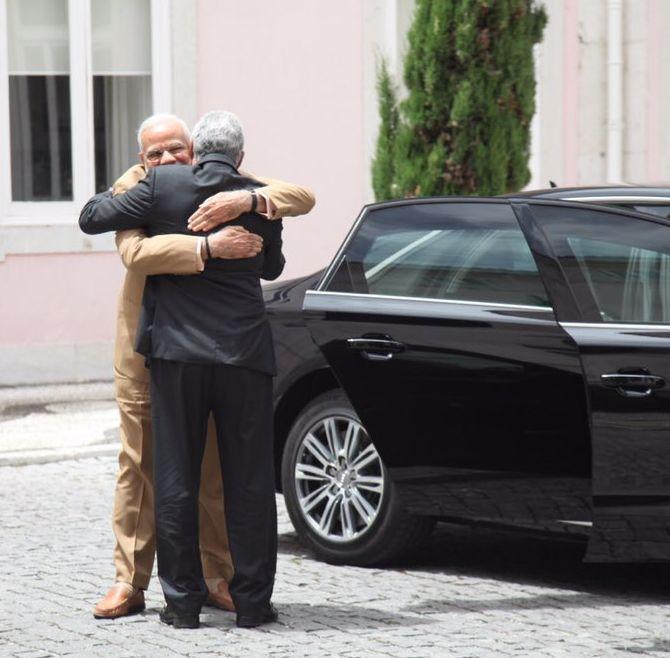 IMAGE: Modi is the first Indian PM to visit Portugal on a bilateral trip. Photograph: @MEAIndia/Twitter
He stressed that science is going to be one of the most important areas for cooperation between the two nations in the future.
"While in past it was the maritime link that connected our two countries, today it's the digital link that'll join us in future," Costa added.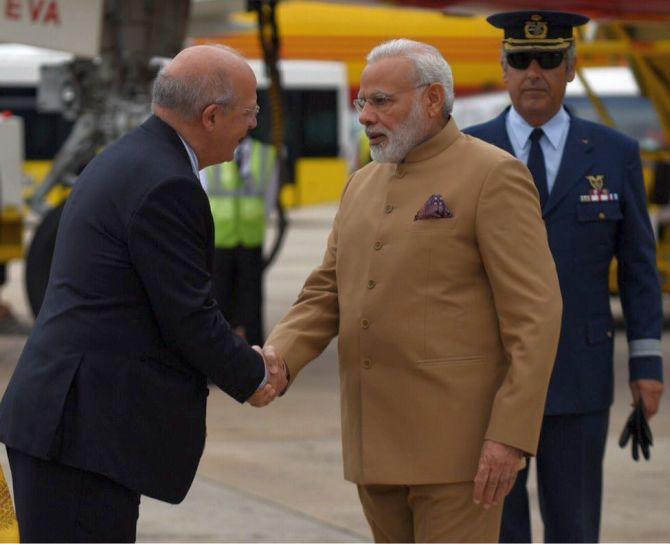 IMAGE: Modi was welcomed to Portugal by its foreign minister Augusto Santos Silva at the airport.
Photograph: @MEAIndia/Twitter
Prime Minister Modi, who reached Lisbon Portugal on the first leg of his three-nation tour earlier on Saturday, will also visit the Champalimaud Foundation in Lisbon known for its advanced biomedical research and clinical care.
Earlier in the day, departing from protocol, Portuguese Foreign Minister Augusto Santos Silva received Prime Minister Modi at the airport earlier in the day.
Prime Minister Modi in the second-leg of his visit will later depart for The United States of America.
Portuguese PM treats Modi with special Gujarati veg lunch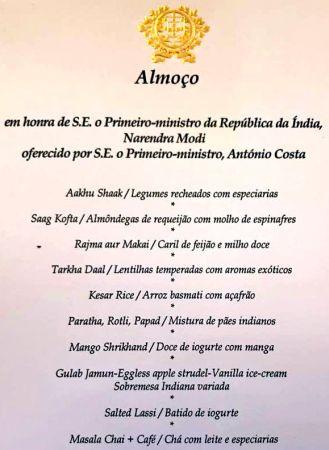 Portuguese Prime Minister Antonio Costa on Saturday sprang a surprise for Narendra Modi when he hosted a special Gujarati vegetarian lunch for him that included dishes like 'Aakhu Saak' and 'Mango Shrikhand'.
Aakhu means 'whole' and saak simply means 'curry'. It is a dish in which vegetable stuffing is heavily spiced and is ideal for big get-togethers.
The other items on the menu included 'Saag Kofta', 'Rajma aur Makai', 'Tarkha Daal', 'Kesar Rice', 'Parantha', 'Rotli', 'Papad', and Gulab Jamun and other sweets.
Earlier today, Modi and Costa took a stroll around the Palacio das Necessidades, a historic building in the Largo do Rilvas, a public square in Lisbon.
-- With inputs from PTI