The PM addressed a crowd of around 5,000 Indians who chanted 'Modi, Modi' slogans all through the event.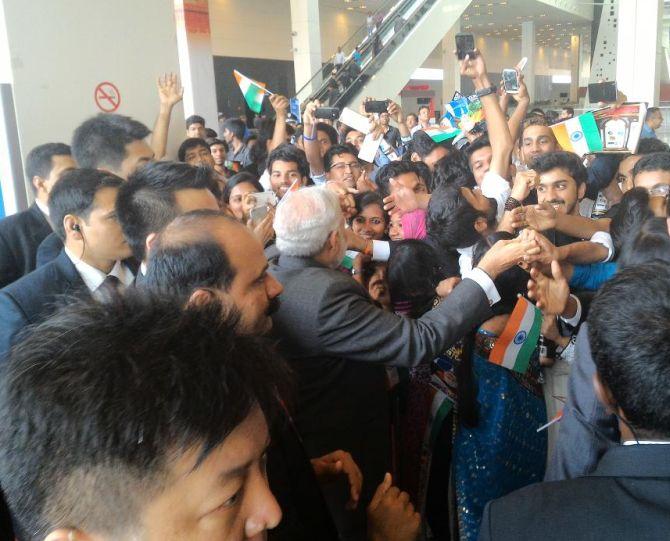 PM Modi interacts with the Indians who attended his event in Shanghai on the last day of his 3-day visit. Photograph: MEAIndia/Twitter
Prime Minister Narendra Modi on Saturday broke his silence on criticism over his frequent foreign visits and took veiled digs at his critics back home, saying he was being attacked for "tireless" work and asserted that if it was a "crime" he would continue to do it.
Modi, who came under attack over his criticism of previous governments during his last trip to Germany, France and Canada, "People are asking why is Modi travelling to so many countries... If you work less, criticism is normal. If you keep sleeping, criticism is normal. But it is my bad luck that I am being criticised for working more."
He asserted that "If working more is a crime, I will keep doing it. My commitment is to the people."
Addressing the Indian community in Shanghai before winding up his three-day China tour, he said "times are changing" and the world is now looking at India differently because of the performance of his government during the last one year which was a "matter of pride" for every citizen.
Modi, who recounted that it was on this day last year that results of the Lok Sabha elections came, said he had then made three commitments -- I will work tirelessly, I am inexperienced and will learn and that I will not do any wrong with bad intent.
He said he had fulfilled all the three commitments.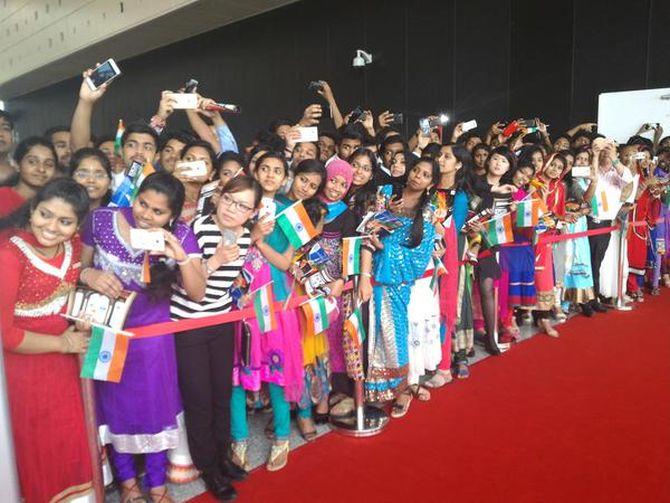 Crowds wait in line as PM Modi makes his way to the podium. Around 5,000 Indians had gathered for the event. Photograph: MEAIndia/Twitter
"For the last one year, I have not taken even one day's leave. I have worked day and night. Did I go on any vacation? Do I take rest? Am I not implementing my promise," he said.
His reference to 'vacation' may be seen as a swipe at Congress vice president Rahul Gandhi, who is facing questions over his 56-day mysterious sabbatical.
Congress President Sonia Gandhi had last week accused Modi of playing domestic politics on foreign soil by attacking his "distinguished" predecessor Manmohan Singh during his visit abroad last month and sinking to a "new low" by referring to the United Progressive Alliance in "despicable terms" in Canada.
Talking about his government's performance over the last year, the PM said he had started doing work in the first year itself, trying to "do the work of last 30 years".
Because of this, the world "trusts me more", he said.
"What I sowed in one year, it needs to be nurtured. Had I done this in fifth year, nobody would take seriously. But the world takes us seriously because I did this it in first year itself," he said addressing the gathering of about 5,000 Indian diaspora amid chants of 'Modi, Modi'.
PM Modi is surrounded in a sea of supporters who eagerly try to take a photograph of him at the event. Photograph: PTI
Referring to his other pledge that he will learn, he said he has been trying to do it ever since he assumed office and even on foreign visits he is trying to learn the experiences and expertise for emulating in India.
With regard to his third vow that he will not do any wrong intentionally, Modi said, "Today, far away from India on first anniversary, I can say that nobody has accused us of taking wrong step because of bad intent."
He said he needed the blessings of people so that 'I make no mistake which may hurt my country.'
The former chief minister of Gujarat also recalled questions raised in run-up to the last Lok Sabha elections with regard to his experience in foreign affairs.
"People used to ask who is Modi, what does he know about foreign policy? Accusations were correct but apprehensions were wrong," he said, adding due to the performance of last one year, "Indians can hold their heads high".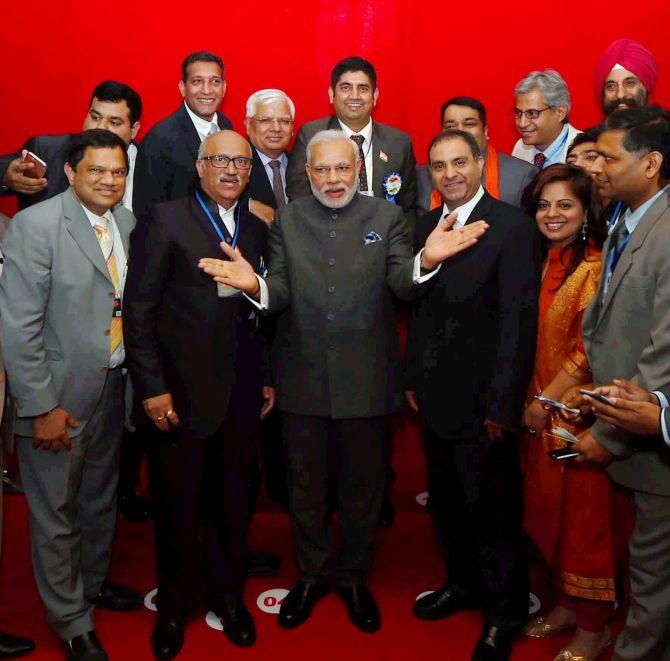 Indian supporters are all smiles as they pose for a photograph with Modi after the event. Photograph: PTI
Talking about his three-day China visit, he said it is being watched globally and he himself understands its significance.
"I see this visit in a different way. It has laid strong foundations which will benefit coming ages," Modi said.
He noted that it was for the first time in China' history that its president had received any foreign leader outside Beijing, a gesture which was shown by Xi Jinping who travelled to Xi'an to welcome him. "This welcome was not for Modi or my delegation, but to 125 crore Indians."
Pitching for closer cooperation between two Asian giants, he said, "Do not see what India got or China got. One-third of world population lives in these two countries. Did we ever recognise this power? We just ignored it, considering ourselves poor nations.
"But India and China, together, can help not only themselves but the entire world. On one side is one-third of the world population and on the other is rest of the world."
Modi said the world did not care about the developing nations till some 20 years back, but times are changing. "I can assure you that India is preparing for this. We have a lot to give to the world," he said.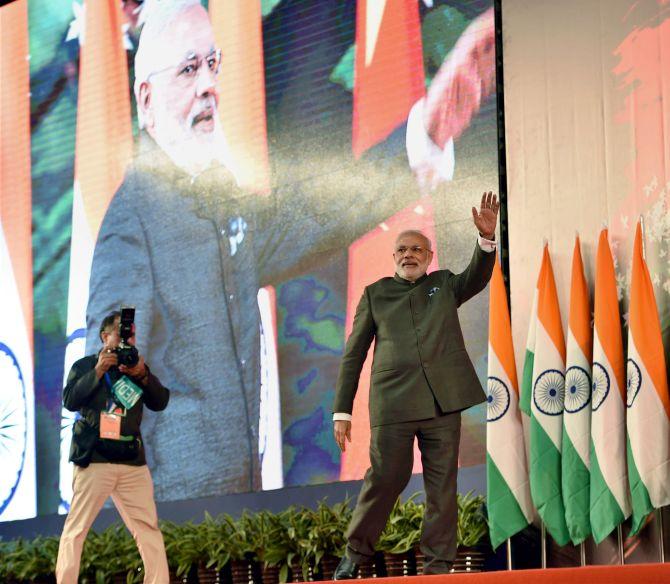 PM Modi waves to the crowd before he addresses them in Shanghai. Photograph: PTI
Voicing concern over spread of terrorism, Modi said, "The menace of terrorism has become enemy of humanity. People are being killed in every part of the world (due to terrorism). Who will apply balm on their injuries, who will give them a hope to live in this crisis?" he asked.
"Only those whose ancestors have said 'Vasudhaiva Kutumbakam' (the world is one family)," he responded. "It is in our DNA. We should make the world recognise this."
Lauding China's growth story, Modi said China and India have special responsibility and they will have to walk shoulder-to-shoulder. 'People of China have curiosity about India. It can be addressed not by me, embassy or the government but people of
India who are living here," Modi told the audience and asked them to persuade five Chinese every year to visit India.
"That will help China understand India," he said, adding that it will also help in growth of tourism which is a $3 trillion industry globally.
"We can not live separately. We have thousands of years of civilisational links. We have a force of people-to-people contact. We have to recognise this force," he added.
Noting that China has changed in 30 years and not overnight, Modi said, "India too will have to improve growth, progress in IT, Research and Development. Once we move towards new age, we can give something to the world."
"In every respect, we will take the country forward. It is our resolve," said Modi.