Narendra Modi's trip to Sri Lanka is also the first standalone prime ministerial visit to the island nation since the 1987 Rajiv Gandhi visit. G Sudhakar Nair/PTI reports from Colombo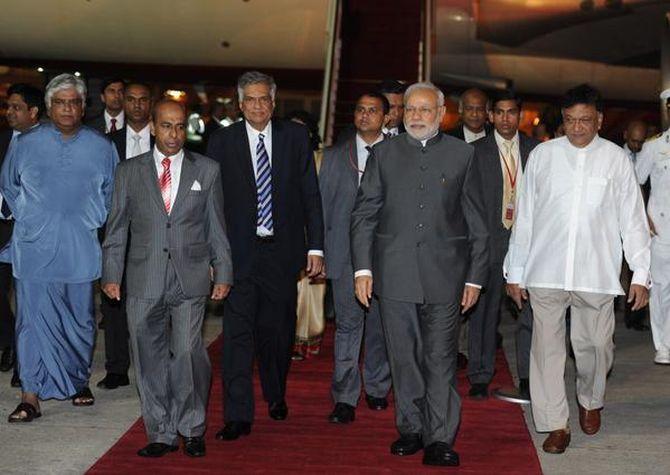 PM Narendra Modi was received by his counterpart Lanka's Ranil Wickramasinghe at the airport in Colombo. Photograph: PIB/Twitter

Prime Minister Narendra Modi on Friday flew into Colombo in the early hours for a historic visit during which he is expected to hold talks with the country's top leadership.
Modi was received by Sri Lankan Prime Minister Ranil Wickramasinghe at the airport after he arrived in Colombo for a two-day visit at 5.25 am. following an overnight journey from Port Louis in Mauritius in a special Air India plane.
Sri Lanka is the final stop of his three-nation tour of Indian Ocean island nations that took him to Seychelles and Mauritius.
Modi, who is the first Indian prime minister to visit Lanka in 28 years, will today hold summit talks with Sri Lankan President Maithripala Sirisena, who was in India last month on his first foreign trip after assuming office in January. He will also hold talks with his Sri Lankan counterpart Ranil Wickramasinghe.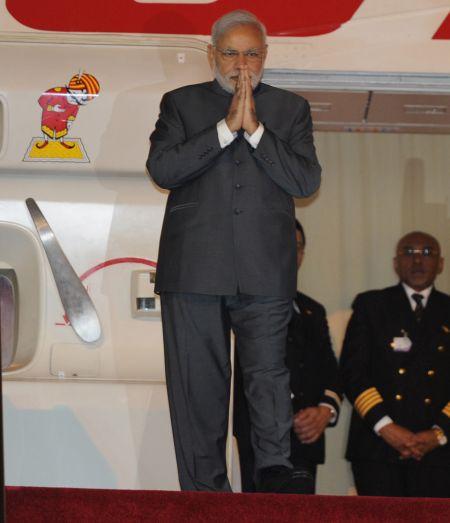 Sri Lanka is the final stop for Modi in his 3-nation tour that took him to Seychelles and Mauritius. Photograph: PIB

The prime minister's visit to Lanka is considered to be an opportunity to further strengthen all aspects of the bilateral relationship. His trip to Lanka is also the first standalone prime ministerial visit to the island nation since the 1987 Rajiv Gandhi visit.
"I see this visit as an opportunity to further strengthen our relationship in all its dimensions -- political, strategic, economic, cultural, and above all, people to people contacts," he had said in his pre-departure statement.
Modi will also address the Sri Lankan parliament during his visit. He will be the first Indian prime minister and only the second foreign leader after British Premier David Cameron to visit Jaffna in the war-ravaged the northern province, where he will hand over homes built with the help of Indian assistance.
Some 20,000 such homes were built in Jaffna described by India as "a flagship cooperation project currently in Sri Lanka". He is also expected to meet leaders of the Tamil National Alliance and other political parties.
Modi is accompanied by National Security Advisor Ajit Doval and Foreign Secretary S Jaishankar.

Modi was accorded a 21-gun salute from the Sri Lankan navy on his arrival as he took a naval guard of Honour at the presidential secretariat in the presence of Sirisena before
being introduced to the dignitaries present.
In 1987, the then PM Rajiv Gandhi met with a hostile reception as he was attacked by a Sri Lankan sailor using a rifle butt when he inspected the guard of honour
parade during his visit to Colombo to sign the Indo-Lanka Accord. Later, Modi held bilateral talks with the Sri Lankan president.