A 'mini-cyclone' coupled with torrential rains tore through northwest Pakistan's Peshawar Valley, killing at least 45 people and injuring 200 others, half of them children, and bringing down houses and electric poles, officials said on Monday.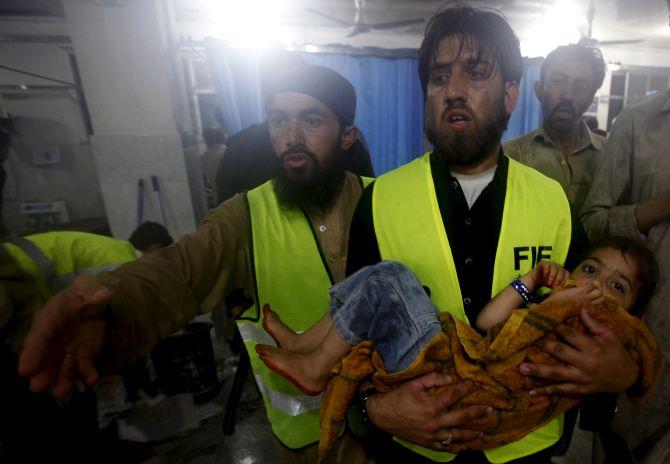 A child is taken to Leady Reading Hospital for treatment after the mini cyclone. Photograph: Fayaz Aziz/Reuters
The freak storm that hit Khyber-Pakhtunkhwa and adjoining areas late Sunday collapsed buildings, and uprooted trees and electric poles as it brought heavy rains and winds of more than 120 kph.
According to the Pakistan Meteorological Department, the storm in the province was the third worst natural disaster of its kind in the history of the country. It said the storm was now over and regular rains will continue.
In Peshawar, 31 people were killed while nine others perished in Charsadda and five in Nowshehra districts of PeshawarValley, Provincial Minister for Information Mushtaq Ahmed Ghani said addressing a press conference.
He said 36 injured are being treated in hospitals while others were discharged after treatment.
More than 200 people have been injured due to rain-related incidents, with some reports saying as many as 100 children were among those who suffered injuries.
Several families have been affected as roofs of their houses collapsed.
Wind blowing at least 120 kph caused the catastrophe, PMD Director Muhammad Haneef said, adding that the unusual storm caused tornadoes.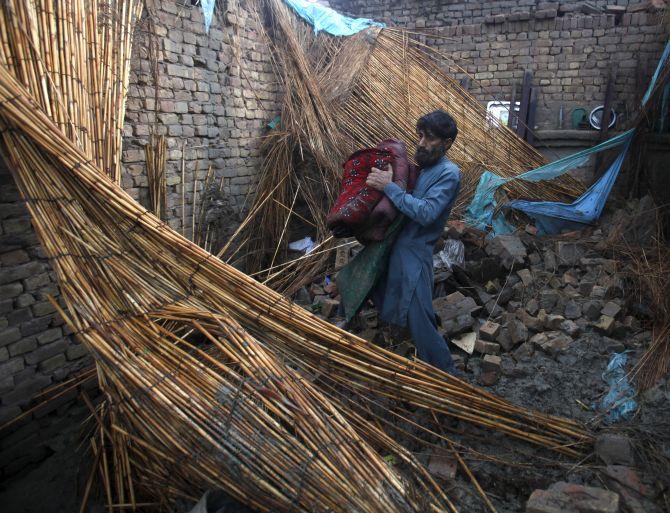 A man collects belongings from his house partially-destroyed following heavy rain in the outskirts of Peshawar. Photograph: Fayaz Aziz/Reuter
Relief operations were on in full swing in the affected areas, he said, adding that 10 relief teams supported by Pakistan Army have been trying to provide humanitarian assistance to the victims.
One thousand tents have been provided to the affected people besides food packages and non food items.
Rs 13 million have been released to meet urgent requirements of the victims while Rs 100 million has been made available if needed.
The minister said the people would be compensated for complete and partial houses after assessment reports.
After hectic efforts, roads have been opened for traffic.
Power supply has been partially restored while work is underway for the complete restoration of electricity as half of the province plunged into darkness following the storm, that disrupted power supplies and telecommunications services and damaged infrastructure and crops.
Ghani said that authorities were estimating the losses and expressed fear that hundreds of cattle have been killed.
"It is a natural disaster, and we did not receive any warning before the tornado," he said, adding that an emergency was declared at all local hospitals in Khyber-Pakhtunkhwa.