As many as 1,200 cows -- mostly abandoned, sick and injured -- have found a saviour in 59-year-old German national Friederike Irina Bruning.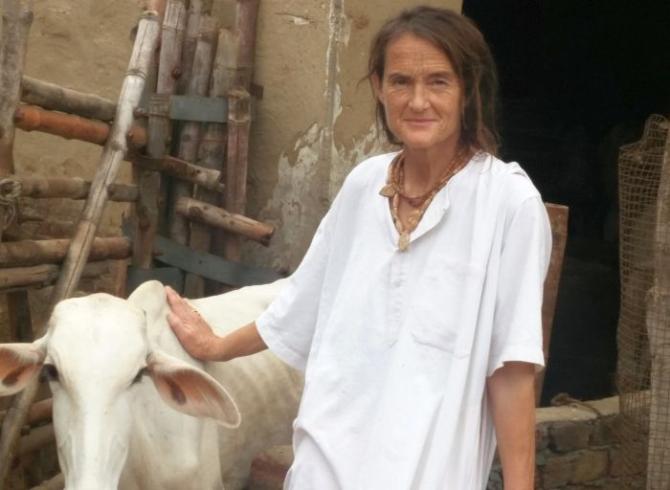 When she landed in India from Berlin in 1978 as a tourist, she had no inkling of the life destiny had in store for her.
"I came as a tourist and understood that to progress in life, you need a guru. I went in search of a guru in Radha Kund," she said while narrating her journey in Mathura.
She then bought a cow at the request of a neighbour and since then everything in her life changed.
Bruning purchased books on cows and learnt Hindi.
"I saw that people of late abandon their cows when they grow old and stop giving milk," she said.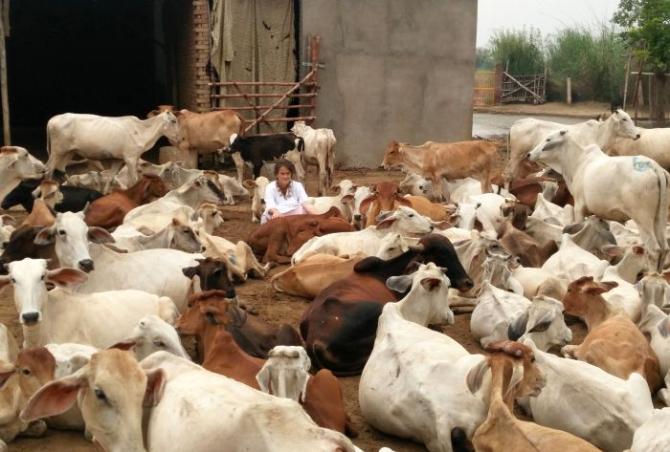 Fondly called Sudevi Mataji, she started her cowshed known as 'Surbhai Gauseva Niketan'.
"They are like my children and I cannot leave them," she says while referring to the large family of cows and calves in the sleepy town of Radha Kund in Mathura.
Once a cow reaches her 3,300 sq yard gaushala, she would take full care of the animals by providing food and medicine.
"Today, I have 1,200 cows and calves. I do not have sufficient place to accommodate more as the place is getting smaller. But still I cannot refuse, when somebody leave a sick or injured cow outside my ashram, I have to take her in," she said.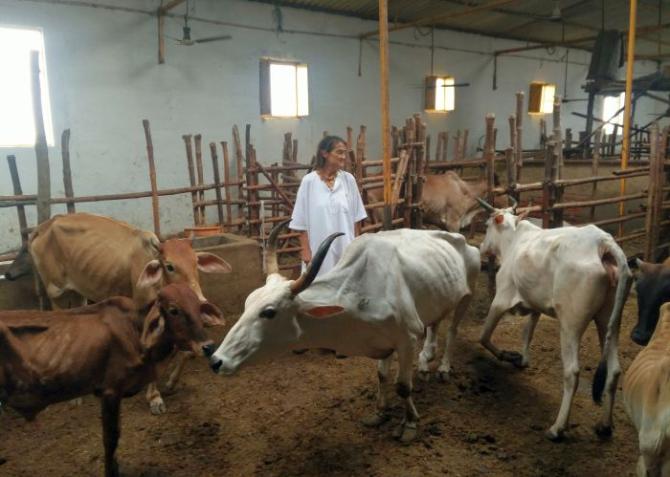 Bruning has divided her place in such a manner that cows needing special care are kept at one place. Blind and badly injured needing attention are kept in a separate enclosure.
When asked about the finances, she said as much as Rs 22 lakh per month is required for medicines, foodgrain and salaries of about 60 workers.
"I have some property in Berlin. I get rent from that. Initially my father used to send some money but now he is a senior citizen. Every year, I visit Berlin to see him. He is not well. I am not getting any help from the local authorities, but somehow managing my work," she said.
Observing that things are increasingly getting difficult, she said, "I cannot close this. I have 60 people working here and they all need money to support their children and family and I have to take care of my cows, who are my children."
The other major issue was about visa, she said, adding that the Indian government has not given her a long-term visa. She has to renew the visa every year.
"I cannot take Indian nationality as I would lose rental income from Berlin. My father was working in German Embassy in India. It's the money of my parents that I have put into this gaushala," she said.
IMAGES: Friederike Irina Bruning with cows and calves. Photographs: PTI Photo
© Copyright 2023 PTI. All rights reserved. Republication or redistribution of PTI content, including by framing or similar means, is expressly prohibited without the prior written consent.