Led by mercurial Mamata Banerjee, the Trinamool Congress on Thursday stormed back to power in West Bengal getting more than two-thirds majority decimating the opposition Left-Congress alliance while the Bharatiya Janata Party captured three seats.
Contesting the poll on its own, the TMC bagged 211 of the 294 seats at stake while the Congress-Left combine got 76 seats. The TMC had secured 184 seats in 2011 assembly election when it had fought in alliance with the Congress.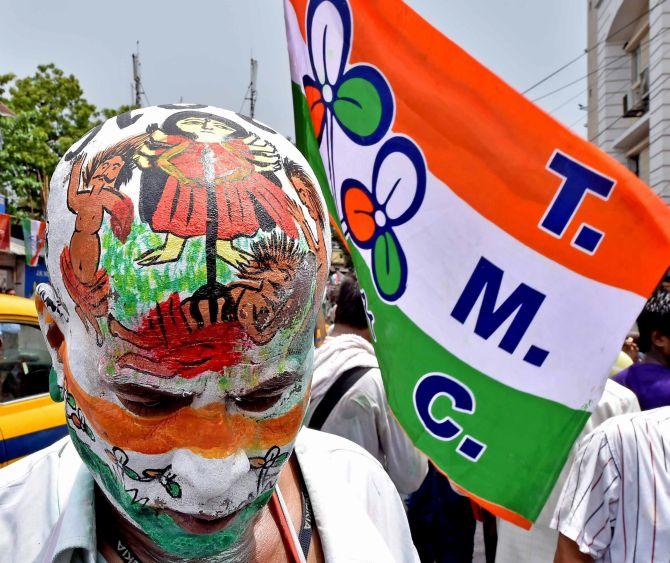 IMAGE: A TMC supporter celebrates the massive victory on the streets of Kolkata
The Congress-Left combine did not make much headway despite prediction by political pundits. The Congress, however, did better than its Left partners securing 44 seats. Left partners Communist Party of India-Marxist bagged 26 seats, Revolutionary Socialist Party-3, Communist Party of India-1 and Forward Bloc-2.
The tally of the BJP which had one seat in the outgoing House, has gone upto three with state party president Dilip Ghosh winning from Kharagpur. He defeated Congress veteran Gyan Singh Sohanpal who had won the seat nine times in a row.
The other two seats won by the BJP are Madarihat and Baishnabnagar.
Rahul Sinha, BJP national secretary, and the party's lone member in the outgoing assembly Shamik Bhattacharya lost. Rupa Ganguly, actor turned BJP state Mahila Morcha president, was also defeated.
In Darjeeling hills, Gorkha Janmukti Morcha won three seats.
Apart from TMC supremo Mamata Banerjee, other prominent winners of the party included ministers Subrata Mukherjee, Amit Mitra, Partha Chatterjee, Firhad Hakim, Moloy Ghatak and city mayor Sovan Chatterjee.
The ministers who lost included Manish Gupta, Chandrima Bhattacharya, Krishnendu Narayan Chowdhury, Sabitri Mitra, Shyamapada Mukherjee, Shankar Chakrabarty, Upen Biswas and Abdul Karim Chowdhury.
Another prominent TMC leader Madan Mitra who was in jail in connection with Saradha chit fund scam, lost.
CPI-M state secretary Surjya Kanta Mishra was defeated in Narayangarh constituency in West Midnapore. Another CPI-M veteran and former minister Kanti Ganguly lost from Raidighi.
CPI-M veteran and Siliguri mayor Ashok Bhattacharya, however, emerged victorious.
Banerjee, who won from Bhabanipur constituency by 25,301 votes, said "contesting on its own, TMC got two-thirds majority fighting the entire opposition".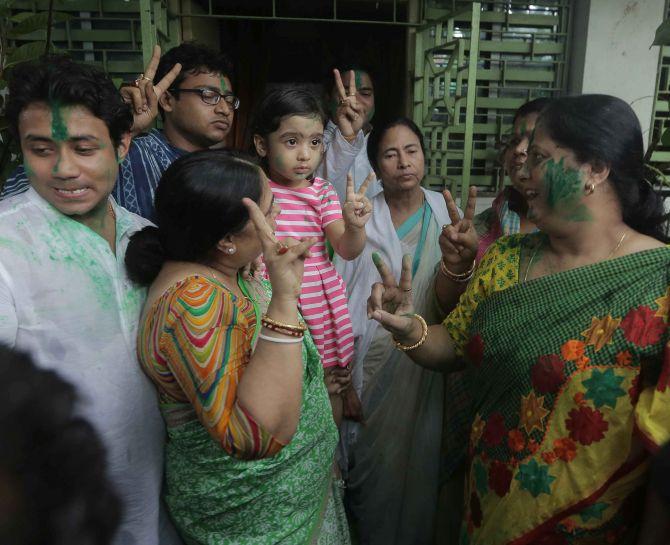 IMAGE: Mamata Banerjee celebrates the victory with her family members. Photograph: Abhiroop Dey Sarkar
She said elected members of the TMC will meet here tomorrow to elect their leader. The new TMC government will take oath on May 27, she said.
The TMC swept the metropolis winning all the 11 seats but failed to get a single seat in Malda and Darjeeling districts.
Banerjee said there were relentless attempts to mislead people of the state and some of the comments even surprised her.
She said the party has more responsibility with this victory.
"People could not vote in some areas as they were terrorised. There will be victors and losers in a democracy but it was taken to a historic low which is dangerous," she said.
The West Bengal chief minister also thanked the Election Commission for ensuring a free and fair polling.
She said Prime Minister Narendra Modi and Finance Minister Arun Jaitley congratulated her on TMC's victory.
"There has to be a Laxman Rekha in politics which has to be adhered to. People should learn from experience," she said.
Banerjee said the party will organise a host of cultural events till May 30 to celebrate the victory.
On her future roadmap for West Bengal, Banerjee said she will strictly follow the party manifesto as it is the guiding force.
Taking a swipe at the Left parties, after TMC's performance in the West Bengal assembly polls, Rajya Sabha MP Derek O' Brien tweeted "So the Communists are reduced to Cuba, NKorea, parts of Kerala, Tripura and two and a half college campuses (sic)"