Floods in Kerala pose a great challenge to the state health authorities as they struggle to check a possible outbreak of epidemics, a problem associated with the deluge, official sources said in Kochi on Thursday.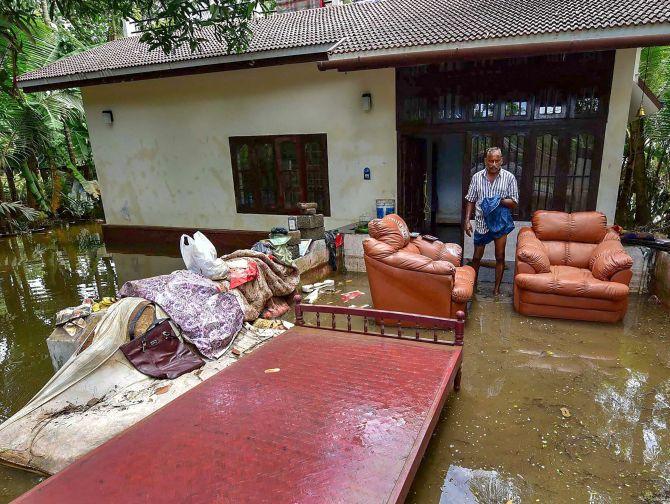 Health department officials said post-floods their focus has shifted to ensuring medical attention for the injured and the people living in shelter camps, cleaning of houses and wells, distribution of medicines and cleaning materials to the affected people.
The impact of floods in the densely populated state can be widespread, they said, adding that this includes deterioration of water quality and risk of epidemics.
People who returned to their flood-ravaged homes said their toilets and other sanitation facilities had been rendered useless and water in wells was contaminated with waste.
"We are anxious, but we are confident that we will be able to tackle this situation," health minister K K Shailaja Teacher said.
She said the state health department was taking all measures, utilising all its available resources and working actively to check the outbreak of epidemics.
"We have a strong team. We are (well) equipped (and) we will tackle this situation," she added.
Reports from the hilly district of Wayanad said thousands of decaying carcasses of cows, goats and pigs were being dumped in rivers as their scientific disposal became impossible due to inability of their owners to return from the relief camps.
The situation in North Paravoor in Ernakulam district was no different.
People who returned to their houses in villages devastated by the floods said it was impossible for them live there due to the foul smell emanating from the animal carcasses.
Officials said they are equally worried about health risks posed by e-wastes.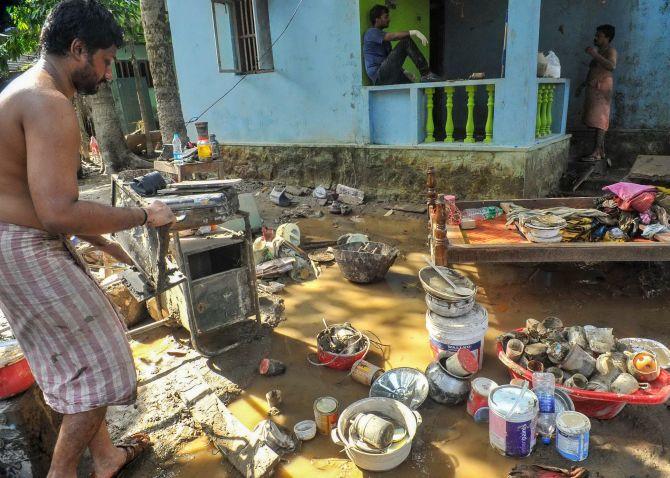 Tonnes of electronic items like televisions, computers, mobile phones, refrigerators and air conditioners can be found strewn around in the streets of flood-hit towns of Aluva, Ranni, Chalakkudi and North Paravoor.
Disposal of e-waste is also a big challenge. It could contribute to the possibility of outbreak of an epidemic in the fast urbanising, densely populated state, officials said.
With flood waters receding in most places, the Kerala government has taken up a massive task of cleaning houses and public places filled with slush left behind by the massive deluge that claimed 231 lives, besides causing large-scale destruction.
The government has set up a control room here to coordinate the cleaning process across the state and the civic bodies have been entrusted with the task of managing the work, official sources said.
The unprecedented deluge also brought out the extraordinary heroism, compassion and unity of people of the state.
Amid the devastation, what appears as a silver lining is nothing but the glimpses of human heroism and Kerala's unrelenting spirit of compassion and resilience in the face of a disaster.
Fishermen, who risked their lives venturing into the troubled waters, played a decisive role in rescue operations.
Thousands of fishermen from far-away places reached the flood- stricken areas at Ernakulam, Alappuzha, Thrissur and Pathanamthitta districts as soon as they received distress calls.
Their selfless efforts were recognised and hailed by media and by the state government.
The government had arranged trucks to take fishermen and boats to the flood-hit areas.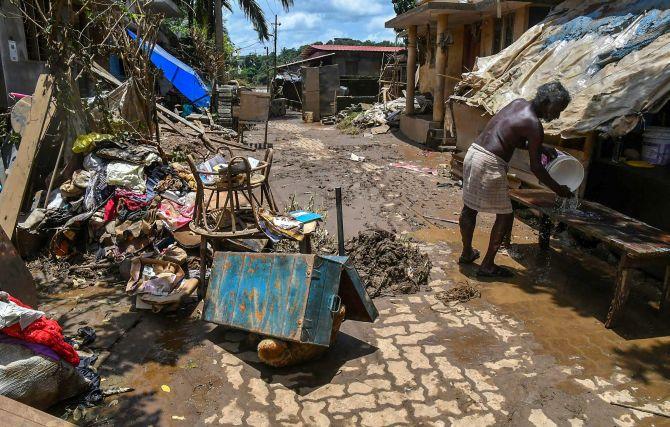 "I didn't think about anything else, when I heard about floods in Ranni," said Freddy, a fisherman from nearby Vizhinjam, who rushed to the spot which is about 150 km away from his place.
"More than my safety, I was thinking about the urgency of saving lives," he said.
Fishermen from all coastal areas in the state took part in the rescue operations and they could reach even to remote areas with their vessels.
A 32-year-old fisherman Jaisal K P from Tanur in Malappuram district became a hero after a video of him bending down in water for women to step on him so that they can get into the rescue boat became viral in social media.
"I think the relief activities are my responsibility to a so a society at a time of crisis," Jaisal had said.
Youngsters turned up in thousands at various centres for voluntary rescue and relief works.
"There were more than 45,000 youngsters who immensely contributed to the relief works," IT Secretary M Sivasankar said.
All the flood-hit areas witnessed an incredible turn up of youngsters everyday to help ensure food, medicine and other facilities at various relief centres.
Not only money and materials, but land too was donated to the flood-hit.
M P Wilson, a farmer from Kaniyampatta in Wayanad district is among those who were ready to give up their land to reduce the misery of fellow human beings.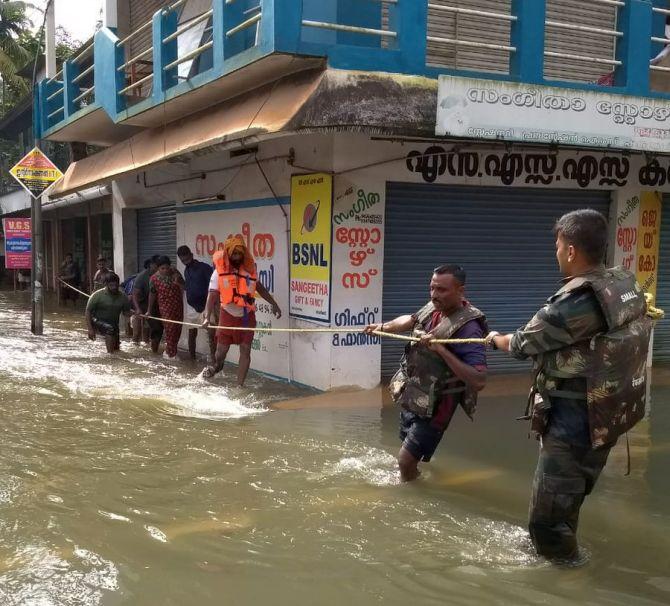 He handed over documents related to his land of 19.5 cents to the District Collector, in order to ensure fair distribution to the distressed.
People from all walks of life, irrespective of their political beliefs, joined together to face the difficult situation.
"This unity and compassion will help us overcome the disaster and rebuild the State," Chief Minister Pinarayi Vijayan has said.
"I want to thank everyone, including children who were keen on donating their savings to the Chief Minister's Distress Relief Fund," Vijayan said.
The State Cooperative Department has promised to build 1,500 houses for the flood-hit.
A total of Rs 5 lakh would be spent on each house with an area of 600 sq ft, State Co-operation Minister Kadakampally Surendran has said.
Cooperative Societies in each area will supervise the construction work and the beneficiaries will be selected in consultation with the respective district administration.
Vijayan on Thursday spent time with many of those put up in relief camps, hearing to their problems and assured all help.
The CM took the helicopter to visit the relief camps in Chengannur, Kozhencherry, Alappuzha, North Paravoor and Chalakudy, covering three districts.
"There is no need for any anxiety, government will provide funds to rebuild homes," Vijayan told the people in the camps, many of them unable to hold back tears.
The chief minister, who was monitoring the rescue and relief operations from the Secretariat in Thiruvananthapuram, decided to visit the camps to get a first-hand knowledge of the sufferings of the people, many of whom had lost their homes and belongings.
The government has also decided to handover kits containing foodgrains, rice, sugar and dal besides clothes for children and nighties for women to people returning homes from relief camps.
With the rescue operations almost over, a massive clean-up drive of houses and public places filled with mud deposits and debris has begun.
A control room has been set up in Thiruvananthapuram to coordinate the cleaning process across the state, official sources said on Thursday adding civic bodies have been entrusted with the task of managing the work.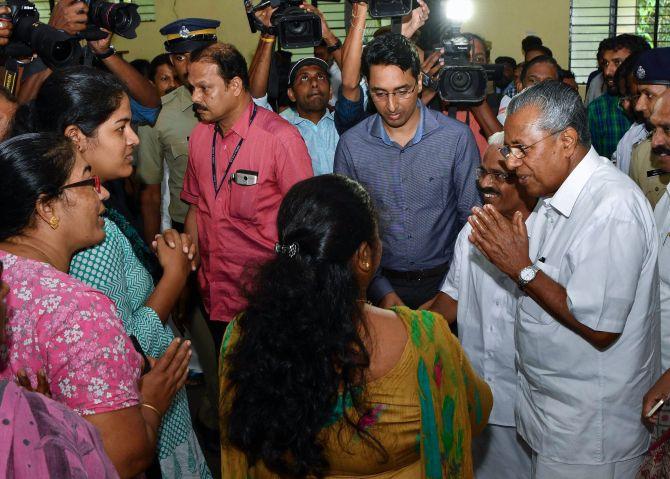 Over 50,000 volunteers have taken up the task of cleaning up houses and public places filled with mud deposits and debris dumped by the floods.
Squads with electricians and plumbers will also be visiting homes to provide necessary help to the people, officials said.
A Thiruvananthapuram-based NGO has launched a unique 'toy collection' drive for the children living in relief camps.
RIGHTS, the outfit, is collecting dolls, toy cars, story books, crayons, footballs and cricket bats for children in relief camps to rid their minds of the shock and distress caused by the unprecedented floods.
The objective of the drive is to give a psychological support to the children, whose woes were not getting much attention amidst the plight of the elder people, Director of RIGHTS, Radhalakshmi said.
Besides collecting from public, the outfit approached some crayon and book companies also.
"We have visited several relief camps across the state to distribute essential materials we collected. One of the most worrying scenes there was that of the children," she told PTI.
"They have lost their books, pencils, toys...everything. Especially the plight of the kidsbelonging to marginalised families living on the banks of rivers whose houses were completely destroyed in floods. The pain of a child who lost his only toy is unimaginable," she said.
If they get some toys, books or crayons at this point of time, it may bring back some colours in their life, the activist added.
The outfit is particular that only fresh toys would be collected for the flood-hit children, but used story books are acceptable.
The NGO has already distributed some toys and books in relief camps in worst-hit Alappuzha district.
The next lot would be ready for distribution next week, its volunteers added.
Another group of volunteers here is also accepting toys for relief camp children and already balloons, balls, building blocks, dolls and drawing books have been sent.