Britain's Duke and Duchess of Cambridge, Prince William and Kate Middleton, reached the National Monument in Islamabad for a dinner hosted by the British high commissioner in Pakistan in a specially painted motorised rickshaw.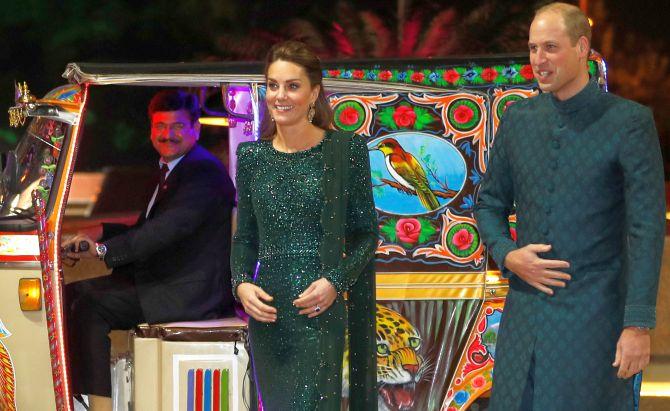 Yes, you read it right! The royal couple in a rickshaw!
Kate opted for a glittering emerald green gown with traditional earrings while Prince William was seen wearing a knee-length sherwani, usually worn for formal occasions or weddings -- with matching trousers.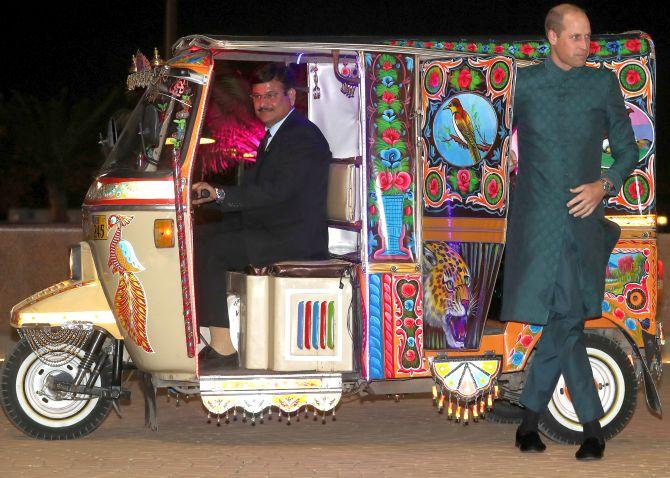 As the royal couple arrived at the Nur Khan Airbase on Monday, they received a welcome by Pakistani Foreign Minister Shah Mehmood Qureshi and his wife, reported Dawn.
The visit was organised at the request of the United Kingdom Foreign and Commonwealth Office.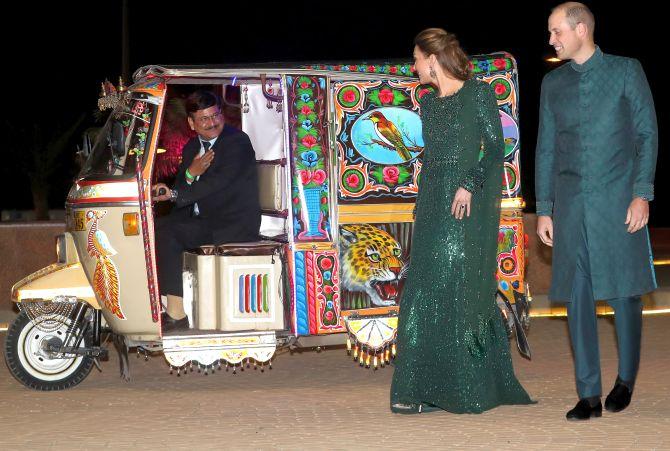 This is the first royal tour to the country since 2006 when the Prince of Wales and the Duchess of Cornwall, Prince Charles, and Camilla, travelled to Pakistan.
Kate's traditional wardrobe in Pak catches eyeballs
The United Kingdom media has been quite thrilled by the attire worn by Kate Middleton during her maiden official tour of Pakistan with husband Prince William.
The 37-year-old Duchess of Cambridge was praised for evoking memories of her late mother-in-law Princess Diana with her choice of kurtas, similar to ones worn by Diana during her last visit to Pakistan in 1997 months before she was killed in a tragic car accident in Paris.
Here's a quick recap of her choices of clothes on Day 1 of her visit.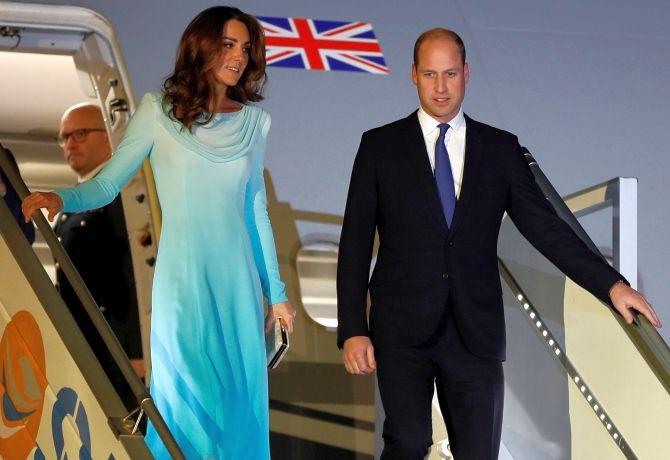 William and Kate touched down at an airbase outside Islamabad on Monday at the start of their five-day visit. For that, Kate chose a light blue Catherine Walker dress matched with salwar-style trousers and a flaring cut to give it the look of a churidar-kurta as she stepped off the plane.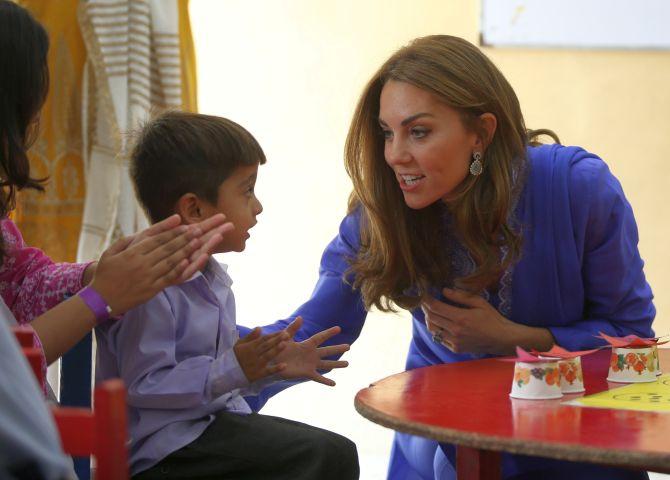 During a visit to a girls' school in Islamabad on Tuesday, she chose a royal blue salwar-kameez by Pakistani designer Maher Khan and matched it with a dupatta.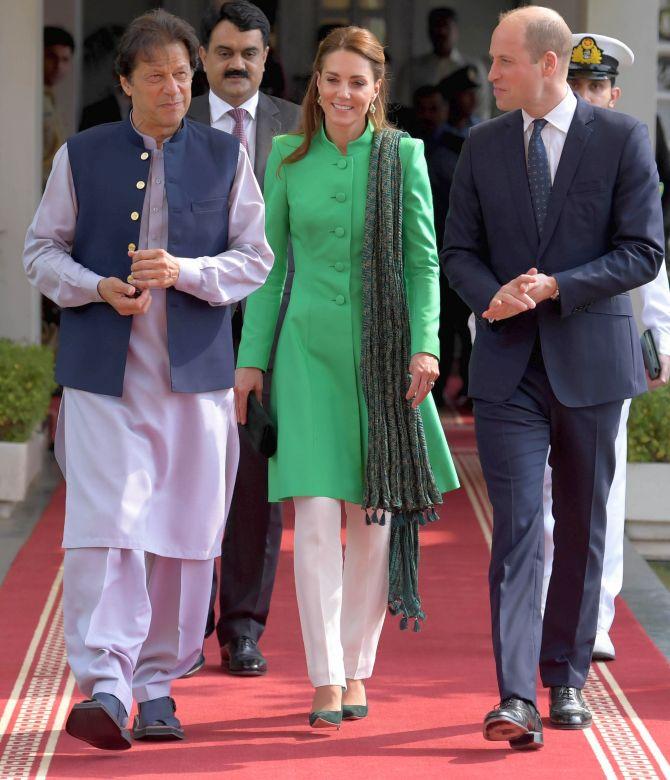 For a meeting with Pakistan President Arif Alvi alongside Prime Minister Imran Khan, the Duchess of Cambridge chose an emerald green tunic-dress combined with cream trousers and a green dupatta.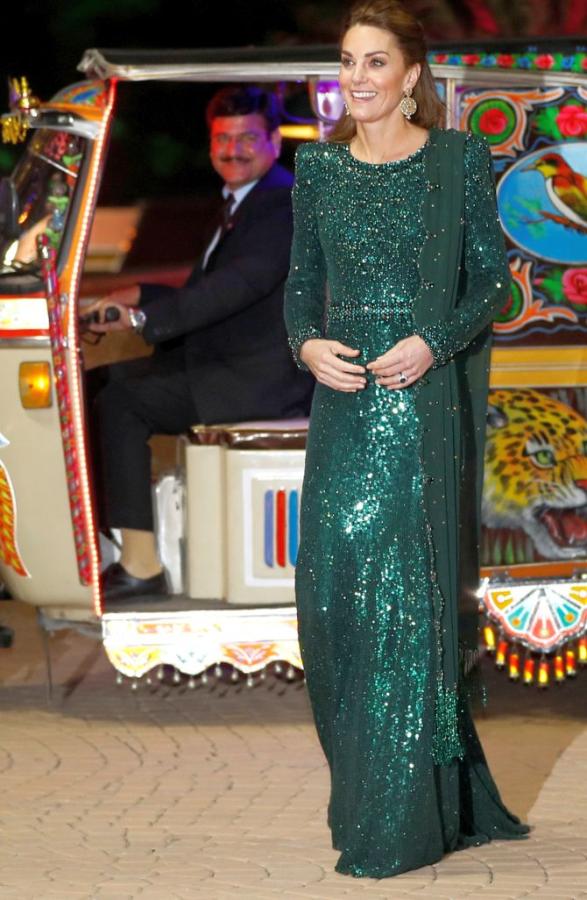 For the dinner, Kate wore a glittering emerald dress by Jenny Packham. She paired the dress with Onitaa earrings, sourced from Pakistan. The earrings were gold plated with uncut crystal stones and were made especially for the duchess.
Photographs: Peter Nicholls/Reuters, Ian Vogler/Pool/Getty Images, Andrew Parson/Pool/Getty Images