Locals in Joshimath on Tuesday protested against National Thermal Power Corporation seeking their withdrawal from the state.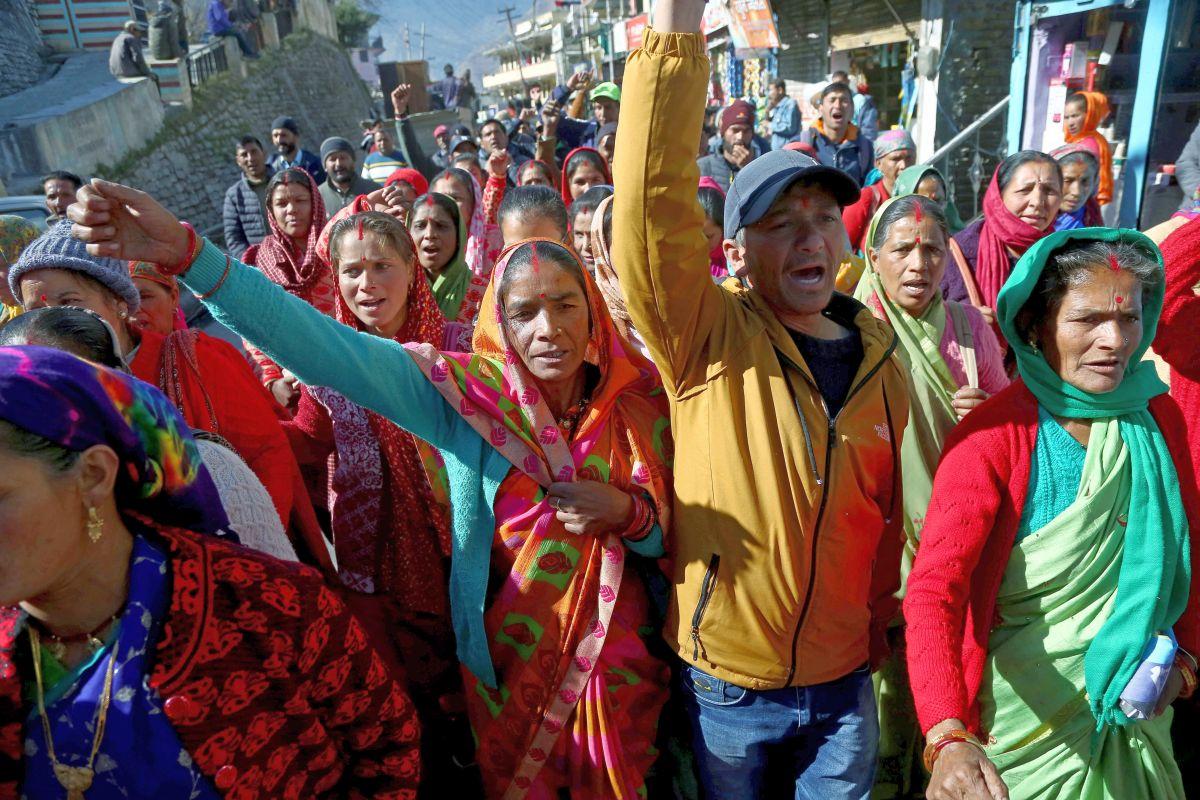 The protesters held banners of Mahila Mangal Dal and Panchayat Selang and protested across the streets.
The protesters demonstrated against the NTPC's Tapovan Vishnugad Hydroelectric Project which was being constructed in the area.
The construction has been stopped with immediate effect, till further orders.
A scientist at the Indian National Science Academy (INSA), DM Banerjee, blamed the prevailing situation on constructing roads and tunnels for a nearby hydroelectric project.
In Joshimath, cracks started appearing in houses post which the area was evacuated. A team from Central Building Research Institute (CBRI) on Monday reached the 'sinking zone' Joshimath to analyse the damages caused to buildings for compensation.
The Chamoli District Magistrate Himanshu Khurana in an exclusive interview with ANI said that the buildings where cracks have been observed would be scientifically demolished.
"The hotels and houses affected by the landslide and subsidence have been identified. Buildings in the unsafe zone have been vacated and civilians are also being shifted from the buffer zone. Scientists from CBRI Roorkee have been called in to demolish these buildings. The team of CBRI will reach Joshimath today and identify the buildings which need to be demolished. Under the guidance of experts, further action will be taken. Keeping all the aspects in mind, these buildings will be demolished," said Khurana.
Recently, the Uttarakhand government directed Hindustan Construction Company (HCC) and NTPC each has been required to build 2,000 prefabricated houses - a shelter for families migrating from Joshimath.
According to the Chamoli District Disaster Management Authority, cracks have been noticed in a total of 678 buildings in the Joshimath town area. In view of security, a total of 81 families have been temporarily displaced.
"Under the Joshimath city area, 213 rooms have been temporarily identified as habitable, with their capacities estimated at 1191. Also, 491 rooms/halls have been identified in Pipalkoti outside the Joshimath area, with a combined capacity of 2,205," the bulletin said.
The administration has also distributed food kits and blankets to the affected families, as per their requirements along with the distribution of funds to procure essential household items.