Jim Carrey has taken to sketching not-so-favourable cartoons of the US president and his administration.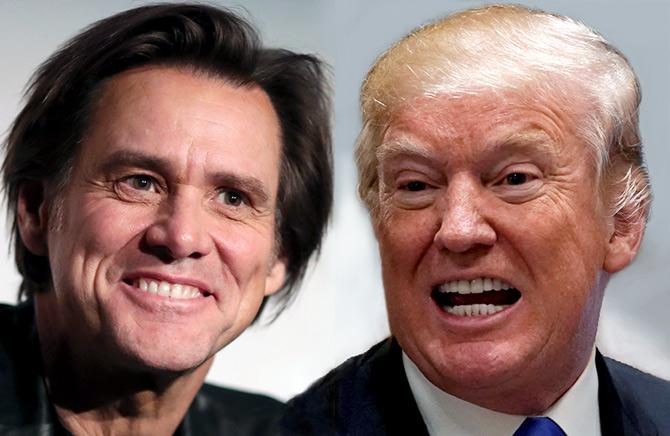 Photograph: Christopher Polk/Getty Images, Kevin Lamarque/Reuters
He is world famous for his lead roles in the movie The Mask and Ace Ventura.
However, these days Hollywood's funny man Jim Carrey is making news for his turn as a cartoonist; and his muse, for want of a better word, is none other than United States President Donald Trump.
Trump and his national portrait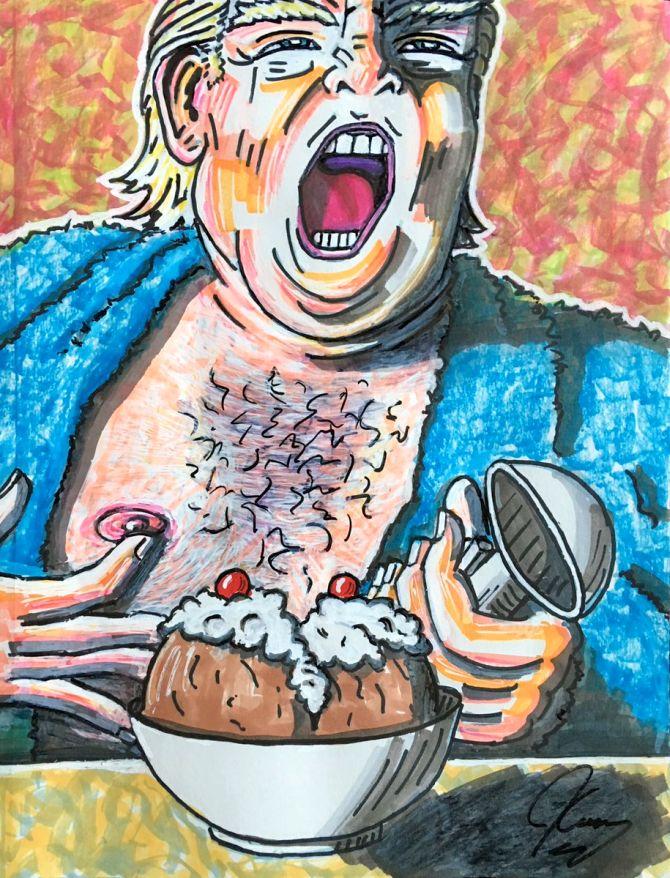 All photographs courtesy: @JimCarrey/Twitter
In his latest creation, Carrey comes up with a colourful portrait of a screaming Trump in a bathrobe eating two scoops of ice cream, which he jokingly pitched to the Smithsonian National Portrait Gallery, which houses portraits of all former US presidents.
Captioning the painting, the funny man wrote, "Dear Smithsonian National Portrait Gallery, I know it's early but I'd like to submit this as the official portrait of our 45th President, Donald J Trump. It's called, 'You Scream. I Scream. Will We Ever Stop Screaming?'"
Will the National Portrait Gallery respond? As of now, mum's the word.
Trump and Russia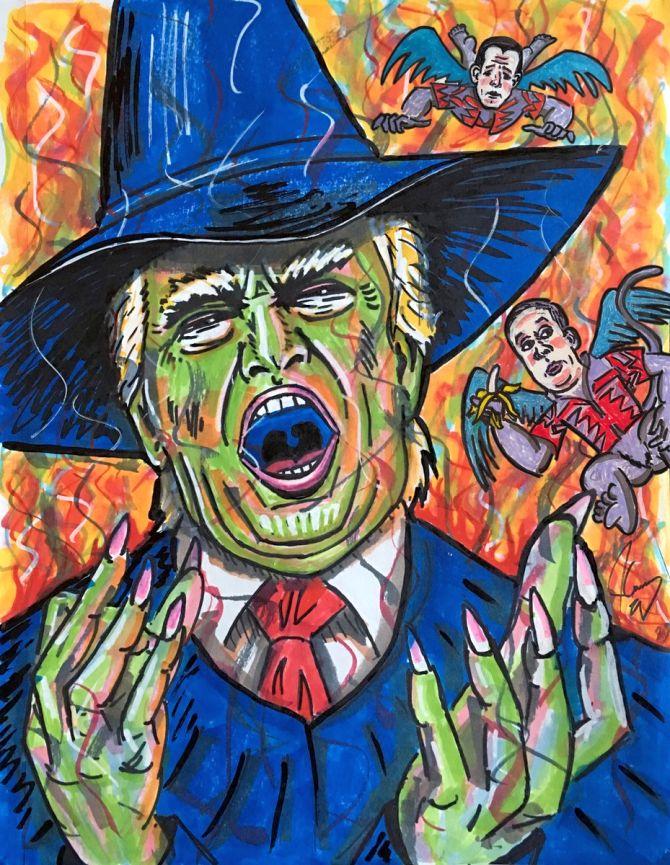 Carrey's caption: "The wicked witch of the West Wing and Putin's flying monkeys."
Ever since he has been voted into power, US President Donald Trump has been dogged with rumours about Russia meddling in the US elections. There have been investigations to prove if the Trump campaign colluded with the Kremlin, with his son and son-in-law both being investigated by the Federal Bureau of Investigation.
Recently, the US slapped sanctions on Russia in response to the UK spy poisoning row, but the bromance between Vladimir Putin and Trump continues as the latter even called up the Russian president to congratulate him on his victory in the polls.
Trump and social media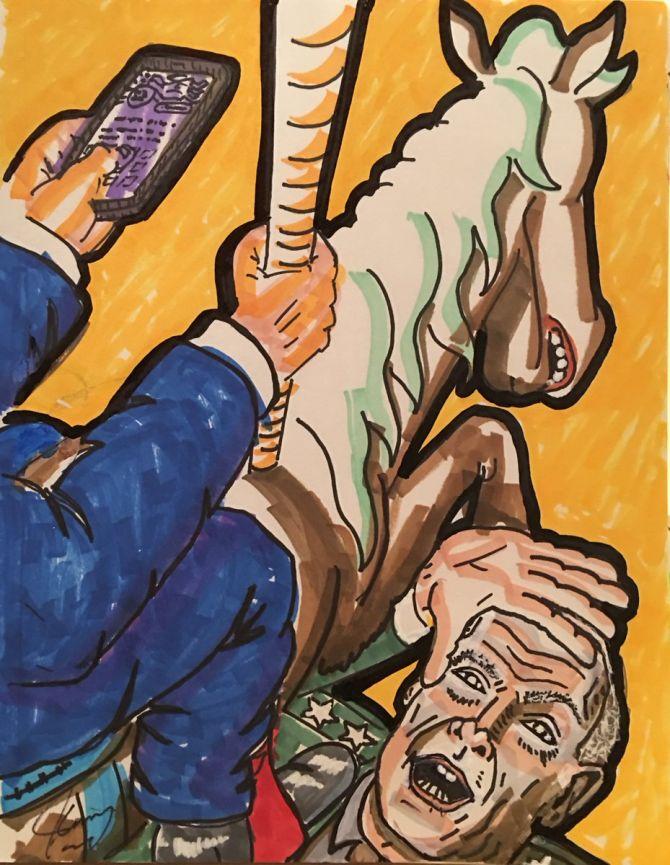 Carrey wrote, "All who enter his crooked carnival with integrity are doomed to leave without it. General Kelly has been trampled by his own compromise. Who dares be the next to ride the carousel of fools?! Muahahaha!!!"
Trump's fondness for social media is well-known. In fact, the US president has often opted to announce policy/personnel change or introduce new policy via social media -- Twitter being is medium of choice.
Carrey took a stab at all the upheaval in the Trump administration with this cartoon of General John Francis Kelly being trampled upon by Trump.
Hired as Trump's Chief of Staff in 2017, the retired four-star marine general was supposed to be the one who brought order to Trump's chaotic and leak-ridden White House. Alas, working for the US president has turned out to be a tough task for the army man.
Trump and school shootings
Carrey writes: It's President's Day and Chief Little Hands has been busy tweeting from his golf resort, a chip shot away from the latest bloody school shooting. He was hoping to play a few holes while grieving families are busy digging them.
Twelve weeks into 2018 and the United States had already witnessed 17 school shootings, which is an average 1.4 shootings a week.
While several expressed grief and remorse, Carrey took aim at the president for taking time out during the shootings to play golf.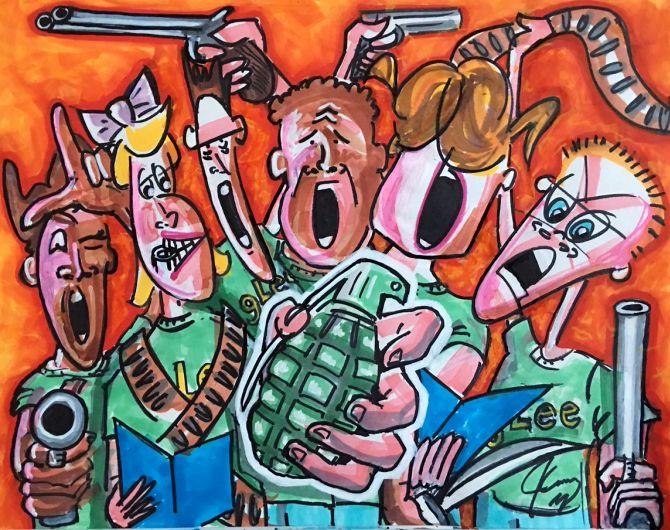 In another cartoon, the Hollywood actor captioning it wrote, "Great news! The President's answer to school shootings is to arm the glee club!"
This was in response to the US president's suggestion of arming school teachers with guns after the brutal mass shooting on February 14 at Marjory Stoneman Douglas High School in Parkland, Florida. Nikolas Cruz, 19-year-old former student of the school, killed 17 and wounded another 17.
Barack Obama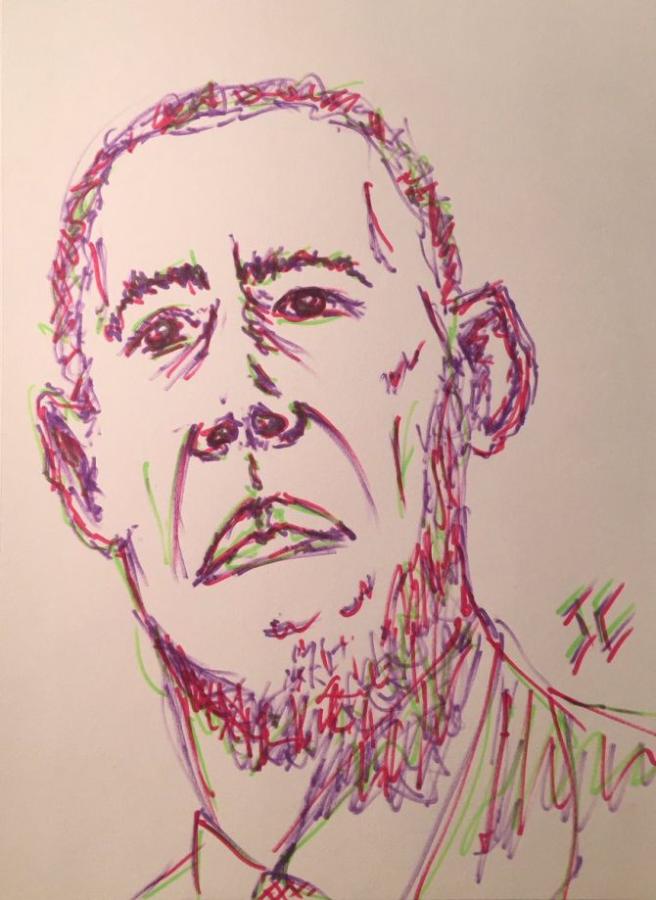 The Hollywood star sketched former US President Barack Obama in a more favourable light.
He captioned it: "Dear @BarackObama - Already, I miss your intelligence, integrity, elegance and humor. #RESPECT."
We don't know about you, but we kind of agree with him on this one!