Five-time MLA Jai Ram Thakur will be the 14th chief minister of Himachal Pradesh and is likely to be sworn-in on December 27 at a star-studded ceremony attended by Prime Minister Narendra Modi and Bharatiya Janata Party chief Amit Shah among others.
IMAGE: Former CM PK Dhumal and other leaders congratulate Jairam Thakur after he was chosen as the new chief minister. Photograph: PTI Photo
The 52-year-old Thakur leader edged past party stalwarts in the race to the top office and will be the first leader from the politically-significant Mandi region to helm the hill state.
Union Minister Narendra Singh Tomar, who along with Defence Minister Nirmala Sitharaman was appointed as a central observer by the BJP, announced that Thakur was chosen to be the next chief minister as thousands of party workers began
celebrating.
The Seraj MLA, a thoroughbred Rashtriya Swayamsevak Sangh man, emerged as the frontrunner for the top post after the shock defeat of the BJP's chief ministerial face Prem Kumar Dhumal in the 2017 assembly polls, the results of which were announced last week.
A former chief minister, Dhumal, was still in the reckoning for the chief minister's post till Saturday night, when he opted out. Union minister J P Nadda was another top contender.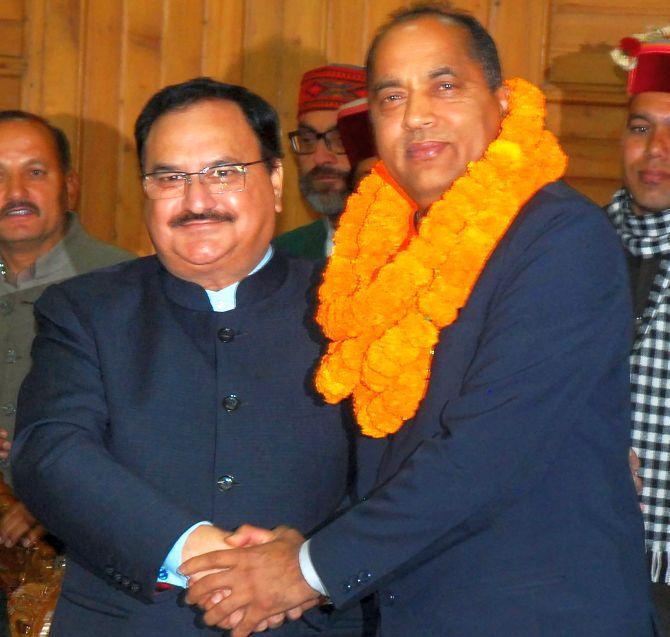 IMAGE:

Union Health Minister J P Nadda congratulates Jairam Thakur after he was chosen as the BJP's Legislature party leader at a meeting, in Shimla on Sunday. Photograph: PTI Photo
Thakur, a former state unit chief and rural development and panchayati raj minister in a government headed by Dhumal, was elected the leader of the BJP legislature party on Sunday.
The decision was taken at a meeting of BJP MLAs.
His name was proposed by senior leaders Suresh Bhardwaj and Mahender Singh and seconded by others.
"It is expected that Thakur will take oath as the state's next CM on December 27 at a ceremony where Prime Minister Modi, BJP chief Amit Shah and a galaxy of top leaders would be present," a source said.
Thakur will be the first chief minister from Mandi, the second largest district of the state. Himachal's chief ministers and political leaders mostly belong to or hailed
from Shimla, Kangra and Sirmour.
Mandi has 10 assembly seats, second only to Kangra's 15.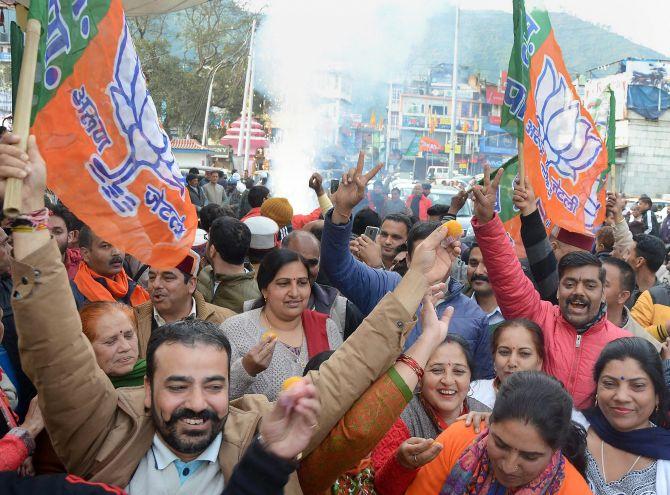 IMAGE:

BJP workers celebrate the announcement of Jairam Thakur as Himachal Pradesh's next chief minister.

Photograph: PTI Photo
In this election, the BJP put up a stellar show in Mandi, winning 9 of the district's 10 seats.
Seen largely as a low-profile man, Thakur is from a farming family of Mandi. He did his post-graduation from Punjab University in Chandigarh and decided to join politics
when he was in his 20s.
Thakur contested on a BJP ticket in the 1993 assembly polls. He lost, but went on to win in 1998 from the now delimited constituency of Chachiot (Seraj) and every assembly election after that.
A soft-spoken man, Thakur's strength is that he is seen as a leader who has managed to straddle the party's warring factions in the state.
A lack of consensus among the newly elected MLAs had resulted in the two central observers -- Union ministers Sitharaman and Tomar -- returning to Delhi from Shimla on Saturday to hold fresh consultation with the BJP central leadership.
Earlier, the two-member team of central observers, which was in the state on December 21 and 22, had taken feedback from members of the state BJP's core committee, MPs and some MLAs.
The BJP ousted the Congress from power by winning 44 out of the 68 seats in the assembly polls.