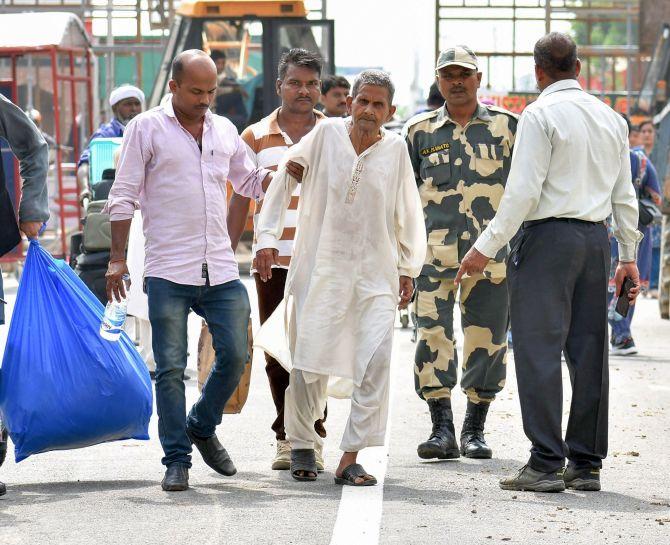 After languishing in a Pakistan prison for more than 36 years, Indian prisoner Gajanand Sharma was released on Monday.
Gajanand, now 68, went missing in 1982 and was part of the 30 Indian prisoners released by Pakistan as a goodwill gesture ahead of the country's Independence Day on August 14.
Watching the news on a mobile phone, Makhni Devi's eyes well up as she sees her husband walk back into India through Wagah-Attari border.
"Yes, he is my husband, but he has become very weak and lean," she says sitting before a small place of worship in her house in a narrow lane of Brahmpuri area in Jaipur.
She is surrounded by her family members and neighbours.
The man Makhni Devi identified as her husband appears frail and is seen walking with the help of a BSF soldier.
"My husband is in a bad state just because of Pakistan and my heart is cursing Pakistan for keeping him away from me and making his so weak. He was in good health before he went missing," Makhni Devi told reporters.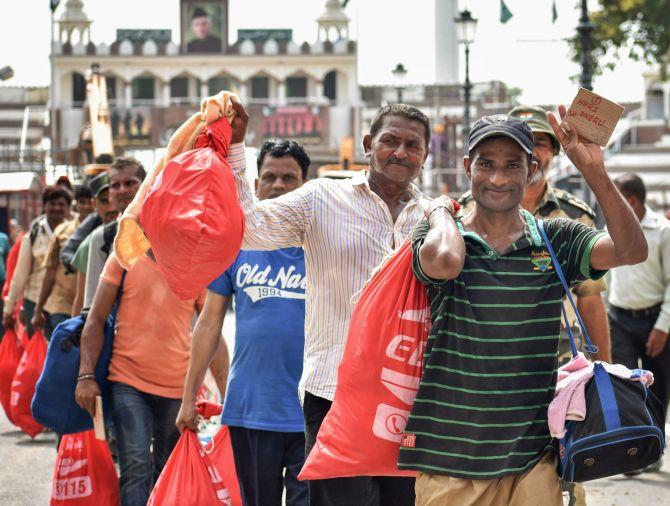 His arrival was confirmed by Jaipur MP Ramcharan Bohra.
"I spoke to the authorities who have confirmed that Gajanand has arrived in India. After completing the formalities, he will be reaching Jaipur in a day or two," the BJP MP said.
Bohra said he has sent four men to the Wagah border to facilitate Gajanand's return.
The sexagenarian's family came to know in May this year that he is lodged in a prison in Lahore after Jaipur (Rural) police received a request for verification of his nationality.
However, it is not yet known how Gajanand reached Pakistan.
Makhni Devi said she is eager to meet her husband and is waiting for the moment when he will finally be home.
"I will definitely ask him how he reached Pakistan and how he spent all these years, but I will not complain. I have had a tough time while he was gone and waited for him all these years. I kept my hope alive," she said.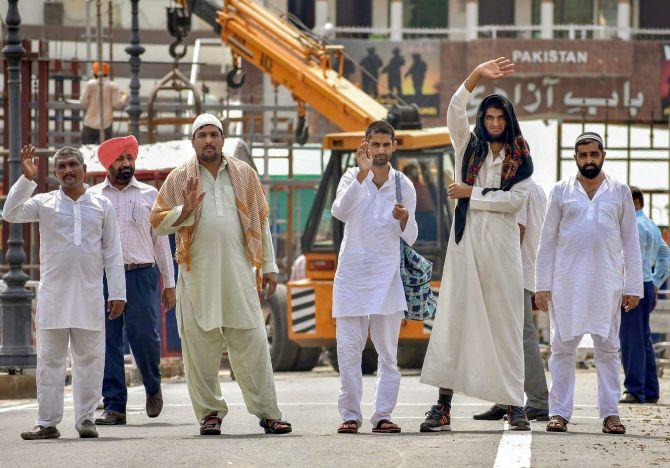 Gajanand's younger son Mukesh Sharma said it was a dream come true for the family.
"I cannot express my feelings in words. This is a dream which turned into reality. We will decorate our house and will organise a feast for our family, relatives and friends to celebrate my father's arrival after 36 years," said the elated son, who was only 12 years old when his father went missing.
"Today is 'Hariyali Teej', a special festival for women, and my mother has got her biggest blessing on this day," he said.
'Hariyali Teej' commemorates the union of Lord Shiva and Goddess Parvati.
India also released seven Pakistani prisoners who were handed over to the concerned authorities, officials said.
Fishermen from Pakistan and India are frequently detained on charges of illegal fishing in each other's territorial waters since the Arabian Sea does not have a clearly defined marine border and the wooden boats used by them lack the technology to avoid being drifted away.
The two countries usually release each other's prisoners ahead of their Independence Day celebrations.