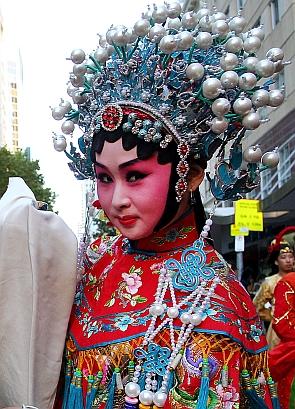 China is celebrating its lunar new year on Thursday, marking the beginning of the Year of the Sheep.

For much of the week, hundreds of millions of people will dispense with their regular routines to eat dumplings, light fireworks and watch television.

The 15-day festivities are traditionally the most important time of the year for family reunions.

No wonder then millions of Chinese migrants are rushing home, marking the world's biggest annual migration.
(FOR BELIEVERS: People who are born in the Sheep zodiac symbol are calm, gentle, polite, intelligent and kind, as well as artistic and creative. They take great care to consider the feelings of others. But at the same time, they are overly-sensitive and insecure, as they often misinterpret or over-analyse situations.)
ALSO READ: Chinese New Year predictions for you!

Here are some glimpses of the festivities in China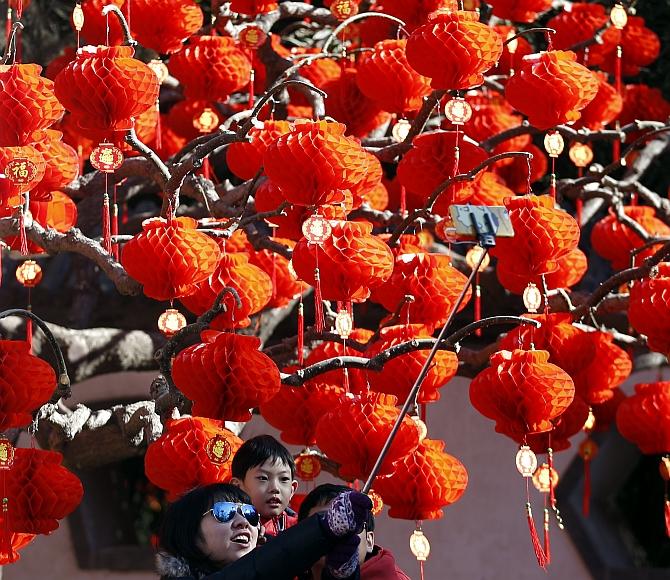 Image: A family uses a selfie stick, in front of a tree decorated with paper lanterns at the Temple Fair, which is part of Chinese New Year celebrations at Ditan Park, also known as the Temple of Earth, in Beijing. Photograph: Kim Kyung-Hoon/Reuters
---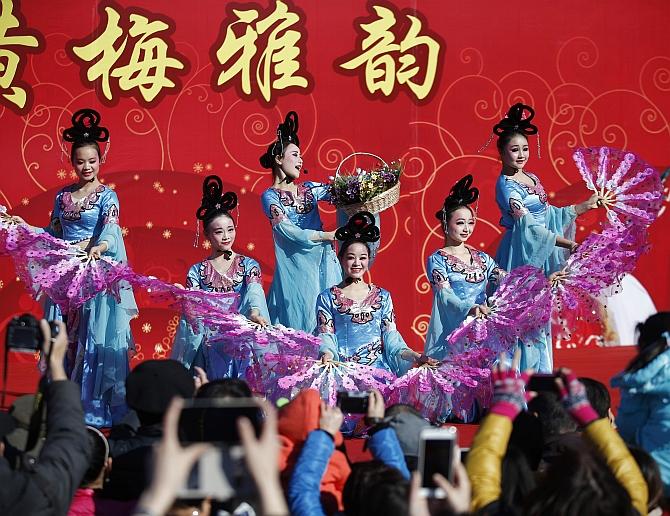 Image: Traditional dancers perform at the Temple Fair, part of Chinese New Year celebrations at Ditan Park, also known as the Temple of Earth, in Beijing. Photograph: Kim Kyung-Hoon/Reuters
---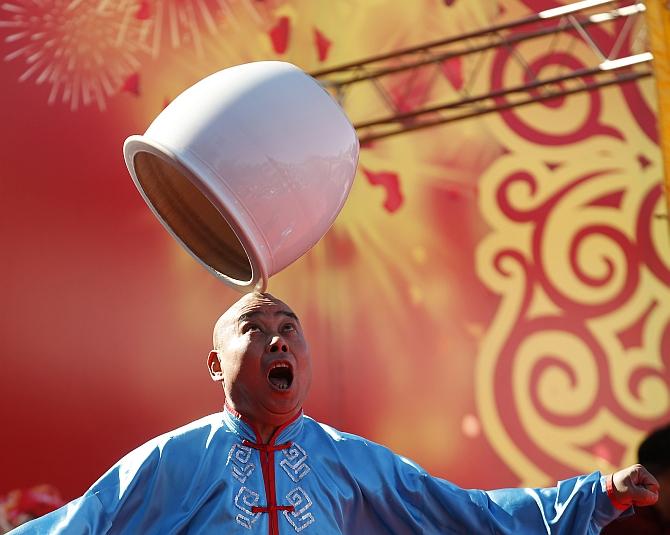 Image: A performer takes part in the opening of the Temple Fair, part of Chinese New Year celebrations at Ditan Park, also known as the Temple of Earth, in Beijing. Photograph: Kim Kyung-Hoon/Reuters
---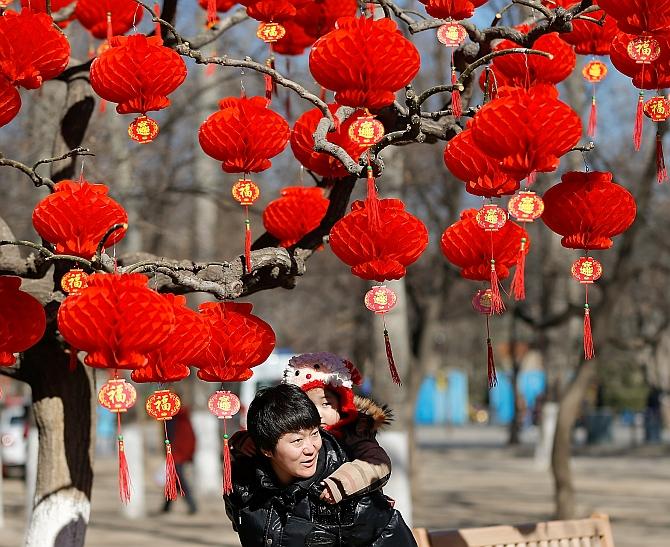 Image: A visitor passes the trees decorated with red lanterns at the Spring Festival Temple Fair for celebrating Chinese Lunar New Year of Sheep at the Temple of Earth park. Photograph: Lintao Zhang/Getty Images
---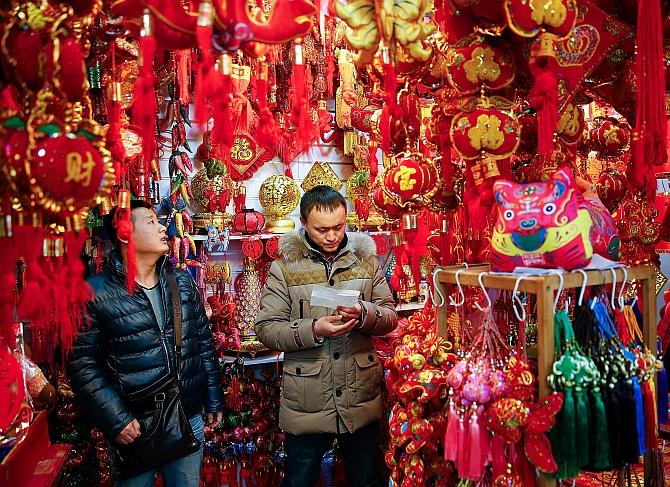 Image: Chinese people buy decorations for the upcoming Chinese Lunar New Year of the sheep in Beijing, China. Photograph: Lintao Zhang/Getty Images
---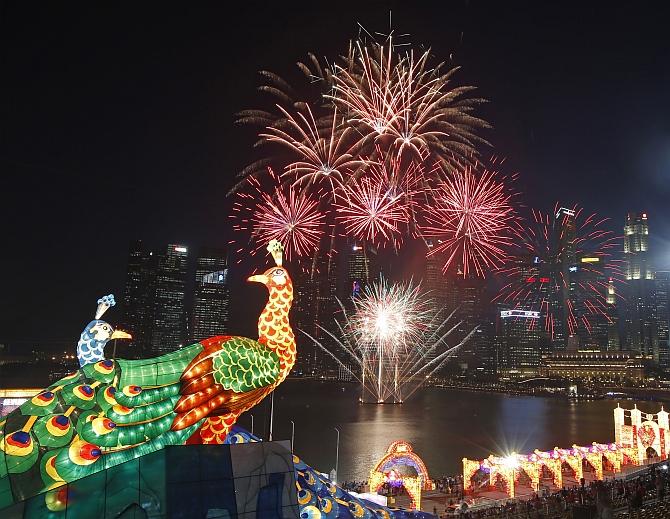 Image: Fireworks explode at the River Hongbao Lunar New Year Celebrations along Marina Bay in Singapore. Photograph: Edgar Su/Reuters
---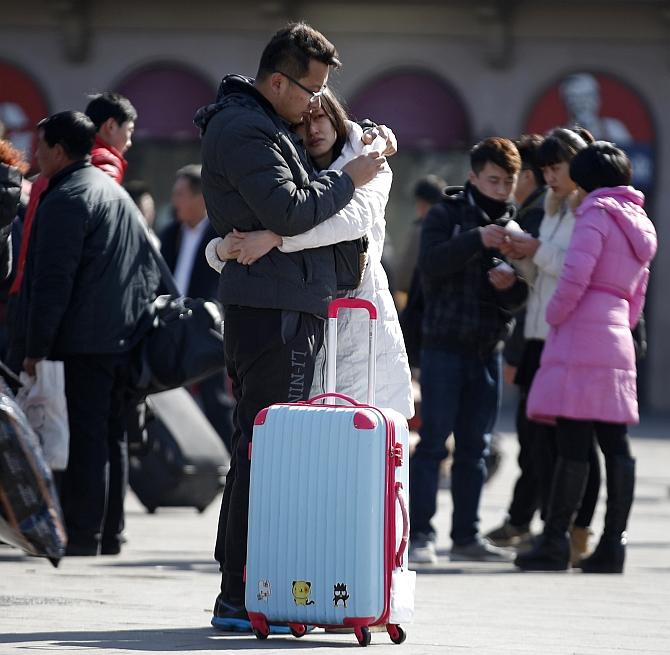 Image: A couple hugs each other as they prepare to go to their hometowns at a railway station in Beijing. The 40-day travel frenzy surrounding the week-long holiday began on February 4, and will last till March 15. Photograph: Kim Kyung-Hoon/Reuters
---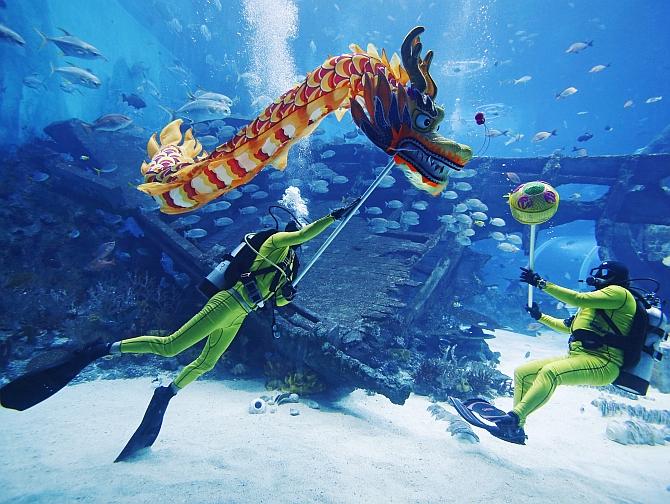 Image: Divers perform a dragon dance at the Shipwreck Habitat of the S E A Aquarium as part of the festive Chinese New Year celebrations in Sentosa, Singapore. Photograph: Edgar Su/Reuters
---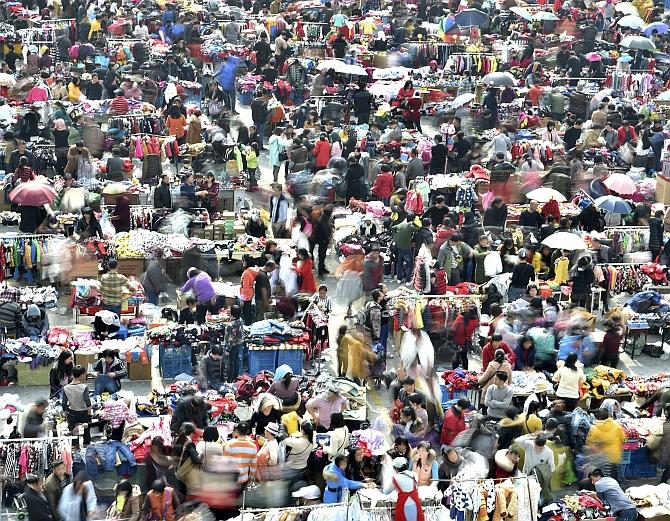 Image: People shop at a garment market ahead of the upcoming Spring Festival, in Hangzhou, Zhejiang province. Photograph: Reuters
---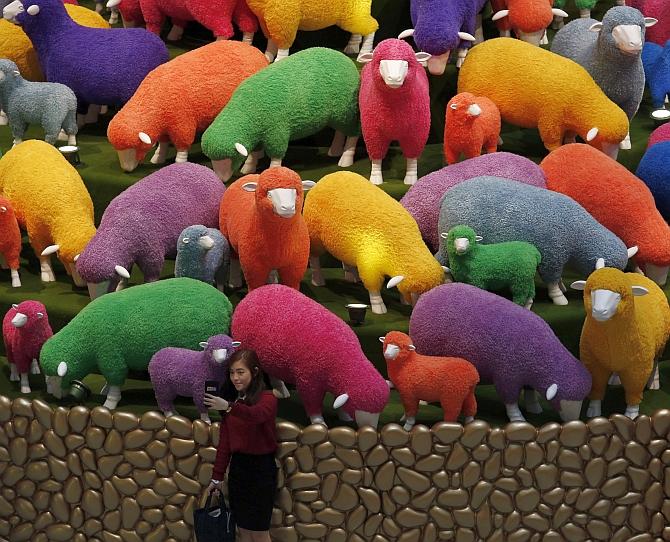 Image: A woman takes a selfie in front of a Lunar New Year display featuring sheep at a shopping mall in Hong Kong. Photograph: Bobby Yip/Reuters
---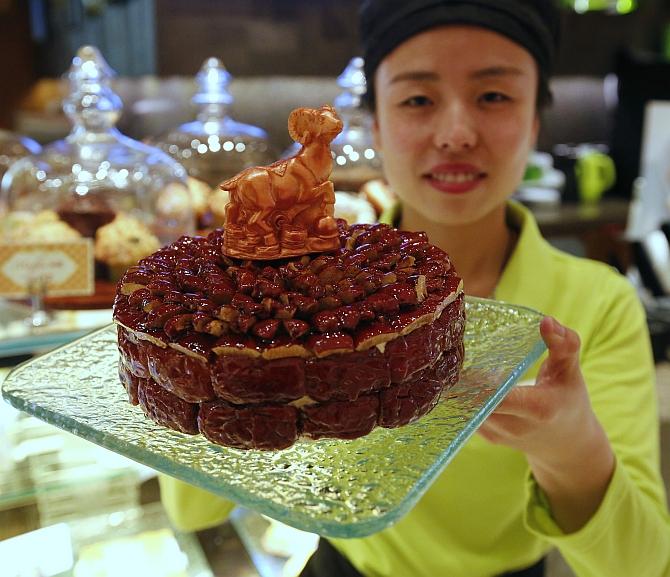 Image: A waitress poses with a cake decorated with a goat-shaped chocolate, which is painted with edible gold powder, to celebrate the upcoming Chinese Lunar New Year, during a photo opportunity at a bakery of Kerry Hotel in Beijing. Photograph: Kim Kyung-Hoon/Reuters
---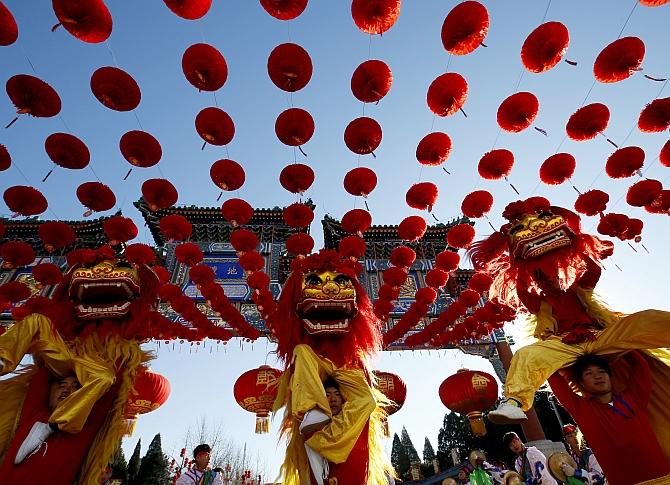 Image: Traditional dancers perform lion dance during the opening of the temple fair for the Chinese New Year celebrations at Ditan Park, also known as the Temple of Earth, in Beijing. Photograph: Kim Kyung-Hoon/Reuters
---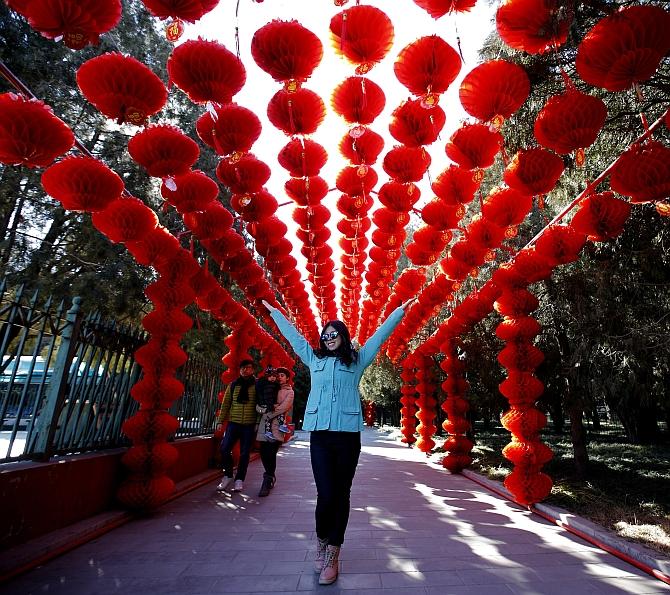 Image: A woman poses under paper lanterns, celebrating the Chinese New Year, at Ditan Park, also known as the Temple of Earth, in Beijing. Photograh: Kim Kyung-Hoon/Reuters
---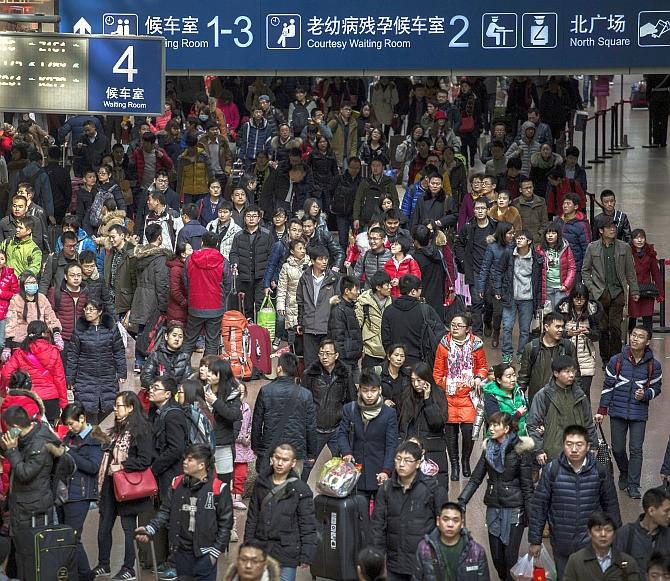 Image: Chinese travelers crowd the station while leaving for the Spring Festival at a local railway station in Beijing, China. Photograph: Kevin Frayer/Getty Images
---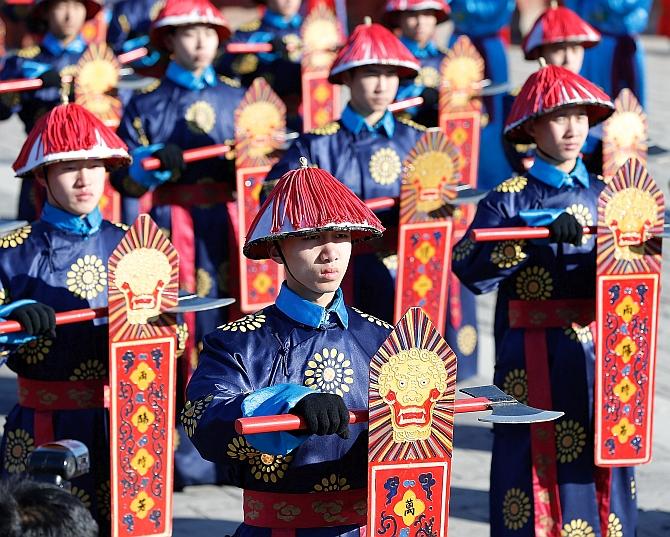 Image: People reenact a temple worship ceremony from the Qing Dynasty at the Spring Festival Temple Fair for celebrating Chinese Lunar New Year of Sheep at the Temple of Earth park in Beijing, China. Photograph: Lintao Zhang/Getty Images