India celebrated its 69th Republic Day with a grand parade at Rajpath, which was witnessed by thousands of people.
As part of the celebrations, tableaux,including those representing various states, ministries, the All India Radio among others, rolled down Rajpath.
Take a look at the colourful cultural pieces.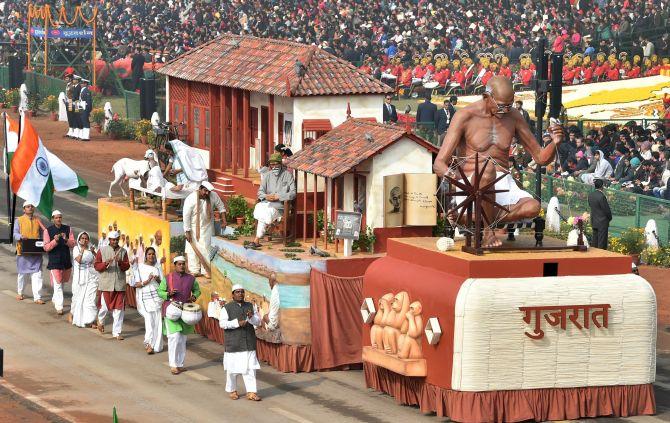 The Gujarat tableau displayed the legacy of Mahatma Gandhi and Sabarmati Ashram at the Republic Day Parade, highlighting the role of the father of the nation and his ashram in the Indian freedom struggle. The tableau also showed the 'three monkeys' of Gandhi. The 'Hriday Kutir' where Gandhi lived with wife Kasturba, and the hut of Vinoba Bhave, who was the first practitioner of Satyagraha propounded by Gandhi, were part of the tableau. Photograph: Vijay Verma/PTI Photo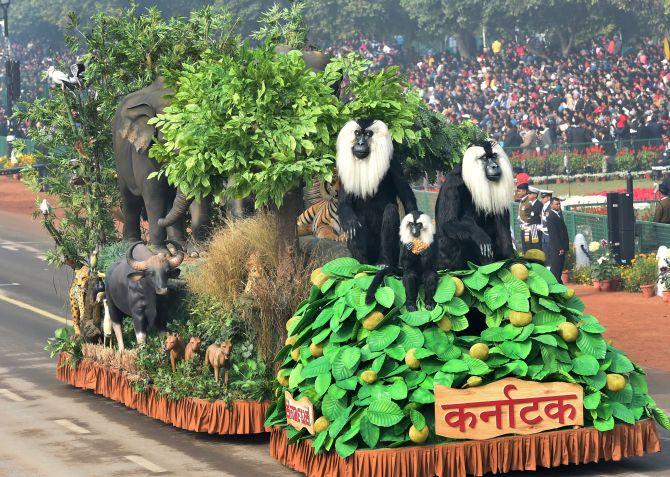 The Karnataka tableau depicts the state's rich and diverse forest wealth as well as flora and fauna. Photograph: Vijay Verma/PTI Photo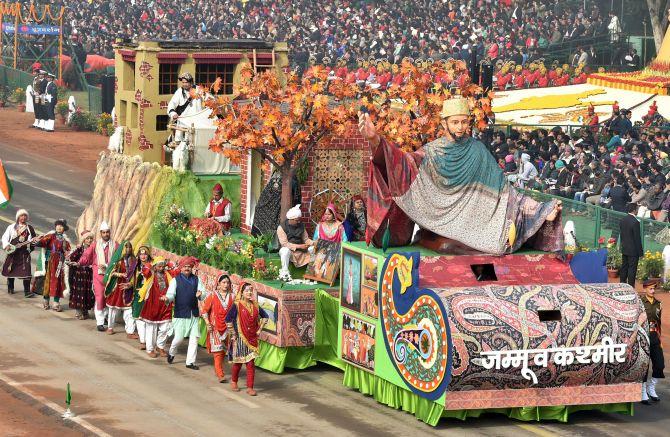 Jammu and Kashmir tableau has shawl weaving as its theme, the Kani shawl in pashmina wool. Photograph: Vijay Verma/PTI Photo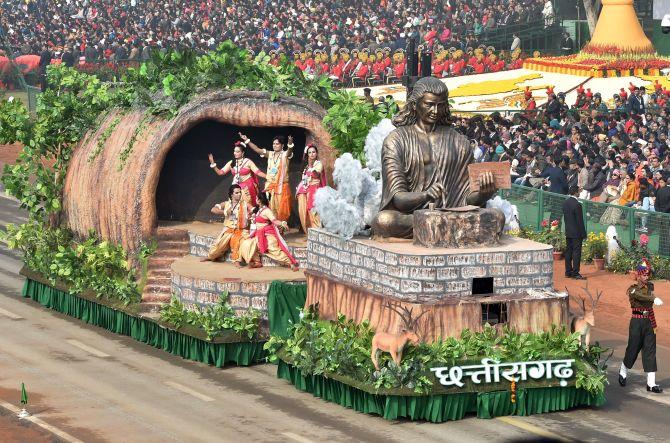 The Chattisgarh tableau displays Kalidas penning the Meghdootam. Photograph: Vijay Verma/PTI Photo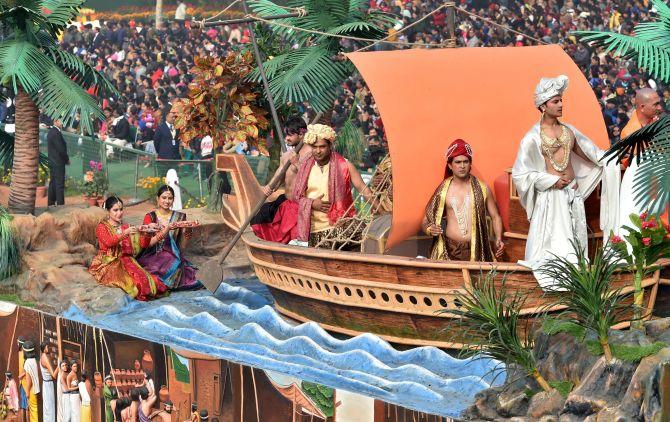 Tripura has cane and bamboo on display. Photograph: Vijay Verma/PTI Photo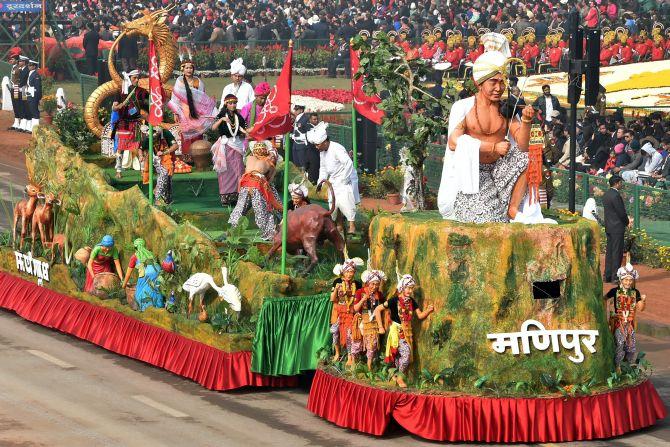 Manipur showcases love. The love story of Khamba and Thoibi. Photograph: Vijay Verma/PTI Photo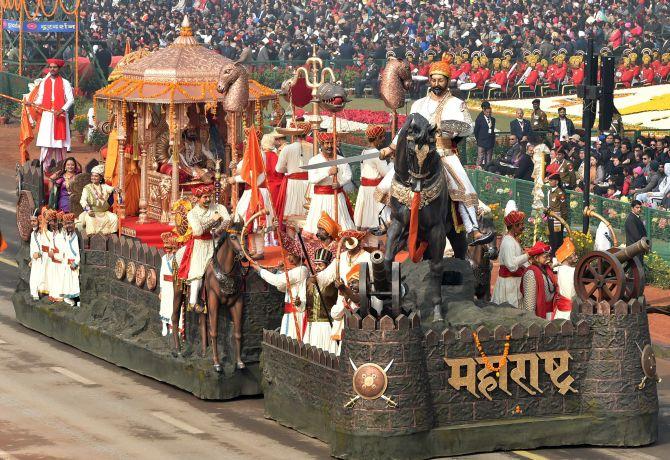 Maharashtra's tableau is on Shivaji, the king who introduced and administrative measure called 'Ashta Pradhan Mandal'. Photograph: Vijay Verma/PTI Photo
The All India Radio tableau at the Republic Day parade. The tableau depicts a historic event when Mahatma Gandhi made his maiden and only broadcast through AIR in the wake of post Partition communal riots.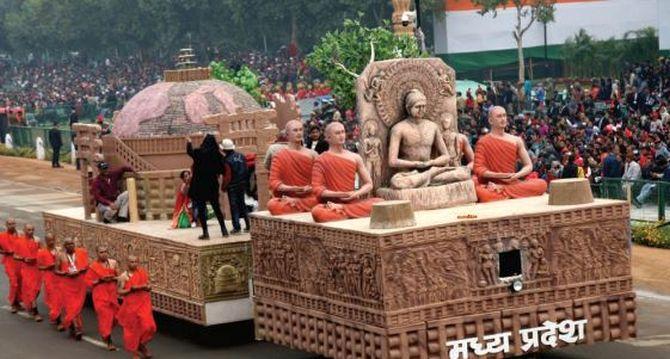 Madhya Pradesh brings up its Buddhist culture. Sanchi stupa and Buddhist monks. Soothing chants of Buddham Sharanam Gachchami ring out as the tableau rolls.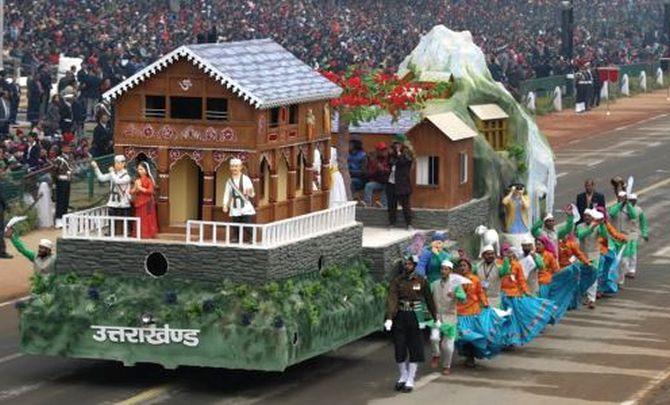 Rural tourism seems to be the theme for Uttarakhan's tableau.
The Armed Forces' veterans' tableau at Rajpath. Portraits of Field Marshal KM Cariappa can be seen on the tableau.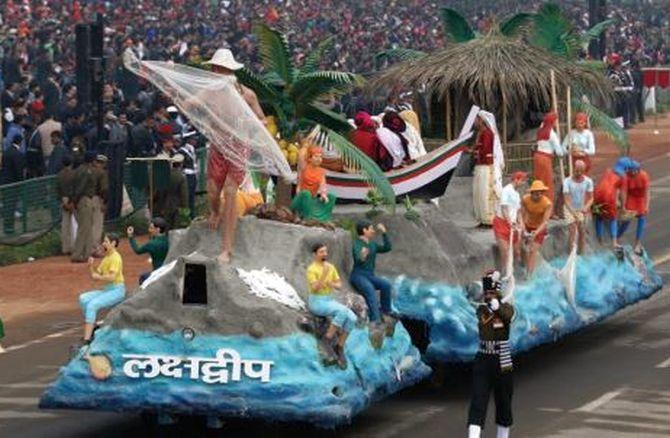 The eco-friendly tourism industry is in focus in Lakshwadeep's tableau. Lovely music and simple attire of the women.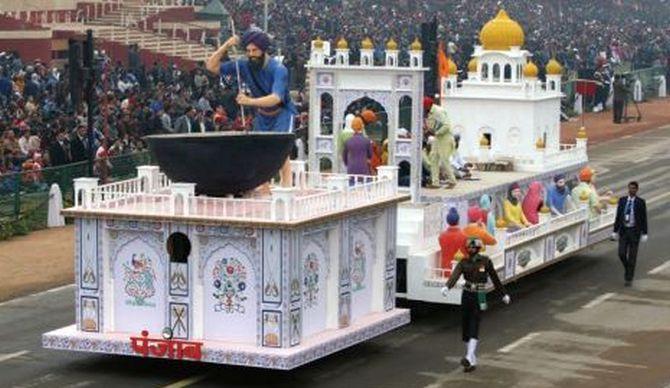 Punjab elaborately portrays different activities and aspects of the Sangat and Pangat. Service to community. Community kitchens and free served meals.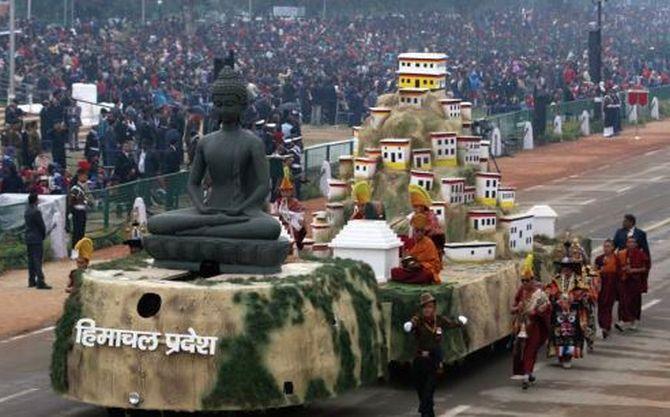 Himachal Pradesh shows up with the Spiti valley monastery. Kye Gompa, a Buddhist monastery, established in the 11th century.