Noted music composer Illaiyaraja, Hindustani classical singer Ghulam Mustafa Khan, Hindutva thinker P Parameswaran, Kerala Bishop Philipose Mar Chrysostom and 39 other prominent personalities were conferred the prestigious Padma awards for 2018 by President Ram Nath Kovind in New Delhi on Tuesday.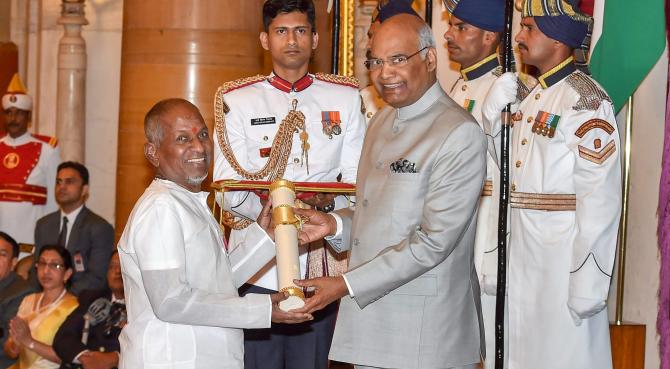 IMAGE: President Ram Nath Kovind confers Padma Vibhushan on Music Director Ilaiyaraaja during the Padma Awards 2018 function at Rashtrapati Bhavan in New Delhi, on Tuesday.
All Photographs: Manvender Vashist/PTI Photo
Vice President M Venkaiah Naidu, Prime Minister Narendra Modi and his ministerial colleagues, and several other dignitaries attended the function at the Rashtrapati Bhavan.
Keeping its promise of honouring 'unsung heroes', the government this year honoured with Padma awards several personalities who served the poor, set up free schools and popularised tribal arts globally.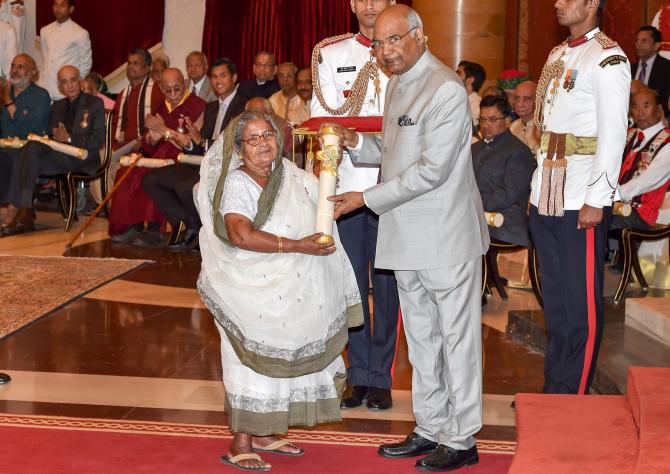 IMAGE: Founder of Humanity Hospital Subasini Mistry receives Padma Shri.
Illaiyaraja, the president of Vivekananda Kendra Kanyakumari Parameswaran, and Hindustani classical singer Ghulam Mustafa Khan were conferred the Padma Vibhusan awards.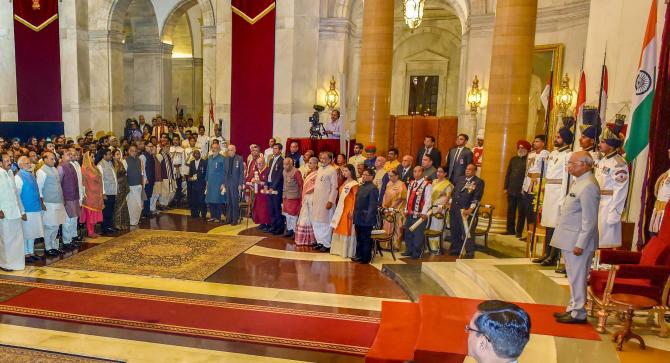 IMAGE: President Ram Nath Kovind and other dignitaries at Padma Awards 2018 function at Rashtrapati Bhavan in New Delhi, on Tuesday.
Emeritus Metropolitan bishop of the Mar Thoma Syrian Church Philipose Mar Chrysostom, historian and archaeologist Ramachandran Nagaswamy, legal scholar Ved Prakash Nanda, and Hindustani classical musician and sitar player Pandit Arvind Parikh were conferred the Padma Bhushan awards.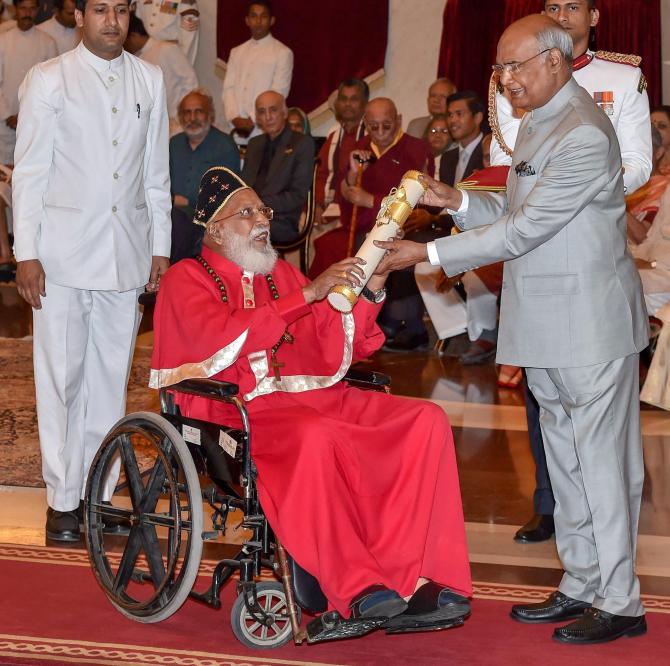 IMAGE: Padma Bhushan conferred on Dr Philipose Mar Chrysostom Thoma Valya Metropolitan.
Among the 37 prominent personalities who were given the Padma Shri awards are Arvind Gupta, an Indian Institute of Technology Kanpur alumnus who inspired generations of students to learn science from thrash, Lakshmikutty, a tribal woman from Kerala who prepares 500 herbal medicine from memory and help thousands of people, especially in snake and insect bite cases.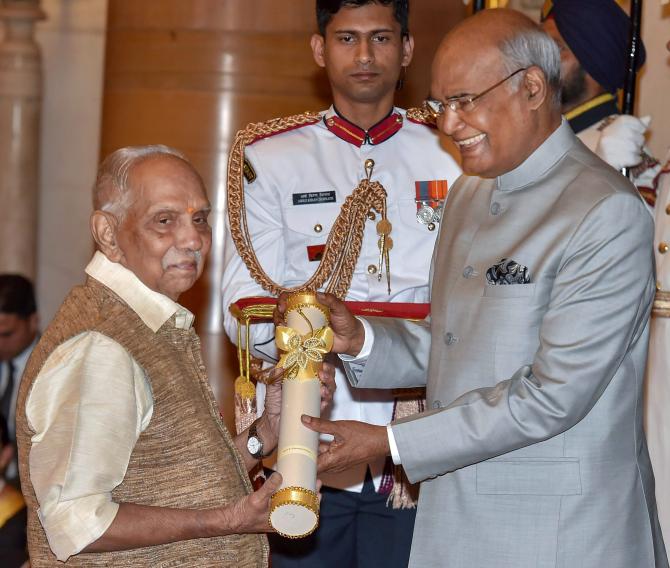 IMAGE: The President confers Padma Vibhushan on Erudite Writer P Parameswaran.
The other Padma Shri awardees include internationally-acclaimed Gond artist Bhajju Shyam, who is known for depicting Europe through Gond paintings, a tribal style of painting of Madhya Pradesh; Somdev Kishore Devvarman, Indian tennis player who became the only collegiate player to have made three consecutive finals at the National Collegiate Athletic Association; and Subhasini Mistry, a poor woman from rural West Bengal who toiled 20 years as housemaid and daily labourer to build a hospital for poor in the state.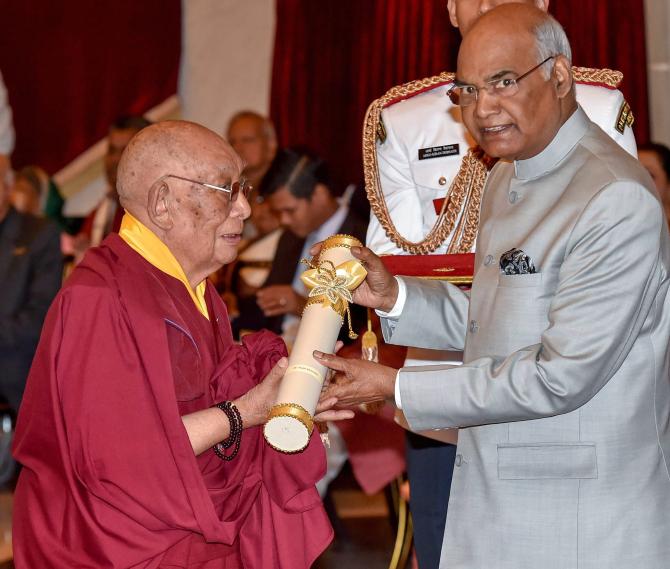 IMAGE: Padma Shri conferred on Dr Yeshi Dhonden.
Assam's Arup Kumar Dutta, who has written 16 books for adults and 17 adventure novels for young people; Tamil Nadu's Rajagopalan Vasudevan, who is known as plastic road-maker of India, developed a patented and innovative method to reuse plastic waste to construct roads; and noted Kashmir theatre artist Pran Kishore Kaul, who shot to fame with his screen play of famous TV serial Gul Gulshan Gulfaam, were also conferred the Padma Shri awards.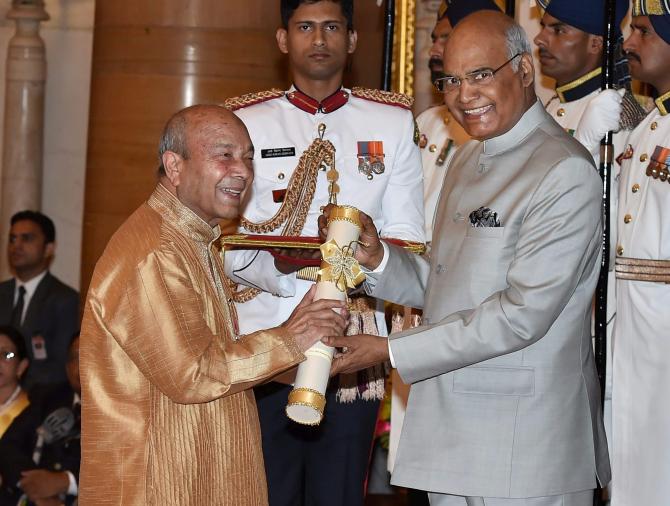 IMAGE: President Kovind confers Padma Bhushan on Professor Ved Prakash Nanda.
Nonagenarian farm labourer Sulagatti Narasamma, who provides midwifery services in backward region of Karnataka without any medical facility, too was awarded the Padma Shri.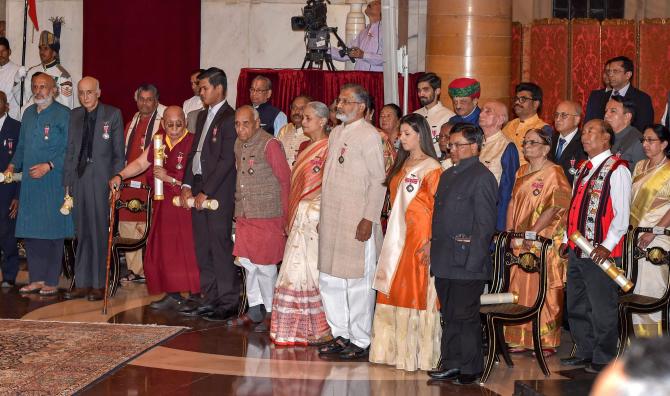 IMAGE:

Padma Awardees stand for the National Anthem.
This year, as many as 84 Padma awards were announced, including two duo cases (in a duo case, the award is counted as one). The list comprises three Padma Vibhushan, nine Padma Bhushan and 72 Padma Shri awards.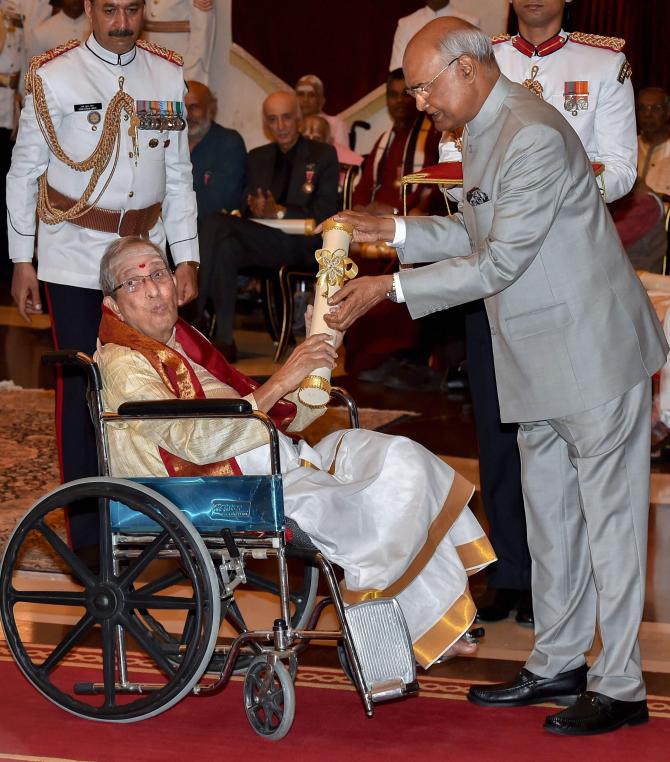 IMAGE: Padma Shri conferred on R Sathyanarayana.
The awards -- Padma Vibhushan, Padma Bhushan and Padma Shri -- are announced on the eve of the Republic Day every year.
They are given in different fields and disciplines such as art, literature and education, sports, medicine, social work, science and engineering, public affairs, civil service, trade and industry.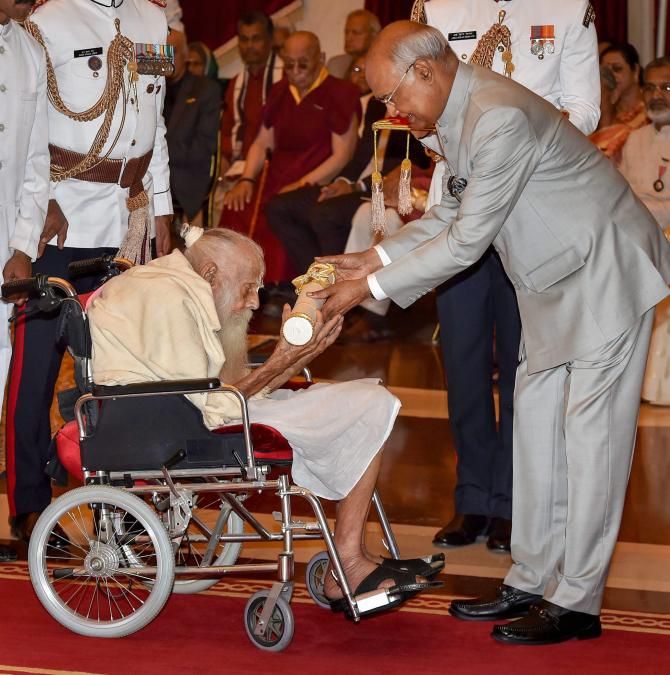 IMAGE: President Kovind confers Padma Shri on Narayan Das.

The remaining awardees of the Padma awards 2018 will be conferred with the honour at another special function to be held on April 2.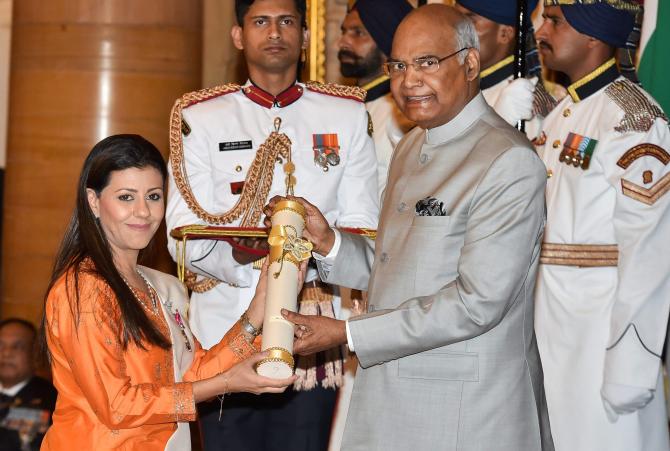 IMAGE: President Kovind confers Padma Shri on Nouf Almarwaai.