Some of Indian Air Force's best fighter pilots are squaring off with pilots from US Air Force and other top guns from Japan, South Korea and Germany to test their capabilities in the Joint Pacific Range Complex over Alaska.
Codenamed Red Flag Alaska 16-1, the exercises are being conducted in the Joint Pacific Alaska Range Complex, the largest instrumented air, ground and electronic combat training range in the world at more than 65,000 square miles.
RF-A provides US and allied pilots, aircrews and operational support personnel the opportunity to train and improve their air combat skills in preparation for a myriad of worldwide contingencies.
Here are some highlights: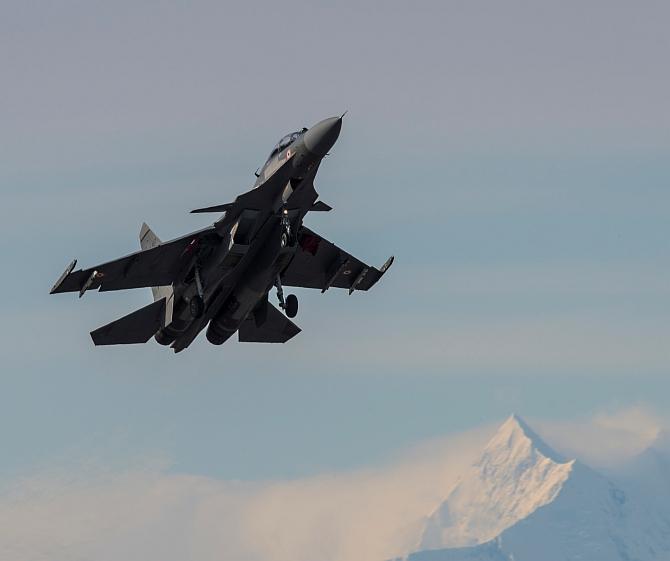 An IAF Su-30MKI fighter aircraft assigned to the 15 Squadron, Sirsa Air Base takes off from Eielson Air Force Base, Alaska, May 4, 2016, during RED FLAG-Alaska (RF-A) 16-1. Photograph: Staff Sgt Joshua Turner/US Air Force
---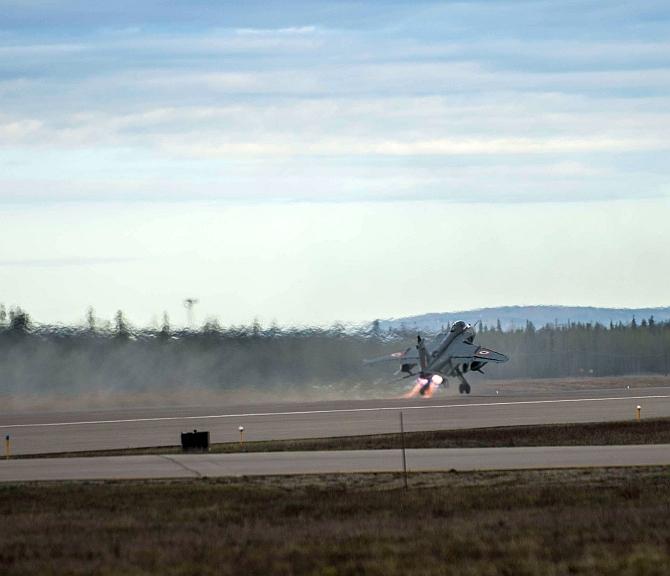 An IAF Jaguar jet attack aircraft assigned to the 14 Squadron, Ambala Air Base, takes off from Eielson Air Force Base. Photograph: Photograph: Staff Sgt Joshua Turner/US Air Force
---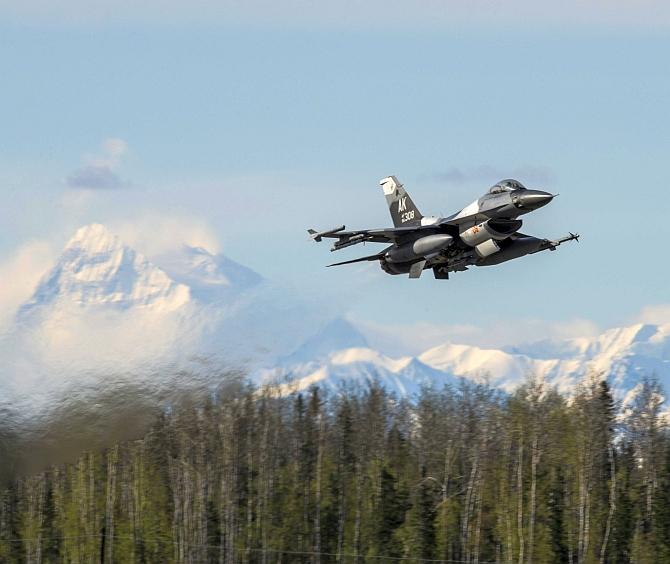 A US Air Force F-16 Fighting Falcon assigned to the 18th Aggressor Squadron at Eielson Air Force Base takes off during RED FLAG-Alaska (RF-A) 16-1. Aggressor pilots are trained to act as opposing forces in exercises like RF-A to better prepare US and allied forces for aerial combat. Photograph: Staff Sgt Joshua Turner/US Air Force
---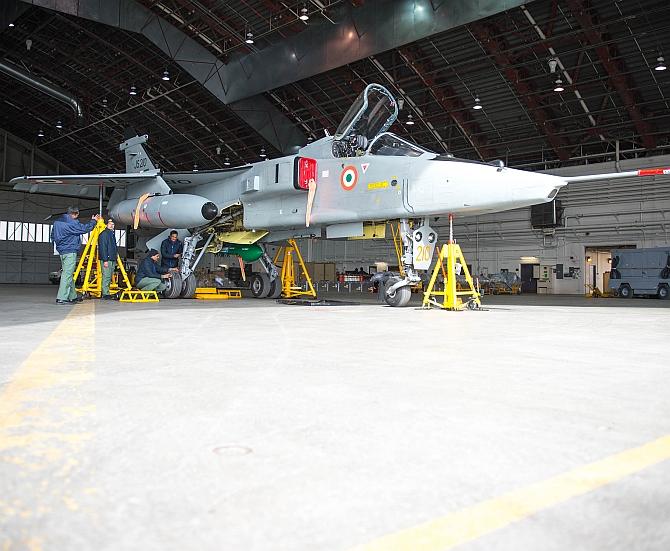 Maintenance airmen from the Indian Air Force, 14 Fighter Squadron (FS) from Ambala Air Base, India, work to change a shock absorber on their Jaguar attack jet aircraft April 29, 2016, at Eielson Air Force Base, Alaska. The 14 FS is one of 23 units from around the world who participated in RED FLAG-Alaska 16-1. Photograph: Staff Sgt Joshua Turner/US Air Force
---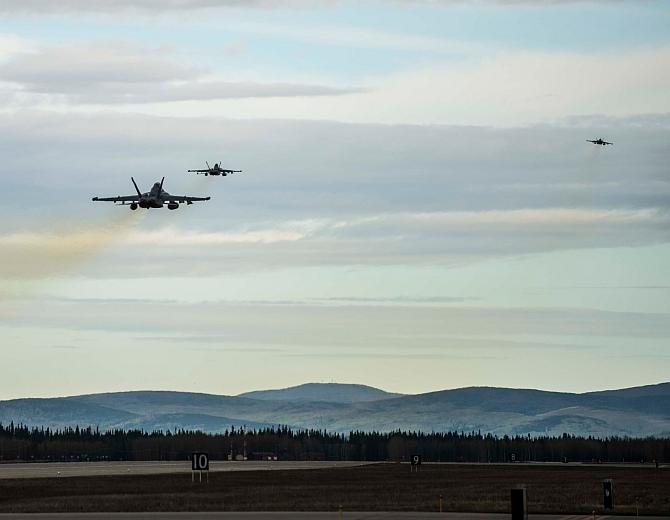 Three US Navy EA-18G Growlers assigned to Electronic Attack Squadron 137, Naval Air Station Whidbey Island, Wa., takes off from Eielson Air Force Base, Alaska during RED FLAG-Alaska (RF-A) 16-1. RF-A enables joint and international units to sharpen their combat skills by flying simulated combat sorties in a realistic threat environment. Photograph: Staff Sgt Joshua Turner/US Air Force
---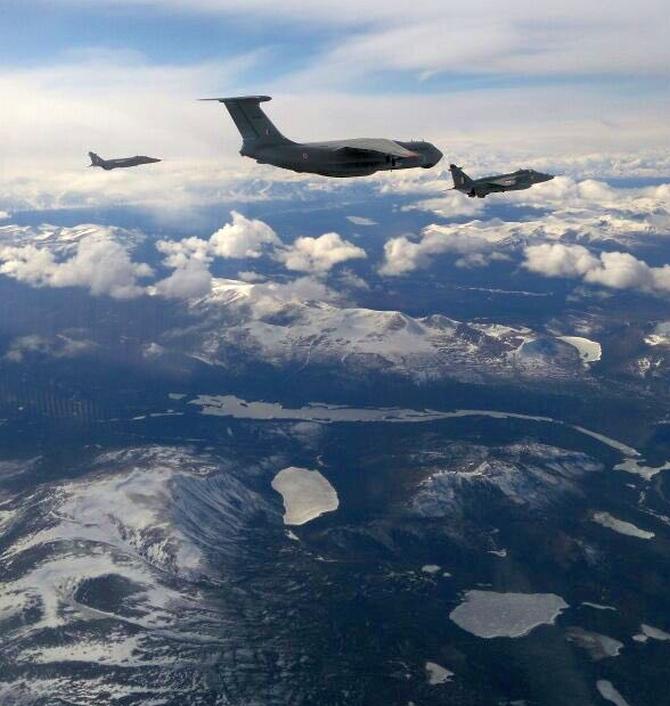 Two Jaguars fighters fly alongside an IAF Il-78 refueller over Alaskan terrain during Red Flag Alaska 16-1. Photograph: PRO/IAF
---
IAF's Su 30s taxing on the runway at the Eielson Air Force Base in Alaska. Photograph: PRO/IAF
---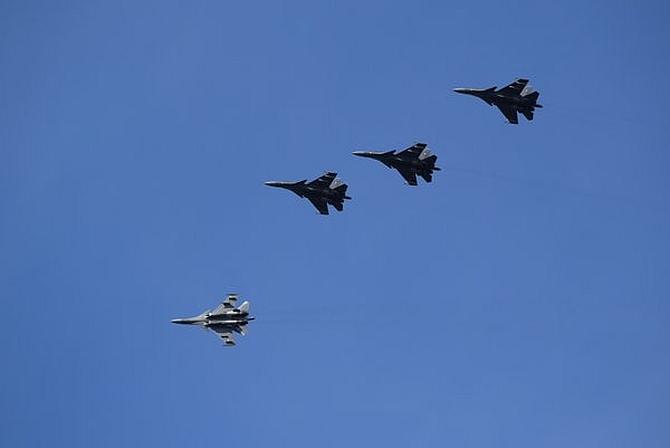 IAF Su30-MKIs break formation during the Red Flag Alaska 16-1 exercise. Photograph: PRO/IAF
---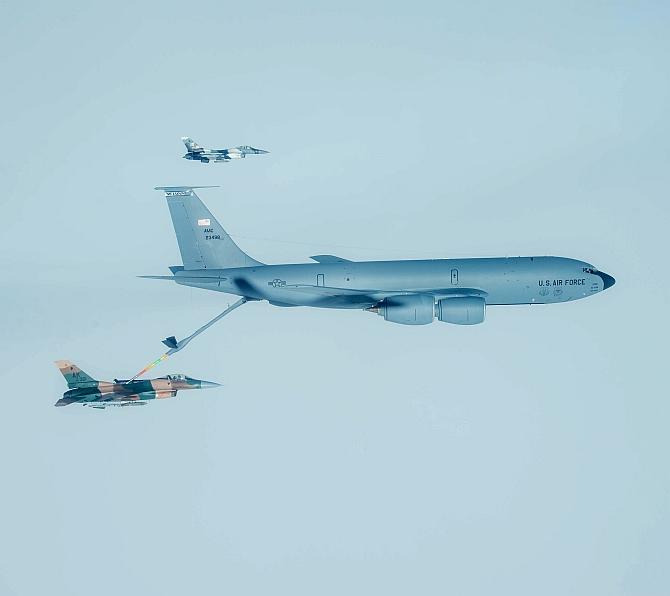 US Air Force Jan Stahl, 64th Aggressor Squadron pilot from Nellis Air Force Base, Nevada, refuels while augmenting the 18th Aggressor Squadron May 3, 2016, during RED FLAG-Alaska (RF-A) 16-1 at Eielson Air Force Base, Alaska. Photograph: Staff Sgt Shawn Nickel/US Air Force
---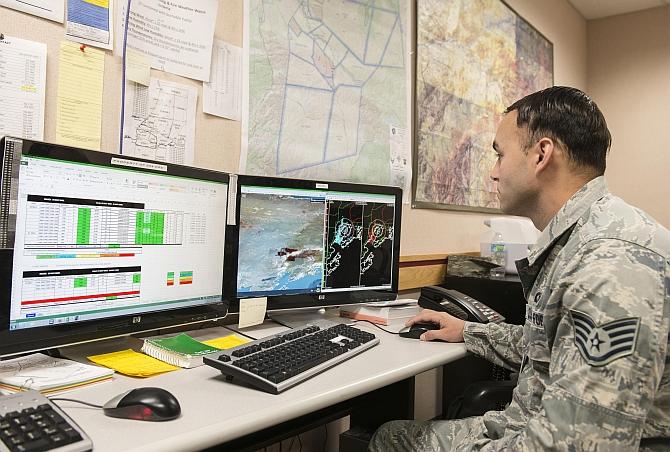 US Air Force Staff Sgt Joey Putis, an 18th Operations Support Squadron weather technician assigned to Kadena Air Base, Japan, checks weather conditions to build a briefing slide, May 4, 2016, at Eielson Air Force Base, Alaska. Putis works with members from the 354th OSS to deliver accurate weather conditions to pilots participating in RED FLAG-Alaska 16-1 from Eielson and Joint Base Elmendorf-Richardson. Photograph: Staff Sgt Ashley Nicole Taylor/US Air Force