The army and air force have been deployed for rescuing stranded citizens in Kancheepuram district, where torrential rains have left residents marooned, even as rain water inundated a large part of suburban Tambaram locality in Chennai.
There have been no fresh rains in the city on Tuesday.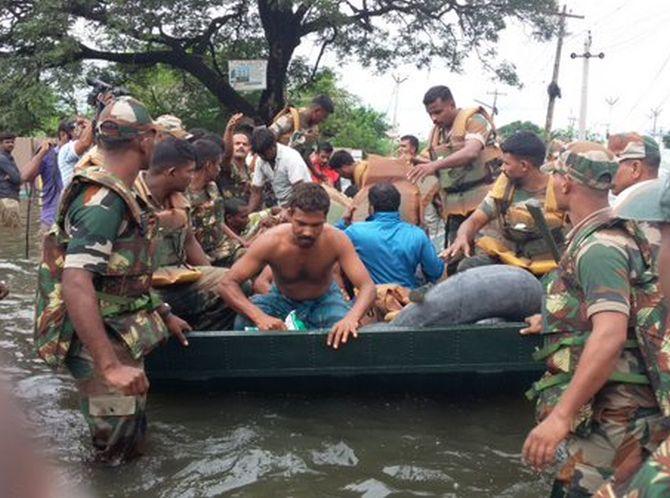 Two columns of army teams have been deployed to Chennai

Photograph: @SpokespersonMoD/Twitter
Personnel from the Madras 4 Regiment of the Indian Army have been pressed into service at Mudichur in Kacheepuram on the request of the district administration even as the air force has conducted sorties to rescue citizens, defence officials said.
Surplus water from lakes and tanks at Mudichur entered the suburban Tambaram locality, inundating a large part, they said, adding, personnel from army and IAF were now assisting the district administration in the rescue efforts.
IAF helicopters from the air force station at Tambaram carried out six sorties and evacuated 22 persons on Monday night they said, adding, food packets and water were air dropped.
The army was also now involved in the evacuation process, they added.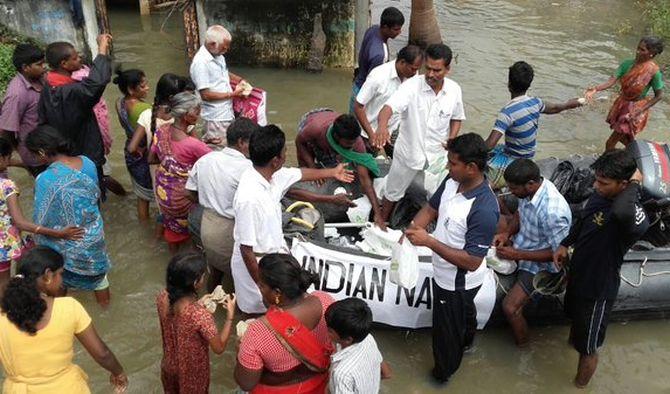 Indian Air Force troops have also been pressed into service. Photograph: @SpokespersonMoD/Twitter
Citizens were also being evacuated from Kotturpuram and nearby areas in the city, as the discharge from Chembarambakkam lake had resulted in Adyar river running in spate.
As many as 79 deaths have been reported in various rain-related incidents, including electrocution and drowning, till Monday night.
With the monsoon fury causing flood and inundation in various parts of Tamil Nadu, Chief Minister J Jayalalithaa had on Monday announced Rs 500 crore towards relief and rehabilitation.
The navy and coast guard have also joined the rescue operations.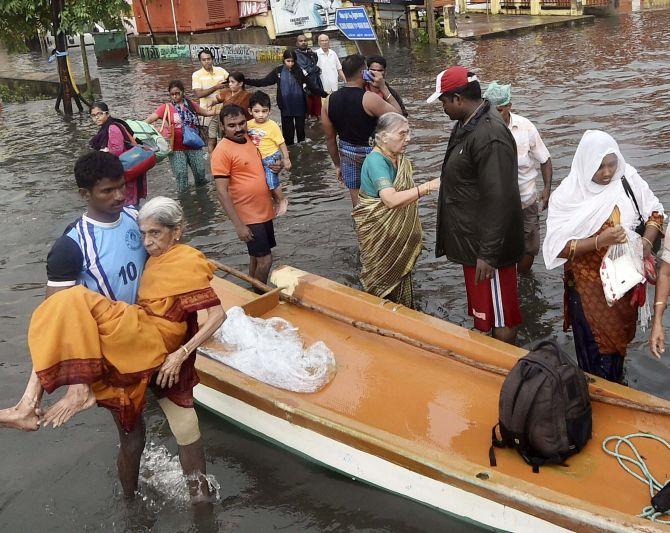 Men carry senior citizens into boats as they try to rescue them from the floods. Photograph: PTI
Coast Guard choppers airdropped 500 kg of bread, biscuits and drinking water in Tambaram in two sorties after an initial sortie on Monday in flood-hit areas to assess the situation.
The CG, in a release, said its helicopters had been kept on standby to further augment relief efforts as required by the state government.
Indian Air Force troops have rescued 22 people so far and airdropped 100 litres of water and 150 food packets. Photograph: @SpokespersonMoD/Twitter
Commodore Alok Bhatnagar, naval officer-in-charge Tamil Nadu and Puducherry, said the navy had already sent in a well equipped team, comprising divers, swimmers, inflatable crafts on Monday which had been positioned at Tambaram.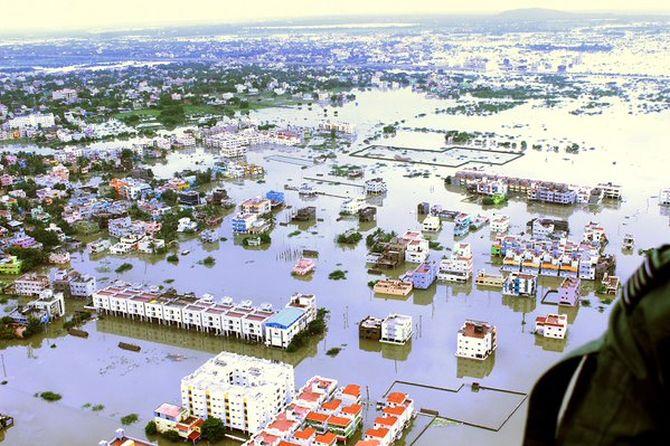 The aerial view of Kancheepuram district in Chennai. Photograph: @SpokespersonMoD/Twitter
More boats and personnel have been sent to Tambaram, Kotturpuram and Manali, he told reporters.
Further, a naval helicopter from INS Rajali at neighbouring Arakkonam was on standby, he said adding it could be pressed into service within two hours of notice.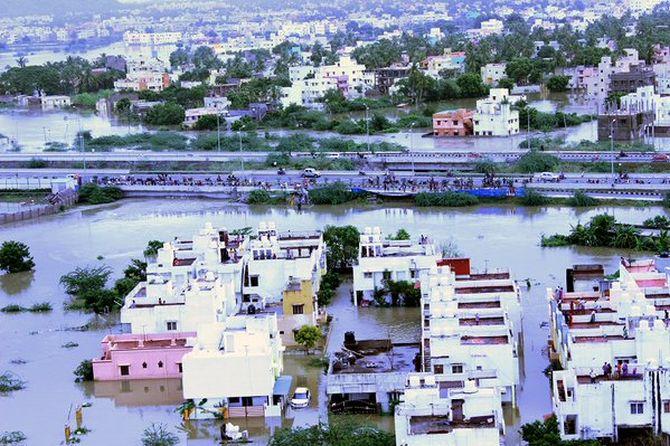 Normal life has been hit in different parts of Tamil Nadu as educational institutions and offices were forced to remain shut owing to the rains. Photograph: @SpokespersonMoD/Twitter
"The Indian Navy is committed to supporting the city of Chennai and the states of Tamil Nadu and Puduchery in providing all possible help," he said.
Further, the navy was also ready with its 'assets'' both here and at Vishakapatnam to assist the state government as and when required, he said.
Chief Minister Jayalalithaa announced Rs 4 lakh relief to the next of kin of the eight killed while opposition DMK pledged Rs one crore for relief and demanded all-party panels to monitor it.
On Monday, Jayalalithaa had announced allocation of Rs 500 crore towards relief and rehabilitation.