Indian Air Force chief Air Chief Marshal Arup Raha on Tuesday took his maiden flight in India's homegrown Light Combat Aircraft Tejas, calling it "good" for induction.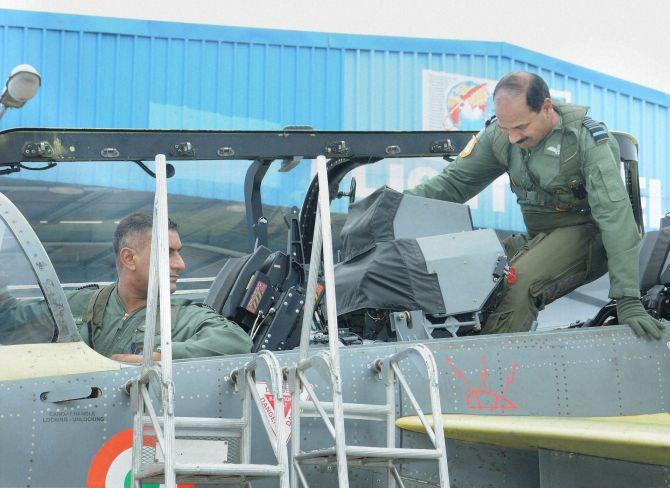 An ace pilot himself, Raha is the first Chief of Air Staff to fly the indigenously designed and produced Tejas in about a 30-minute sortie over Bengaluru skies around the HAL airport. Group Captain M Rangachari was with him in the twin-seater trainer aircraft.
"It is my first sortie in Tejas, it is a good aircraft for induction into IAF operations," Raha was quoted as saying by the aircraft maker Hindustan Aeronautics Limited.
The Air Chief Marshal carried out manoeuvres in the entire flying envelope of the aircraft, an HAL statement said, adding he carried out simulated air to air and air to ground attacks.
He also assessed the advanced modes of the radar and Helmet Mounted Display Sight.
HAL said Raha appreciated the flying qualities of the aircraft and congratulated the entire team of HAL and others involved in getting the LCA programme to this stage.
"It is a morale boosting gesture from the IAF chief that reposes great confidence of our valuable customer in our abilities," HAL CMD T Suvarna Raju said.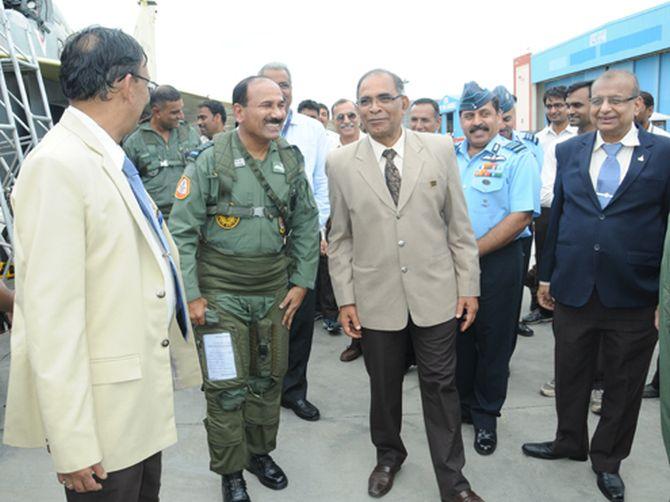 During the sortie, the air chief checked for himself the take off, climb performances and agility of the aircraft by carrying out aerobatic manoeuvres, a defence release said.
This was also an opportunity to see the integration of avionics, simulated weapon integration and to get a feel of operational capability during the flight, it said.
The series production of the Tejas aircraft has already commenced at HAL Bengaluru and the first squadron of the LCA was expected to be formed by July 2016, HAL said.
The Air Chief also inaugurated LCA Painting hangar at HAL's LCA Tejas Division, and took stock of HTT-40 (Basic Trainer) which was parked on the tarmac besides visiting LCA production line and other facilities.
IAF currently plans to acquire 120 Tejas aircraft, with 100 of these having major modifications.
The force wants Active Electrically Scanned Array Radar, Unified Electronic Warfare Suite, mid-air refuelling capacity and beyond the vision range missiles.
As per the production plan, six aircraft will be made this year and HAL will subsequently scale it up to eight and 16 aircraft per year.