Hurricane Irma gave Florida a coast-to-coast pummelling with winds up to 130 mph, swamping homes and boats, knocking out power to millions and toppling massive construction cranes over the Miami skyline.
Irma arrived as a category 4 storm but had fallen to a category 2 by late Sunday afternoon and was continuing to weaken as it marched up Florida's Gulf Coast.
"Pray, pray for everybody in Florida," Governor Rick Scott said on as more than 160,000 people waited out Irma in shelters statewide.
There have been no immediate confirmed reports of any deaths in Florida in addition to the 24 people killed during Irma's destructive trek across the Caribbean.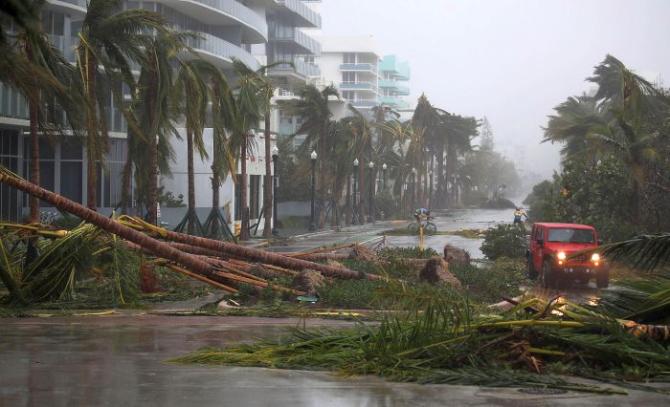 A vehicle passes downed palm trees and two cyclists attempt to ride as Hurricane Irma passed through the area. Six million people were ordered to flee the path of the hurricane before it first made landfall in Florida Keys. Southwest Florida bore the deadly brunt of Irma's wrath on Sunday, whereas the coastlines of Miami and the neighbouring island of Miami Beach were heavily inundated by storm surges.
Photograph: Joe Raedle/Getty Images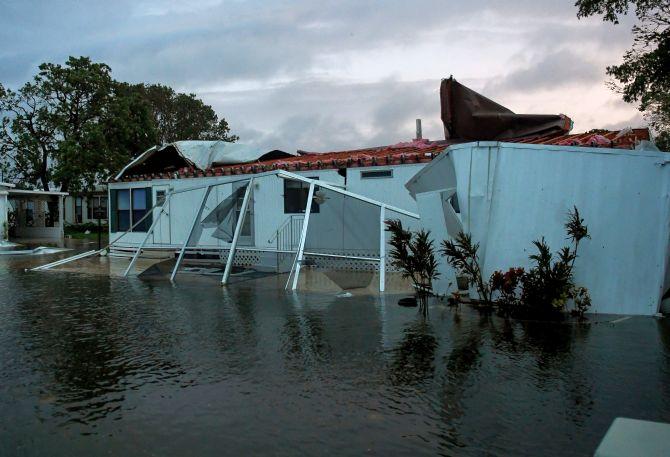 Flood water from Hurricane Irma surrounds a damaged mobile home in Bonita Springs, Florida. About 5 million have been left without power and utility officials said it will take weeks to restore electricity to everyone.
Photograph: Bryan Woolston/Reuters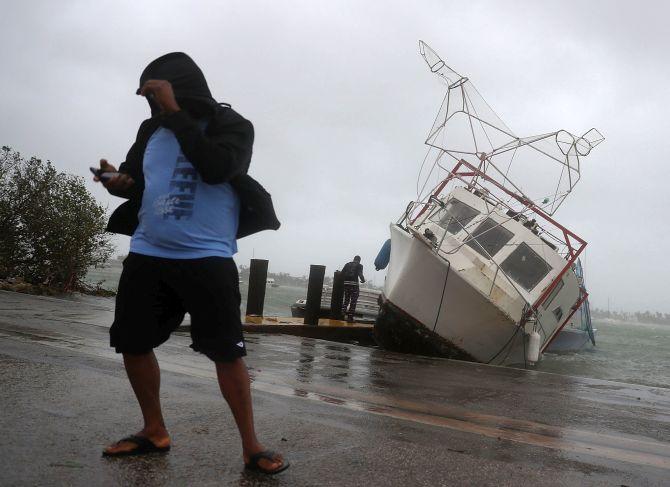 A boat is washed on shore at the Watson Island marina as Hurricane Irma passed through the area. Forecasters warned some places could see a storm surge of up to 15 feet of water. United States President Donald Trump approved a disaster declaration for Florida, opening the way for federal aid.
Photograph: Joe Raedle/Getty Images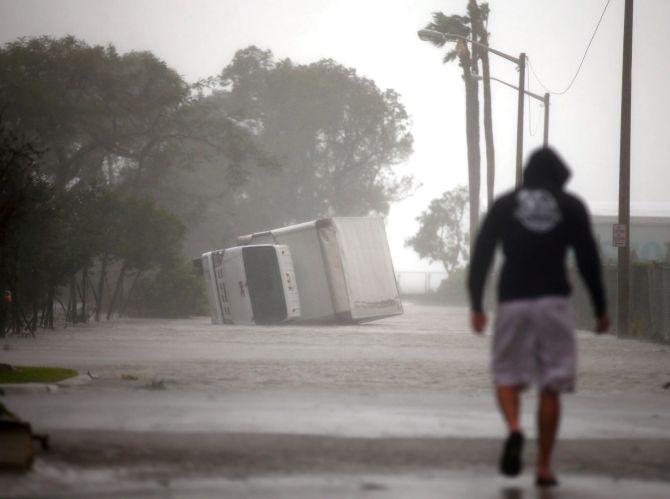 A truck is seen turned over as Hurricane Irma passes south Florida. Miami International Airport has announced it will be closed Monday and begin only limited flights on Tuesday. Orlando International Airport closed Saturday and won't reopen to passenger traffic until after Irma has passed. Fort Lauderdale-Hollywood International Airport says on its website it has no timetable yet to reopen. Tampa International Airport also is closed as Hurricane Irma moves up the Florida peninsula.
Photograph: Carlos Barria/Reuters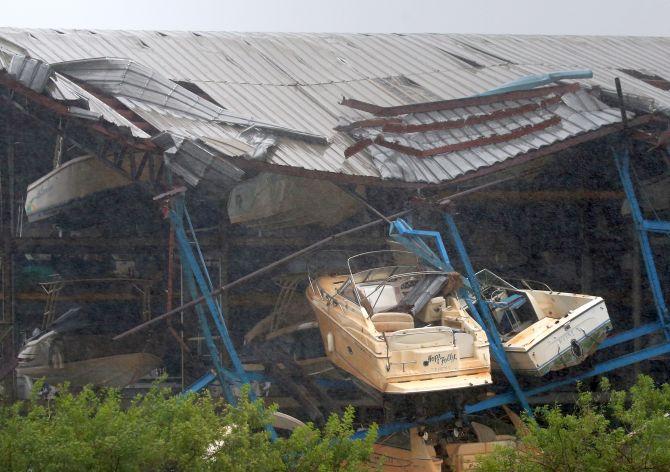 A boat rack storage facility lays destroyed after Hurricane Irma blew though Hollywood, Florida. Experts have warned of destructive storm surges on both coasts of Florida and the Keys as it follows a path north toward Georgia.
Photograph: Carlo Allegri/Reuters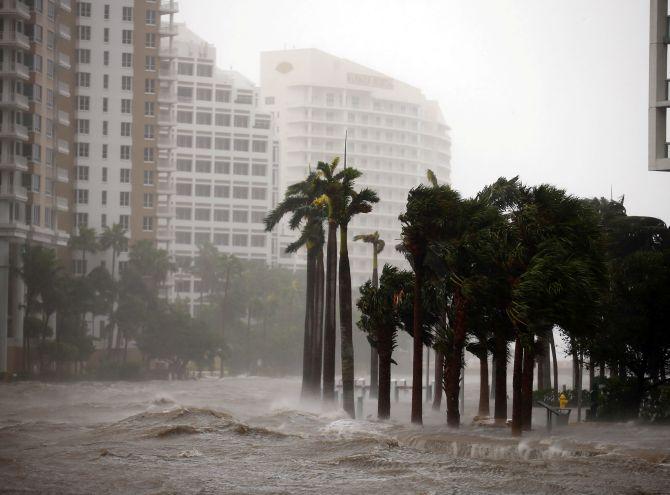 Water rises up to a sidewalk by the Miami river as Hurricane Irma arrives in downtown Miami. The hurricane also poses longer-term threats, from sewage and other toxins being caught in the surge back onto land.
Photograph: Carlos Barria/Reuters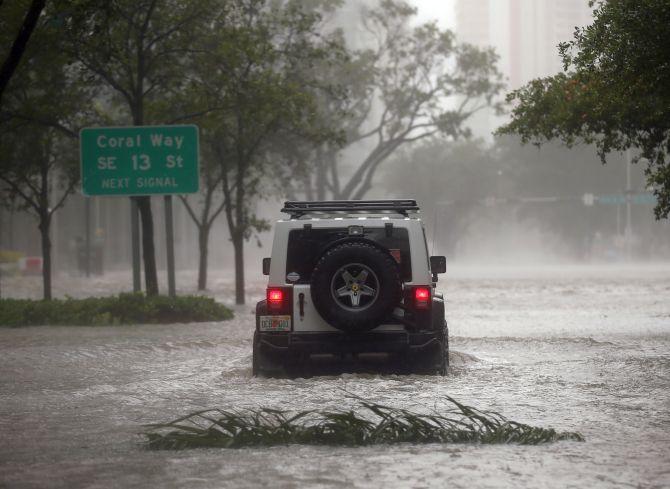 A car drives throught the flooded streets of Florida.Irma at one time was the most powerful hurricane ever recorded in the open Atlantic, a Category 5 with a peak wind speed of 185 mph (300 kph), and its approach set off an alarm in Florida.
Photograph: Carlos Barria/Reuters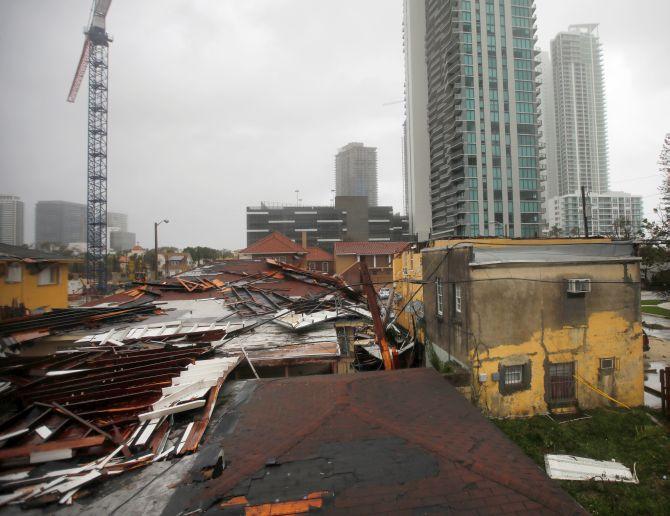 Destroyed roofs at a residential areas are seen as Hurricane Irma passes south Florida. AIR Worldwide, a catastrophe modelling firm, says Irma might cause anywhere between $15 billion and $50 billion worth of insured losses in the United States.
Photograph: Carlos Barria/Reuters
A collapsed construction crane is seen in Downtown Miami. Cranes are designed to withstand strong winds and twist like weather vanes to reduce resistance, but Irma was too much.
Photograph: Carlos Barria/Reuters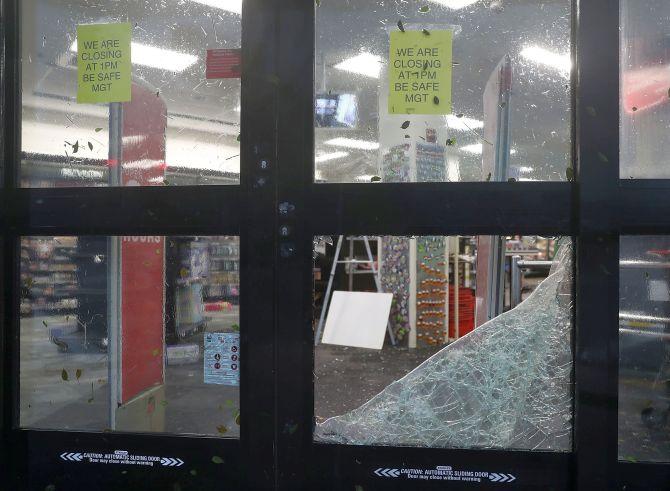 A window in a store is broken in Florida. Fort Lauderdale police arrested nine people they said were caught on TV cameras looting sneakers and other items from a sporting goods store and a pawn shop during the hurricane.
Photograph: Joe Raedle/Getty Images