Intensifying its attack on the government over the Adani-Hindenburg row, the Congress on Monday held a nationwide protest and stalled proceedings in both houses of Parliament along with other opposition parties for the third day in a row, demanding a statement from Prime Minister Narendra Modi on the issue.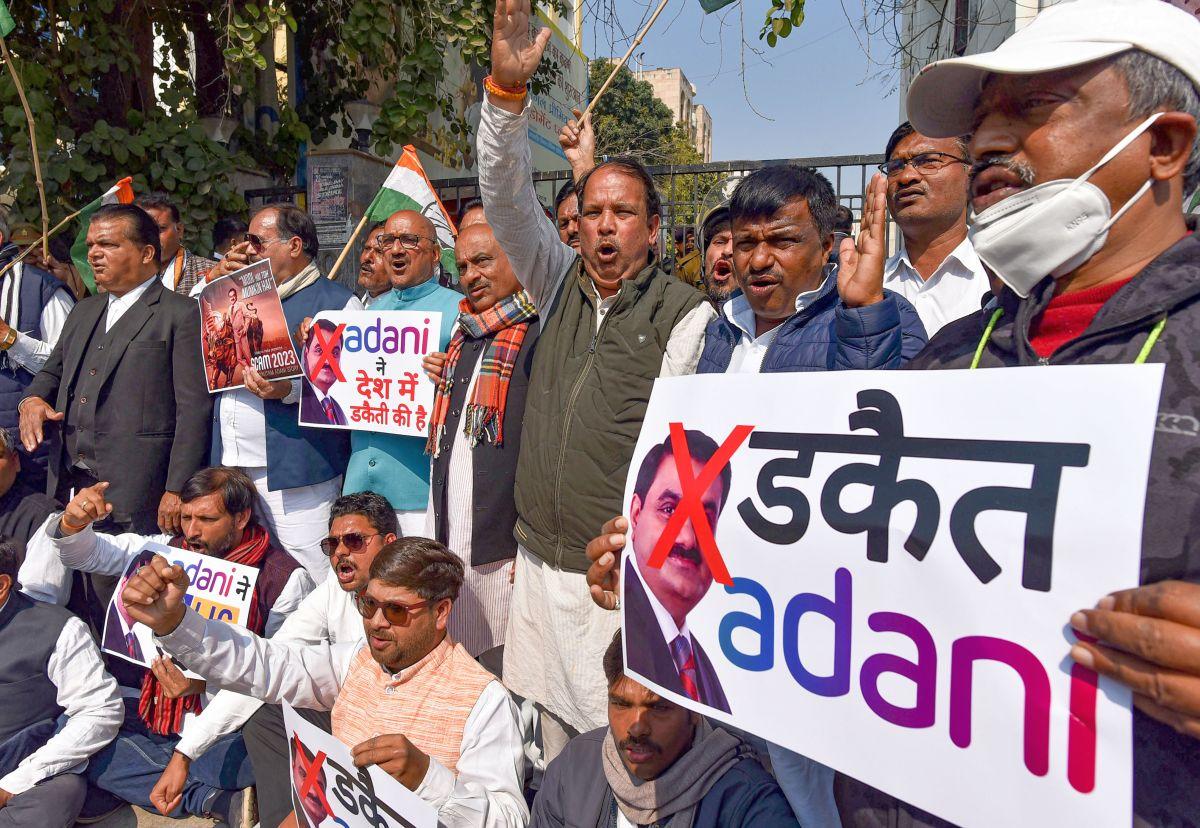 The Opposition created uproar in both Lok Sabha and Rajya Sabha, leading to their adjournment for the day without transacting any business, thus stalling the discussion on the Motion of Thanks on the President's address.
Leaders of as many as 17 opposition parties also staged a protest in front of the statue of Mahatma Gandhi in the Parliament complex in the morning and raised slogans against the government while demanding a discussion in both houses.
The opposition has been demanding a joint parliamentary committee probe or a Supreme Court-monitored investigation into the allegations of fraud and manipulation made by the US-based short seller Hindenburg Research against billionaire Gautam Adani's companies that triggered an unprecedented stock crash. The group has denied the charges.
The opposition parties have alleged that the meltdown in Adani Group shares is a 'mega scam' that involves common people's money as public sector LIC and SBI have invested in them and have questioned the government on steps taken by it.
Alleging that Prime Minister Modi will do his best to avert a discussion on the Adani issue in Parliament, former Congress chief Rahul Gandhi said the country should know what power is behind the billionaire businessman.
"Modi ji will do his best to avert a discussion on Adani ji in Parliament. There is a reason for it and you know that. I want there should be a discussion on the Adani issue and the truth should come out. The lakhs and crores of corruption that has taken place should come out. The country should know what is the power behind Adani," Gandhi told reporters in New Delhi.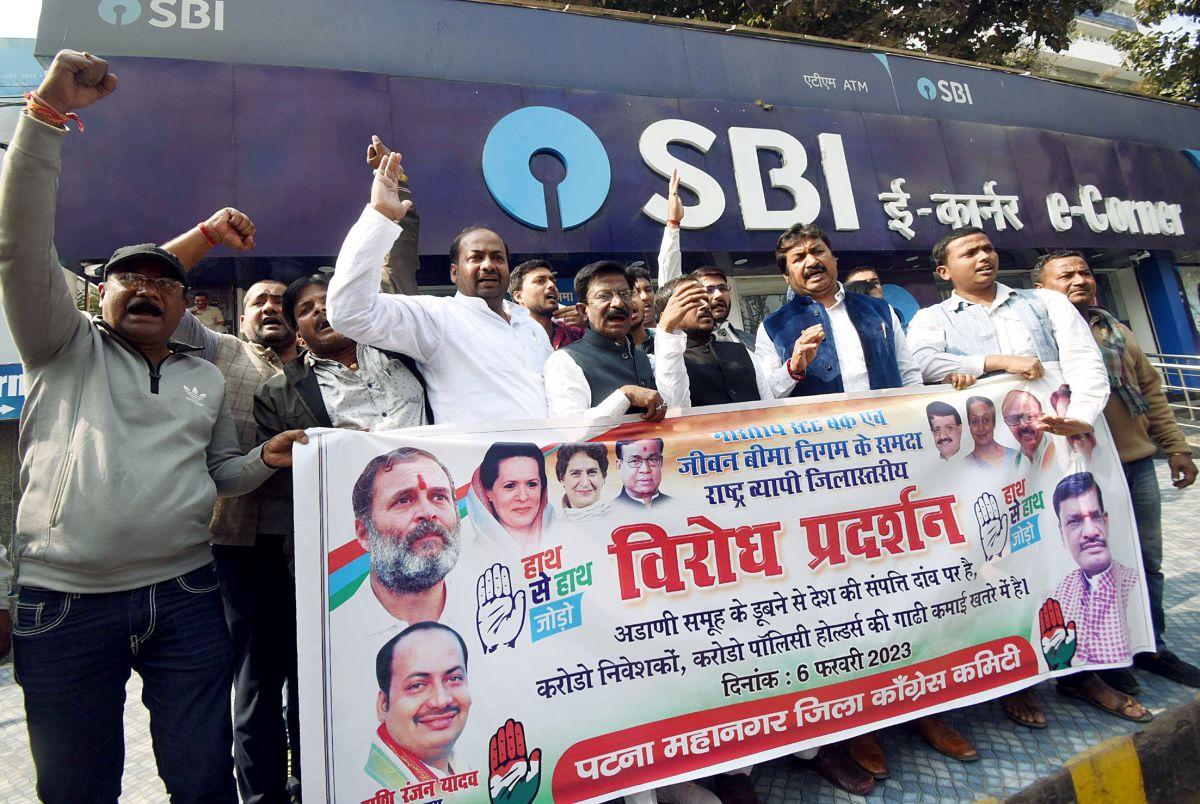 He said he has been talking about the government and 'Hum do, Humare do' for many years now and claimed the government does not want and is scared of a discussion in Parliament on Adani.
"The government should allow a discussion in Parliament and there will be attempts to avoid it," he said.
"Only a JPC or SC-monitored investigation under the CJI can bring out the truth about 'forced' investments by LIC and PSU banks in companies alleged of financial fraud, endangering the hard-earned savings of crores of Indians," said Congress chief Mallikarjun Kharge.
On Sunday, Finance Minister Nirmala Sitharaman indicated that the Adani stock rout following a Hindenburg report was a company-specific issue.
She said banks and insurance companies are "not overexposed" to any one company and assured that Indian markets are very well managed by its regulators.
The protest by various opposition parties in front of the Gandhi statue followed a meeting to coordinate their joint strategy in the House on the Adani issue.
The Congress, DMK, NCP, BRS, JDU, SP, CPM, CPI, JMM, RLD, RSP, AAP, IUML, RJD and Shiv Sena were among the parties that participated in the meeting held in Kharge's chamber.
Trinamool Congress members skipped the meeting of opposition leaders but joined the protest by opposition leaders in front of the Gandhi statue in the Parliament complex.
"We demand a discussion on our notices, we are ready for a detailed discussion. We want the Adani issue to be taken up first," Kharge told reporters, asserting that the opposition is ready to speak on the President's Address.
The first demand of the opposition is that Prime Minister Narendra Modi give a reply on the issue, he said.
Kharge claimed the government does not want the matter to be raised or discussed in Parliament.
"They want to avoid it somehow and do not want to bring it to record," he said.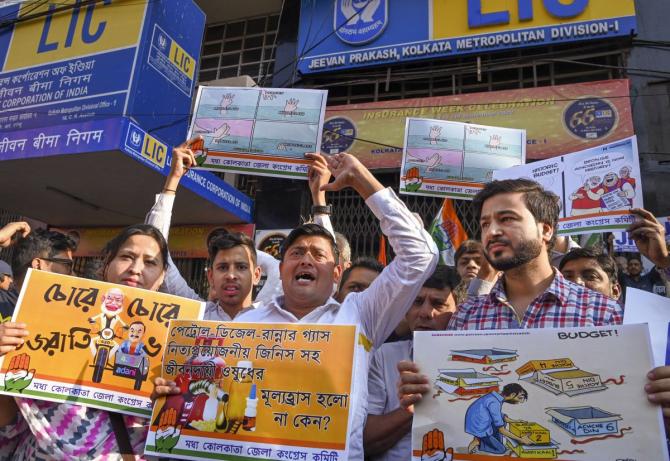 Adani group stocks have taken a beating on the bourses after Hindenburg Research made a litany of allegations, including fraudulent transactions and share price manipulation at the Gautam Adani-led group. The group has maintained it complies with all laws and disclosure requirements.
Congress general secretary Jairam Ramesh posed a set of three questions to Prime Minister Modi, asking him to break his silence on the issue, which he claimed was "deafening".
"Dear PM Modi, As promised yesterday, here is today's set of three questions for you, HAHK (Hum Adani Ke Hain Kaun)-2, so to speak," he said.
The Congress leader alleged that the government has a track record of "bailing out" failing disinvestments, asking how LIC made such a heavy allocation to the risky Adani Group that even private fund managers had steered clear of.
"Is it not the duty of the government to ensure that vital public sector financial institutions are more conservative in their investments than their private sector counterparts. Or was this another case of your 'Mann Ki Banking' to benefit your cronies," Ramesh asked.
Congress leader Digvijaya Singh later said it was surprising that the chair was rejecting notices by opposition members under Rule 267 again and again.
"We want a reply from the Prime Minister in Parliament on the Adani issue, whereby lakhs of people have lost their crores. There should be a discussion on this issue. We are not going to backtrack till Narendra Modi ji himself does not answer," Singh told reporters.
"All this is being played out to save only one person who is considered close to the Prime Minister," Singh alleged.
K Keshava Rao (BRS) also asked what is lacking in their notices under Rule 267. He said he has written to the Rajya Sabha Chairman on this issue.
Several Congress and opposition MPs, including Naseer Hussain, Pramod Tiwari and Amee Yajnik, Manickam Tagore, K Keshava Rao and Namo Nageswara Rao gave notices for adjournment.
Chairman Jagdeep Dhankhar, however, did not allow their request, asking them to let the listed business conclude. He earlier disallowed the 10 adjournment notices given by various leaders.
In Lok Sabha, Speaker Om Birla urged protesting MPs to return to their seats and participate in the debate. "This is not good. Sloganeering is against the dignity of the House. People have elected you to raise their issues in Parliament but you are not interested in participating in debate," Birla said.
"Have people elected you for sloganeering in Parliament? You have ruled this country for a long time. Such behaviour is not good on your part. You are not interested in allowing the House to function properly," he said disallowing the adjournment notices.
Meanwhile, as part of the Congress' nationwide protests over the issue, party members staged demonstrations outside the offices of the State Bank of India and the Life Insurance Corporation In Mumbai.
They also demanded that the Centre seize the passport of Gautam Adani to prevent him from escaping the country as businessmen Vijay Mallya and Nirav Modi could escape the country because the BJP government didn't confiscate their passports in time.
The party also held protests in Madhya Pradesh, Himachal Pradesh, Jammu and Kashmir among other places.
© Copyright 2023 PTI. All rights reserved. Republication or redistribution of PTI content, including by framing or similar means, is expressly prohibited without the prior written consent.