Details of how Mexico's most notorious drug lord Joaquin 'El Chapo' Guzman broke out of a high-security prison -- escaping in a tunnel built right under his cell -- continue to emerge .
Media reports now say that Guzman, head of the powerful Sinaloa Cartel that smuggled billions of dollars worth of cocaine, marijuana and methamphetamines into the United States and fought vicious turf wars with other Mexican gangs, may have used a bird to test the air quality of the tunnel through which he vanished.
This new theory emerged after government officials visiting Guzman's cell after his breakout discovered the body of a small bird sitting in his trash can. Officials are calling the bird "Chapito".
The architects of his tunnel gave it lighting, a motorcycle on rails to transport the displaced earth and oxygen tanks. It was built high enough so that Guzman, whose nickname means "Shorty", could stand.
Rediff.com takes a look at the marvel of engineering, criminal ingenuity and dauntless malefaction with which 'El Chapo' escaped from his confinement and the nationwide search that has sparked in the wake of his 'great escape'.

---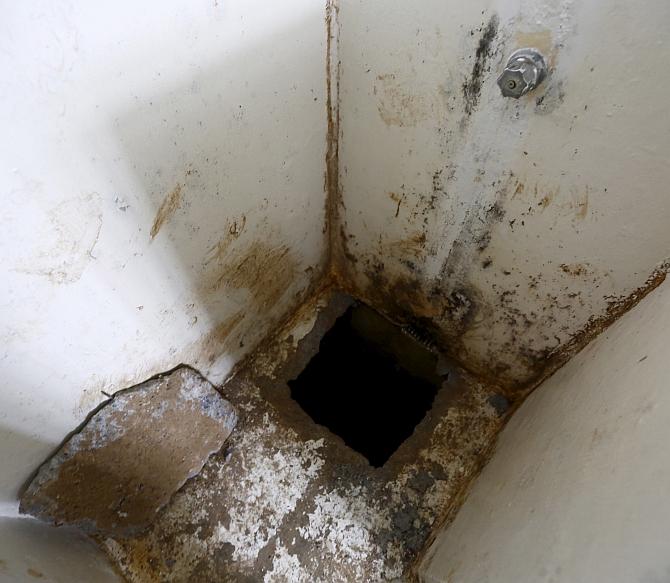 Image: A view of the opening of a tunnel, which is connected to a warehouse, inside drug lord Joaquin "El Chapo" Guzman's cell in the Altiplano Federal Penitentiary, where he escaped from, in Almoloya de Juarez, on the outskirts of Mexico City. Photograph: Edgard Garrido/Reuters
---
Image: A view of an opening in a tunnel connected to the Altiplano Federal Penitentiary and used by drug lord Joaquin 'El Chapo' Guzman to escape. Photograph: Edgard Garrido/Reuters
---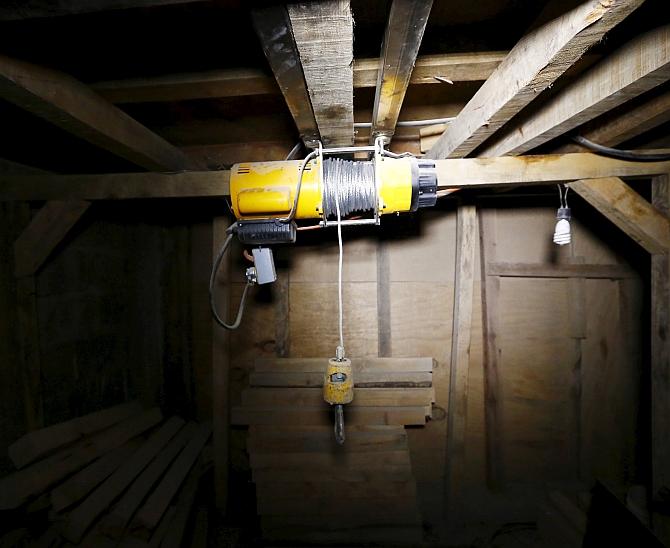 Image: A view of a winch at an opening in a tunnel connected to the Altiplano Federal Penitentiary. Photograph: Edgard Garrido/Reuters
---
Image: A motorcycle modified to run on rails is seen inside a tunnel connected to the Altiplano Federal Penitentiary. Photograph: Edgard Garrido/Reuters
---
Image: A rail cart attached to a modified motorcycle is seen inside a tunnel connected to the Altiplano Federal Penitentiary. Photograph: Edgard Garrido/Reuters
---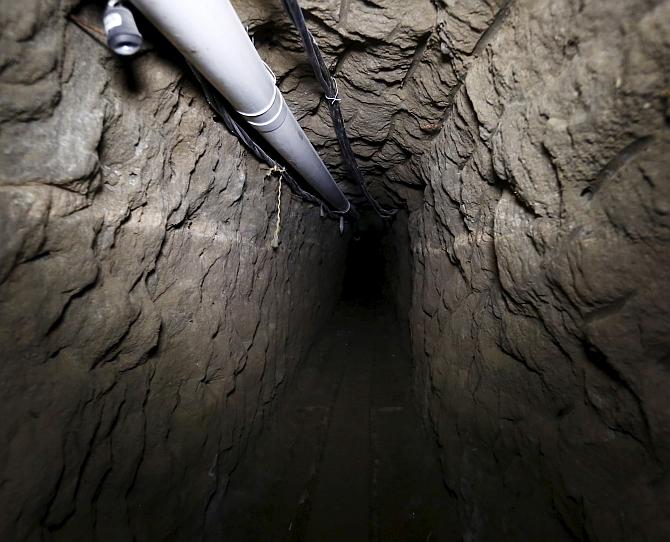 Image: A tunnel connected to the Altiplano Federal Penitentiary. Photograph: Edgard Garrido/Reuters
---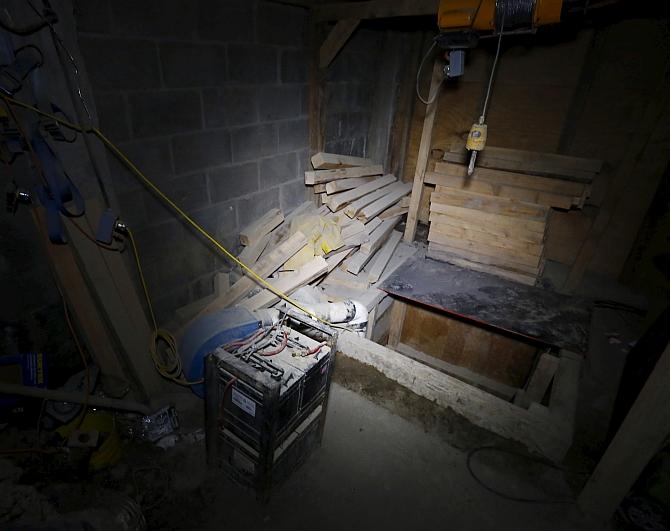 Image: A view of an opening in a tunnel connected to the Altiplano Federal Penitentiary. Photograph: Edgard Garrido/Reuters
---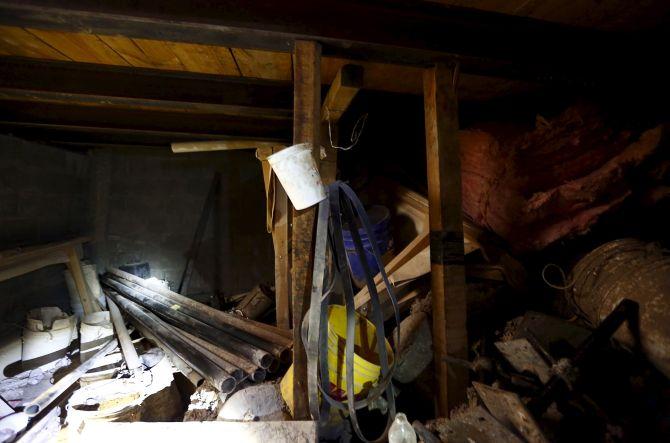 Image: A view of an area of the tunnel connected to the Altiplano Federal Penitentiary. Photograph: Edgard Garrido/ Reuters
---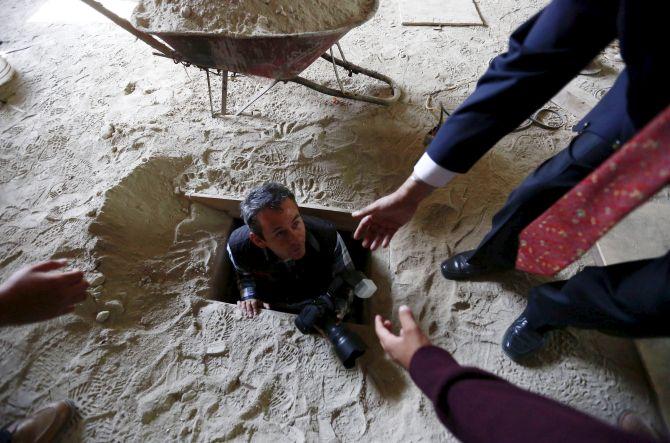 Image: A photographer exits the tunnel connected to the Altiplano Federal Penitentiary. Photograph: Edgard Garrido/ Reuters
---
Image: A view of the back of the Altiplano Federal Penitentiary, where the drug lord Joaquin "El Chapo" Guzman escaped from, in Almoloya de Juarez, on the outskirts of Mexico City. Photograph: Edgard Garrido/ Reuters
---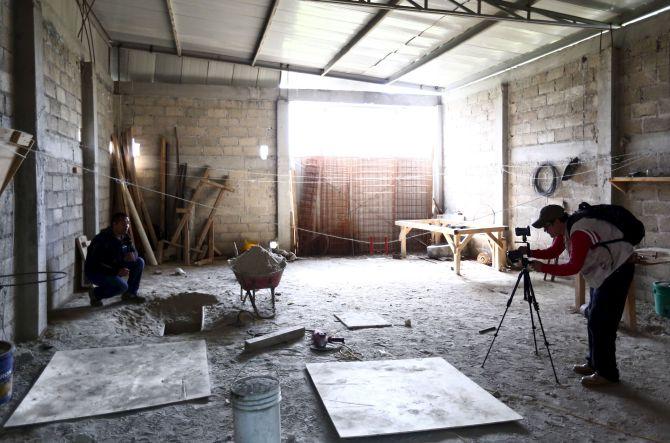 Image: Journalists work inside a warehouse containing a tunnel connected to the Altiplano Federal Penitentiary. Photograph: Edgard Garrido/ Reuters
---