In their first interview as a couple, the royal and his blushing bride-to-be reveal details about their romance, meeting of the families and that oh so important ring.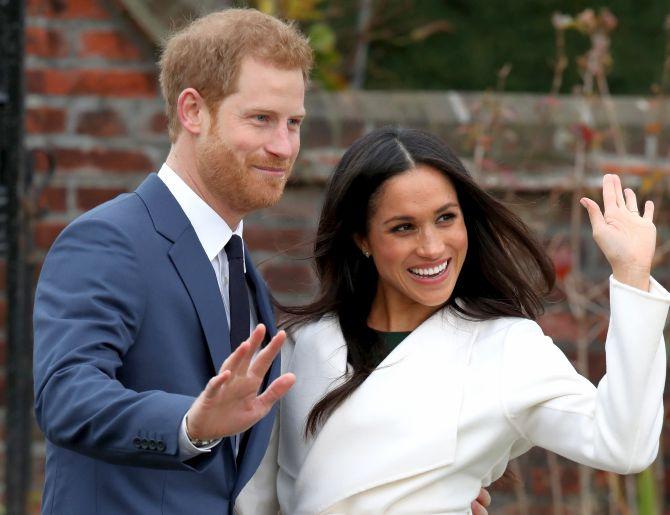 IMAGE: Prince Harry and Meghan Markle met the press for an official photocall after their engagement was announced. The couple will wed in 2018. Photograph: Chris Jackson/Getty Images
Meghan Markle barely let Britain's Prince Harry finish proposing.
It was a "cozy night" earlier this month at the couple's Nottingham Cottage at Kensington Palace and the pair were roasting a chicken, the American actor said. Or trying to roast a chicken, Harry said, correcting her.
"It was so sweet and natural and very romantic. He got down on one knee," she said.
"As a matter of fact, I could barely let you finish proposing. I said, 'Can I say yes now?'"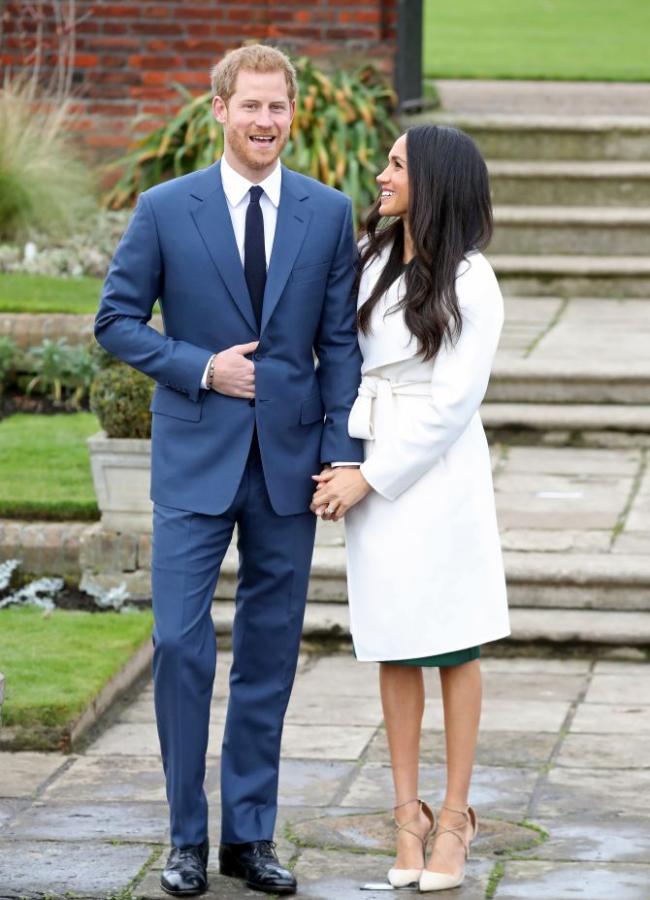 IMAGE: The British prince and his American actress fiancee were all smiles and were beaming as they posed for the shutterbugs after their engagement was announced. Harry, in the interview with the BBC, also said that he couldn't wait to start a family with Meghan. Photograph: Chris Jackson/Getty Images
Much sought after details about Prince Harry's engagement to American actress Meghan Markle, best known for her role as Rachel Zane in Suits, were revealed during the couple's first interview to BBC after their engagement was announced on Monday.
The couple revealed that they first met on a blind date after being set up by a female friend -- and have tried to see each other every two weeks.
Harry added: "I fell in love with Meghan so incredibly quickly... All the stars were aligned -- everything was just perfect. It was this beautiful woman just sort of literally tripped and fell into my life - I fell into her life."
Four weeks after they met, Harry persuaded Markle to join him on a five-day break in Botswana. He said: "We camped out with each other under the stars... which was absolutely fantastic."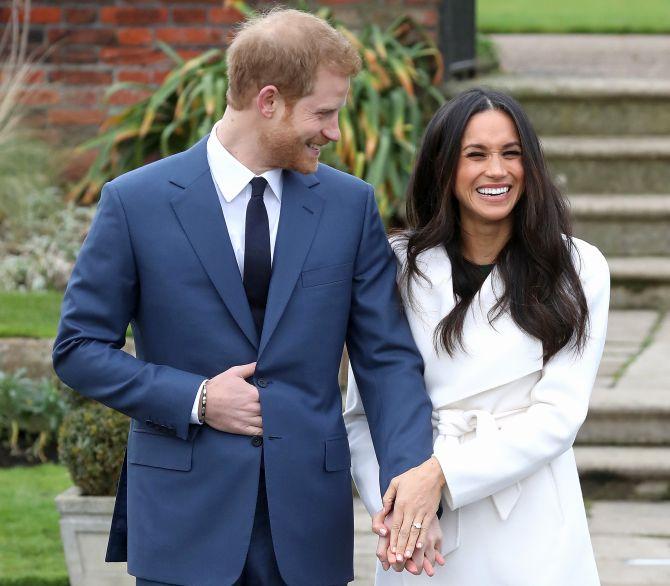 IMAGE: The couple looked stylish as ever as they posed for the cameras. Meghan wore a

white coat by Line the Label and wore minimal make-up. Harry looked dapper in a blue suit.


Photograph: Chris Jackson/Getty Images
During the interview, the couple was quite gigglish and candid too. Markle, who grew up in Los Angeles, said she didn't think of theirs as a "whirlwind" relationship.
Harry recalled his first impression: "I was beautifully surprised when I walked into that room and saw her. There she was sitting there."
He thought, "I'm going to have to up my game."
Shortly after their first encounter, during which they shared their passions and the changes they'd like to effect in the world, they decided another date was in order.
"What are we doing tomorrow? We should meet again," Markle recalled asking.
Prince Harry was about to head off to Africa, and Markle was busy filming 'Suits'
"We need to get the diaries out and find out how we're going to make this work," Harry thought at the time.
Meeting the royal family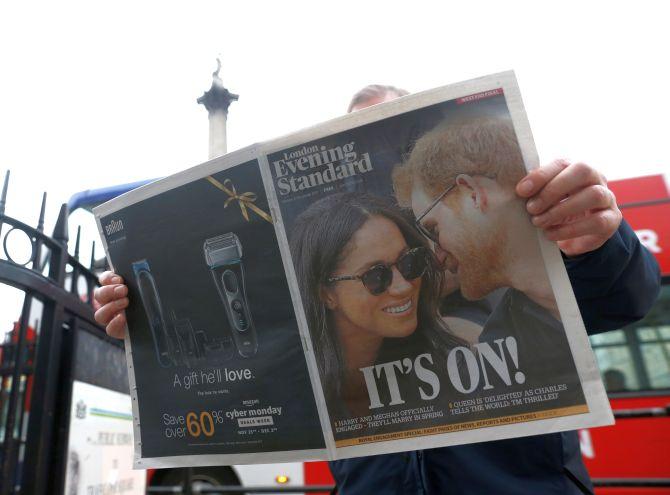 IMAGE: A person is seen reading the London Evening Standard with the news that Prince Harry has announced his engagement to Meghan Markle. Photograph: Darrin Zammit Lupi/Reuters
During the interview it was also revealed that Meghan has met the Queen a few times and has become quite popular with the Queen's corgis.
Describing being introduced to the Queen, Harry's grandmother, Markle said: "It's incredible, I think, you know, to be able to meet her through his lens, not just with his honour and respect for her as the monarch, but the love that he has for her as his grandmother.
"All of those layers have been so important for me so that when I met her I had such a deep understanding and of course incredible respect for being able to have that time with her. And we've had a really – she's, she's an incredible woman."
ALSO WATCH: Princess Diana would've been 'best friends' with Meghan: Prince Harry
Harry added: "And the corgis took to you straight away." To which Markle replied: "That's true."
Harry joked: "I've spent the last 33 years being barked at - this one walks in, absolutely nothing." Markle, who has two dogs herself, said: "Just laying on my feet during tea. It was very sweet."
Harry added: "Just wagging tails - and I was just like, argh."
Markle said Kate, the Duchess of Cambridge had been 'wonderful' to her, while Harry said both William and Kate had been 'amazing'.
The ring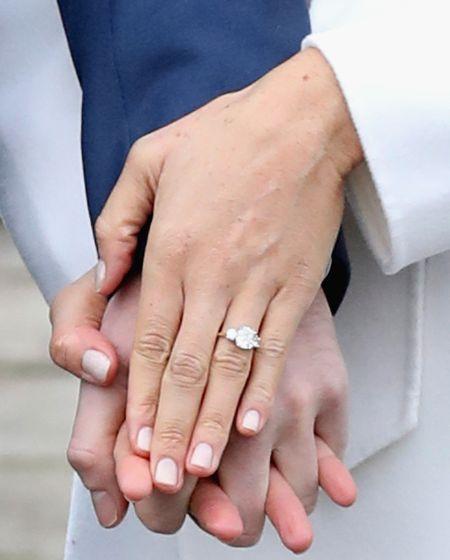 There is something old and something new in the ring Meghan wore when she and Prince Harry announced their engagement on Monday. The ring, which the prince himself designed, bore three glittering diamonds: a central stone from Botswana (as a memory of their holiday together) and two others from the collection of the prince's mother, Princess Diana, who died in 1997.
"It's incredibly special to be able to have this, which sort of links where you come from and Botswana, which is important to us, and it's perfect," Markle said. The ring is yellow gold, Markle's favourite, Prince Harry said.
The ring was made by Cleave and Company, official jewellers to Queen Elizabeth II. The company's director said in a statement that it was "greatly honoured to have been of service."
Photograph: Chris Jackson/Getty Images