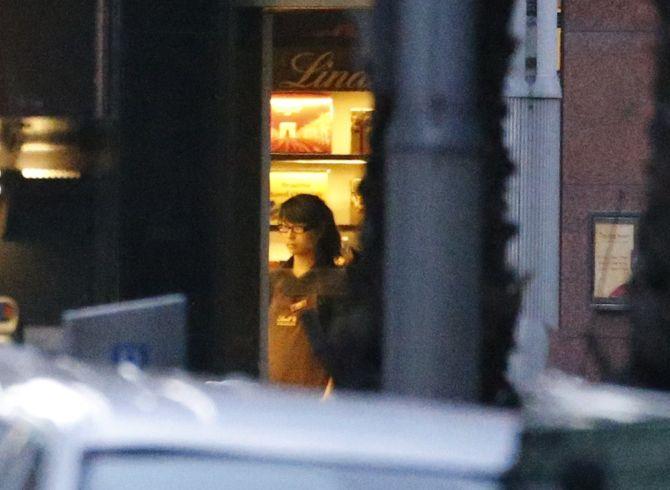 A woman is seen in a window of the Lindt cafe, where hostages are being held, at Martin Place in central Sydney. Photograph: David Gray/Reuters
Several people, including an Indian techie, were taken hostage by an armed man at a popular café in Sydney and forced to display an Islamic flag, triggering a security alert in Australia and leading to evacuation of key buildings, including the Indian Consulate.
The incident happened at the Lindt Chocolate Cafe in Martin Place, the heart of Sydney's business district.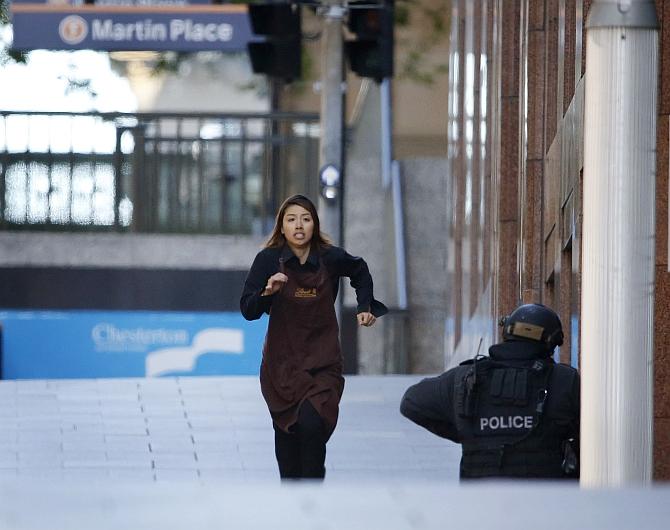 Image: A hostage runs towards a police officer outside Lindt cafe, where other hostages are being held, in Martin Place in central Sydney. Photograph: Jason Reed/Reuters


Authorities sealed off surrounding streets, evacuated people from buildings, and suspended rail services following the siege in the capital of New South Wales.
NSW Police have activated Task Force Pioneer, which they use in terrorism related incidents, to handle the pre-Christmas incident.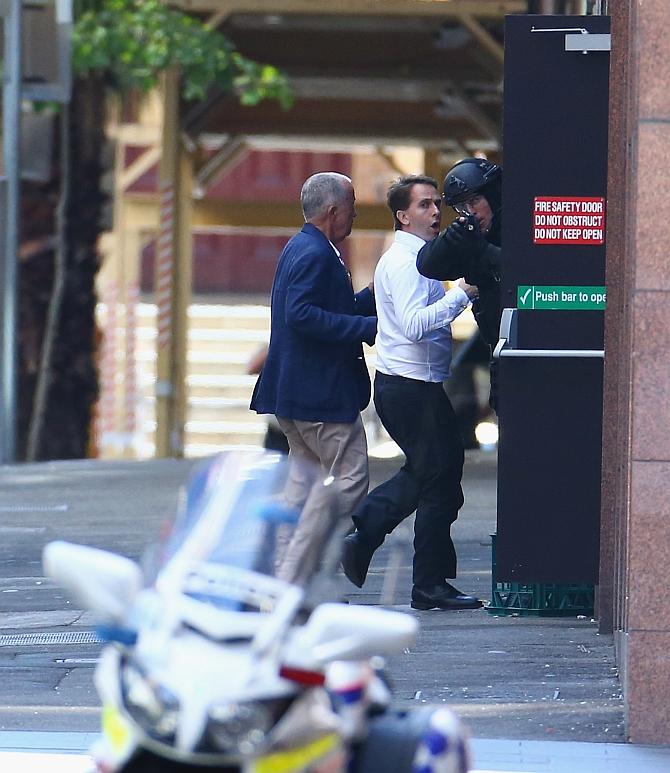 Image: Two hostages run to safety outside the Lindt Cafe, Martin Place in Sydney. Photograph: Don Arnold/Getty Images

Martin Place -- a public pedestrian thoroughfare through the heart of Australia's biggest city, joining its parliamentary, legal and retail districts -- Sydney Opera House, State Library, US consulate and all court houses have been evacuated.
Andrew Scipione, the commissioner of the New South Wales police, said at a news briefing that an unknown number of hostages were being held in the cafe by at least one gunman.
Bengaluru-headquartered Infosys said one of its employees is among the hostages at the cafe.
"We can confirm that one Infosys employee is among the hostages at the Lindt Cafe in Sydney," the company said in a statement without naming the person.
"We are also in the process of confirming the whereabouts of all our other employees in the city. We are in constant touch with the local authorities and Indian Consulate in Sydney for updates on the situation on ground," Infosys said.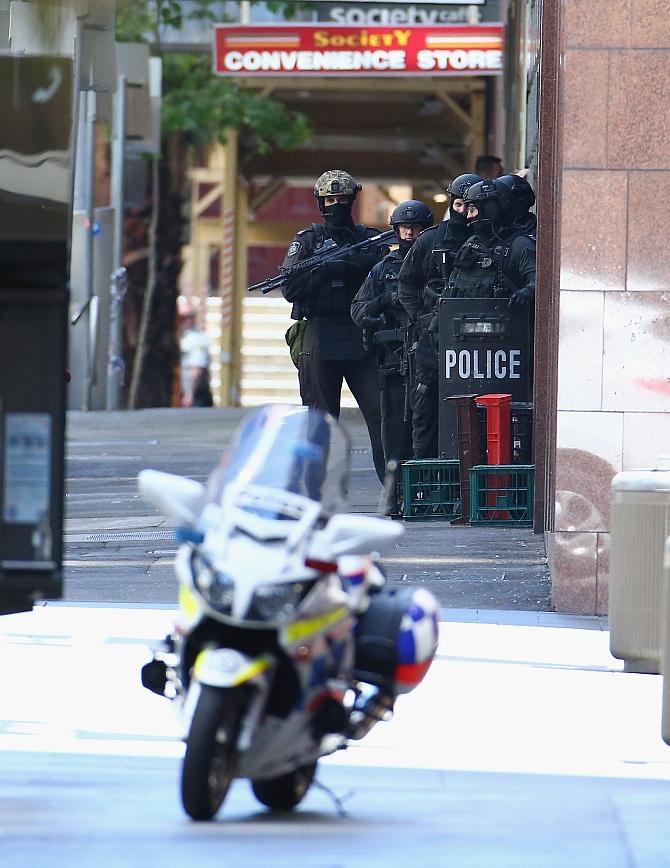 Armed police gather outside the Lindt Cafe, Martin Place in Sydney on Monday. Photograph:
Mark Metcalfe/Getty Images
Just over 5 hours into the siege, five people, including a woman, were seen running out of the cafe. Two came out through the front door and one through the fire escape. It is still not known whether they were freed or escaped.
Television footage showed people inside the cafe with their hands pressed against the window holding the black flag with Arabic script known as Shahadah, a prayer spoken in mosques daily. The flag displayed was not one specific to the Islamic State, reports said.
The government said there was no clear motivation but the flag appeared to be one commonly used by jihadist groups. "There is no God but Allah; Mohammed is his messenger" was written on the black flag.
Image: A police officer runs across Martin Place near Lindt cafe, where hostages are being held, in central Sydney. Photograph: David Gray/Reuters


The gunman is being described as being in his forties, wearing a black vest. Police said they are in contact with the gunman.
"We will continue this investigation, we will get to the bottom of it and at this stage, all I can assure you, we are doing absolutely all we can and we will do even more to guarantee the safe release of these people," Scipione said.
New South Wales Premier Mike Baird said the safety of the people was the priority of the government and the best negotiators in the world were on the job.
He asked people in Sydney to go about their days as usual tomorrow, though an exclusion zone will be in place around Martin Place..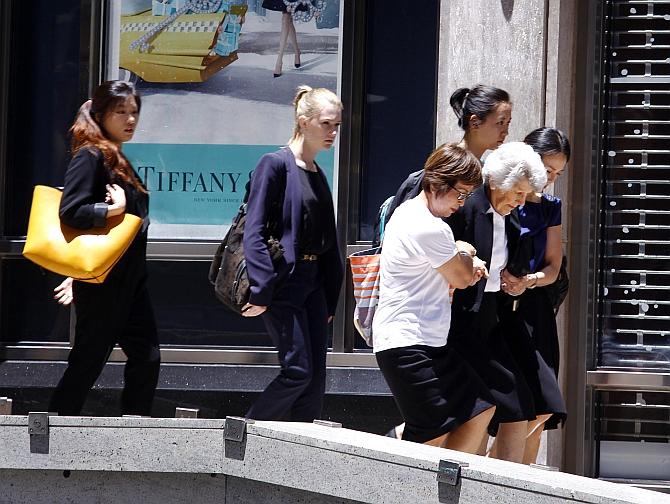 Image: A woman is assisted as a group of people are evacuated by police from a building next to Lindt cafe in Martin Place. Photograph: David Gray/Reuters
Indian Consulate in Sydney has been locked down and evacuated as a security measure following the incident.
Talking to PTI, Sydney Consul General Sunjay Sudhir said "because of security concerns we locked down our office at 12:00 pm and asked all our officers to go to places of safety."
"Sydney Indian Consulate is 400 metres away from the Lindt cafe," Sudhir said adding the Central Business District is the area where many Indian establishments including the SBI, Bank of Baroda and India Tourism office are located.
In New Delhi, Ministry of External Affairs spokesperson Syed Akbaruddin said Indian consulate in Sydney is in touch with local authorities and all the staffers in the consulate are safe.
"Our consulate is in touch with local authorities. The External Affairs Minister has spoken to the High Commissioner in Canberra who is in touch with local organisations," Akbaruddin said.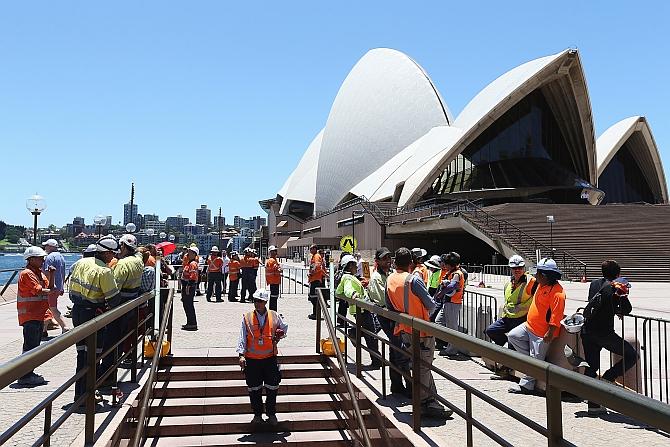 Image: Construction workers gather in front of the Sydney Opera House after being evacuated. Photograph: Joosep Martinson/Getty Images

Scipione said at this stage police were treated it as a hostage situation but were "on a footing consistent with a terrorist act".
"Clearly reprisal attacks are something that should not happen," he said.
Prime Minister Tony Abbott convened a national security meeting to deal with the disturbing event.
"This is obviously a deeply concerning incident but all Australians should be reassured that our law enforcement and security agencies are well trained and equipped and are responding in a thorough and professional manner," he said.
"We don't yet know the motivation of the perpetrator, we don't know whether this is politically motivated, although obviously there are some indications that it could be," Abbott said at a short media briefing held in Canberra, Australia's capital.
Abbott said security agencies had not detected any particular plots but the raised alert level meant there were people in Australia with the "intent and capability" to carry out a terror attack.
Hundreds of police had been mobilised, including those specially trained for terrorist threats, tactical officers and negotiators to general duties officers and traffic police handling road closures.
Thousands of workers across the city have been sent home early and asked to work from there.
NSW Deputy Police Commissioner Catherine Burn confirmed that the situation was now a "negotiation" and the police intend to pursue it "peacefully.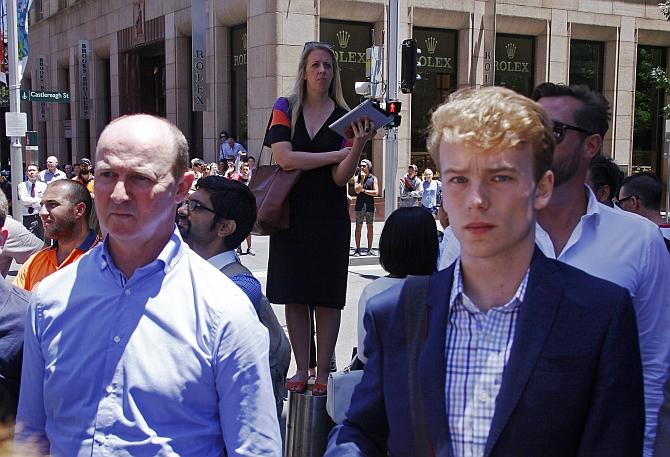 Image: People standing behind a police cordon look towards Lindt cafe in Martin Place. Photograph: David Gray/Reuters

"There is speculation about what he might want but we have to deal with him at the level of police negotiation," Burn says.
"We are monitoring all forms of communication, whether it is Facebook or Twitter, for any bit of information that might assist," she said.
Burn requested that if anyone has information about the situation, no matter how small, they should offer it to police.
Sydney's Muslim community condemned the incident and said they were horrified by the cafe siege.
© Copyright 2022 PTI. All rights reserved. Republication or redistribution of PTI content, including by framing or similar means, is expressly prohibited without the prior written consent.