The third and final debate for the United States presidency was held on October 20 at the University of Nevada.
Fox News anchor Chris Wallace was the moderator for the final debate between Republican candidate Donald Trump and Democratic nominee Hillary Clinton.
This debate, for Trump, is perhaps his last opportunity to turn around a race that appears to be slipping away from him.
Here are the big takeaways from the debate.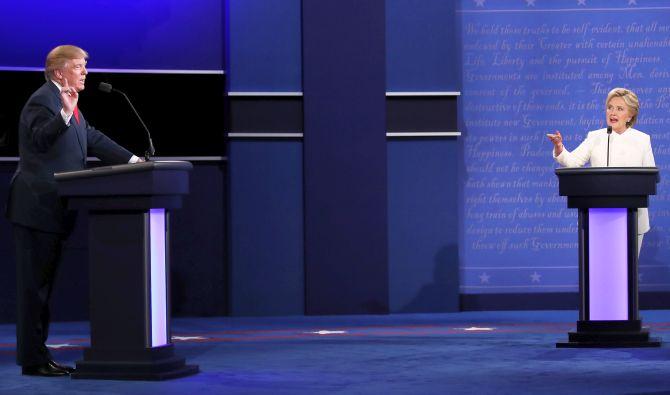 IMAGE: Democratic presidential nominee former Secretary of State Hillary Clinton debates with Republican presidential nominee Donald Trump during the third U.S. presidential debate at the Thomas & Mack Center in Nevada, Las Vegas. Photograph: Drew Angerer/Getty Images
>> Supreme court
So, the debate starts off with the question about the supreme court and where do both candidates seeing the court take the country.
Hillary Clinton:
When we talk about Supreme Court it raises the central issue in this election. I feel strongly that the Supreme Court needs to stand beside American people and not corporate. I want the Supreme Court to stand up for women rights, LGBT. Stands against election money.

It is important that we not reserve marriage equality. The Supreme Court should represent all of us. I hope the Senate does its job.
Donald Trump:
We need a Supreme Court that is going to uphold the Second Amendment – the right to bear arms -- which is truly under siege.
He also says he will appoint people who are pro-life and will interpret the Constitution the way the "founders intended it".
"It's all about the Constitution the way it was meant to be."
---
>> Gun Control
Soon, the debate twists into gun control and both the candidates have, obviously differing views.
Clinton:
Clinton explains. "I support the second amendment," she says. "I understand and respect the tradition of gun ownership."
But "there can be and must be reasonable" control. "We have 33,000 people a year who die from guns. We need comprehensive background checks," close the online loophole and gun show loophole.
These measures would not conflict with the amendment.
Trump:
Trump replies that Chicago has a lot of gun violence despite its tough gun laws. "I'm very proud to have the endorsement of the NRA," he says.
He says he will appoint justices "that feel very strongly about the second amendment." He does not answer the question.
---
>> Pro-life vs Pro choice
Moderator Chriss Wallace introduces one of America's most controversial debates – the debate of abortion. He asks if the candidates want to see the court overturn Roe vs Wade, which protects abortion rights?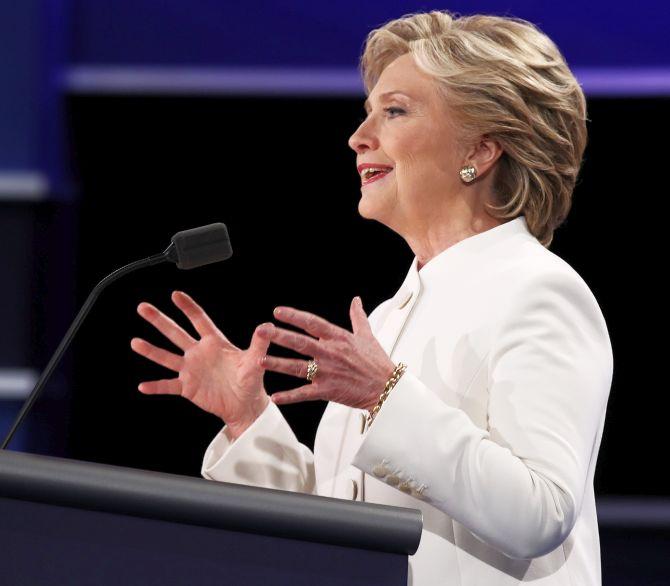 IMAGE: Democratic presidential nominee former Secretary of State Hillary Clinton speaks during the third US presidential debate. Photograph: Win McNamee/Getty Images
Trump:
The Republican candidate says that's what will happen if he puts pro-life justices on the Supreme Court, and the decision will go back to the states.
Clinton:
Hillary says she supports Roe vs Wade and a woman's right to make their own healthcare decisions. "We have come too far now" she says, to turn back.
"I will defend planned parenthood. I will defend women's right to take their own healthcare decisions."
Trump counters, "It's sad to hear what Hilary is saying that you can rip apart the baby in the ninth month. She can be okay with it, I can't."
---
>> Immigration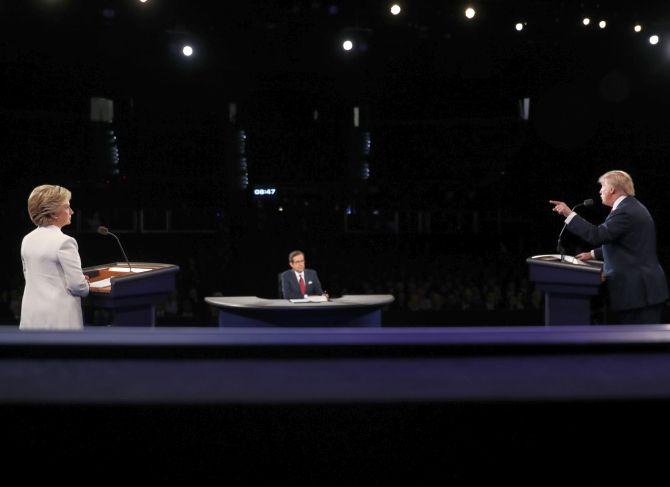 IMAGE: The two candidates battle it out at the final debate, their last chance to woo voters. Photograph: Joe Raedle/Pool/Reuters
Trump:
He says Clinton wants to "give them amnesty." He says four mothers in the crowd have children who were killed by "illegal immigrants." "You have no borders you have no country." "Immigration and Customs Enforcement endorsed me." "I was up in New Hampshire… many of the problems caused by Hillary Clinton and Barack Obama...heroin. We have to have strong borders."
And here's his favourite mention -- the wall.
"I'm going to build a wall. We need a wall... we stop the drugs. .. one of my first acts would be round up all of the drug lords… and we're going to get them out."
And we can't help but highlight this statement, the Republican just made: 'We have some bad hombres here and we are going to get 'em out.'
Clinton:
Clinton says Trump's mass deportation plans for all undocumented immigrants will rip families apart.
"I think that is an idea that is not in keeping with out nation. I think that is an idea that would rip our nation apart."
She says Trump wasn't even able to raise the issue of the wall with the President of Mexico when he met him: "He didn't even raise it, he choked."
Trump:
The real estate mogul drops a bomb, says, "Hillary Clinton wanted the wall."
Clinton counters, "I voted for border security and there are some limited places where that was appropriate.. but it is clear when you look at what Donald has been proposing... that he has a very different view about what we should do."
---
>> WikiLeaks and Russia
Wallace asks Clinton about remarks in a email released by WikiLeaks, where she said she wanted "open borders".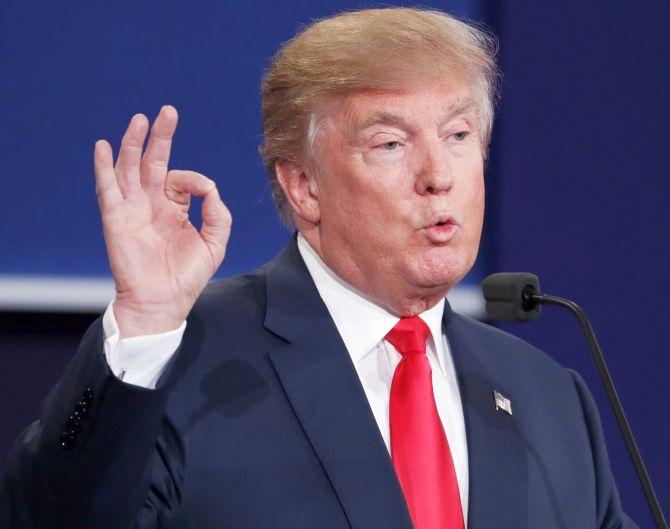 IMAGE: Republican presidential nominee Donald Trump speaks during the debate. The real estate mogul was, according to pundits, much better in his final debate. Photograph: Chip Somodevilla/Getty Images
Clinton:
She says she was talking energy policy, and pivots to blaming the Russian government for the WikiLeaks hack. She challenges Trump to acknowledge Russia's involvement.
Trump:
Trump moves to Putin: "I don't know Putin... he (Putin) has no respect for her, he has no respect for our president."
"That's because he'd rather have a puppet," she shoots back.
"No you're the puppet," he responds.
---
>> Economy and jobs
Wallace moves to the economy. He asks why they believe their plans will create more jobs and growth than their opponent?
Clinton:
Optimistic on her plan, Ms Clinton says, "I want us to have the biggest jobs program since World War II." "We are going to have the wealthy pay their fair share." "I also will not add a penny to the debt."
"I have said repeatedly throughout this campaign, 'I will not raise taxes on anyone making $250,000 or less."
Trump:
Her (Hillary Clinton) plan is going to raise taxes and double the taxes. She can say about tuitions. We are going to do help kids in tuition fees.

Countries like Saudi Arabia have a lot of money. We are protecting them, they have to pay up. I am a big fan of NATO, but they have to pay up. Our debt has doubled under (Barack) Obama. We need to renegotiate NAFTA and trade agreements. We are going to make great trade deals.

We will get our jobs back from Mexico and other places. Right now, our country is dying at 1 per cent GDP.
Wallace puts to Trump that even conservative economists say his plan doesn't add up.
Trump says India and China are growing at much higher rates than the US. He doesn't go to specifics of the question but goes to generalities:
"It's horrible what's happened to these people in these communities," he says, of visiting places where factories have closed.
"I've gotten to know so many friends, and they cry when they see what's happened."
Clinton says Trump is crying "crocodile tears" and that his hotel here in Vegas was built with Chinese steel.
---
>> Fitness to be president
The moderator asks Trump about why so many women have come out accusing him of kissing or groping them without consent? He asks Clinton to respond to Trump's accusations about her husband and her behaviour towards his accusers.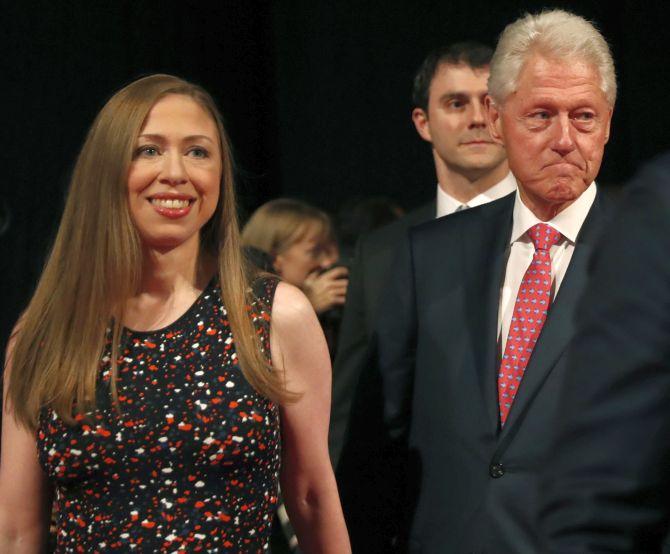 IMAGE: Chelsea Clinton and her father, former US. president Bill Clinton arrive for the third debate. Photograph: Carlos Barria/Reuters
Trump:
"Nobody has more respect for women than I do." The Republican goes on to say that he doesn't know any know of these women who have levelled charges of indecent behaviour against him. "Clinton campaign may have paid these women to come forward. I don't know, may be they wanted fame. These are lies and its fiction."
Clinton:
"Donald thinks belittling women makes him bigger. He goes after their dignity their self worth, I don't think there's a woman out there who doesn't know what that feels like."
---
>> Will they accept the results?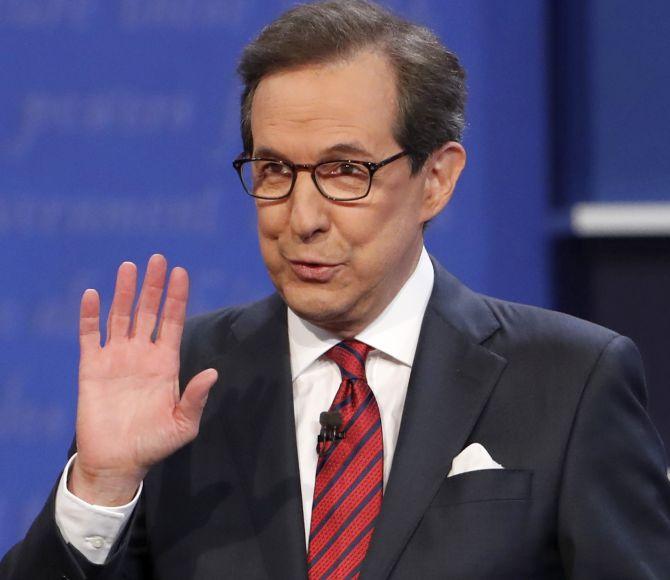 IMAGE: In our opinion, a real star in the debate was Fox News moderator Chris Wallace. Photograph: Mike Blake/Reuters
Trump:
The brash talker says there are millions of people registered to vote who shouldn't be. Then Trump says Clinton should not be allowed to run. "And just in that respect I say that it's rigged. She should never have been allowed."
Clinton:
"Let me respond to that, because that's horrifying." She says Trump always says things are rigged: the Iowa primary, the judge in Trump U lawsuits, the Emmys...
---
>> Islamic State and Mosul
The question is: Would you use US troops in Syria or Iraq?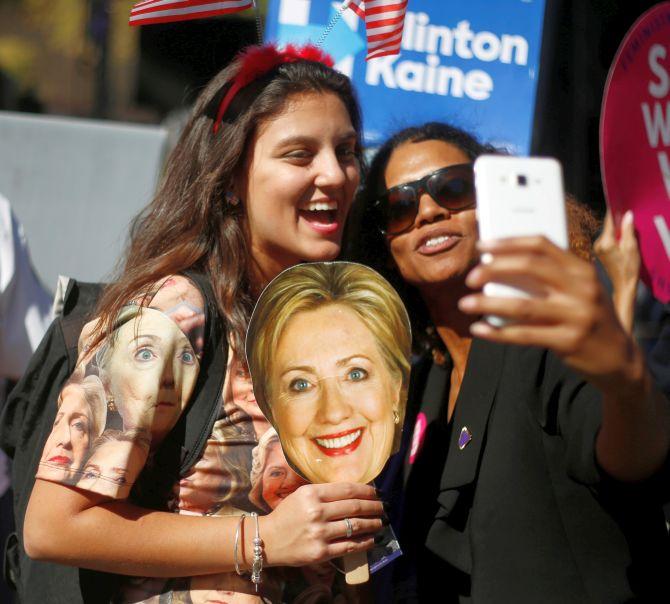 IMAGE: Clinton supporters take a photo during demonstrations on the campus of University of Nevada, Las Vegas, before the last debate. Photograph: Jim Urquhart/Reuters
Trump:
Trump: "Mosul's so sad. We had Mosul."
"About three months ago, I started reading, that they're going to attack... whatever happened to the element of surprise... these people have all left. The element of surprise."
Trump hails "the stupidity of our country."
Trump says the only reason Iraq is going into Mosul is because Clinton is running for president. "She wanted to look tough."
He also raises that she supported the 2003 invasion of Iraq, She responds he did too. He keeps interrupting and saying "wrong". She tells people to Google it.
---
>> National debt
The final segment.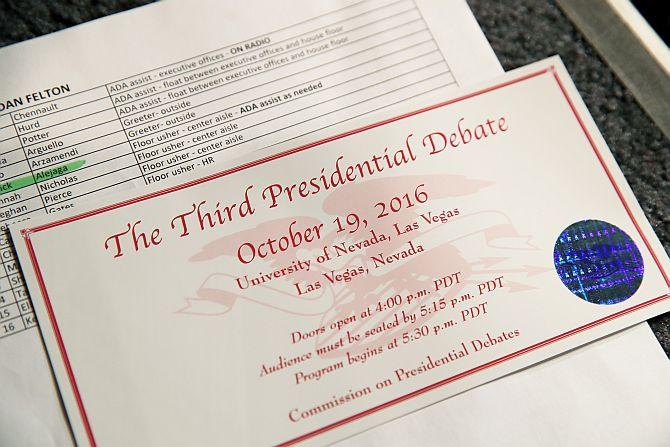 IMAGE: A ticket to the debate seen prior to the start of the third US. presidential debate. Photograph: Drew Angerer/Getty Images
Trump:
"I'm going to create a bunch of jobs and hit 6 per cent growth with my "tremendous economic machine." I'm going to create the kind of country that we were from the standpoint of industry."
"We have the greatest business people in the world... we use political hacks." "We have to use our great people."
Clinton:
"When I hear Donald talk like that, "I wonder when he thought America was great." He says before me and Obama. But "He has been criticizing our country for decades. In 1987 he took out a $100,000 ad in the New York Times, when Ronald Reagan was president, and said exactly what he said just now."
"If you look at the debt, I pay for everything I'm proposing... we'll have what economists call middle-out growth... I want to invest in you, I want to invest in your family... he started off as a millionaire."