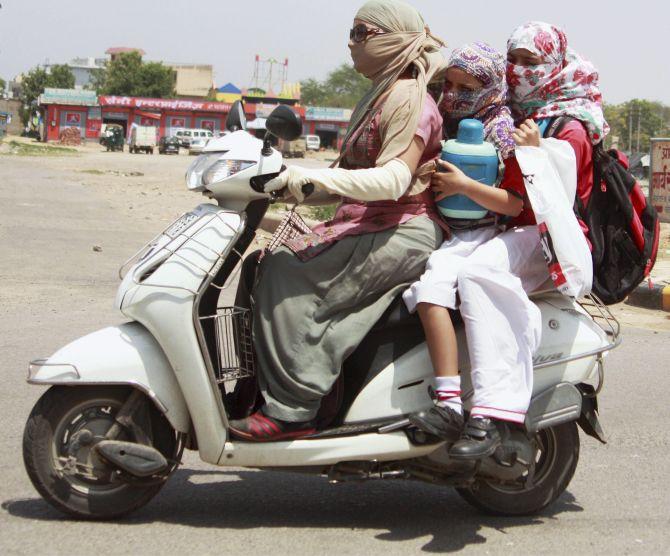 With temperatures hovering over 40 degree Celsius in many states, the heat is unbearable. Photograph: PTI

The death toll due to intense heatwave sweeping Telangana and Andhra Pradesh crossed the 500 figure on Monday, disaster management officials said in Hyderabad.
In Telangana, the toll stood at 215 from May 15 till Monday, said Special Commissioner for Disaster Management, Sada Bhargavi.
In Andhra Pradesh, the number stood at 302 till Monday evening and data from different districts was still being compiled, said Tulsi Rani, Special Commissioner for Disaster Management.
Temperatures have been hovering around 45 degrees Celsius in both the states for the last few days.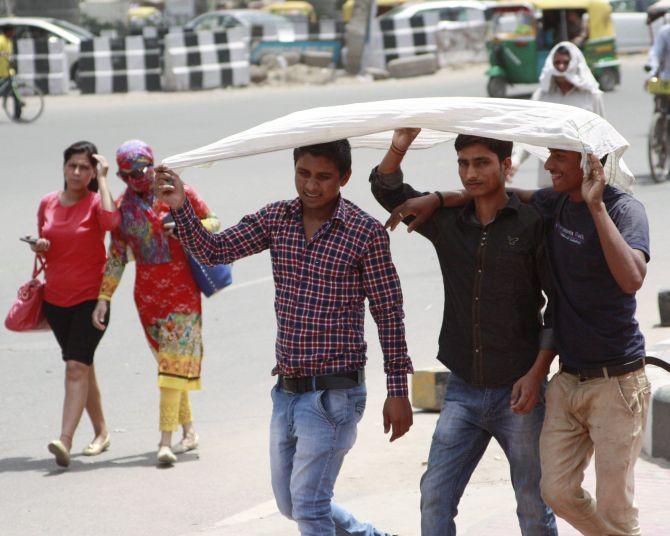 People cover their heads to beat the heat in Gurgaon. Photograph: PTI

In Delhi, the maximum temperature was recorded at 43.5 degree Celsius, a degree less than Saturday while Palam recorded 46 degree Celsius.
Andhra Pradesh Chief Minister N Chandrababu Naidu had directed the state administration to open camps for providing drinking water and butter milk as a measure of protection against the severe heat conditions.
He also appealed to the general public to avoid sun from 11 am to 4.30 pm, if possible.
Meanwhile, a weather department official said in Visakhapatnam that the heatwave conditions will prevail for another day and thundershowers are likely to occur in the north-coastal Andhra Pradesh by Monday night or Tuesday.
In Delhi, the maximum temperature was recorded at 43.5 degree Celsius. Photograph: Kamal Singh/PTI

Kota recorded a maximum of 45.5 degree Celsius while Bikaner and Barmer registered temperatures of 44.6 and 44.2 degree respectively.
Churu and Jaipur sizzled at 43.8 degree Celsius. Jodhpur, Ajmer and Dabok also recorded day temperature of 42, 41.4 and 40 degree Celsius.
Uttar Pradesh continued to reel under sweltering heat with mercury in Allahabad touching 47.7 degree Celsius, which was the hottest in the state. The steel city of Jamshedpur in Jharkhand experienced the hottest day of the season at 44.8 degree celsius, four degree above normal.

Odisha virtually turned into a boiling cauldron as the searing heat wave conditions further intensified with the mercury rising above 45 degree celsius in nine places and above 40 degree celsius in 19 towns.