Weeks of sweltering temperatures have caused more than 160 deaths in southern and eastern India.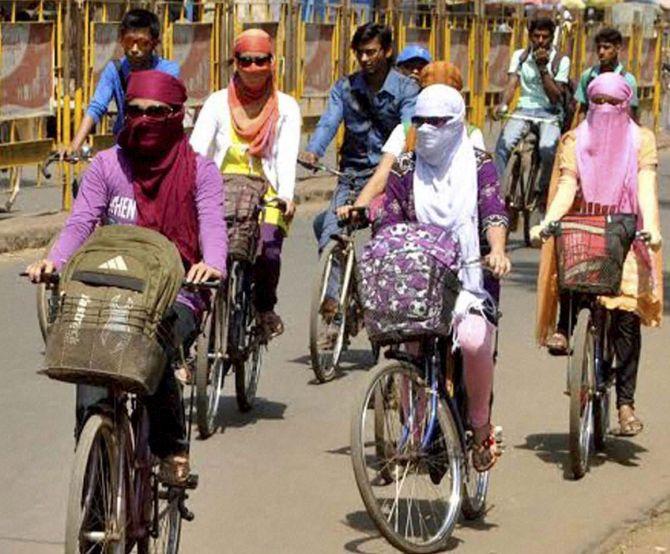 IMAGE: Students cover themselves from the harsh rays of the sun as they cycle to college. Photograph: PTI
Schools in the regions have been closed and will remain closed until April 26, with temperatures recorded at 45 degree Celsius and above.
Orissa, Andhra Pradesh and Telangana are the primary areas reporting deaths in relation to the heat wave.
Across the nation, people have been urged to stay indoors during the hottest hours of the day, as temperatures are on average between 8 and 10 degrees higher than is normally recorded at this time of the year.
Police have reported 55 heat-related deaths in Orissa and at least 45 in Andhra Pradesh. Sixty-six were reported in Telangana, though the state's deputy chief minister, Mohammed Mahmood Ali, said the causes of death were still being verified.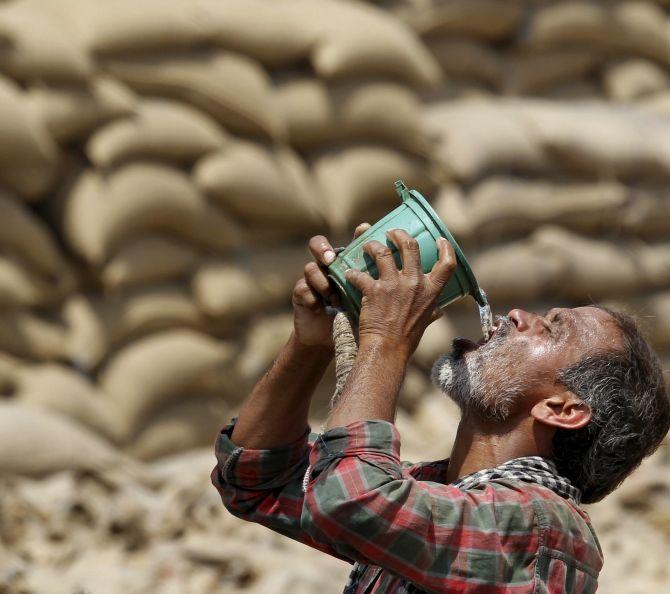 IMAGE: A labourer drinks water on a hot summer day at a grain market. Photograph: Ajay Verma/Reuters
For southern India, this is the second consecutive year marred by a deadly heat wave. Last year, around 2,500 people died in scorching temperatures before the monsoon rains began in the Indian subcontinent in early June.
According to reports, heat wave deaths in India have increased 296 per cent, or three times, over the last 23 years with more than 160 already dead this year.