Spiralling violence in the Jat quota stir on Sunday claimed two more lives, taking the overnight death toll to 12. Over 150 others have been injured so far, Haryana Additional Chief Secretary (Home) P K Das said.
Das said the authorities have not yet been able to persuade the agitators to lift the siege of Munak canal, which supplies water to Delhi.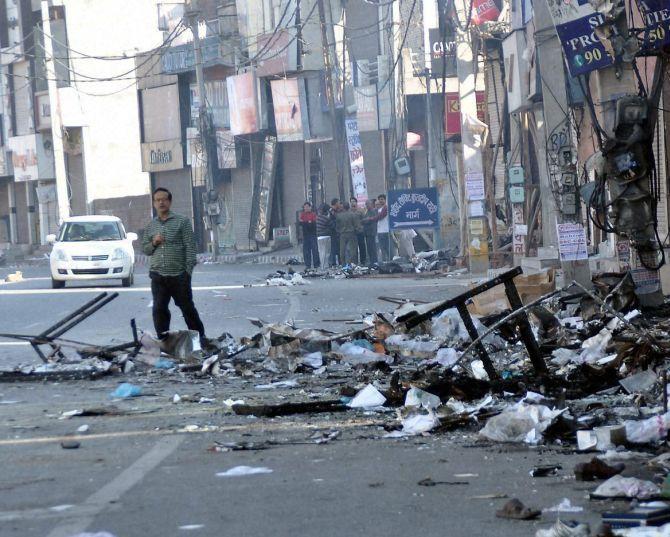 IMAGE: Shops ransacked by Jat protesters demanding reservation in Rohtak. Photograph: PTI
The Jat stir also hit Delhi with the Arvind Kejriwal government announcing closure of schools on Monday as part of water rationing after supply from Haryana was disrupted. The national capital also witnessed big traffic jams in some parts.
As the situation turned volatile, Union Home Minister Rajnath Singh appealed for calm. 'I appeal to all to maintain peace and ensure that there are no untoward incidents,' he said.
The home minister met a delegation comprising Minister of State for Agriculture Sanjeev Kumar Balyan, Bharatiya Janata Party MP and former Mumbai police commissioner Satyapal Singh and Haryana Minister Captain Abhimanyu to find a way to resolve the situation.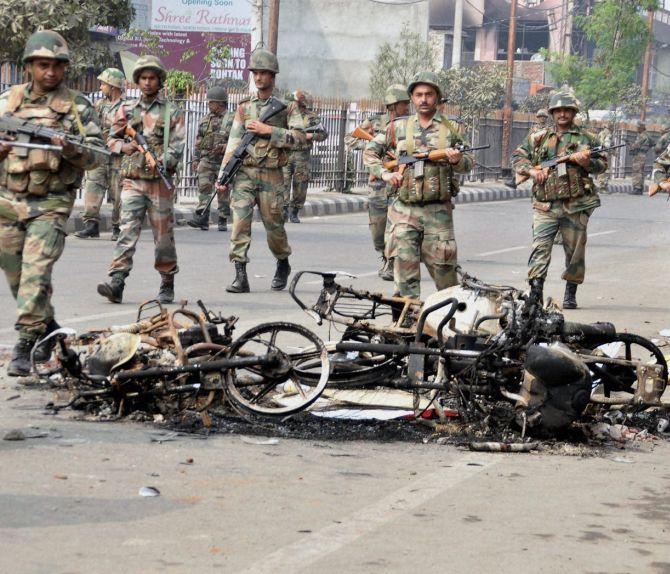 IMAGE: Troopers march past the damage that the protesters have caused during the Jat agitation. Photograph: PTI
With violent protests by the Jats escalating, Haryana Minister Anil Vij on Sunday made it clear that talks cannot be held with a 'mob' and said the Jats should form a committee to hold parleys with the state government.
Vij said the agitation has become leaderless and a 'mobocracy' was prevailing.
Road and rail traffic through Haryana destined for North India from Delhi side remained disrupted with bus and train services remaining suspended. In the wake of shooting air fares, airlines announced additional flights to Chandigarh and Amritsar on Sunday.
Curfew was imposed in Kaithal after tension erupted in the town due to protests by Jats and a tussle between Jats and non-Jats.
Kaithal became the ninth city where curfew has been clamped after Rohtak, Bhiwani, Jhajjar, Jind, Hisar, Hansi, Sonipat and Gohana town of Sonipat district.
While several roads have been blocked in Kaithal, protesting Jats have put up a tent in the middle of the Hissar-Chandigarh national highway to express their anger for not being included in the OBC category.
Markets, shops and commercial establishments remained shut in the wake of violent protests unleashed by agitating Jats.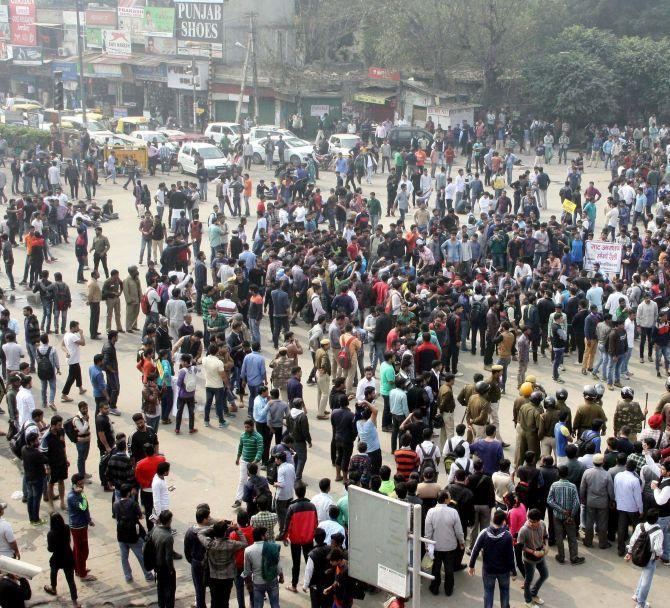 IMAGE: Jats block roads at Kingsway Camp in New Delhi on Saturday during their agitation for reservation. Photograph: PTI
The protesters are adamant on their main demand of an OBC quota in government jobs and rejected Haryana Chief Minister Manohar Lal Khattar's announcement of an enhancement of the quota of reservation for Economically Backward Classes in the state from 10 to 20 per cent.
As violence and arson spread to several parts of Haryana, the Centre sent additional 1,700 paramilitary personnel to deal with the situation.
The National Crisis Management Committee, headed by Cabinet Secretary P K Sinha, assured the Haryana government that there would be no delay in sending assistance, including central forces.
The civil aviation ministry has asked airlines to operate additional flights from New Delhi to Chandigarh, Amritsar and Jaipur to enable stranded passengers reach their destinations.
All major domestic airlines including Air India, Jet Airways and IndiGo will fly additional services from and to Delhi.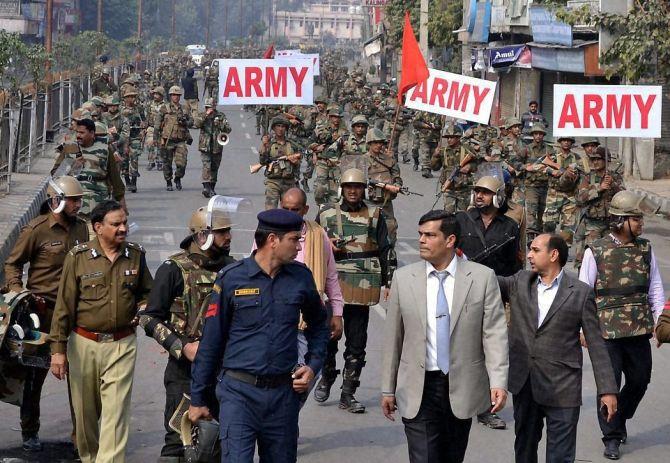 IMAGE: The army carries out a flag march in Rohtak amidst the Jat agitation. Photograph: PTI
The agitation has hit rail services hard in the northern states, affecting around 1,000 trains with 736 trains cancelled and 105 diverted besides damage to rail property, causing a loss of over Rs 200 crore (Rs 2 billion) to transporters.
People from the non-Jat communities staged a protest march in Kurukshetra and raised slogans in favour of BJP MP Raj Kumar Saini who has been facing the wrath of Jats for his alleged anti-Jat quota remarks.
Protesters vandalised a college owned by an MP and a hotel in Sonepat where a rice mill was also set on fire.
A number of buses were torched at Tosham in Bhiwani district.
BJP MP Dharambir's house was attacked and vandalised in Bhiwani.
The quota protests spread to Panchkula district, adjoining Chandigarh with agitating Jats blocking the Zirakpur-Shimla highway.
About 100 to 150 protesters also blocked the six lane Zirakpur-Parwanoo National Highway (the highway further leads to Shimla) which is the entry point to Shimla and Kasauli in Himachal Pradesh.
The protests have resulted in serpentine queues of vehicles stranded on both sides of the road.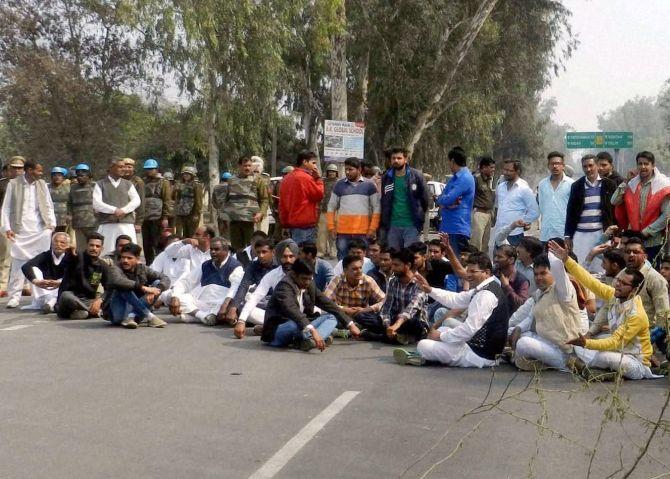 IMAGE: Jats protest for reservation. Photograph: PTI
'Protesters have blocked the old Panchkula road. We are trying to persuade them to lift the blockade,' a Panchkula police officer said.
The protesters also blocked the National Highway at Rewari disrupting traffic.
State roadways buses have been moved to safer place in Kurukshetra.
Due to blockade of rail and road network the supply of essential commodities, including petrol, milk and vegetables has been disrupted to most cities. ATMs have also run out of cash at most places, reports said.
A railway station was vandalised at Ganuar in Panipat district. The booking office and station master's room were damaged.
Four persons, who sustained serious injuries in Saturday's firing in Jhajjar, later died, taking the toll to 10. The victims hailed from Jhajjar, Rohtak and Kaithal districts.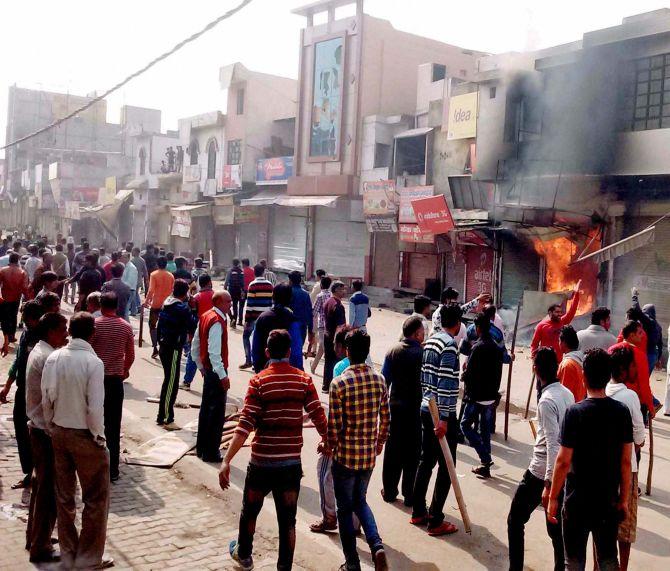 IMAGE: Protesters set shops on fire as the Jat agitation demanding reservation intensified in Sonepat on Saturday. Photograph: PTI
'At the moment, the agitation has become leaderless. It is like mobocracy,' state minister Anil Vij said. 'The Jats should immediately form a committee to hold talks with the government. We cannot hold talks with a mob.'
'Our government, be it in the state or at the Centre, is committed to give OBC reservation to Jats, but it is for the Jats to decide whether they want to give us time so that we can come out with something concrete which later does not get struck down by the courts,' Vij said.
The previous Congress government headed by Bhupinder Singh Hooda, the minister added, had included Jats and four other castes in the Special Backward Class quota. 'But later the same got rejected in the courts.'
'Therefore, we do not want to do something in a hurry just to please anyone. Those agitating have to understand that we are committed to give them reservation. We have to ensure that when we offer them something, the next day it should not get struck down by the courts,' Vij said.