Lori Alhadeff, who lost her 14-year-old daughter, asked how a gunman is allowed to enter schools and questioned what security was in place to stop it.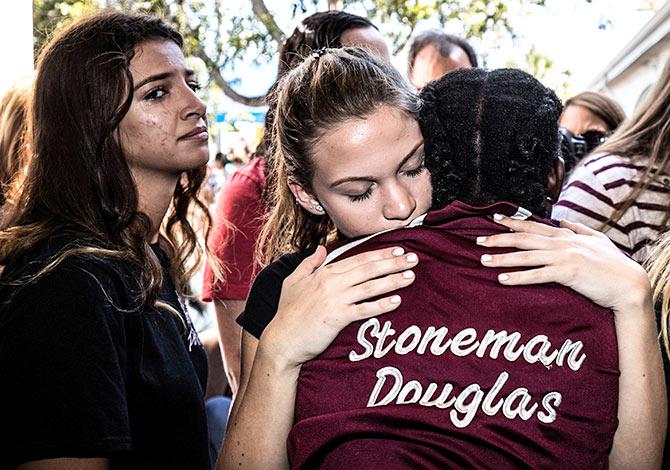 IMAGE: Students from Marjory Stoneman Douglas High School attend a memorial following the shooting on Wednesday. Photograph: Thom Baur/Reuters
"President Trump, please do something! Do something. Action! We need it now! These kids need safety now!"
This is how a grieving mother, who lost her daughter in Wednesday's school shooting incident in Parkland, Florida reacted after the latest mass shooting in the United States that killed 17 people, mostly students.
In his address to the nation, US President Donald Trump made no mention of the scourge of gun violence plaguing America and instead blamed the frequent such incidents on mental health issues.
Trump did not mention the word "gun" or "firearm" even once.
With tears rolling down her face, Lori Alhadeff screamed into a microphone and begged the US President to address the nation's deadly gun epidemic that has taken the life of her daughter.
Alhadeff's 14-year-old daughter, Alyssa, was one of 17 people killed during Wednesday's school shooting.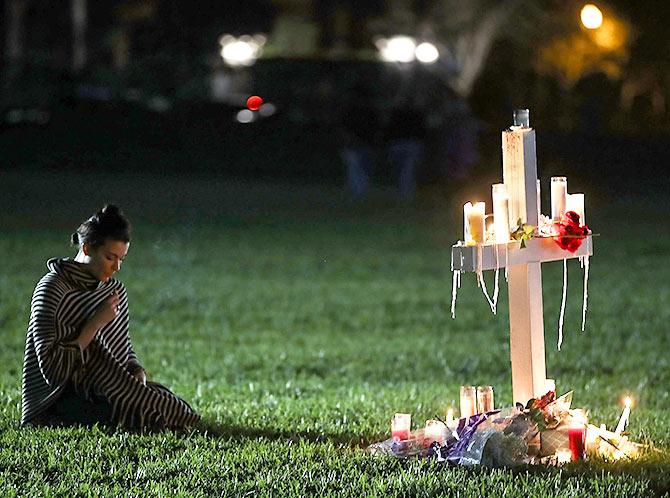 IMAGE: Former Douglas student, Rachelle Borges sits near a candlelit cross during a vigil for victims of the mass shooting at Marjory Stoneman Douglas High School. Photograph: Mark Wilson/Getty Images
Alhadeff's grief was coupled with anger and a demand for answers.
"How do we allow a gunman to come into our children's school? How do they get through security? What security is there?" she yelled. "The gunman -- a crazy person -- just walks right into the school, knocks down the window of my child's door and starts shooting. Shooting her! And killing her!"
She also spoke about the nightmare of burying a child.
"I just spent the last two hours putting [together] the burial arrangements for my daughter's funeral, who's 14!"
The debate over gun control in America has been polarising and politicised, CNN reported.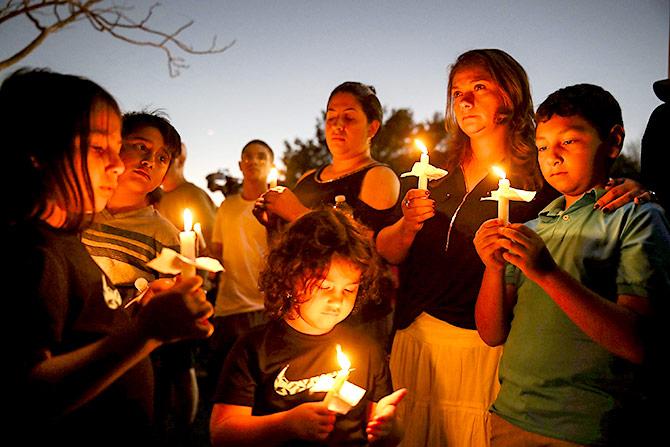 IMAGE: The shooting, which claimed the lives of 17 people, has once again sparked the debate on gun laws in the United States. Wednesday's shooting was reportedly the 18th shooting in the US since 2018. Photograph: Joe Raedle/Getty Images
Alhadeff challenged Trump to put a stop to the terror and heartbreak.
"President Trump, you say what can you do? You can stop the guns from getting into these children's hands," she said. "What can you do? You can do a lot! This is not fair to our families and our children [to] go to school and have to get killed!"
Nikolas Cruz, 19, an expelled former student armed with a powerful AR-15 assault rifle opened fire at the Marjory Stoneman Douglas High School in Parkland, killing 17 people.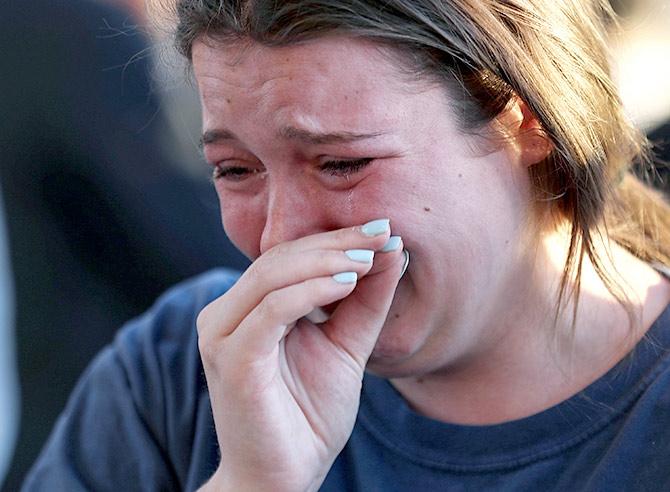 IMAGE: A woman sheds tears as she attends a candlelight memorial service for the victims of the shooting at Marjory Stoneman Douglas High School. Photograph: Joe Raedle/Getty Images
In his address, Trump said that a school filled with innocent children and caring teachers became the scene of terrible violence, hatred and evil.
No child, no teacher should ever be in danger in an American school. No parent should ever have to fear for their sons and daughters when they kiss them good-bye in the morning, he said.
Seeking to comfort America's children, especially "those who feel lost, alone, confused or even scared", Trump said he wants them to know that they are never alone.
"You have people who care about you, who love you and who will do anything at all to protect you. If you need help, turn to a teacher, a family member, a local police officer or a faith leader. Answer hate with love, answer cruelty with kindness," Trump, who has previously backed the powerful National Rifle Association, said.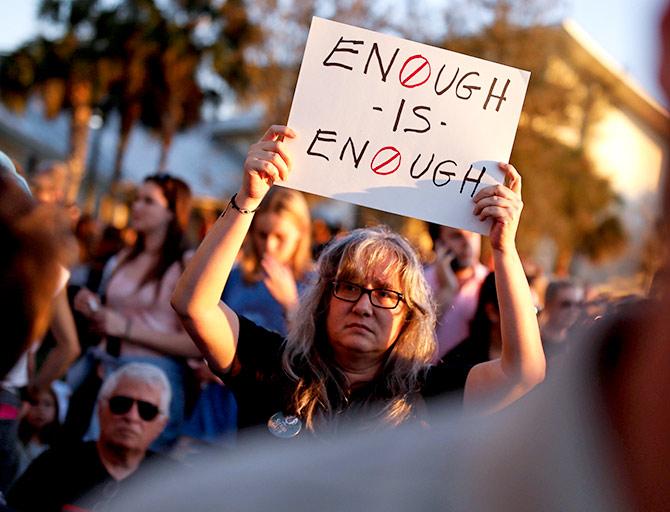 IMAGE: Several lawmakers have also called for a change in gun laws in the United States, but Trump insists that the problem "isn't a guns situation" and that the shooting signified "a mental health problem at the highest level." Photograph: Carlos Garcia/Reuters
He said that his administration is working closely with local authorities to investigate the shooting and learn everything they can.
"We are committed to working with state and local leaders to help secure our schools and tackle the difficult issue of mental health," he said.
Trump said he will be meeting with the governors and attorney generals of the country and discuss the issue.
"Making our schools and our children safer will be our top priority. It is not enough to simply take actions that make us feel like we are making a difference. We must actually make that difference," he added.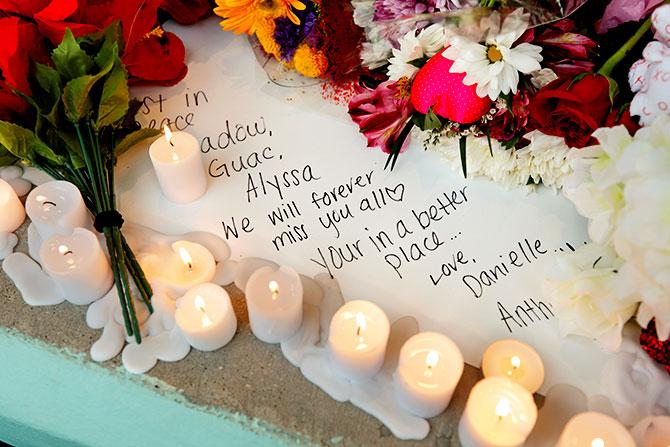 IMAGE: A handwritten note to a lost friend is surrounded by candles and flowers at a candlelight vigil the day after a shooting at Marjory Stoneman Douglas High School in Parkland, Florida.
Photograph: Jonathan Drake/Reuters
Early in his presidency, Trump, a Republican, approved the removal of an Obama-era regulation intended to prevent people with mental disabilities from buying guns.
But as he has done in the recent past, on Trump answered cries for tighter restrictions on guns by emphasising the need for Americans to report the behaviour of "mentally disturbed" people to the authorities, The New York Times reported.
"So many signs that the Florida shooter was mentally disturbed, even expelled from school for bad and erratic behaviour," Trump said in a tweet before his address.
"Neighbours and classmates knew he was a big problem. Must always report such instances to authorities, again and again!"
He delivered similar remarks in November, after a gunman with a military-style rifle mowed down more than two dozen worshippers in a church in Sutherland Springs, Texas.
Trump said that the problem "isn't a guns situation" and that the shooting signified "a mental health problem at the highest level."
In October, after a gunman in Las Vegas killed 58 people and wounded hundreds in the deadliest mass shooting in US history, Trump called the assailant "a very sick man" and a "demented person," the NYT recalled.
© Copyright 2022 PTI. All rights reserved. Republication or redistribution of PTI content, including by framing or similar means, is expressly prohibited without the prior written consent.